- President Donald Trump on Thursday, August 6, moved against two major Chinese businesses in the U.S
- Trump issued executive orders that would ban the social media app TikTok and WeChat from operating in the country
- Earlier this week, Trump threatened to shut down TikTok if its owners didn't sell the business to a U.S. company
PAY ATTENTION: Click "See First" under the "Following" tab to see Legit.ng News on your Facebook News Feed!
U.S President, Donald Trump on Thursday, August 6, issued executive orders that would ban the social media app TikTok and WeChat from operating in the country in 45 days if they are not sold by their Chinese-owned parent companies.
Trump made his move under the International Emergency Economic Powers Act, a 1977 law that allows the U.S president to declare a national emergency in response to an "unusual and extraordinary threat," allowing him to block transactions and seize assets.
"IEEPA is an incredibly expansive authority and allows the president to declare a national emergency with respect to just about anything," Brian Fleming, a lawyer based in Washington told Bloomberg.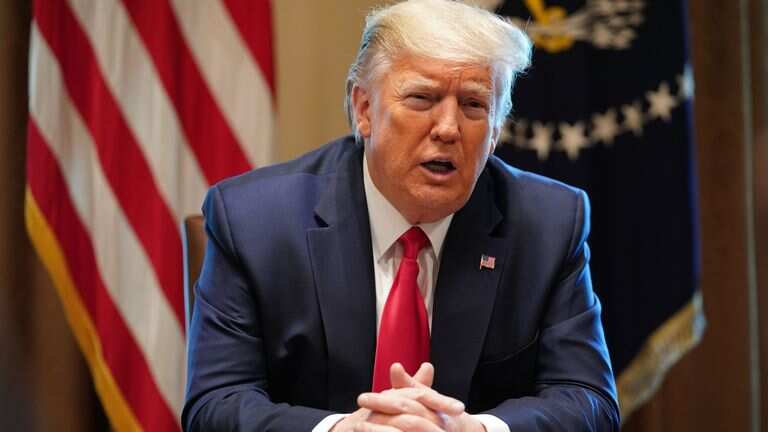 PAY ATTENTION: Install our latest app for Android, read best news on Nigeria's #1 news app
"A legal challenge on the grounds that IEEPA does not provide the president authority to act with regard to something deemed to be a national security emergency would have a very low likelihood of success," he added.
President Trump has been insisting on the sale for several days, saying funds from the deal needs to be sent to the U.S treasury department.
The move comes a day after Secretary of State Michael Pompeo urged U.S. businesses to remove the two Chinese apps from their stores.
Earlier this week, Trump threatened to shut down TikTok if its owners didn't sell the business to a U.S. company by Tuesday, September 15.
National security concerns have long fueled policymakers' reservations surrounding the apps.
U.S treasury secretary Steven Mnuchin told reporters last week at the White House that the U.S government was conducting a national security review of TikTok and was preparing to make a policy recommendation to Trump.
Microsoft Corporation has been in talks about a possible purchase of TikTok, an app that's been downloaded more than 2 billion times globally and more than 165 million times in the U.S.
Microsoft had announced on Sunday, August 2 that it was pushing forward with talks to acquire the app following a conversation between CEO Satya Nadella and the president.
Shares of Tencent Holdings Ltd. plunged as much as 10% on Friday, August 7 hours after President Trump signed the executive order.
Tencent's shares, which are listed in Hong Kong, started tumbling when the market opened and were down 6.8% by noon after paring earlier losses.
The benchmark Hang Seng Index, which the stock is a large constituent of, was down 2.3%.
Meanwhile, American University Professor Allan Lichtman has predicted that Joe Biden will defeat Trump in the coming U.S presidential election.
Lichtman is famous for accurately predicting the winner of every presidential election since 1984.
4 implications of Trump's ban on Nigerians from the USA | Legit TV