Editor's note: Public affairs commentator, Seye Eyitayo, writes on the controversy surrounding the siting of a new mobile police squadron unit at Ago Are in Oke-Ogun zone of Oyo state, noting that the decision was a strategic one and not a political one as some people in Oyo state have been claiming.
PAY ATTENTION: Click "See First" under the "Following" tab to see Legit.ng News on your Facebook News Feed
Read below:
On May 27, 2020, Governor Seyi Makinde posted on his social media accounts that he had commissioned a new mobile police squadron unit at Ago Are in Oke-Ogun zone of Oyo state. He explained the reason for siting the new unit at Oke-Ogun in the post – "We decided that the new squadron should be based in Oke-Ogun due to its vast size, and the fact that it shares international borders with the Republic of Benin."
The next day, May 28, 2020, there were posts on social media from some people from Oyo zone of the state decrying their apparent marginalisation as a result of the siting of the new squadron unit in Oke Ogun zone. A letter written by His Imperial Majesty Oba (Dr) Lamidi Olayiwola Adeyemi III, Alaafin of Oyo, to President Muhammadu Buhari on December 02, 2019, was circulated showing that Alaafin had requested that the mobile police unit approved by the Inspector General of Police for Oyo state, be sited in Oyo town, and that the request had subsequently been granted. It was alleged that Governor Makinde had moved that unit which was meant to be for Oyo town to Oke Ogun.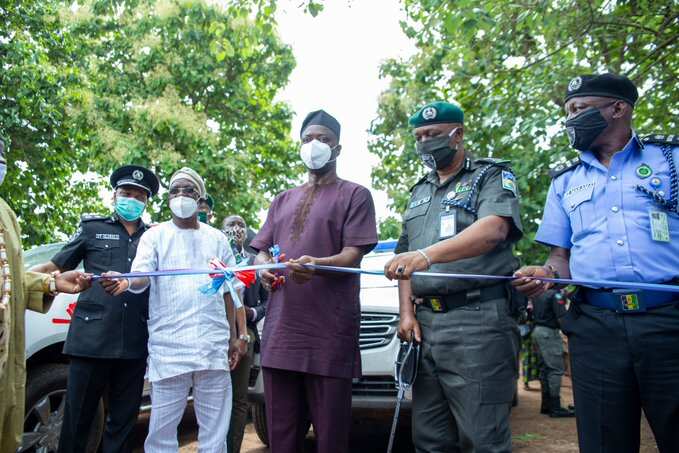 The chief press secretary to Governor Makinde, Mr Taiwo Adisa issued a statement countering these claims and stated that the new squadron sited in Oke-Ogun was not moved from Oyo town but was originally intended for Oke-Ogun and that approval for the unit was granted by the Inspector General of Police in August 2019. Mr Adisa's statement was consistent with a news report on the Sun News online of September 27, 2019, titled, 'IGP approves new mobile police unit for Oyo.' In that report, the special adviser on security to Governor Makinde, former commissioner of police, Fatai Owoseni, explained that the newly approved mobile unit would be sited in Oke-Ogun.
As stated earlier, the letter circulated on social media which was written by the Alaafin was in December 2019, nearly three months after the Oyo state government had already confirmed the unit would be sited in Oke-Ogun. In that letter, Alaafin thanked the federal government for the recent approval of a police mobile squad unit for Oyo state and requested that the recently approved unit be cited in Oyo town. From the foregoing, it is clear that it is in fact, the Alaafin who was trying to change the location of the unit which had already been approved.
The current situation is actually bizarre. First, Oyo town is only minutes away from Ibadan. It wouldn't have made sense for a new mobile police unit, only the second one in 43 years, to be sited so close to Ibadan where the only other existing unit is located.
PAY ATTENTION: Download our mobile app to enjoy the latest news update
Secondly, it's strange and in my opinion, disrespectful that a traditional ruler bypassed the governor, who is the chief security officer of his state, to request that the police unit approved for his state be cited in his town without alerting the governor or copying him into any correspondence. The governor's special adviser on political matters and strategy, Hon Babatunde Oduyoye, confirmed during a radio programme on Fresh FM, Ibadan on Saturday, June 06, 2020, that Governor Makinde saw the Alaafin's letter for the first time when it was circulated on social media.
It is a well-known fact that state governments in Nigeria pay towards the operational costs of federal security agencies in their states and also equip them. For example, in Oyo state, the government purchased 100 Kia Rio cars, equipped with modern communication gadgets and 49 JAC pickup trucks for the police and the mobile police units in the state. But it doesn't stop there. The government also covers the cost of maintaining these vehicles and even pays the cost of fuelling them. Additionally, the government purchased communication equipment and provides ration cash allowances to officers. Even if the Alaafin can provide a place for the unit, will he also fund their operational expenses and provide the equipment for the units to work with? Is there a security architecture run by the Alaafin separate to the one run by the state government?
I would strongly advise the good people of Oyo town to toe the path of honour and peace. As mentioned earlier it goes against logic and indeed the sportsmanship and togetherness for which the people have come to be known to fight for something that has been assigned to someone else. Also, they should not allow themselves to be used by mischievous people who are determined to foment trouble and drive a wedge between them and the Oyo state government.
As has been acknowledged by many, Oyo state deserves more than two mobile police units. If a state as small as Nassarawa has three, then Oyo should have more. But this should be as the need arises and due process must be followed. At the end of the day, it is the Oyo state government that will fund these mobile police units. This is the time to work together, not tear apart.
Disclaimer: The views and opinions expressed here are those of the author and do not necessarily reflect the official policy or position of Legit.ng.
Your own opinion articles are welcome at info@corp.legit.ng— drop an email telling us what you want to write about and why. More details in Legit.ng's step-by-step guide for guest contributors.
Contact us if you have any feedback, suggestions, complaints or compliments. We are also available on Twitter.
IGP decorates newly promoted Commissioners of Police | Legit TV