OPINION: Peace; God's stimulus package for believers against COVID19 by Pastor Wale Olasoji
Editor's note: Wale Olasoji, Senior Pastor of Living Impact Christian Centre (LICC), writes on the COVID-19 pandemic currently ravaging the world, stating that Christians who are believers have been assured of the peace that comes in turbulent situations like the world is witnessing.
Read below:
It is no doubt that we are witnessing one of the most precarious times in the history of humanity – a vicious pandemic at the beginning of a new decade. COVID-19 has ravaged the world, defying logic, disarming medicine and numbing science.
It gets even more disturbing that the world is still in a maze regarding the solution to this confusion. Experts are at their wit's end, medical practitioners are overwhelmed and fatigued; governance is at a standstill and economies are going into recession. The ripple effect, without doubt, is on the society at large. The average man is becoming increasingly hopeless and their blue skies are gone. But as Christians, we have been assured of the Peace that comes in turbulent situations like this.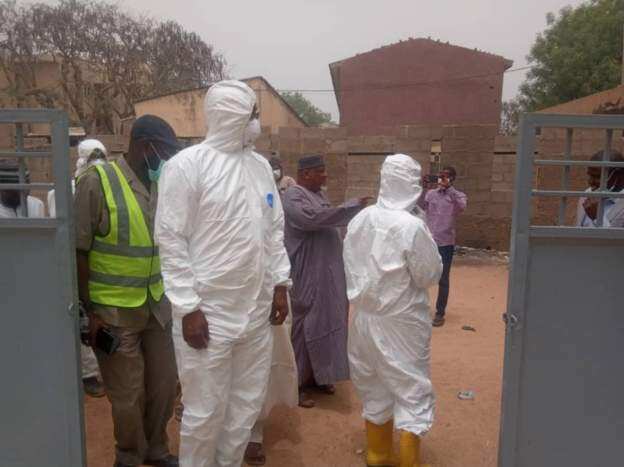 PAY ATTENTION: Get the Latest Nigerian News Anywhere 24/7. Spend less on the Internet!
In Mark 4:36-39, the Bible tells us of the story of the raging storm. The disciples had done everything within their mental and spiritual capability to calm the unfortunate situation to no avail. It even gets more interesting to know that Jesus was right on that boat, sleeping. Who in their right mind would be sleeping in such a very delicate situation that got the disciples thinking they would all die? The answer isn't far-fetched. Only God's son, the Prince of Peace could have been so calm in the face of such adversity. As rightly put in Isaiah 55:8-9, "His ways are not our ways." God wants us to have this kind of unusual yet certain calmness when faced with uncertainty. Peace can only be found in Him as seen in John 14:27.
Just as major governments of the world are rolling out stimulus packages in coordinated efforts to increase government spending and lower taxes and interest rates in order to stimulate their economies out of recession or depression, God is also rolling out his stimulus package and promise of peace in this time of trouble. He is telling His people to stop being panicky. He is giving peace to the world at a time like this. Money, tax reduction and other economic benefits may strike as great stimulus packages for the welfare of the people, but the peace of mind that comes from God alone gives the ultimate stimulus package for the unparalleled wellbeing of His own.
Briefly, I will tell a very popular story of the Israelites on their journey out of Egypt to Canaan, where the Lord had given them. Exodus 13:17-22 tells that it was a very hard situation for the Israelites, one filled with chaos, fear and uncertainty. But one thing was certain, God was with them and they would hold their Peace. God subdued Pharaoh in the Red sea and every initial fear was allayed.
COVID-19 is waging an unprecedented war against humanity. It is no respecter of persons and status, has so far gotten everyone enmeshed in a serious health scare. While governments are giving palliatives and health workers are sweating it out to give the world a breath of fresh air, the only thing that will carry us through such a torrid time like this is the God-kind of peace. The peace that brings the joy and hope that we will beat COVID-19 back to where it came from. It is my prayer that by the time the end is announced of COVID-19, we will be seen standing strong with a sound mind as written in 2 Timothy 1:7. The fear of COVID-19 is not as potent as the peace of God's presence in the pandemic.
Peace is the presence of calm and tranquillity. It can make the storm cease. At such a time like this, key into the peace that God provides. Do not be afraid nor worried, this shall come to pass. For Jesus, He looked at the storm and said 'Peace, be still.' That's exactly what you can do. Declare in faith, 'Peace, be still.' Decree the hand of God within your border. My heart goes to those who have lost some loved ones. May the Lord grant you comfort at this time and give peace to your family.
As believers, let's speak the peace of the Lord over the nations of the earth. There is disquiet all around but the peace of God which passes all understanding can show up and bring calm.
Remember to practice social distancing and maintain a high level of personal and family hygiene. The Lord has got you covered.
May the peace of the Lord be with you.
Your own opinion articles are welcome at info@corp.legit.ng— drop an email telling us what you want to write about and why. More details in Legit.ng's step-by-step guide for guest contributors.
Contact us if you have any feedback, suggestions, complaints or compliments. We are also available on Twitter.
Stay with Legit and keep track of the latest news in Nigeria!
Why I stopped my members from paying tithes - Bishop Idahosa | Legit TV
Source: Legit.ng