Top 10 best zombie movies of the decade you can watch on Netflix
One of the best things about the 21st century is streaming services such as Netflix, Hulu, and Amazon Prime Video, among others. These services allow their subscribers to gain access to the best zombie movies available today from the comfort of their homes.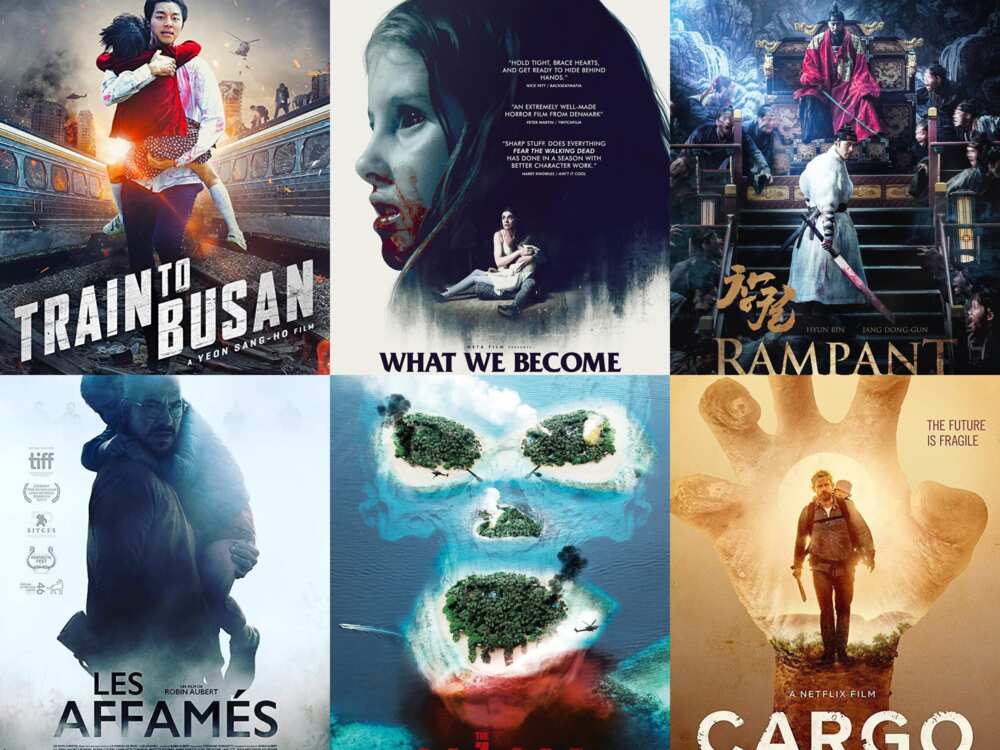 This list of top 10 zombie movies is designed to help you have an easy time when choosing the next best zombie films on Netflix to watch. It will help you to not waste time on boring films but enable you to jump right into the ones that will be worth your time.
Top 10 best zombie movies on Netflix right now
Netflix has an impressive array of zombie series that can keep you glued to your screen for days on end. However, if you are unwilling to start a new show but would still like a quick but entertaining zombie fix, then these are some good zombie films on Netflix that will keep you entertained.
10. Ladronas de Almas
IMDb rating: 4.9/10
Release date: 4th October 2015
Runtime: 1 hr 28 min
Writer: Christopher Luna
Director: Juan Antonio de la Riva
If a movie whose title translates to 'Soul Robbers' does not entice you to click on it, then we do not know what will. Despite its low rating, it is one of the most fantastic Netflix zombie movies.
Set in Mexico during the battle between insurgents and the royalist Spanish army during the civil war, the film follows a group of looters who storm a hacienda in the hopes of stealing from the occupants.
Soon, the men realize that the girls they find are not as helpless as they seem and that the large estate's main line of protection is the living dead who are also not on their side.
9. The Cured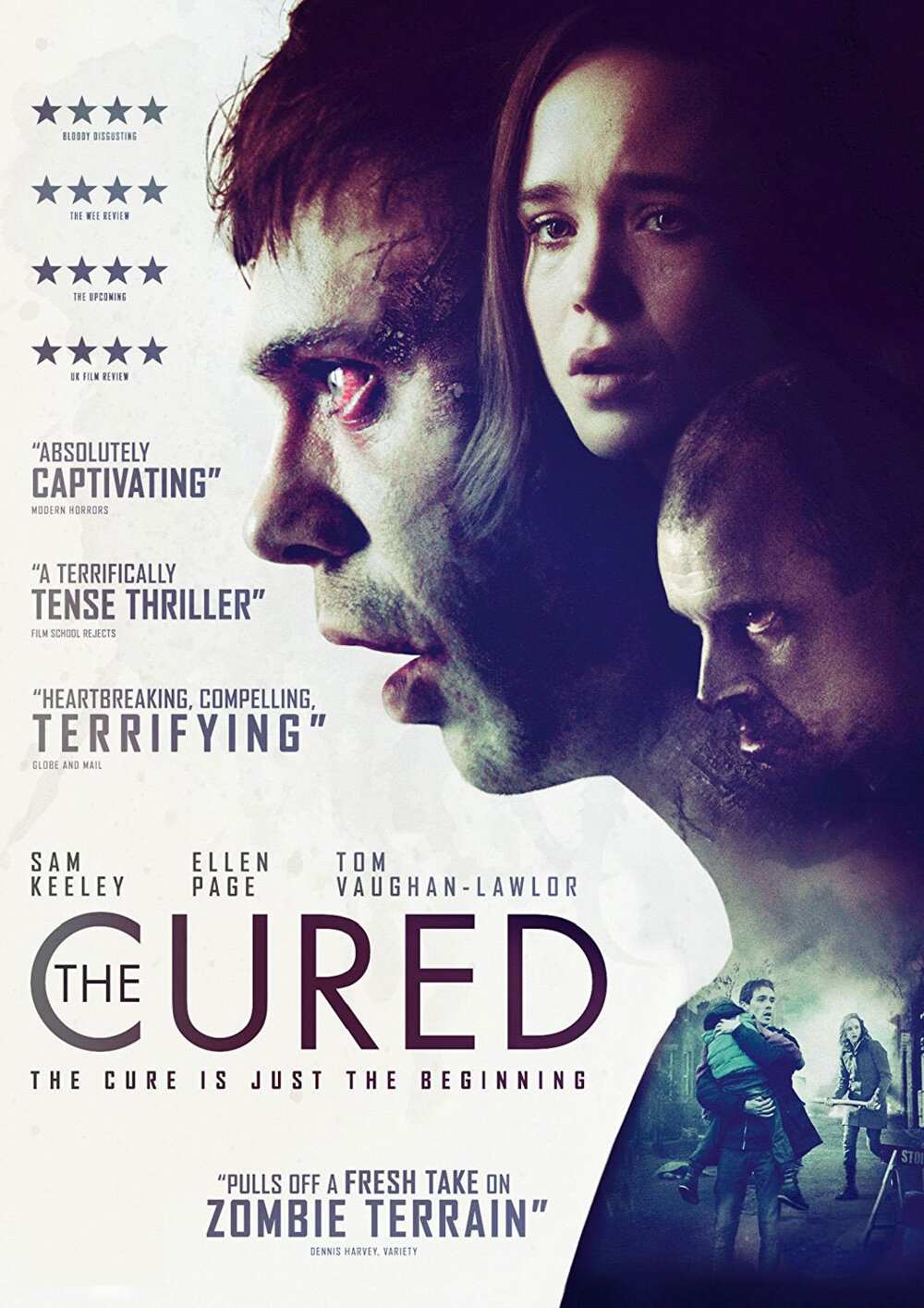 IMDb rating: 5.5/10
Release date: 23rd February 2018 (USA)
Runtime: 1 hr 35 min
Writer: David Freyne
Director: David Freyne
Most good zombie movies show these beings as mindless creatures who will kill and maim mercilessly without remorse, but what happens if the disease that turns people into zombies has been cured?
Would society accept the once-infected zombies back into the fold, or would they shun them? Can zombies experience post-traumatic stress disorder from all the violence they committed while ill?
Are they remorseful for all the death and pain they caused while in that state? How can humans and former zombies co-exist?
As one of the new zombie movies on this list, The Cured is a must-watch because of the fresh take on zombie and human nature in the film.
8. Here Alone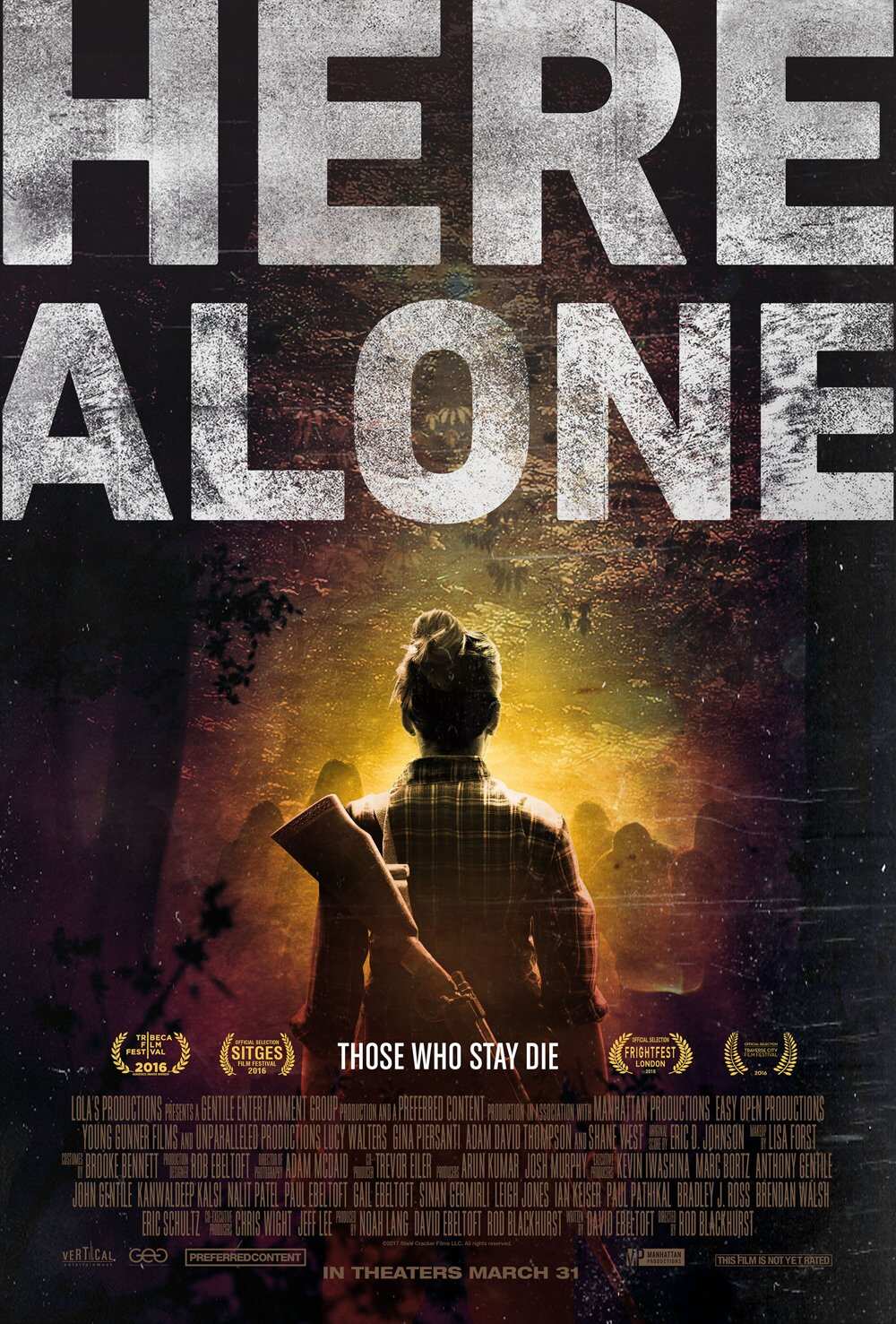 IMDb rating: 5.6/10
Release date: 18th May 2017
Runtime: 1 hr 38 min
Writer: David Ebeltoft
Director: Rod Blackhurst
After a zombie-like infection sweeps through the world decimating the population, the main character, Ann, has been forced to live off the land. She cannot stay in houses because these infected creatures are attracted to them.
Throughout the film, we see the horrible things that have happened to Ann. Through this, we understand some of her actions as she tries to survive in a world so ruined that its people are turned into savages.
7. What We Become (Sorgenfri)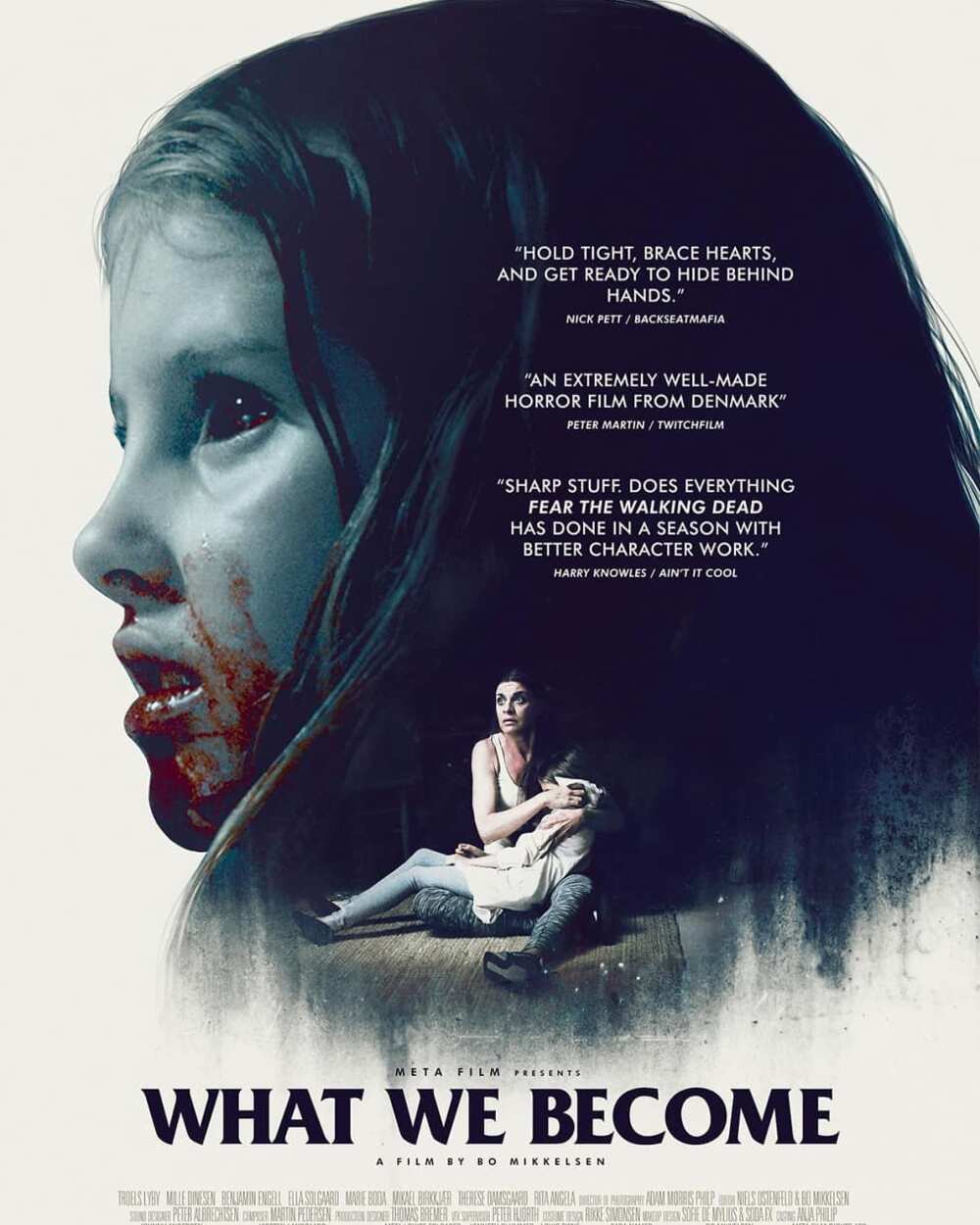 IMDb rating: 5.6/10
Release date: 13th May 2016
Runtime: 1 hr 25 min
Writer: Bo Mikkelsen
Director: Bo Mikkelsen
Some of the good zombie films are known to not only scare the viewers but also tug at their heartstrings. Despite its medium rating, this film is worth your time
Set in the beautiful Danish town of Sorgenfri, What We Become follows a family of four that is trapped in a quarantined village during a zombie outbreak.
When a seemingly harmless flu virus overruns the townspeople turning them into the living dead, the family members have to take extreme measures to survive. Will they all survive this outbreak, or will they succumb to the consequences of their mistakes?
6. Life After Beth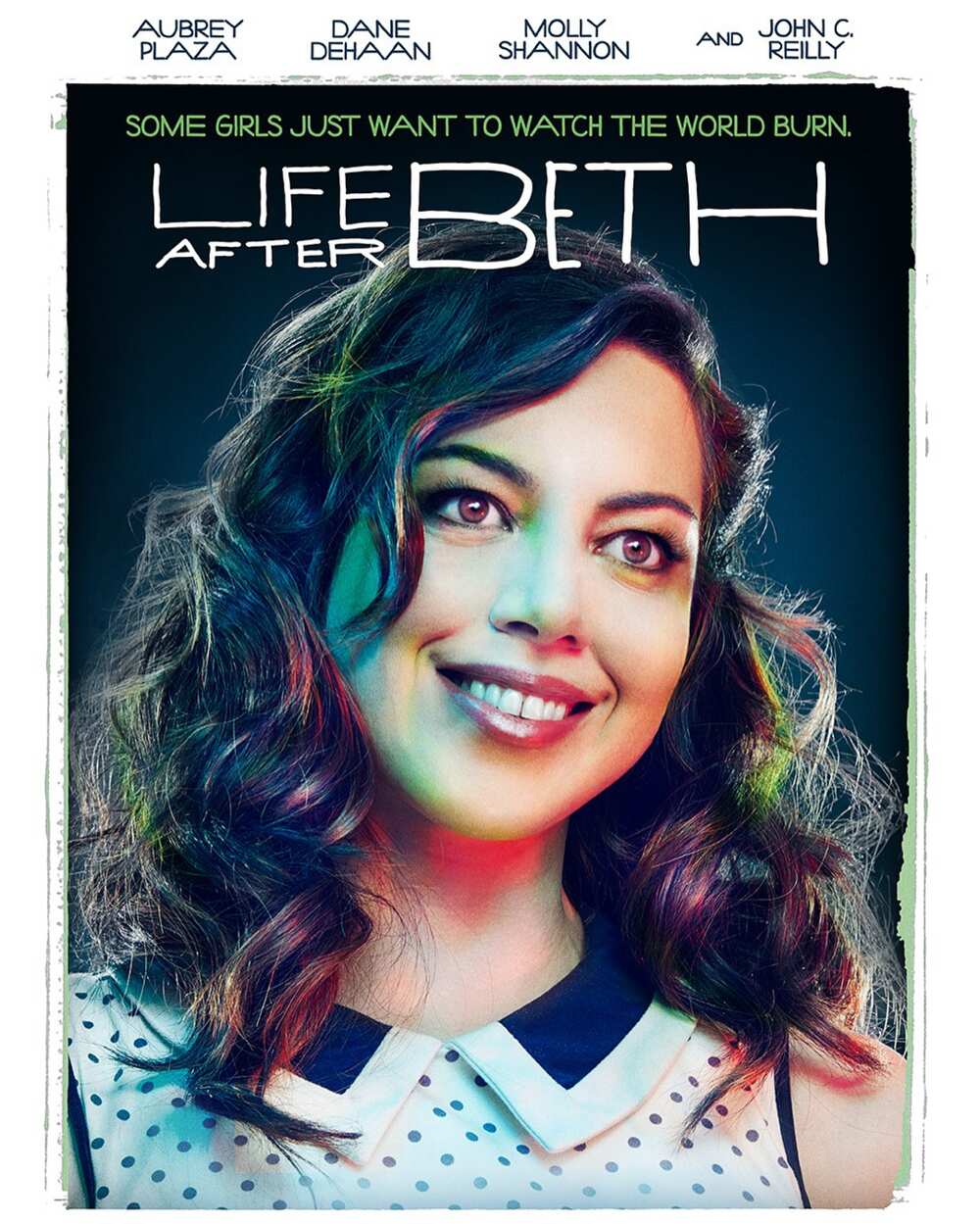 IMDb rating: 5.6/10
Release date: 15th July 2014
Runtime: 1 hr 29 min
Writer: Jeff Baena
Director: Jeff Baena
Be careful what you wish for. When we lose our friends and loved ones, we always wish that we could have one more chance or one more day with them to make things right or say our goodbyes properly.
In this film, Zach is distraught after his girlfriend Beth passes away. Since their relationship did not end well, he is wracked with guilt and seeks solace with Beth's family.
While they entertain him for a while, they suddenly cut him off and tell him not to revisit their home. Seeking answers as to why they would do this, he sneaks back into their home only to see his ex-girlfriend alive and well in the kitchen.
What starts as a happy reunion soon turns into a disaster when Zach realizes that Beth and others like her are not as okay as their families and friends think they are.
5. The Rezort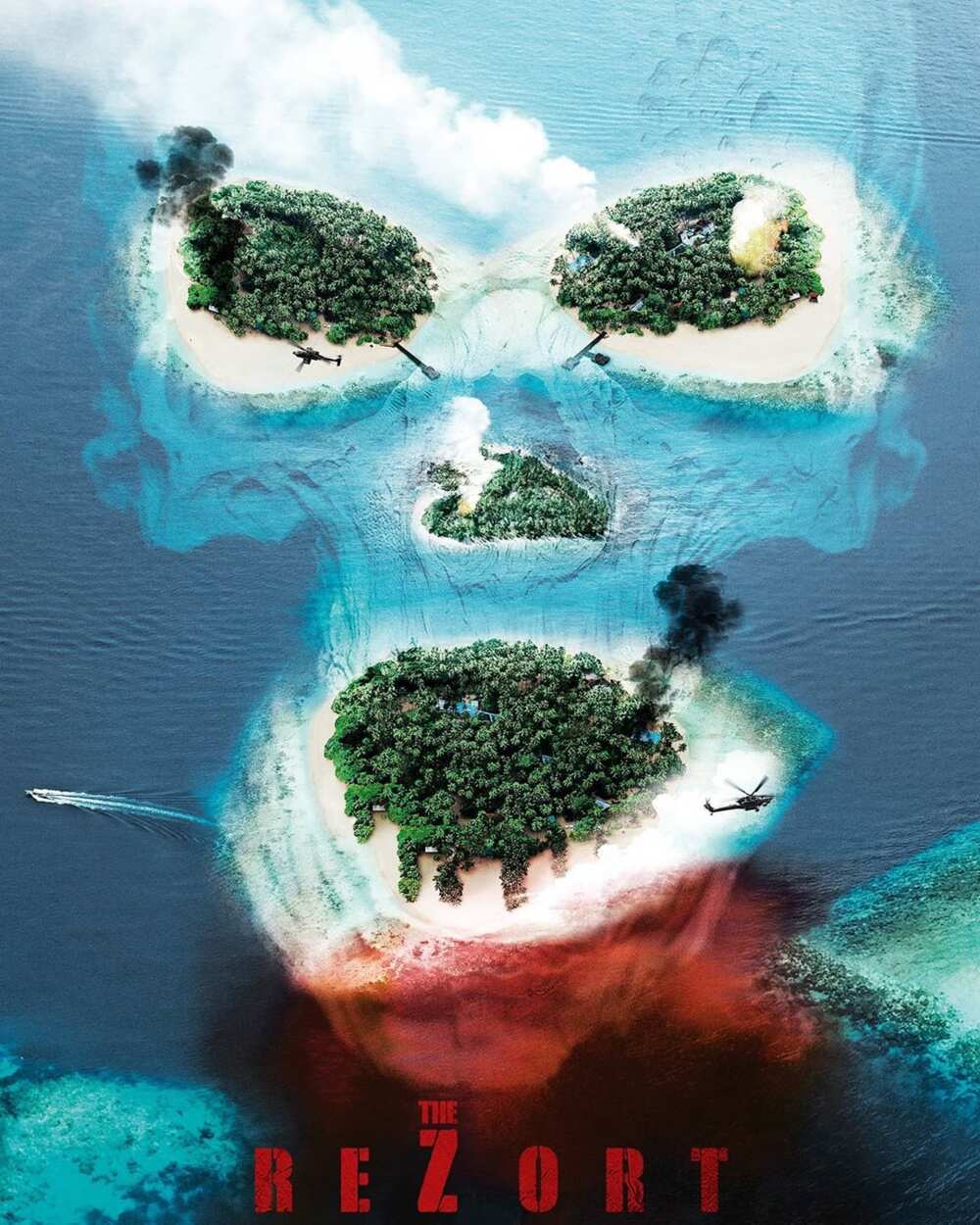 IMDb rating: 5.3/10
Release date: 15th June 2016
Runtime: 1 hr 33 min
Writer: Paul Gerstenberger
Director: Steve Barker
If you are looking for one of the good zombie movies from 2016, then The Rezort is the film for you.
The film is set in a twisted world where zombies are kept in pens in a resort to be hunted for sport by normal humans. After the humans defeated the walking dead in a war, the few surviving ones are treated horribly and killed for fun.
Six guests book a stay in this resort; however, things go awry when one of them, in a misguided attempt at activism, sets the living dead free and they proceed to attack the human guests.
4. Ravenous (Les affamés)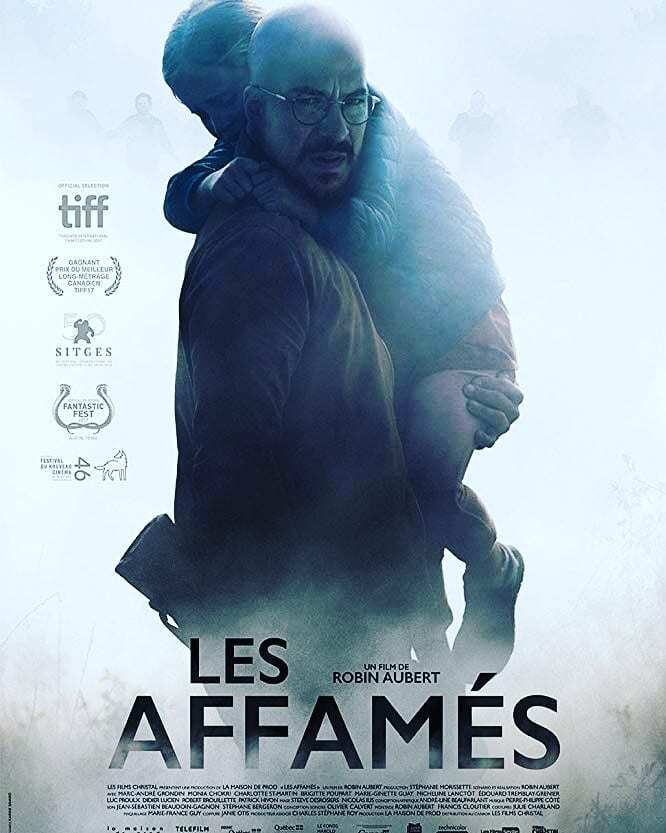 IMDb rating: 5.9/10
Release date: 2nd March 2018
Runtime: 1 hr 44 min
Writer: Robin Aubert
Director: Robin Aubert
This is one of Netflix zombie movies that are worth your time. In the aftermath of a zombie outbreak, the walking dead have run-over Canada and are seeking to turn more people into the living dead.
Survivors of the epidemic are all trying their best to survive as they go around killing all the infected that they come across.
In the rural areas of Quebec, a few survivors, including a little girl, all band together as they travel the dangerous roads in the hopes of outrunning the hoard and reaching more survivors along the Quebec Route 113.
This French-Canadian film can be counted as one of the best zombie movies 2018.
3. Cargo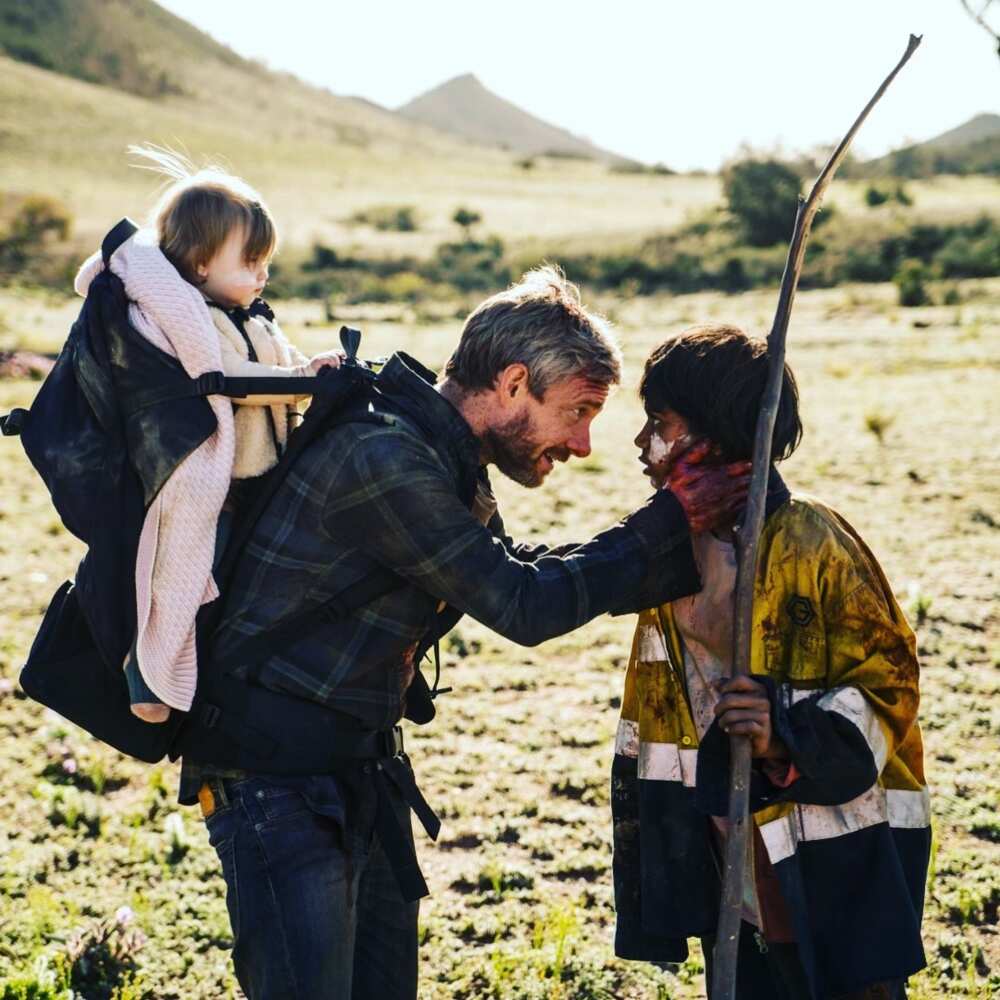 IMDb rating: 6.3/10
Release date: 18th May 2018
Runtime: 1 hr 45 min
Writer: Yolanda Ramke
Directors: Ben Howling, Yolanda Ramke
To many horror fans, Cargo is undoubtedly one of the best recent zombie movies. Set in the post-apocalyptic Australian outback, the film follows Andy, his infant daughter Rosie, and a young girl Thoombi.
The three have to travel together as they look for someone who can take care of young Rosie. Not only are they under a constant threat of being devoured by the living dead, but they are also under the constant pressure of knowing that Andy is slowly turning into a flesh-eating cannibal.
2. Rampant (Chang-gwol)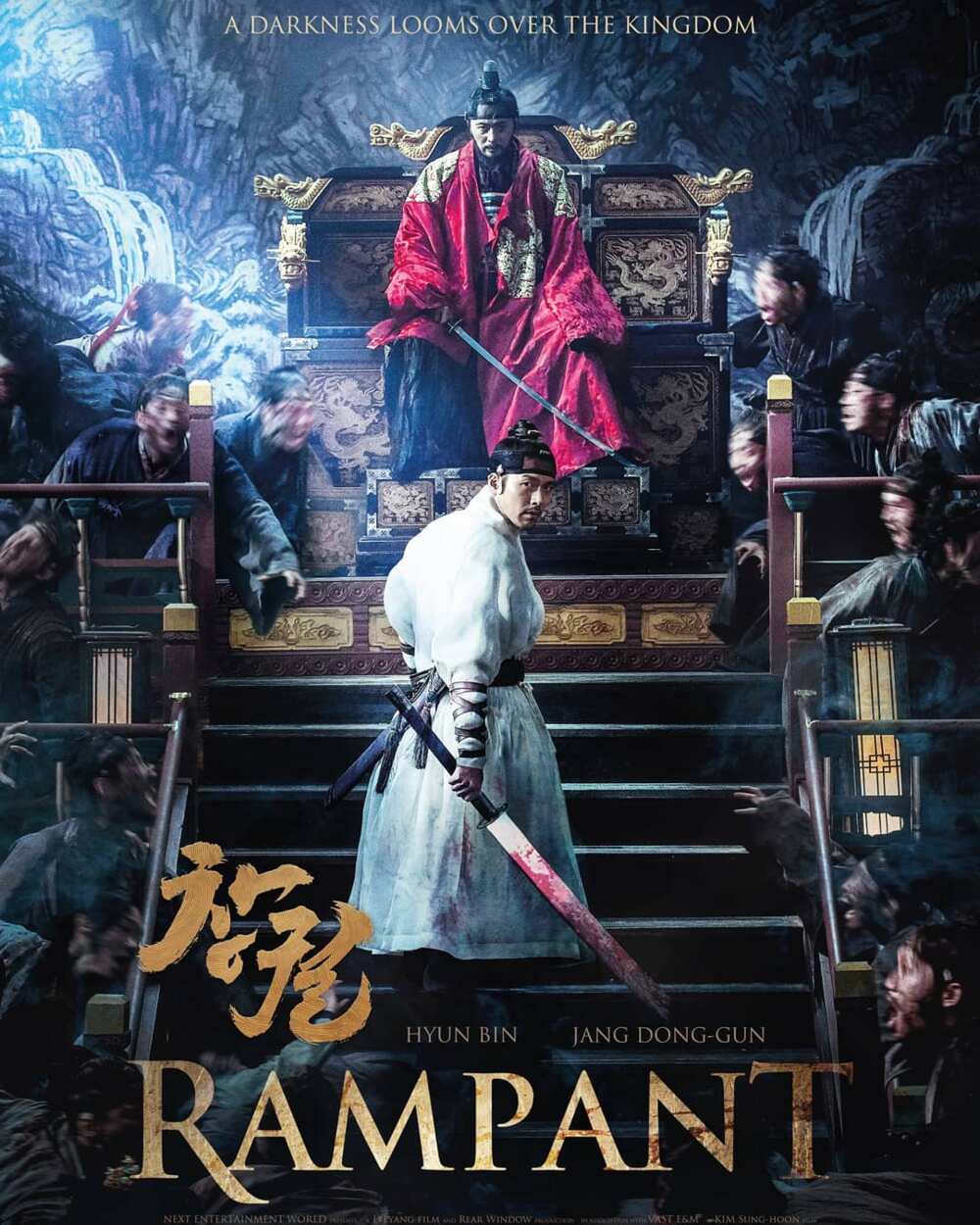 IMDb rating: 6.3/10
Release date: 2nd November 2018
Runtime: 2 hrs 1 min
Writer: Jo-Yun Hwang, Shin-Yeon Won & Hwang Jo Yoon
Director: Sung-hoon Kim
This period drama is set in Korea during the Joseon Dynasty. In a coup attempt by corrupt ministers, the crown prince Lee Young is forced to commit suicide as penance preventing his subordinates from being killed after the king suspects him of treason.
Over in the Kingdom of China, the king's younger song Lee Cheong learns of this betrayal and heads back home to set things right. Unbeknownst to him, 'night demons' who crave human flesh and blood have been set free in his father's kingdom.
Lee Cheong has to fight against these night demons as well as assassins sent after him by his father's corrupt ministers.
If you love well-developed characters, sword fights with a side of blood and gore, then Rampant should be on your list of zombie movies on Netflix.
1. Train to Busan (Busanhaeng)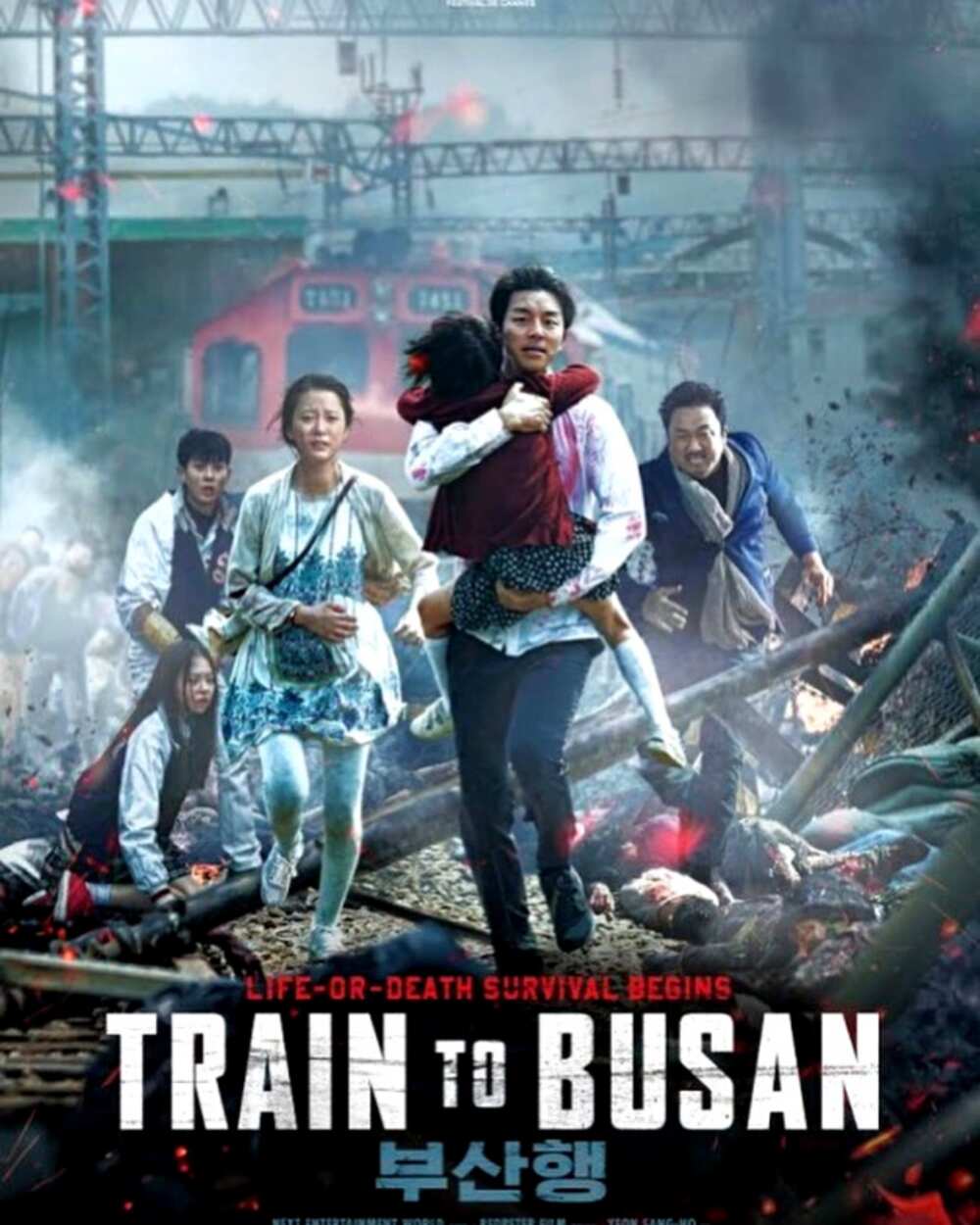 IMDb rating: 7.5/10
Release date: 20th July 2016 (South Korea)
Runtime: 1 hr 58 min
Writer: Joo-Suk Park, Sang-ho Yeon
Director: Sang-ho Yeon
Train to Busan tops our list of the best zombie movies because the writers, directors, and actors pulled off this movie in the best way possible. It keeps you at the edge of your seat as you hope that the characters survive
Feeling guilty for missing his daughter's singing recital at her school, absentee father Seok-woo decides to take his daughter to see her mother in Busan. The two board a train and among the passengers are Sang-Hwa and his pregnant wife Seong-Kyeong, Yon-Suk, elderly sisters In-Gil and Jong-Gil, and a stowaway homeless man.
As soon as the train departs, things start going wrong when a young woman, who got on the train unnoticed, turns into a zombie and infects the train's conductor. Soon, a chain of zombie infections start, and everyone is scrambling for their lives.
The main characters try banding together in order to fight and stay safe until the train eventually stops at Busan. An action-packed thriller film, this is one of the best zombie films today.
What zombie movies are on Netflix?
In case you have watched all of the above films and would like a couple more options, the streaming service has more good zombie films such as:
Bunks - 2014
KL Zombi - 2013
Rise of the Zombie - 2013
Zombieland - 2009
Phobia 2 - 2009
If you have been looking for great films involving the living dead, then we hope that these best zombie movies have given you an idea for what to watch. Enjoy!
Source: Legit.ng