20 best Alan Partridge quotes and one liners
For fans of dark humour, Alan Partridge quotes can always guarantee a good laugh. Despite their dark aspect, the jokes and quotes are quite brilliant as they always make you think a little harder for you to understand them.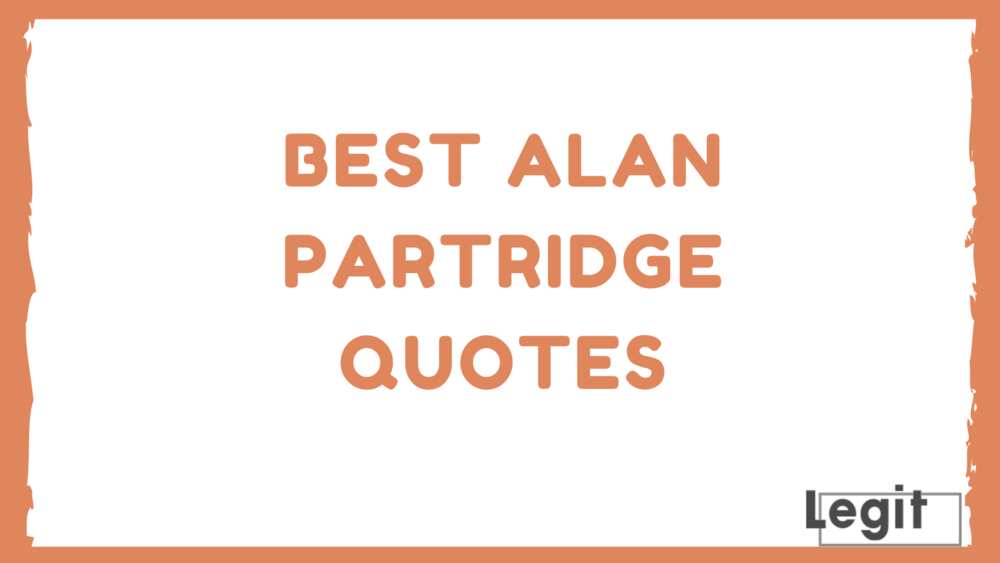 Alan Partridge was never afraid to make fun of anything. He made fun of serious issues such as AIDS, homosexuality, trans people, war, and even tragedies.
In 1991, Steve Coogan created his alter ego character, Alan Gordon Partridge, for the BBC Radio 4 show On the Hour. Three years later, the character moved to TV on the comedy show, The Day Today.
Alan Partridge also stared in more shows such as:
Knowing Me, Knowing You
I'm Alan Partridge
Mid Morning Matters with Alan Partridge
I, Partridge: We Need to Talk About Alan
Alan Partridge: Alpha Papa
This Time with Alan Partridge
Alan Partridge catchphrase
Alan Partridge coined the 'Aha' catchphrase on the 90s show Knowing Me, Knowing You. He used this catchphrase in all situations, whether the exclamation was appropriate or not.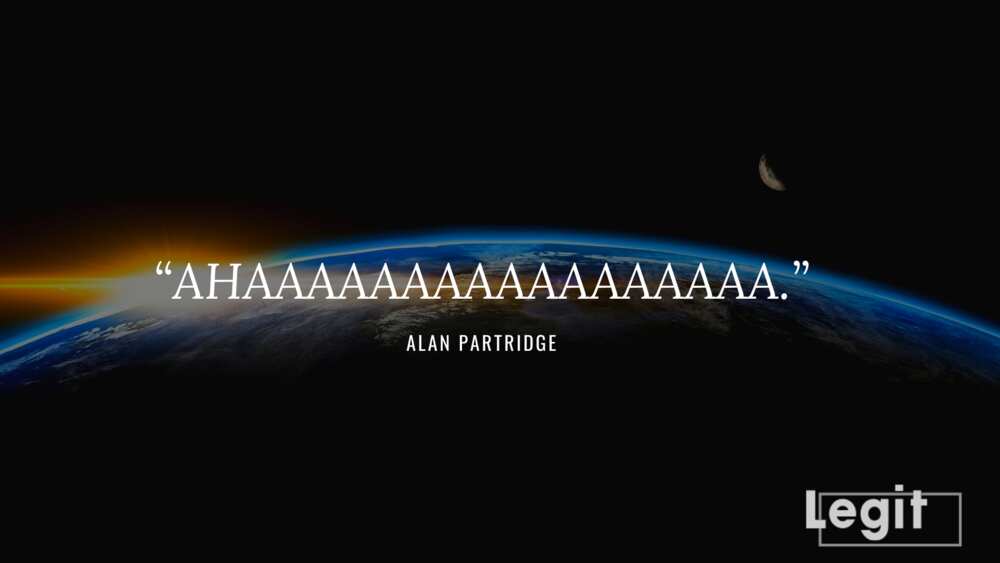 Alan Partridge's catchphrase was voted number 84 in Channel 4's 100 Best Catchphrases.
Best Alan Partridge quotes
Let me tell you something about the Titanic: people forget that on the Titanic's maiden voyage, there were over 1000 miles of uneventful, very pleasurable cruising before it hit the iceberg.
This is true. Titanic is known for being a tragedy, and no one ever talks about the good times that they experienced before the ship sunk.
Go to London, and I guarantee you'll either be mugged or not appreciated. Catch the train to London, stopping at Rejection, Disappointment, Backstabbing Central, and Shattered Dreams Parkway.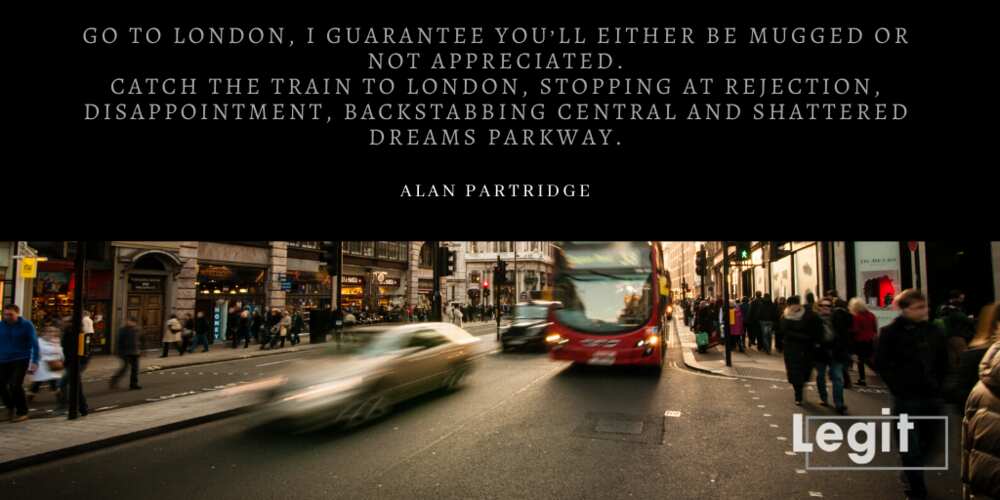 Like most big cities, London too has some dangerous areas. However, Alan made it seem like the whole city was quite unsafe.
Putting a damp spoon back in the bowl is the tea-drinking equivalent of sharing a needle. And I don't want to end up with the tea-drinking equivalent of AIDS.
I wish I'd be a bit more spontaneous. Sometimes I feel like going out, stealing a traffic cone, putting it on my head, and saying, "Look at me, I'm a giant witch."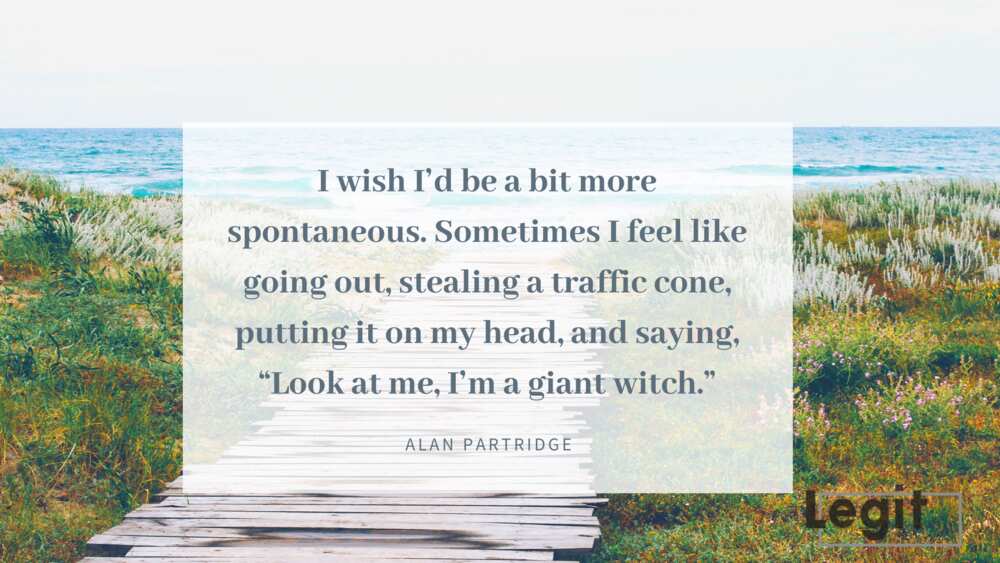 I've got a couple of kids. Male and female. Denise, she's the female and Fernando, he's the other one
If granddad John was alive today and I was able to feed him some of the sushi rolls lovingly prepared by my good friend Ando at MiSo Tasty, I think that all the anger that he harbored at having been tortured within an inch of his life at a Japanese prisoner of war camp, would instantly fade away, especially if he tried it with Ando's delightful wasabi sauce
In true Partridge fashion, this joke is also quite dark. It is considered taboo to make fun of war and people who have experienced the horrors of war and torture. Not only does he make fun of both, but he goes further to insinuate that food can help erase the hurt and anger caused by both.
Calm down, Lynn! You are suffering from minor women's whiplash
No, I don't smoke. I'm one of the anti-cancer set. We're a dying breed. Well, we're not, you are. I don't mean you've got cancer. Maybe you have.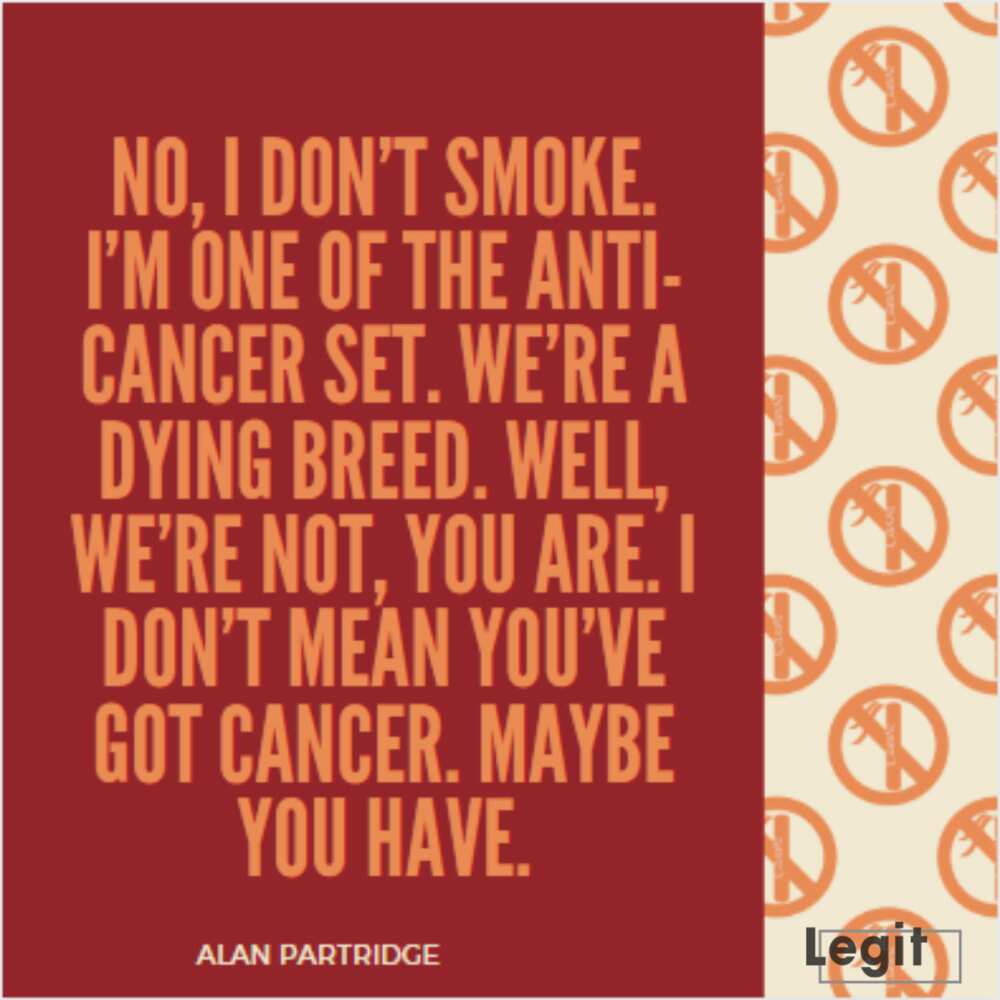 He was showing his distaste for smoking and those that do by threatening that they might have lung cancer.
I think the Irish are going through a major image change. I mean, the old image of Leprechauns, shamrock, Guinness, bucktoothed simpletons with eyebrows on their cheeks, horses running through council estates, men in platform shoes being arrested for bombings, badly tarmacked drives in this country
This famous Alan Partridge quote was used to describe Ireland and its people. While it is as dark and insulting as most of his jokes were, it is, in a way, a compliment to the positive changes in the country.
Got my fungal foot powder? Ah, it's a lifesaver, you know. I'd effectively be disabled if it weren't for these
There's never any graffiti in the hotel. Although in the gents a couple of weeks ago, I did see someone had drawn a lady's part. Quite detailed. The guy had talent.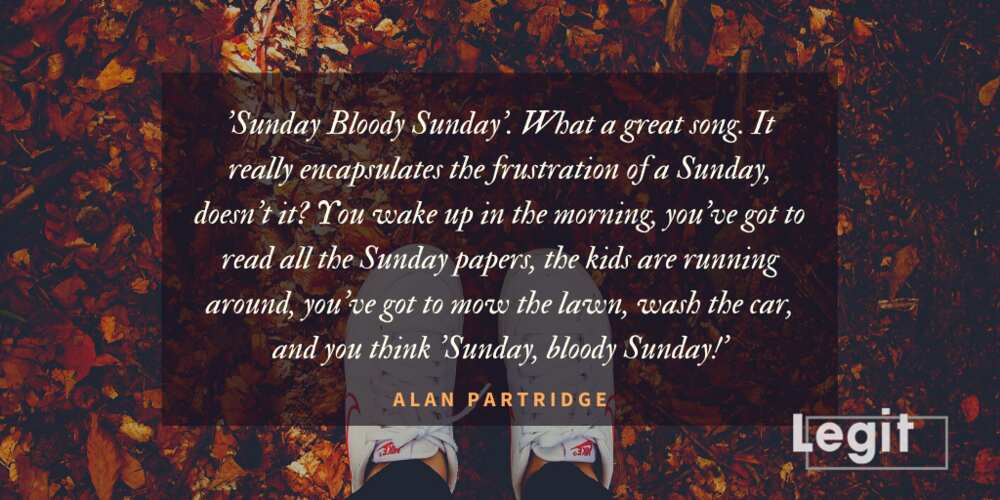 'Sunday Bloody Sunday.' What a great song. It encapsulates the frustration of a Sunday, doesn't it? You wake up in the morning, you've got to read all the Sunday papers, the kids are running around, you've got to mow the lawn, wash the car, and you think 'Sunday, bloody Sunday!'
Now, self-defense is not just about punching someone repeatedly in the face until they're unconscious is it?
This was said to a self-defence expert who was trying to show the broadcaster how to defend himself.
Lynn's a good worker, but she's a bit like Bert Reynolds. Very reliable, but she's got a mustache - a bit like ladyboys. Looks like a woman, but really it's a man. I mean, I don't find them attractive, just confusing."
Alan Partridge one liners
Smell my cheese, you mother!
Would it be terribly rude to do listening to you and go speak to someone else?
Lynn, get rid of her. She is a drunk racist. I will tolerate one, but not both.
Divorced. I've got access to the kids... But they do not want to see me.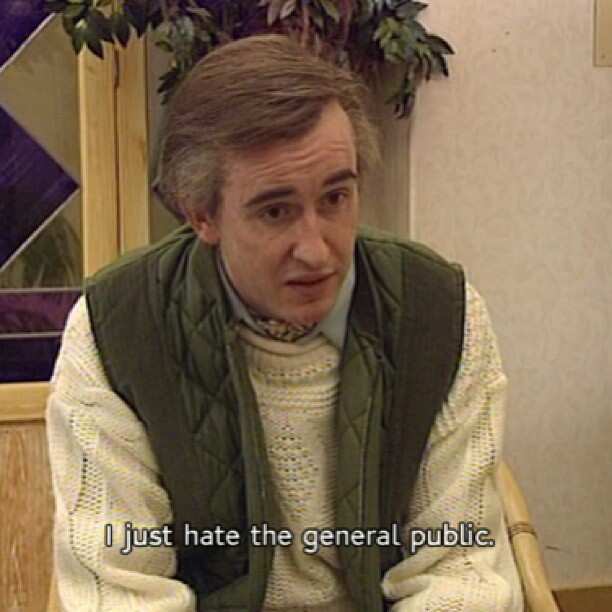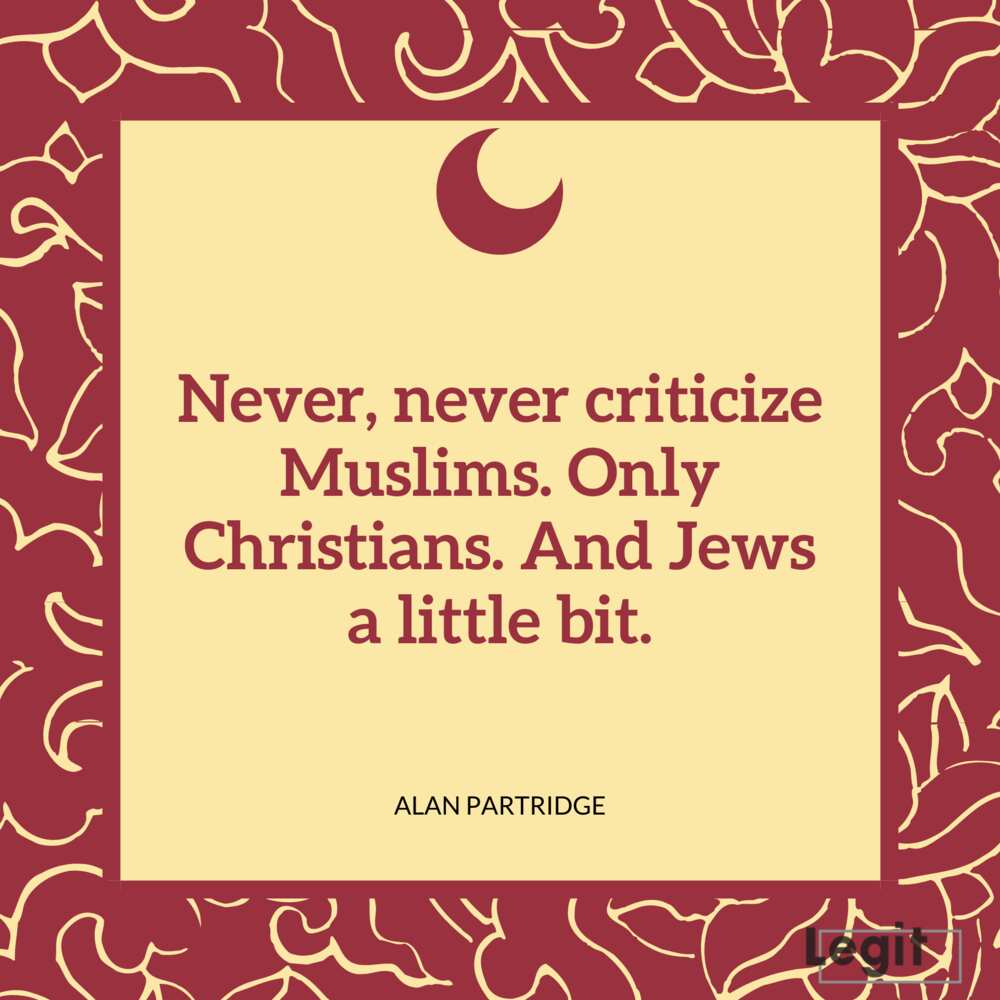 We are having a hoedown. I am down but I am not a ho
This is great banter!
This Alan Partridge banter quote comes from an excerpt taken from an episode of the Mid Morning Matters show.
You look awfully cheery considering it's the first anniversary of your mother's death
My face was designed as a leisure accessory
Alan Partridge quotes football
Sh*t!! Did you see that?! He must have a foot like a traction engine!
Behrami has been all over the field this half, He will need two sugars in his tea and an oxygen tank at half time.
Yes! yes, yes, yes, yes, yes, yes, yes!… That, was a goal!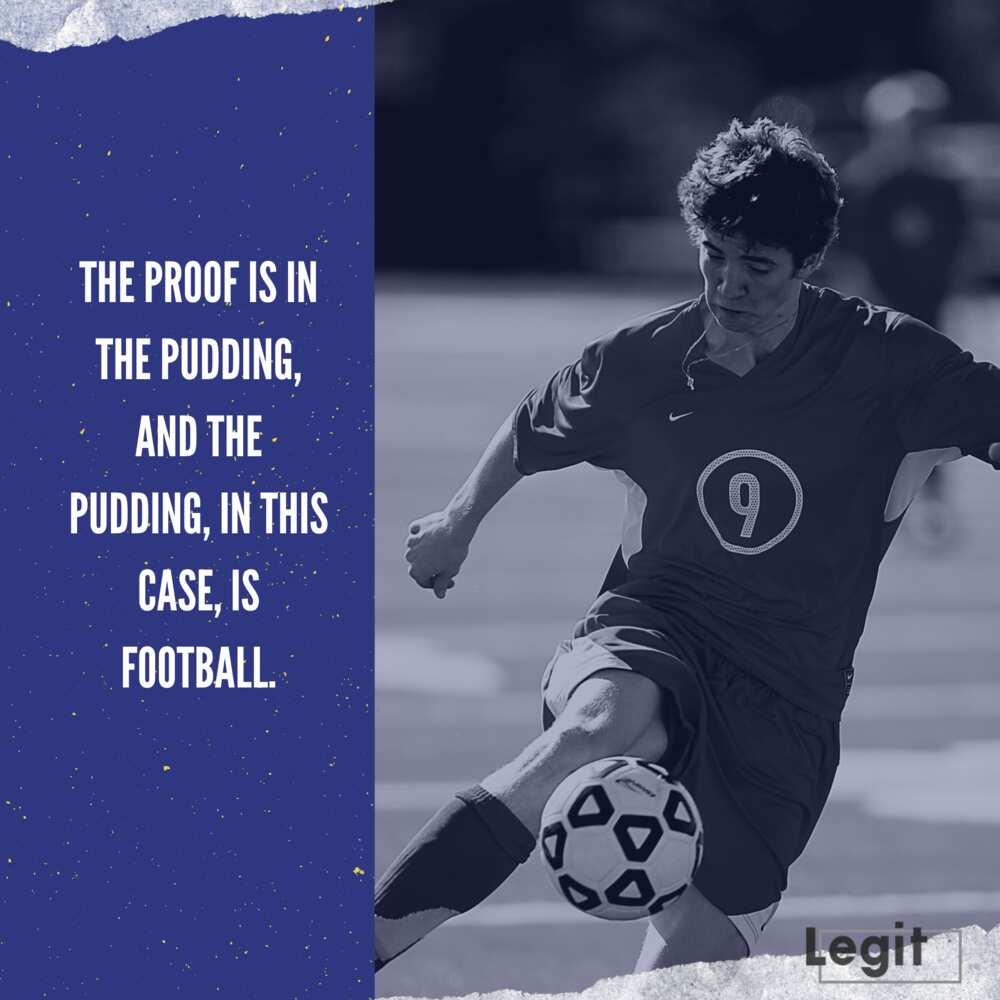 The proof is in the pudding, and the pudding, in this case, is football.
TW*T!! That was liquid football!"
Alan Partridge quotes on love
This quote was in reference to the up and down motion used during an intimate act.
Actually, the best thing I did was to get thrown out by my wife. She is living with a fitness instructor. He drinks that yellow stuff in tins. He is an idiot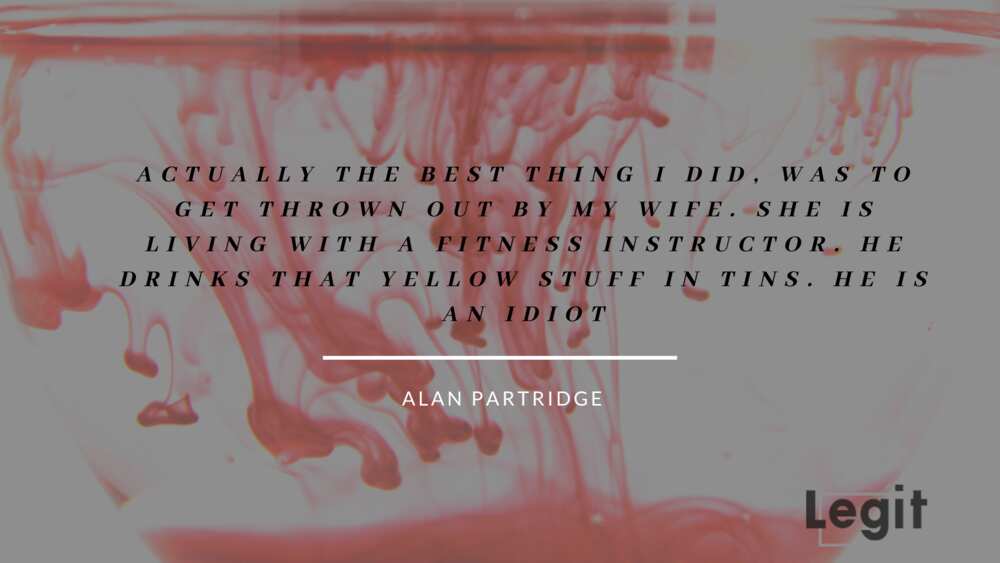 You can use this Alan Partridge quote in a situation where a lover professes their love to you, but you do not feel the same way
I'm going to hump you, like Deputy Dawg would hump you.
Let battle commence
The above quote was used as he was speaking to Sonja just as they were about to sleep together.
Alan Partridge quotes were a hit in the early 90s when the character was established. Whether the same jokes and saying can work in today's socio-political climate is another issue altogether.
Source: Legit.ng