Nigerian man cries out after discovering he isn't the father of his three kids
- A Nigerian man has taken to social media to cry out after discovering three of his kids are not his
- In a mail he sent to relationship blogger, Joro, he discovered after he tried donating blood to his child and was told he wasn't a match
- The heartbroken man further advised other men to carry out DNA test on their supposed children
Many people often know how to handle cheating in relationships. While some devise methods to punish them, others just up and leave. However, not so many people know how to handle a cheating partner, especially when children are involved.
Currently trending on social media is a story of a man who recently discovered his three kids out of 4, were not his. In an email which he sent to relationship blogger, Joro, he expressed his heartbreak over the issue.
According to the mail, he made the decision to carry out a DNA test after he tried donating blood to one of the kids and was told his blood didn't match. He went ahead to carry out the test on all three kids but stated he'd have to wait till his wife who is pregnant, puts to bed the fourth child before testing the baby as well.
PAY ATTENTION: Get the Latest Nigerian News on Legit.ng News App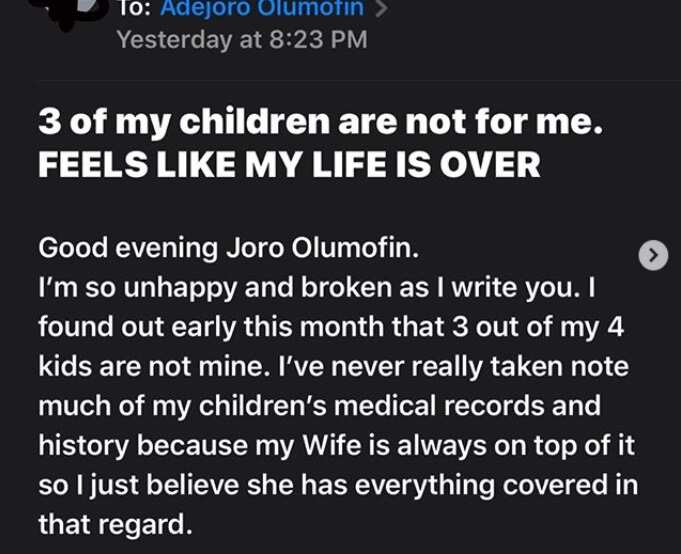 Read the full story below:
"Good evening Joro Olumofin. I'm so unhappy and broken as I write to you. I found out early this month that 3 out of my 4 kids are not mine. I've never really taken note much of my children's medical records and history because my Wife is always on top of it so I just believe she has everything covered in that regard. We got married officially 2013 and between then and now my wife had a set of tins boys and one girl. Now 2019 she is currently pregnant with another baby.
Sometime in October, my wife was away in work assignment, one of the twins fell really ill and needed blood. As the father, I offered to give blood but after running all necessary tests the doctor said I couldn't give my child blood because our blood group didn't match. I was confused because I and my wife between us I didn't know her blood group. Never paid any attention."
PAY ATTENTION: Do you have news to share? Contact Legit.ng instantly
"To cut the long story short, that was the day everything fell apart. I took the other 2 children to the hospital the next day and asked that the doctor run a DNA test on all 3 kids. After a week the result came and the 3 kids aren't mine. There is no way to know about the last child my wife is carrying until she puts to bed. This is a woman who I have given everything, is it cars? Money? Businesses? Anything she wants I provide. She is the envy of all her friends. I have not touched another woman since we got married and she repays me with such wickedness. I have been taking care of another man's children.
I can't help but hate them. I hate all of them. I can't stand the sight of them. They are suffering for offences committed by their mother. I saw so many signs but I ignored. The ultimate question. Who is their father, she doesn't know or she doesn't want to tell me. Is the child she is carrying now for me? Was she sent to me by the devil to ruin my life? I am losing my mind. I pray and go to bed thinking I will love these kids in the morning but in the morning I hate them more than I slept. It is so hard for me. I am in serious pains. Please do DNA test your children. Don't invest in Bstard children like I did. Some people will love them I praying for God's strength. The twins celebrate their birthday next week. I am sad and happy I won't be a part of their life."
In a similar story, a Nigerian doctor has taken it upon himself to educate men on the risks of not taking a DNA test for their children.
The Nigerian doctor explained that it is possible men end up raising a child that is not his. The Nigerian doctor identified as Adams Ayeni narrated how he met a patient who brought in a child with a PVC (packed cell volume) of eight per cent and they discovered that the child is sickle cell.
What if your child isn't really yours? | Legit TV
Source: Legit.ng