UFC 245 fight card and results
Ultimately, the long-awaited UFC 245 event occurred and amazingly, it lived to UFC fans' expectations. It featured some of the best mixed martial arts fighters on the main card, preliminary card, and early preliminary card. Check out all the details of the UFC 245 below.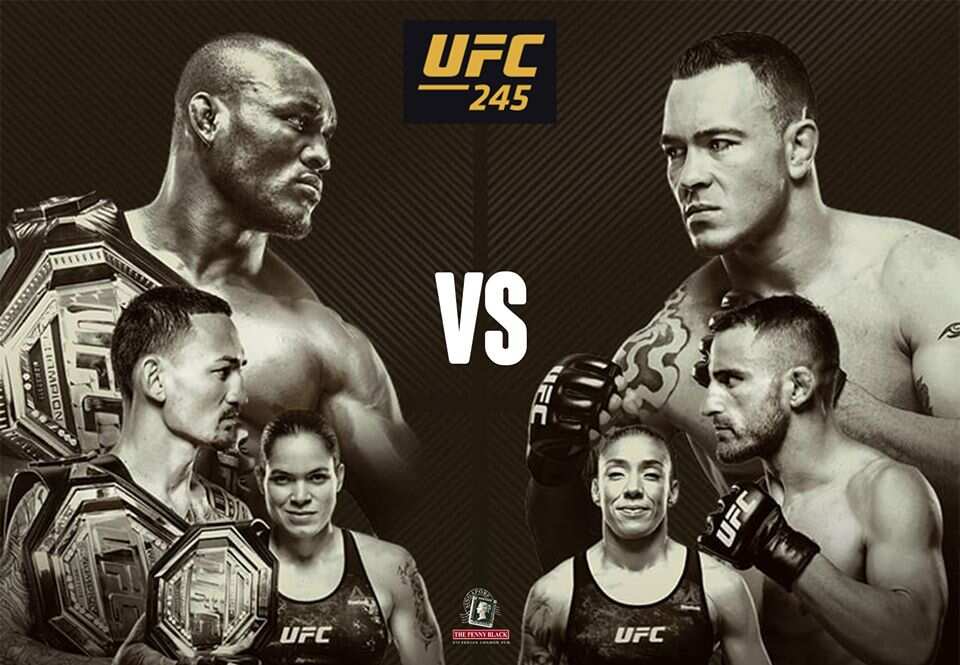 In what is perceived to be one of the biggest events of UFC, different top UFC contesters were ready to defend their titles while also entertaining fans. Each fight had a key-talking point and the UFC 245 results were dominated with more knockouts than unanimous decisions.
Event details
Promotion: Ultimate Fighting Championship (UFC 245)
Date: December 14, 2019
City: Paradise, Nevada, US
Venue: T-Mobile Arena
UFC 245 fight card, highlights of the bouts and UFC results
Here are the major highlights.
Main card
For the main card, the following transpired.
Kamaru Usman VS Colby Covington - Welterweight
This was a highly hyped main fight and the titleholder, Kamaru Usman, had to endure a long period of trash talking by Colby Covington before the D-day. Kamaru Usman successfully defended his welterweight title after defeating Colby Covington by a technical knockout in the fifth and final round of the match.
Colby put up a spirited fight until the last round even after his jaw was broken by a powerful right-hand jab from Kamaru. The Nigerian-American has improved his already impressive form to 16 wins and 1 loss.
Max Holloway VS Alexander Volkanovski - Featherweight
Max Holloway lost his featherweight championship title to Alexander Volkanovski in a tight fight that lasted five rounds. Alexander had promised to oust Max and he surely did it through the unanimous decision. The scorecards read; 48-47, 48-47 and 50-45 in favor of Alexander. It was a closely contested fight but throughout the rounds, Alexander Volkanovski proved to have more edge than Max Holloway.
Amanda Nunes VS Germaine de Randamie - Women Bantamweight
Amanda Nunes had what it took to retain her bantamweight title for the fifth time in a row after defeating Germaine De Randamie by a unanimous decision. Amanda took her opponent head-on from the first round and at some point, she had to change tactics and use wrestling skills which paid off in the long run.
The fight went through to the last round and the judges handed Amanda the win as their scorecards read; 49-44, 49-46 and 49-45.
Marlon Moraes VS Jose Aldo - Bantamweight
This was a non-title bantamweight division fight and Jose Aldo was making his debut against Marlon Moraes, who is a former bantamweight title contender. Marlon might have thought that it would be an easy win but Jose proved his worth even though he is inexperienced in the bantamweight division.
It was a fiery exchange of punches and kicks with both fighters determined to get a knockout before full time. Ultimately, it was Marlon Moraes who earned the critical points to win the contest with scorecards reading 29-28, 29-28 and 28-29.
Petr Yan VS Urijah Faber - Bantamweight
For the most part of this fight, Pert Yan was the aggressor and Urijah Faber did all he could to defend himself. The fight went up to the third and final round when Yan landed a thunderous kick to the head of Faber and the referee jumped in to stop the fight.
Preliminary fight cards
For the preliminary fight cards, these are the highlights.
Geoff Neal VS Mike Perry - Welterweight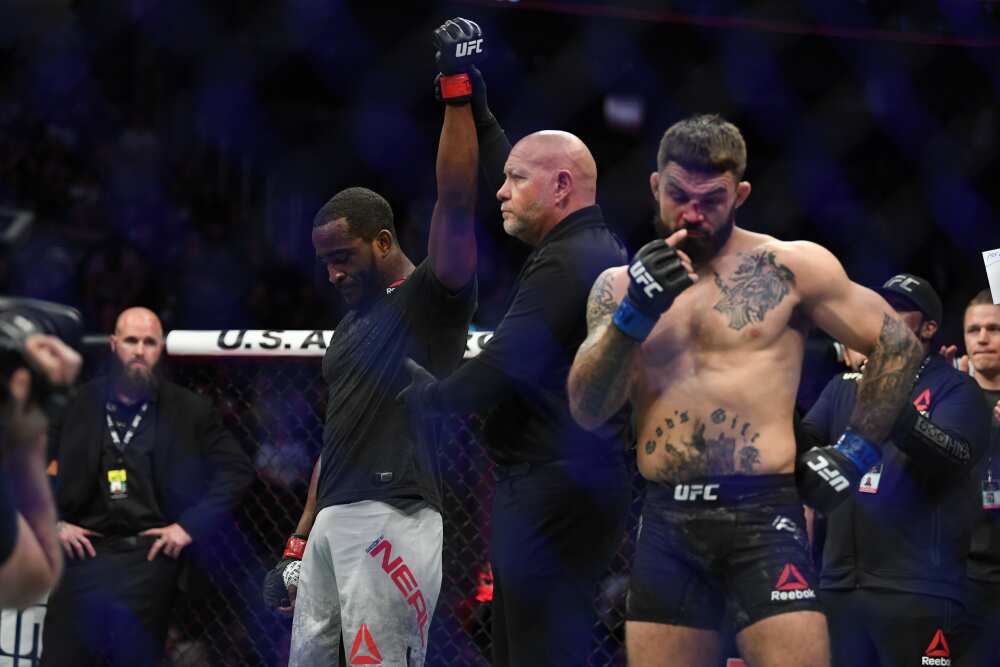 Geoff Neal was clinical and smart when he was quick to attack Mike Perry in the first round of the welterweight fight which earned him a straight win within 90 seconds. He wasted no time to land a head kick and a combination of punches which prompted the referee to stop the fight. Without a doubt, it was a deservedly win via technical knockout.
Ketlen Vieira VS Irene Aldana - Women Bantamweight
The women's bantamweight bout was decided within the first round when Irene Aldana stopped Ketlen Vieira with a big left hook. The defeat to Aldana was Ketlen's first loss through knockout while it also earned Aldana a first UFC win via knockout.
Ian Heinisch VS Omari Akhmedov - Middleweight
This fight went all the way to the final round and the winner had to be determined by a unanimous decision by the judges. It was Omari Akhmedov who emerged the winner in the middleweight fight after each of the three judges showed that he scored 29-28.
Matt Brown VS Ben Saunders - Welterweight
Ben Saunders could not keep up with the pace of the vicious Matt Brown and just a few seconds to the end of the third round of the welterweight bout in the preliminary card, Matt struck his opponent using his elbow and a flurry of punches.
Early preliminary fight cards
Here is what transpired during these fights.
Chase Hooper VS Daniel Teymur - Featherweight
This featherweight bout ended in the first round. Chase Hooper looked determined to improve his remarkable to 19 wins and Daniel Teymur was a no-match. Both fighters battled to control the rhythm of the fight in the early minutes but it is Hooper who emerged more tactical than his opponent and earned the win by butting him severally with his elbow.
Brandon Moreno VS Kai Kara France - Flyweight
Even though the fight went through all the rounds, Brandon Moreno proved that he was a better fighter than Kai Kara France in the end. The fight had a slow tempo in the first and second rounds but it picked pace in the subsequent rounds. It was an entertaining bout with both contenders having highlight moments but the judges ruled that Brandon Moreno had the last laugh with scores of 29-28, 30-27 and 29-28.
Jessica Eye VS Viviane Araujo - Women Flyweight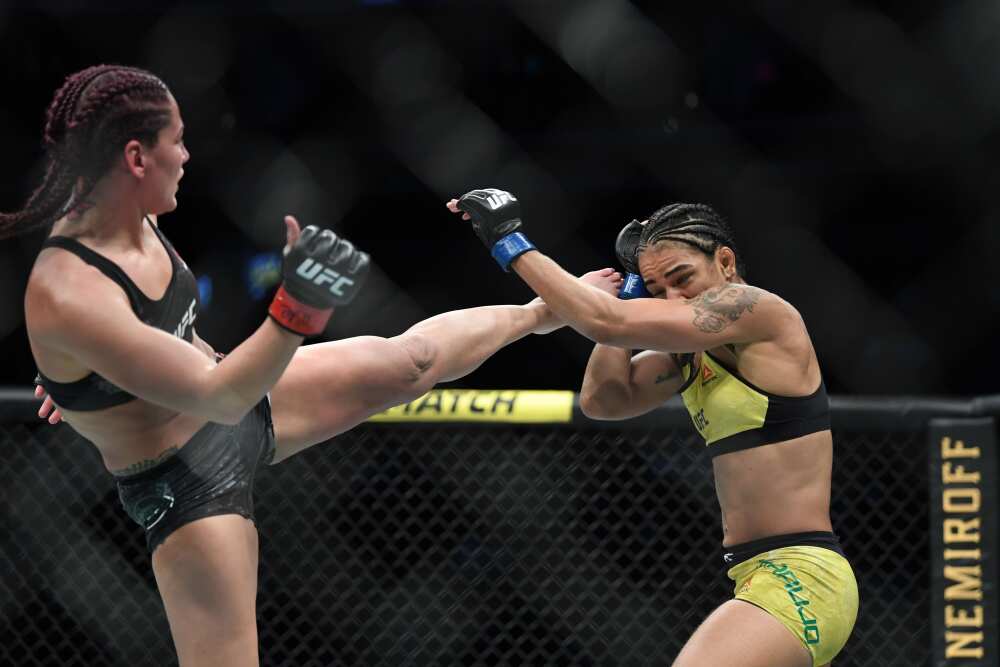 It was a closely contested fight with Jessica Eye claiming her first victory since June when she was defeated by Valentina Shevchenko. Eye consistently attacked throughout the three rounds scoring points against her opponent.
On the other hand, Araujo showed some flashes of brilliance when landing a combination of punches when she was on the offensive. Ultimately, it was Jessica Eye who got a favorable ruling from the scorecards of judges which all showed 29-28.
Punahele Soriano VS Oskar Piechota - Middleweight
Punachele Soriano extended his undefeated streak when he crashed Oskar Piechota in the first round of their middleweight bout via knockout. The skilled Hawaiian fighter used his pace and power to land accurate and consistent punches that stunned Oskar Piechota.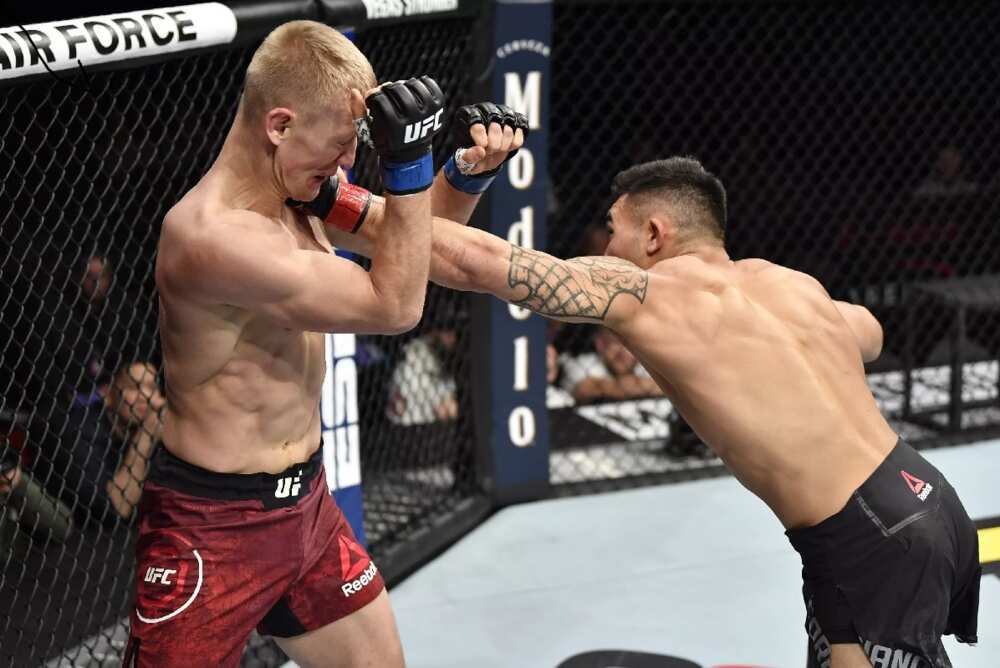 Without a doubt, UFC 245 was an amazing event that uplifted the names of some promising fighters and that also saw the downfall of some famous fighters in the octagon ring. As a UFC fanatic, you cannot help but look forward to future events as the game gets more thrilling.
Source: Legit.ng