Meet British nurse Nkechi Rosalind Colwell who left her home in England for Nigeria
- Facebook user, Uche Anyanwagu, has narrated details of his experience on meeting British nurse, Nkechi Rosalind Colwell
- Anyanwagu who described the meeting as humbling, stated that he was awed with her fluency in Igbo language
- The wheelchair-bound woman is known to have devoted 35 years of her life in treating and helping young children in Abia state
Facebook user, Uche Anyanwagu, has many Nigerians in touch with their altruist nature after sharing the story of Nkechi Rosalind Colwell, a British nurse who served in Nigeria for 35 years. Anyanwagu met her at a church in London recently and many things including her command of the Igbo language left him in awe.
Long when missionaries flocked Nigeria, many settled in the eastern region and some chose to remain, live with the locals and become part of a new culture. One of such was Nkechi Rosalind Colwell, who as a young nurse then served in the Leper Colony, in Uzuakoli area of Abia state.
For 35 years, the British nurse left her home in England and chose to treat mentally ill patients in Abia. She opened a home for the mentally sick in Amaudo, Itumbauzo. With perseverance, hard work and dedication, she provided medical care and successfully rehabilitated some who later found their way back into the society. Some of her patients also learnt new skills and became productive members of society.
Unfortunately, while still serving and treating people, she suffered a stroke that left her paralysed from her waist down, confining her to a wheelchair. Left with no option, she relocated back to the United Kingdom to get proper medical care.
Even though she now lives in the UK, Anyanwagu who shared her story suggested that her heart is still in Nigeria. Not only does she still eat eastern delicacies as reported by her sister but she also longs to return home and still converses fluently in Igbo when she sees a speaking mate.
See photos below: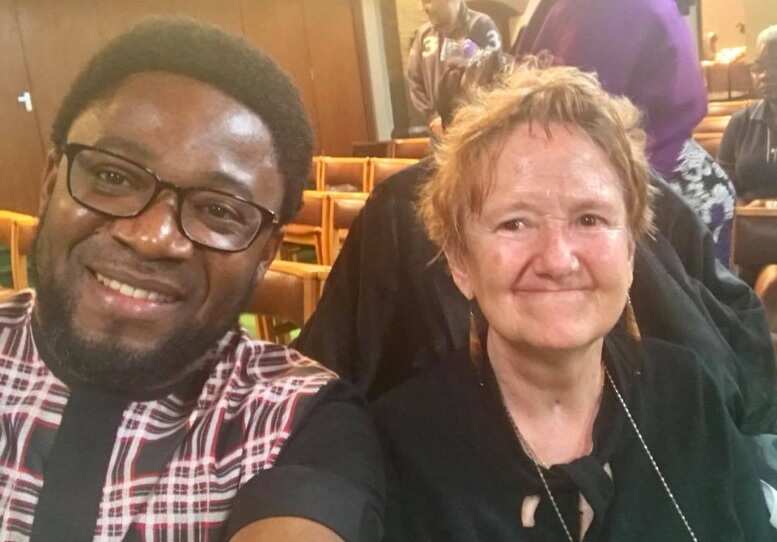 According to Anyanwagu, the name Nkechi was given to her by late Pa Herbert Osoka. Due to her sacrifice and selflessness, the community in which she served gave her a chieftaincy title and the Methodist Church also knighted her.
Anyanwagu and his family conversed with the heroine for an hour before settling to take photos.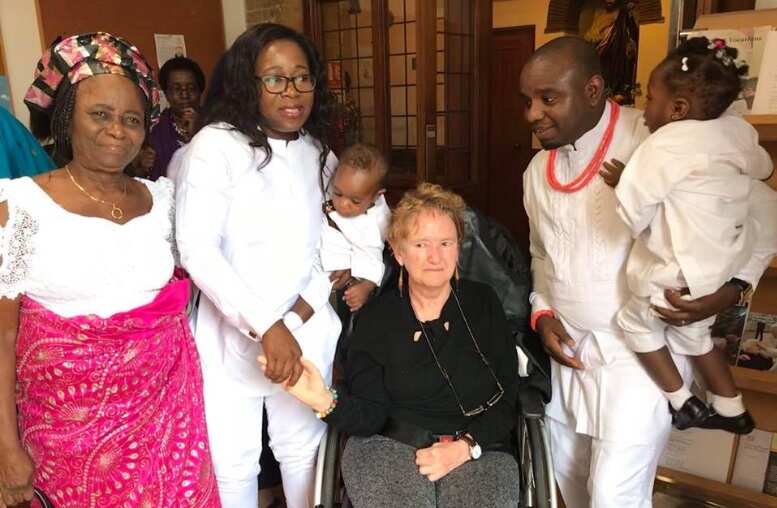 By nature's design, human beings live to die but what makes it all worth it is how each person strives to live and lead an impactful life. Those who choose to serve humanity are often the ones who shape history.
Read Anyanwagu's post below:
Meanwhile, 12 African-Americans, exploring their ancestry in West Africa, have been given native Nigerian names in commemoration of the four centuries of the first Africans slaves to arrive in Virginia, United States.
Legit.ng reported that the Americans were christened local Igbo names at a ceremony on Nigeria's 59th Independence Day, Tuesday, October 1. The event was organised by the Global Institute of Diversity and Change and the Igbo Community in Abuja.
PAY ATTENTION: Read best news on Nigeria's #1 news app
Do you have news to share? Contact Legit.ng instantly
What's special about being a Nigerian? Legit TV:
Source: Legit.ng