Most expensive phone: Top 10 of 2021 with prices and descriptions
There are millions of mobile phones in the world manufactured by several companies to meet the needs of consumers. The handsets come with unique features, specifications and even different prices. What is the most expensive phone, and how much does it cost?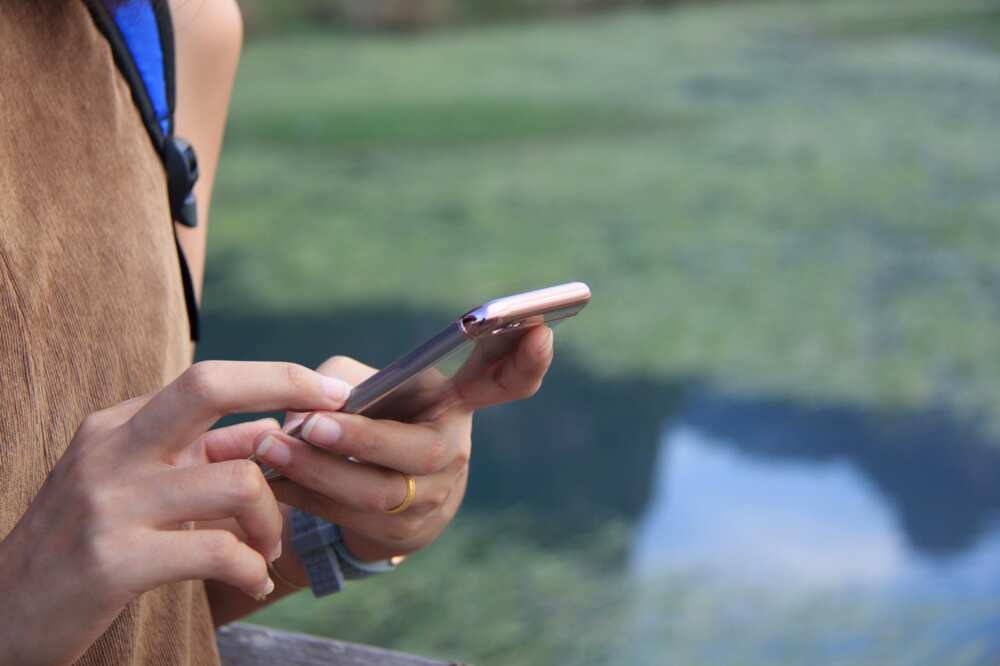 Popular brands like Apple, Samsung, Google, or even Huawei, are known to manufacture the best handsets in the world. However, some of the most expensive mobiles are customized brands by renowned designers.
Most expensive phones in 2021
Some mobile devices cost as low as $10 or below, while others are worth millions of dollars. Only the rich can afford the most expensive handsets on earth.
Are American made cell phones among the most expensive in the world? Here is our list of most valuable handsets on earth.
10. Goldvish Revolution - $488,150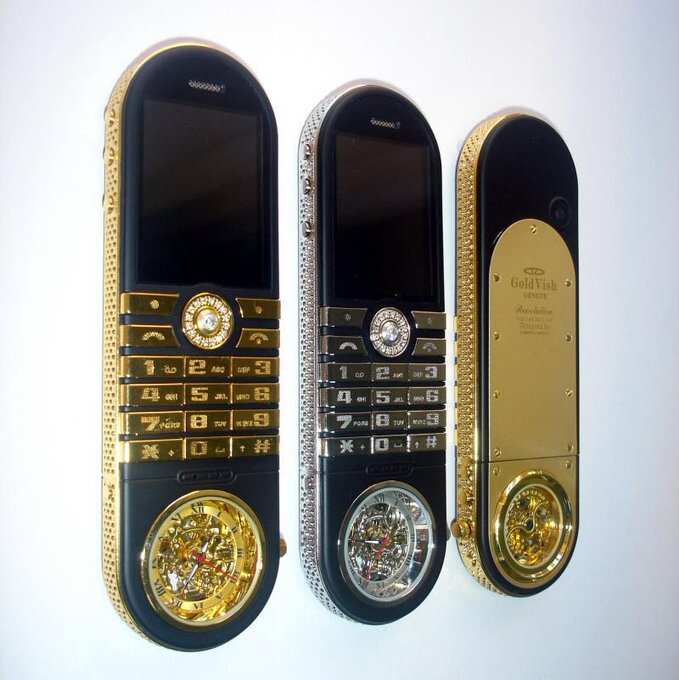 Goldvish Revolution surpassed Black Diamond VIPN and Vertu Signature Cobra handsets to make it into the top 10 most expensive mobiles in the world. Vertu phone pricing is $360,000, while Black Diamond VIPN costs $300,000.
Swiss watchmaker Frédéric Jouvenot designed the Goldvish Revolution gadget. It is crafted in 18ct white gold and rose gold. The device is also encrusted with 32ct of VVS graded diamonds.
It takes more than three months to complete making each of the Goldvish Revolution handsets. Only nine of the model were available as of 2014.
9. Gresso Luxor Las Vegas Jackpot - $1 million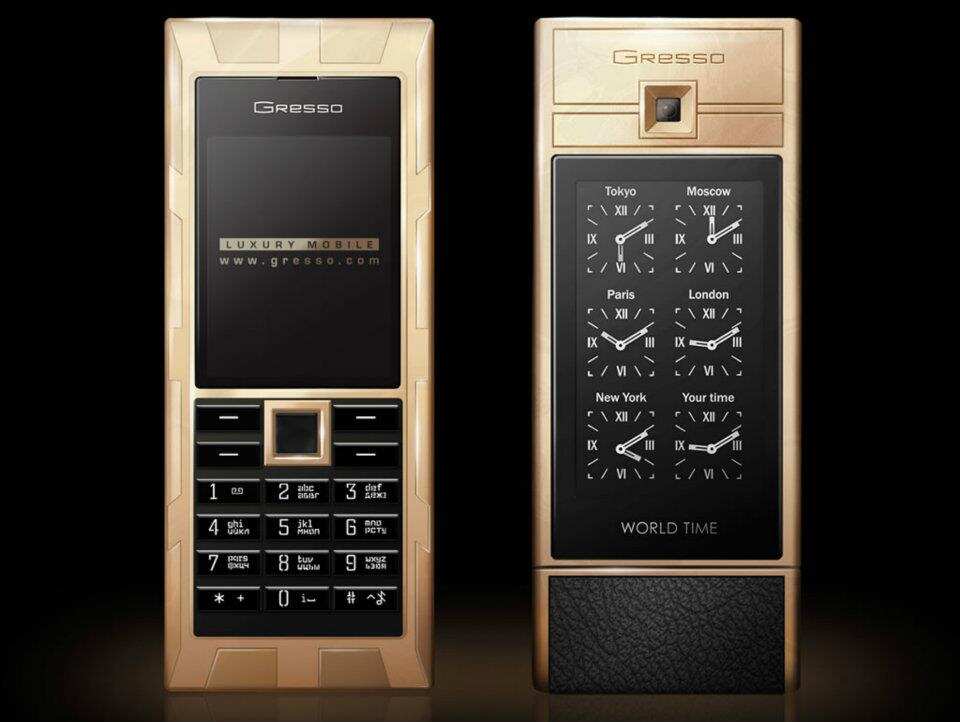 The Gresso Luxor Las Vegas Jackpot is also among the highly valued handsets in the world. It was unveiled back in 2010 by Gresso, a Swiss company known for producing luxury mobile phones and accessories.
Designed using back diamonds of 45.5k covering its front, Gresso Luxor Las Vegas Jackpot also has a 200-year-old African Backwood covering its back.
Its keypad consists of 17 manually polished and laser etched sapphires weighing 32 K. Only three of the device got produced.
8. Diamond Crypto smartphone - $1.3 million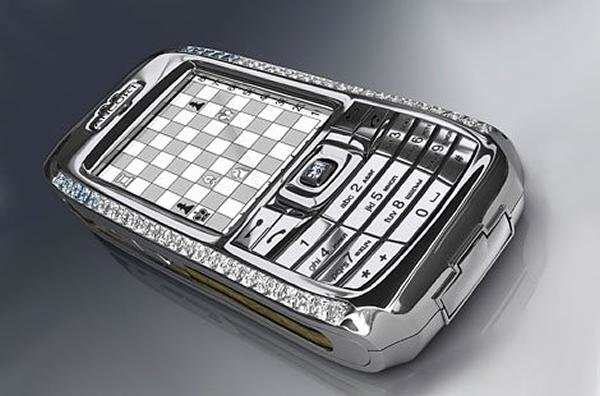 Designed by Peter Aloisson, Diamond Crypto mobile features 50 diamonds, 10 of which are blue. The expensive handset constitutes of solid platinum.
The Ansort logo and navigation are 18 carats rose gold with 28 cut diamonds surrounding the navigation key. Its sides also are decorated by 25.5 princess-cut diamonds.
The manufacturing company behind the handset is JSC Ansort, based in Moscow. The expensive device is also famous for its insane encryption technology.
7. Goldvish Le Million - $1.3 million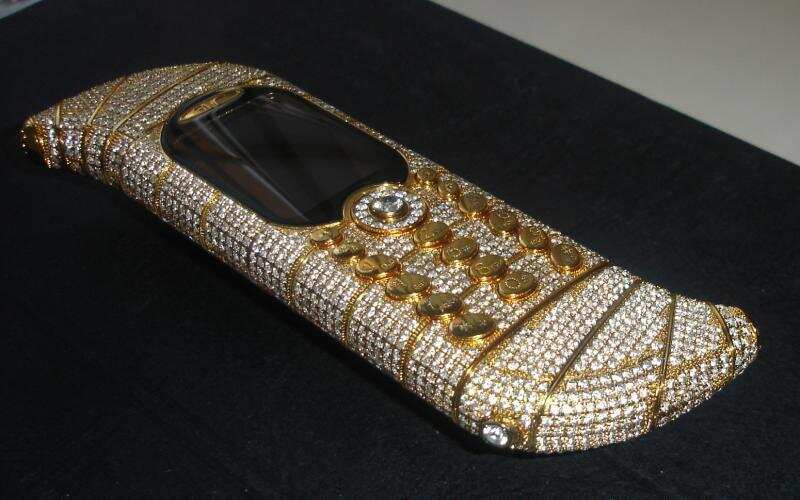 The Goldvish Le Million is another unique handset made of costly materials, thus, ranked it among the top 10 cell phones that are valued highly in the world. Emmanuel Gueit is the designer of the luxurious gadget.
Gueit handcrafted the gadget, which was announced at the Millionaire Fair in Cannes back in 2006. It is made out of 18K of white gold and encrusted with 120k of diamonds. When it comes to weight, the device weighs 350 grams.
Goldvish Le Million uses an advanced dynamic TFT display. It also was listed in Guinness Book of world record as the most expensive and exclusive mobile handset sold at one million euros during its unveiling.
6. IPhone 3G King's Button - $2.4 million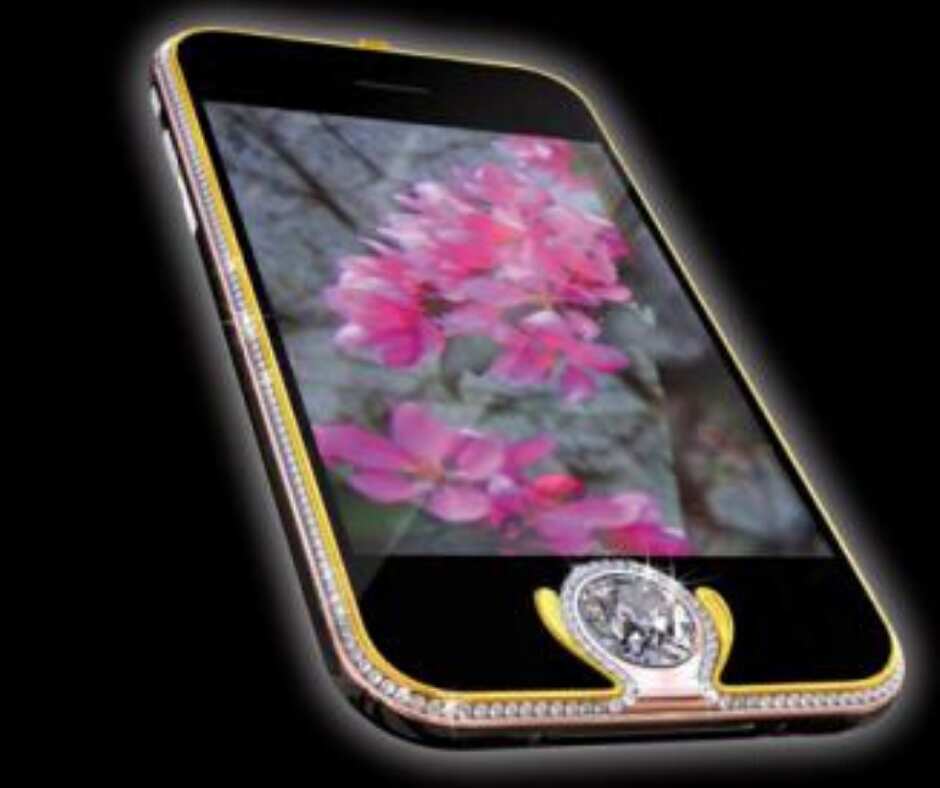 Austrian jeweler Peter Aloisson designed the sixth most expensive handset, iPhone 3G King's Button. It is also one of the most expensive iPhones in the world.
The Apple handset is made of solid 18-carat yellow gold, white gold, and rose gold. It also has a white gold line encrusted with a total of 138 brilliant-cut diamonds of the best quality.
The most prominent feature of the luxury gadget is the 6.6-carat diamond used as its home button, which makes it appealing to the eye.
5. Goldstriker iPhone 3GS Supreme - $3.2 million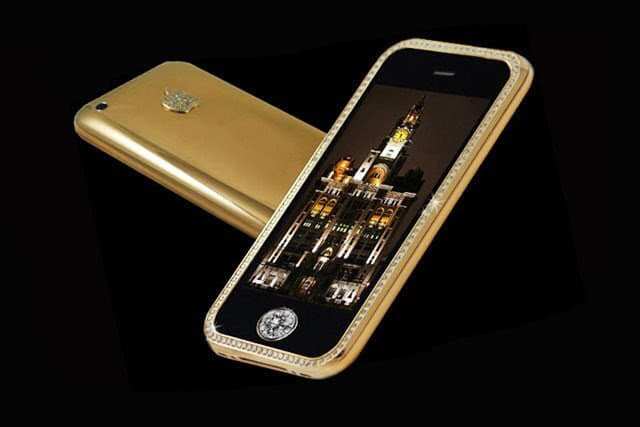 Goldstriker iPhone 3GS Supreme makes it into the top five most expensive handsets. Stuart Hughes is the designer of the device.
The gadget, made in Liverpool for Australian businessman, constitutes a rare 7.1-carat diamond in its navigation button.
It also constitutes 22K gold. The bezel of the gadget is handmade from platinum with 130 individual 75 flawless diamonds, which total 97.5ct.
It took ten months to make Goldstriker iPhone 3GS Supreme of 32 GB. Its pack box is a 7kg granite box lined with nubuck leather.
4. IPhone 4 Diamond Rose - $8 million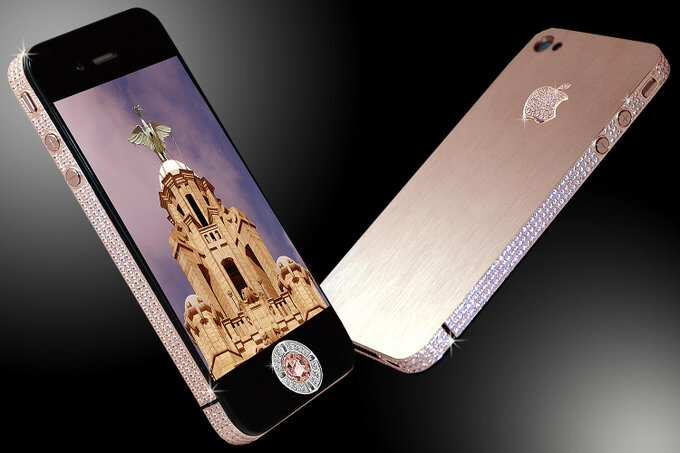 iPhone 4 Diamond Rose is another luxury handset designed by Stuart Hughes. It is among the most expensive diamond mobiles globally.
The handset constitutes a 7 kg chest made out of a single block of Imperial Pink granite lined with Nubuck leather. It also has a rose gold bezel caked with 500 diamonds (100 ct) on front.
At the back of the handset is an apple logo that constitutes 53 diamonds. Only two such 32GB models got made back then to preserve its exclusivity.
3. iPhone 4S Elite Gold - $9.4 million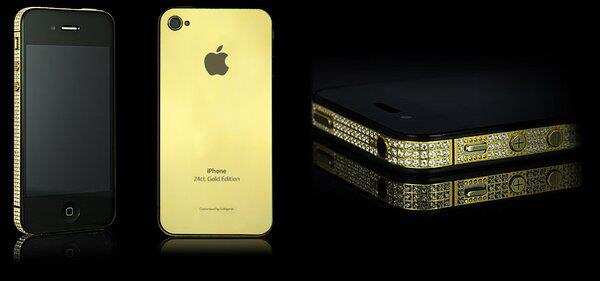 Third in the list of most expensive mobiles ever is another Apple handset designed by Stuart Hughes.
Its bezel is handmade from a rose with approximately 500 individual flawless diamonds, which total over 100ct.
The rear section of iPhone 4S Elite Gold constitutes 24ct gold with the added touch of its 24ct gold Apple logo and 53 diamonds.
The gadget is also covered with Dinosaurs bones, making it more attractive. Only two models of the handset got made.
2. Black Diamond iPhone 5 - $15.3 million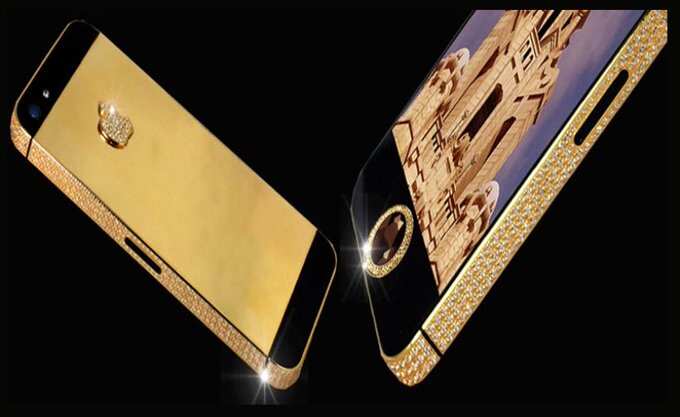 The Black Diamond iPhone 5 is the second most expensive phone in the world. Renowned creator, Stuart Hughes, designed the luxurious gadget.
The device is currently regarded as the most expensive apple handset ever designed. It constitutes of gold, precious stones, and a costly black diamond used to make the home button.
Hughes crafted the unique gadget for Hong Kong businessman, Joe. He spent nine weeks creating the chassis of the handset.
The device also includes 600 flawless white diamonds and a full robust gold dressing.
What is the most expensive phone in the world 2021?
1. Falcon Supernova IPhone 6 Pink Diamond - $48.5 million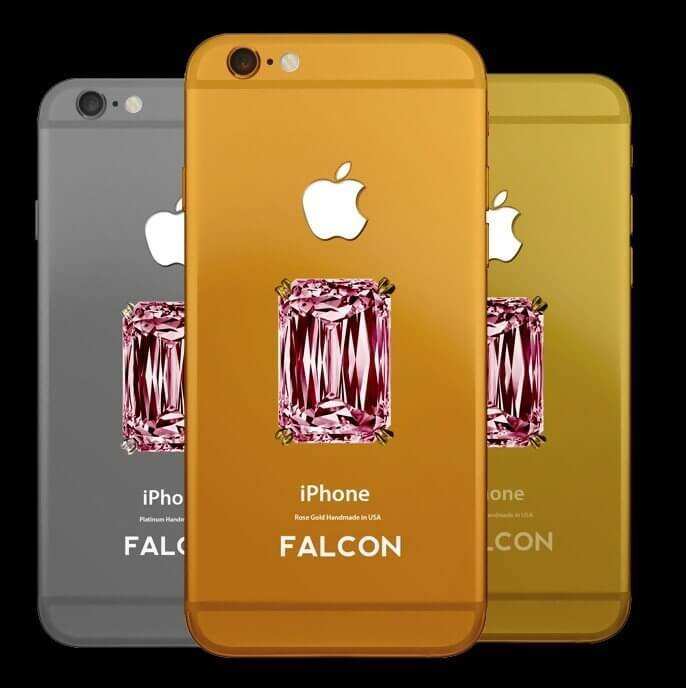 Falcon Supernova iPhone 6 Pink Diamond stands out as the most expensive handset on earth in 2021. What makes it highly valuable, and who owns the luxurious device?
The gadget has a huge pink diamond on the back. It comes with 24 - carat gold, platinum, and rose gold.
Its cheaper models are the iPhone 6 Orange and Blue costing $42.5 million and $32.5 million, respectively.
Nita Ambani, the wife of Indian billionaire Mukesh Ambani, is believed to be the owner of the $48.5 million gadget, customized by US luxury brand Falcon.
Why are phones so expensive?
You may be shocked after looking at the enormous prices of the most expensive handsets above, but do you know what makes them highly valuable?
Some of the reasons why their prices continue rising include manufacturing costs, research, and development. The push for more innovations like improving on the features and specifications also influence the cost of handsets.
Other crucial factors include the availability of high demand and the willingness of consumers to pay for designer handsets.
Are you impressed with the most expensive phone on earth? Since not everyone can afford these costly handsets, manufactures have come up with many decent and pocket-friendly gadgets that can meet the needs of their diverse consumers.
Source: Legit.ng