30 inspirational confidence quotes to help you believe in yourself
Confidence is a gift that not everyone is privileged to have naturally. Some people acquire it with time, while others find it difficult to unlock their fears in their entire lifetime. The good news is that through reading a set of confidence quotes, one can quickly develop and boost their self-confidence.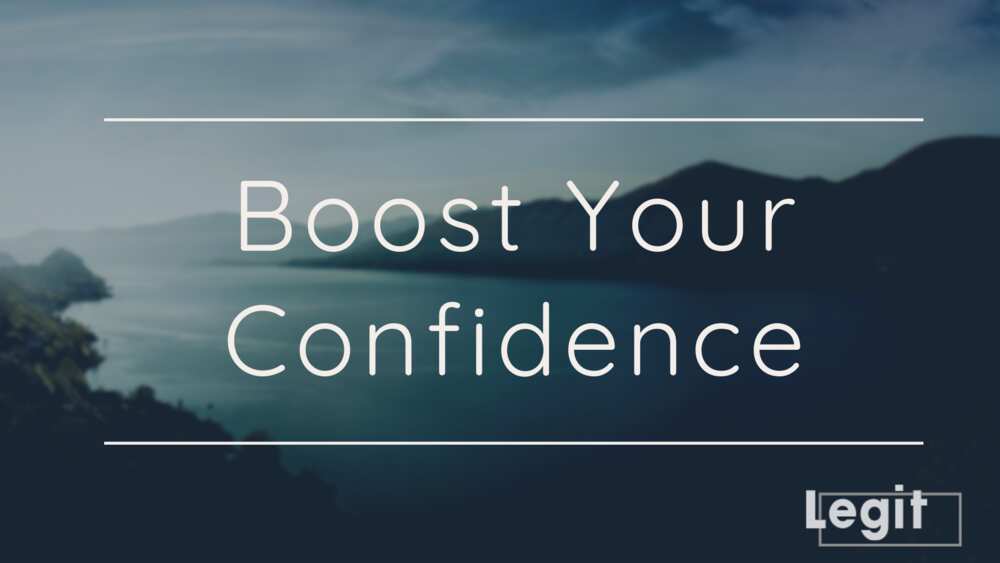 Are you having a problem with building your confidence? There are many inspirational quotes by the world's renowned leaders, heroes, and successful business people who share some of their secrets to success. We can learn a lot from their free wisdom to help build our courage and transform us to be optimistic and go-getters in our lives.
Confidence quotes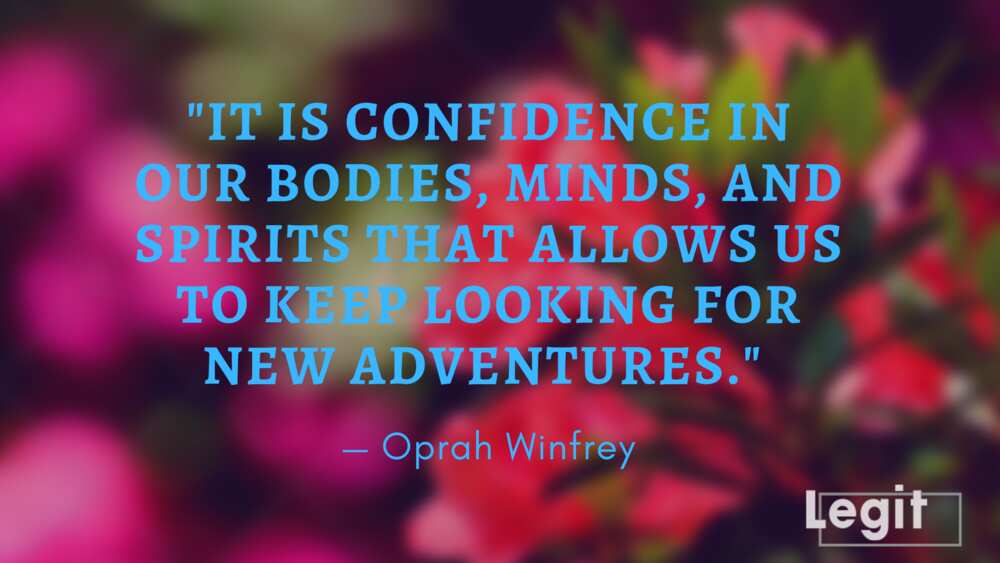 Take a look at some of the motivational quotes on confidence you can learn from to help you overcome your fears.
"Confidence comes from discipline and training." – Robert Kiyosaki
"When you have a lot of confidence, and you feel like nobody can beat you, it's game over for everyone else." – Jason Day
"What could we accomplish if we knew we could not fail?" – Eleanor Roosevelt
"The greatest mistake you can make in life is continually fearing that you'll make one." —Elbert Hubbard
"We have to learn to be our own best friends because we fall too easily into the trap of being our own worst enemies." —Roderick Thorp
"Regardless of how you feel inside, always try to look like a winner. Even if you are behind, a sustained look of control and confidence can give you a mental edge that results in victory." —Diane Arbus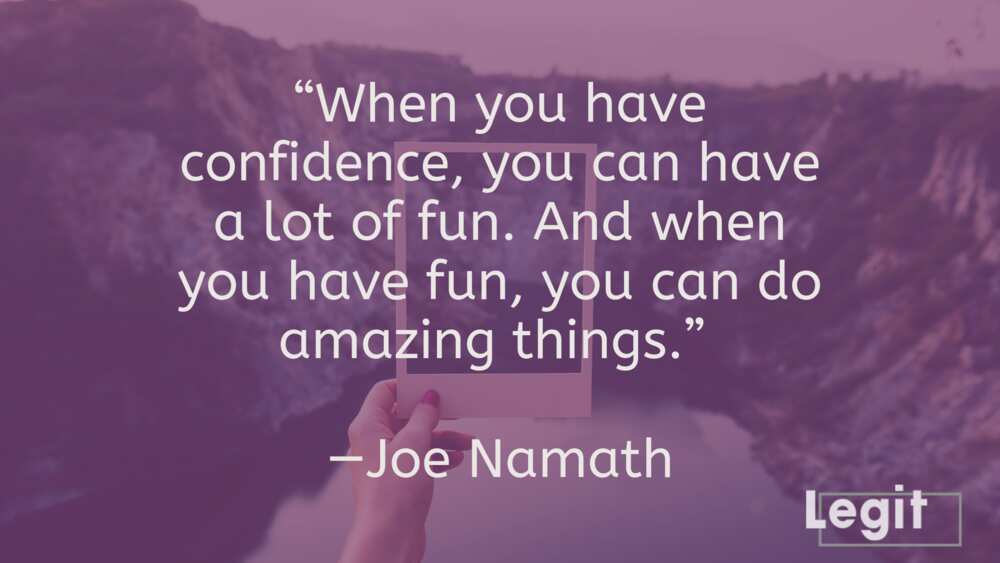 "A man cannot be comfortable without his own approval." — Mark Twain
"Cause there's a light in me that shines brightly. They can try, but they can't take that away from me." — Mariah Carey
"Don't be distracted by criticism. Remember – the only taste of success some people have is when they take a bite out of you." — Zig Ziglar
"Regardless of how you feel inside, always try to look like a winner. Even if you are behind, a sustained look of control and confidence can give you a mental edge that results in victory." —Diane Arbus
"Once we believe in ourselves, we can risk curiosity, wonder, spontaneous, delight, or any experience that reveals the human spirit." – E.E.Cummings
"Man often becomes what he believes himself to be. If I keep on saying to myself that I cannot do a certain thing, it is possible that I may end by really becoming incapable of doing it. On the contrary, if I have the belief that I can do it, I shall surely acquire the capacity to do it even if I may not have it at the beginning." — Mahatma Gandhi
READ ALSO: 35 motivational health quotes and sayings
Self-confidence quotes
It is crucial to know some of the best quotes about self-confidence that will help you understand what it takes to believe in yourself and trust your abilities.
"One important key to success is self-confidence. An important key to self-confidence is preparation." — Arthur Ashe
"With the realization of one's potential and self-confidence in one's ability, one can build a better world." — Dalai Lama
"Always be yourself, express yourself, have faith in yourself, do not go out and look for a successful personality and duplicate it." — Bruce Lee
"Believe in yourself! Have faith in your abilities! Without humble but reasonable confidence in your powers, you cannot be successful or happy." — Norman Vincent Peale
"To love yourself right now, just as you are, is to give yourself heaven. Don't wait until you die. If you wait, you die now. If you love, you live now." – Alan Cohen
"You wouldn't worry so much about what others think of you if you realized how seldom they do." — Eleanor Roosevelt
"It took me a long time not to judge myself through someone else's eyes." — Sally Field
"The things we hate about ourselves aren't more real than things we like about ourselves." — Ellen Goodman
Quotes about confidence and beauty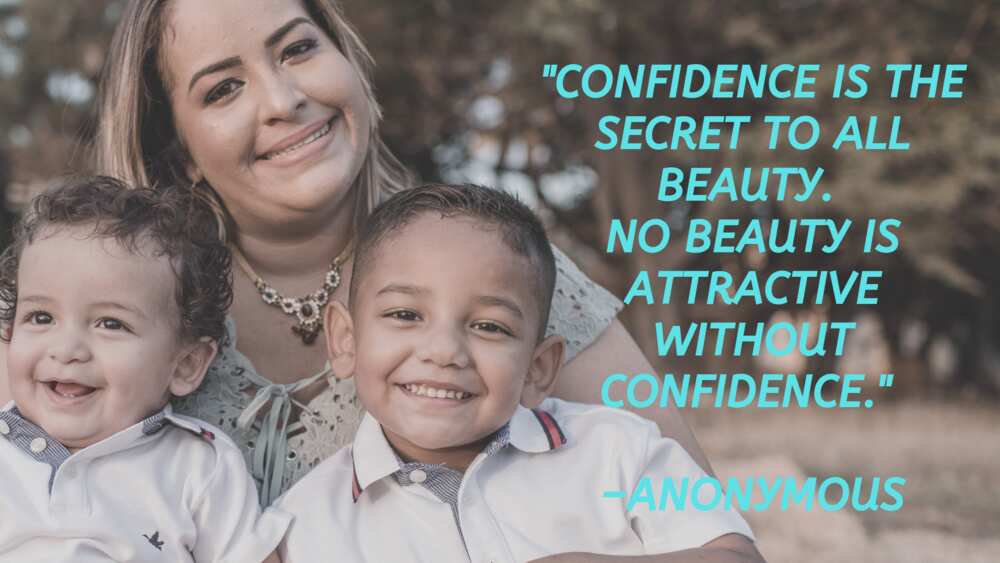 People widely believe that having a positive self-belief adds beauty to a person. Generally, having a positive self-belief can elevate someone's vision and how they feel about themselves. Sometimes the dressing codes and make-ups we choose to use can make us feel confident when around people. Therefore, inspirational quotes can help us boost not only our confidence but also the feeling of looking beautiful.
"Beauty is no quality in things themselves: It exists merely in the mind which contemplates them, and each mind perceives a different beauty." – David Hume
"Confidence is the ability to feel beautiful without needing someone to tell you first but smiling when someone does." – Anonymous
"True beauty is not related to what colour your hair is, or what colour your eyes are. True beauty is about who you are as a human being, your principles, and your moral compass." — Ellen DeGeneres.
"When you are comfortable in your own skin, you are beautiful. Confidence is the best make-up you could ever wear." – Anonymous
"Of life's two chief prizes, beauty and truth, I found the first in a loving heart and the second in a labourer's hand." – Khalil Gibran
"You will always be beautiful if you stand confidently and smile." – Anonymous
You now have inspirational confidence quotes that will help you strengthen your courage and self-esteem. Remember, lack of confidence is not disability or weakness, but there is always hopes and room for improvement in life. I hope you will be inspired by the quotes to become better than you were.
READ ALSO: Top 25 love quotes for him from the heart
Source: Legit.ng