Fortunately, Nigeria and Africa have many talented and progressive singers who create new genres (like Afrobeats) and set the pace to contemporary R'n'B, Hip-Hop and Rap music. One of such young and progressive singers is Olamide. If you have not heard Olamide songs yet than enjoy his latest songs of 2018 – 2019 listed in our article below.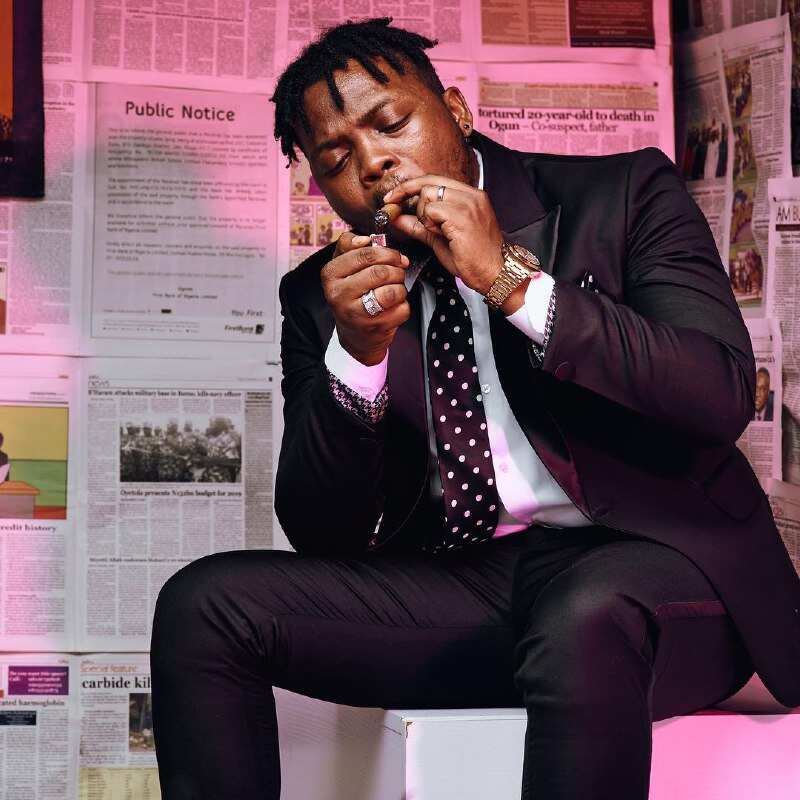 The artist started his music career in 2011 when he released his first album called Rapsodi. For the moment the singer has about one hundred compositions and collaborations in the whole. From the beginning of Olamide's career, his musical compositions were the first in the list of the most listened hits on the radio and online charts – writes Yen website.
After eight years of being on the peak of popularity in Africa, the Pop and Rap performer is ready to boast with his newest 2018 – 2019 songs.
Woske by Olamide (new 2019 song)
Olamide had released one song in February, and it has already become a real hit. Has anybody missed Michael Jackson? We asked you not accidentally because Olamide became a new version of Michael in his new music video. Listen to this crazy song and dance together with the young performer!
The list of latest Olamide songs 2018
His eighth album created in collaboration with the members of his YBNL label saw the world in December 2018. It got the name Mafia Family, and thirteen fresh songs entered there:
1. Finally – Temmie Ovwasa Ft. Fireboy
It is a pop musical composition with a pleasant woman's voice and playful African motives. Unfortunately, there is no video for the song yet, but it would be interesting to see a love story from the lyrics in the clip.
2. Fire Down – Fire Boy Ft. Picazzo
It is one more pop motive about a happy love story. Try not to dance when you hear it. We bet you won't hold your body and legs!
3. I'll Be Fine – Fire Boy
It is a good single with a very positive idea. It will definitely help anyone to forget the troubles of yesterday!
4. Ika – Yomi Blaze Ft. Olamide
If you like rhythmic rap songs, this Olamide's hit is for you. Moreover, we are sure that you will enjoy watching the music video.
5. Jealous – Fire Boy
Some people may find this song even relaxing. Indeed, it is delightful for the ears. Why not listen to it before you go to bed?
6. Le Le Yi – Lil Kesh Ft. Fire Boy
It is one more of Olamide'songs with dancing African motives. It is definitely worth listening to.
7. Lie – Limerick Ft. Olamide
This musical composition one more time proves that beauty is in the simplicity. One will be fascinated with not overloaded with motives melody and foolproof lyrics.
8. Macaroni – Picazzo Ft. Olamide
It is a rhythmic fast rap motive accompanied by a really hot video with beauties. If you want to plunge into the atmosphere of the club and hard party, listen to this musical composition!
9. Motigbana
If you like watching beautiful African girls dancing in gorgeous clothing on the parties than you will definitely like this musical composition.
10. Oke Suna
The song describes Olamide`s star life. Listen to it and imagine the young performer in the role of the host of a luxury party!
11. Poverty Die
One can find a broad sense in this awesome animated music video. Money and religion create the basis of society, agree? Then watch the video and find your own meaning in it!
12. Send Her Money – DJ Enimoney Ft. LK Kuddy, Kizz Daniel, Kranium & Olamide
Everything is perfect in the song and in the music video too: Olamide`s look, his beautiful female companion, location, rhythm and dancing couples around. Do not hesitate to see and hear it!
13. Welcome
The song is very rhythmic and created for the dance floor. By the way, the author of the composition welcomes the listeners exactly to the party, so the name "Welcome" has been chosen not accidentally.
The Nigerian singer is not going to give up on his career. However, the musician has released only one musical composition in 2019; we all are waiting for more new collaborations and fresh ideas from him. Meanwhile, we want to remind everybody about the existence of his old albums that are worth listening too.
READ ALSO: Olamide's girlfriend Aisha Sulaiman: interesting facts
Olamide songs from other albums
Lagos Nawa (released in 2017 with the musical compositions The One, Lagos Nawa, Fine Fine Girls (featuring Tiwa Savage), Wo Spritiual, Wo Spritiual, and several other).
The Glory of the year 2016 that combined such works as Journey of a thousand Mile, Omo Wobe Anthem ft Burna Boy, Who You Epp ft Wande Coal & Phyno, Underground ft Akuchi, Pepper Dem Gang ft Davolee and several more.
Eyan Mayweather (2015) with the musical compositions Eyan Mayweather, Boom Boom Boom, Matters Arising, Where The Man, Mama mi, Lagos Boys etc.
2 Kings – a collaboration with Phyno of the year 2014 that included the singles God Be With Us, For My city, Koba Koba, Nobody's Fault and several more.
Street OT of the year 2014 with the musical compositions Skelemba (ft. Don Jazzy), Bang (ft. Chinko Ekun, Lil Kesh), Prayer For Client, Goons Mi, Story For The Gods, Hustle Loyalty Respect (ft. Reminisce) etc. Besides, it was the biggest album of twenty-two compositions.
Baddest guy ever liveth (2013) with such Olamide`s works as Motivation (feat. Ice Prince, Endia, Pepenazi), King Shii, Church (ft. Viktoh), Gbadun Arawa, Yemi My Lover, Higher (ft. Bez), Rayban Abacha and several more.
YBNL released in 2012 with the musical compositions Fuji House (ft. Dammy Krane), Street Love (ft. Minus 2), Nyarinya, First Of All, First Of All, Jesu O Kola, Picture, Voice Of The Street etc.
The first album Rapsodi of the year 2011 that united the following songs: Responsibility (featuring Adol), Legendary Hustlers (featuring 9ice and Reminisce), Boys Are Not Smiling (featuring Terry Da Rapman), Soundtrack of My Life (featuring Soul Joe), Kelegbe (featuring Lord of Ajasa), Lift Him High (featuring I.D Cabasa), Gapa and several other.
This impressive list of the latest Olamide songs proves the fact that the Nigerian music industry is developing and growing. So listen and enjoy the newest songs and music videos by Olamide and stay with Legit.ng!
READ ALSO: Olamide history