This general and political leader was probably one of the most controversial rulers in Nigeria's history. Each one of his actions was very thoroughly discussed and put under a lot of doubts. Nonetheless, his name has been written into the history of Nigeria and is still remembered. Read Sani Abacha biography and learn more about his history.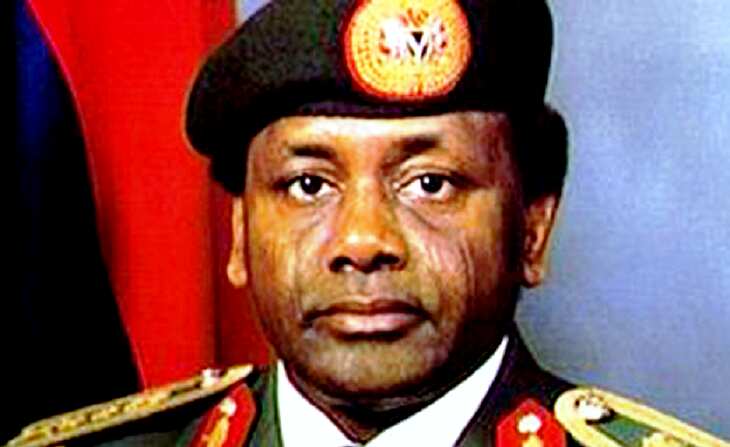 Photo: thescoopng.com
General Sani Abacha's biography
Sani Abacha was a General of the Nigerian army, who later also decided to become a politician. He was ruling Nigeria as a "de facto" President, and his regime lasted for five years – starting from 1993 and ending in 1998 when he suddenly passed away.
There are definitely a lot of things to say about Gen Sani Abacha and the years of his ruling. Some people think that he contributed to the development of Nigeria, while others disagree with his dictatorship political regime and decisions. Regardless of your own opinion on this political figure, in this article, we will talk about the history of Sani Abacha.
The biography of Sani Abacha starts with the year 1943 when he was born on September 20th. He belonged to the Kanuri group from Borno State. However, he was born in Kano, the capital of Kano State, where he was also brought up. Sani Abacha wanted to become a soldier from a very young age. He got educated and trained at the Nigerian Military Training College, which is situated in Kaduna. Later, he relocated to England, where he attended the Mons Officer Cadet School in the town of Aldershot. When he successfully completed his education in England, he was commissioned to the Nigerian army in 1963 as a second lieutenant.
The military life of Sani Abacha was reportedly known for his constant participation in the series of successful coups. Some records alleged that he was the most successful planner of coups in Nigeria's military history. Sani Abacha was known to take part in the Nigerian counter-coup in July 1966 (which is also known as "July Rematch"), when he was still a second lieutenant who led the third Battalion located in Kaduna. He participated in this military event from the conceptual stage.
He went on to improve his qualification in the military when in 1971 he became a student of the School of Infantry, which in Warminster. He also went to the Nigerian Staff College, Jaji, where he enrolled in 1976.
Sani Abacha reportedly became a very famous and prominent figure in another Nigerian coup d'etat, which happened in 1983. This was the coup that gave power to General Muhammadu Buhari. However, he also participated in the coup in August 1985, the one which deprived Buhari of all his powers. After the change of leaders in 1985, General Ibrahim Babangida became the President, as well as the commander of the Nigerian armed forces, Sani Abacha was announced to be the Chief of Army Staff.
In 1990, he was appointed Minister of Defence. Three years later, in 1993, Sani Abacha became the first soldier in Nigeria to obtain full General rank without skipping any ranks.
November 17th, 1993 was the day when Sani Abacha succeeded in overthrowing the transitional short-lived Nigerian government, which was led by the Chief Ernest Shonekan. This made him the 10th Nigerian head of state. In September 1994, Sani Abacha issued the decree, which gave his government absolute power. There was also another decree issued by him, in which he was given the right to keep anyone in custody for up to three months, without trials.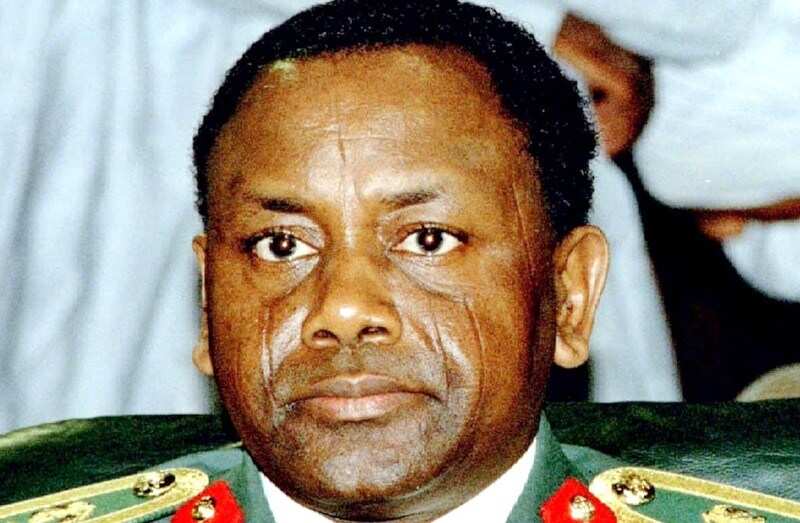 Photo: premiumtimesng.com
Sani Abacha presidency
There were good and bad moments during the years when Sani Abacha was the Head of State, just like with any other political leader. During the the Sani Abacha administration, the economic achievements were really prominent. Nigeria's foreign exchange reserves increased from $494 million (1993) to the $9.6 billion (1997).
However, there were a lot of accusations towards Sani Abacha. The primary one was about his government abusing human rights. The proof was the hanging of Ken Saro-Wiwa, as well as executing several other Ogonis for opposing the exploitation of natural resources.
Besides, a few politicians like Olusegun Obasanjo and Moshood Abiola were imprisoned with the accusations of treason, and the Nobel Laureate winner Wole Soyinka was given death sentence in absentia, causing him to live in exile til 1999.
The regime of Sani Abacha has gone through a lot of opposition from the activists that fought for democracy. However, he supported the ECOWAS, he even sent troops from Nigeria to Sierra-Leone and Liberia during their civil wars.
Even though Sani Abacha was constantly being condemned by the United States Department of State, he still managed to make a few connections with the American politicians. For example, when Senator James Inhofe from Oklahoma's Republican party came to Nigeria as a representative from the "Family" group for a meeting with Sani Abacha, the Nigerian leader managed to join this organization and pursue political and business relationships with them.
Abacha's regime was often criticized for corruption. He allegedly stole about 5 billion pounds from national funds. The 2004 rating showed that Sani Abacha was the fourth most corrupt country leader in the history of the world. Some other politicians, like Gen. Muhammadu Buhari and a few others, defended him from the accusations on the tenth anniversary of his death, calling them baseless. According to the claims, the central role in all the money looting and transferring overseas was allegedly played by individuals in his government and some family members.
In March 2014, the U.S. Department of Justice announced that about $458 billion which were supposedly illegally received by corrupt officials, including Sani Abacha were frozen.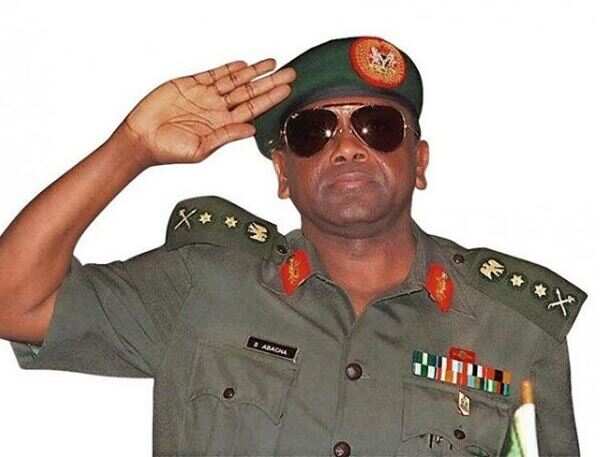 Photo: thenewsnigeria.com
Sani Abacha cause of death
In 1998, which was his last year of de-facto presidency, Sani Abacha made an announcement about the upcoming elections in August of the same year. He was also planning to hand over his power to the civilian government in October. However, it later became clear that Sani Abacha had very different intentions, and performing an honest democratic election was not in his plans. In April, the leader of the country forced all the five parties into submitting him as the only candidate for President, without any alternative options.
June 1998 was the month when Sani Abacha suddenly passed away, unexpectedly for the entire Nigeria. Of course, the nation was shocked by such news. On the same day, the leader was buried, according to the Muslim traditions. The autopsy was not performed on his body. This led to the massive speculations that the Nigerian leader was executed. His death was officially identified by the government as a heart attack that happened all of a sudden. However, later the reports started circulating that Sani Abacha was poisoned by two intimate workers. It was alleged that poison put in his drink. Sani Abacha started feeling unwell near 4:30 am. Then, he went to his bed, and by the time of 6:15 am he was dead.
After the Sani Abacha death, the Nigerian Chief of Defence Staff General Abdulsalami Abubakar became the Head of State and was officially sworn in. Before, this military activist has never been in the public office. He quickly announced that there will be a transition to the democratic government in Nigeria. Later, in 1999, the elections were held, where Olusegun Obasanjo was became the President.
The legacy of Sani Abacha
This ruler's legacy is clearly mixed and very controversial. For instance, his ECOMOG initiatives were seen as military successes, which helped to raise the standing of the Nigerian military internationally. There was a centenary celebration in Nigeria in February 2014, during which the government honored Sani Abacha for the contributions to Nigeria's development. This caused a lot of backlash from those who remembered Abacha's dictatorship regime.
For instance, Wole Soyinka, the Nobel laureate who had to leave the country during the dictatorship of Abacha, criticized this decision and called it the canonization of terror. He also noted that the government should not be honoring the legacy of Abacha, because he was a cruel dictator who demanded the nation worship him.
Sani Abacha was unpopular in the southern part of Nigeria, because of the human rights abuse that his administration performed. Notably, people could never forget the execution of human rights activist Ken Saro-Wiwa.
The name of Sani Abacha, as well as the names of his wife Maryam and his son Mohammed, quite often were used in the advance-fee scams that are popular on the Internet. The fraudsters have used their names to deceive people and make them send money.
Abacha's family was made to return $1.2 billion in 2002, which they have taken from the central bank. There was also another scandal connected with the forfeiture of $480 million, which was the largest in the U.S. Department of Justice history. General Caldwell, who spoke on this matter, said that instead of using his power to serve the country, Abacha chose to use it for looting millions of dollars and that they are now forfeiting these funds, which can be beneficial to Nigerian people. Abacha and his closest surroundings were also accused of many other financial crimes.
READ ALSO: Olusegun Obasanjo house and family - quick facts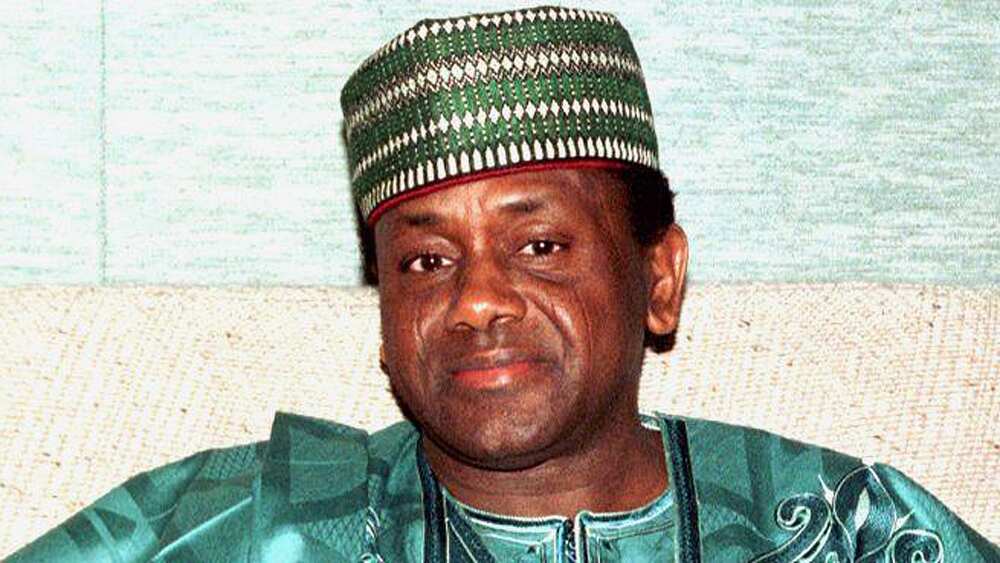 Photo: filopost.com
Sani Abacha wife
The wife of Sani Abacha is named Maryam. She is still alive and is currently 73 years old. She was born on March 4th, 1945, in Kaduna to Nana Jiddah. Now, she lives in Maiduguri, Borno State, Nigeria, and sometimes relocates to the United States. She has always been supportive of her husband's policies and said that his actions were for the better.
She is the founder of National Hospital in Abuja and participated in the peace mission by the African first ladies. Maryam Abacha had an unusual image as for the Nigerian first lady – among the usual quiet ones, she often participated in the public affairs and attended many international conferences. She was even called "The Crusading First Lady", as she chaired the summit of the first ladies in 1997.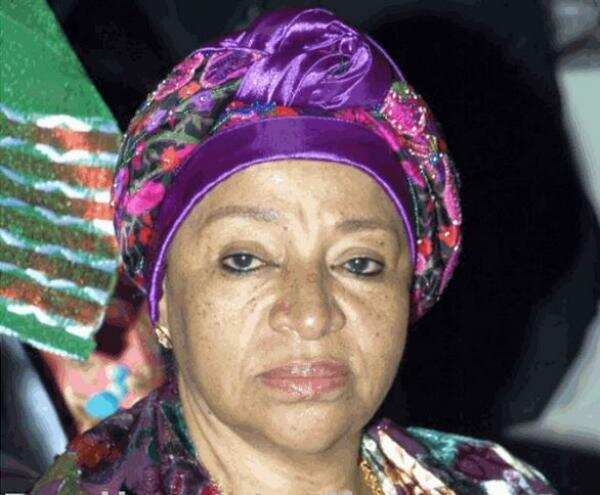 Maryam Abacha. Photo: premiumtimesng.com
Sani Abacha children
Sani and Maryam Abacha had a total of ten children: seven sons and three daughters. Their names are Ibrahim, Mohammed, Abba, Mahmud, Sadiq, Zainab, Fatima Gumsu, Rakiya, Abdullahi, and Mustapha.
The eldest child out of all is Mohammed Abacha. Unfortunately, he does not have a perfect reputation, as he was reportedly involved in all the financial scandals with his father. However, his personal life is all good: he is married and has six children. All the other children of Sani Abacha are very rich, and they live abroad. For example, his daughter Fatima Gumsu lives in France, and she occasionally posts the throwback photos of her siblings and reminds people of her father's memory. There is not a lot known about his other children, but we believe that they are leading comfortable live.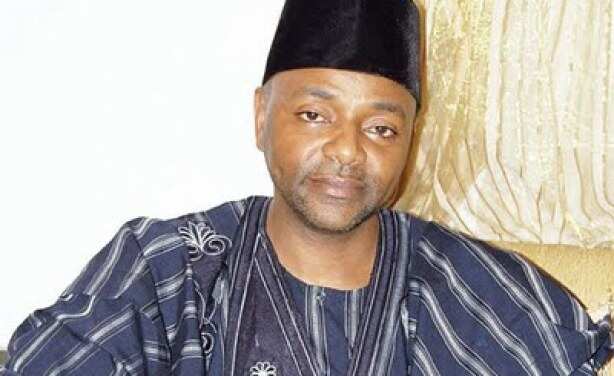 Mohammed Abacha. Photo: allafrica.com
Sani Abacha might have been a controversial figure in Nigeria, but the residents of the country still remember him and the years he ruled.
READ ALSO: Nigerian leaders from 1960 till date