Maternity gown styles in Nigeria
Looking at the latest maternity gown styles Nigeria many women may want to get pregnant as soon as possible to be able to wear these lovely dresses. The times when a woman needed to deliver her baby first to return her beautiful self are long gone and now you can be pretty and attractive even during your pregnancy. Let's check out a selection of the loveliest and most comfortable maternity gowns!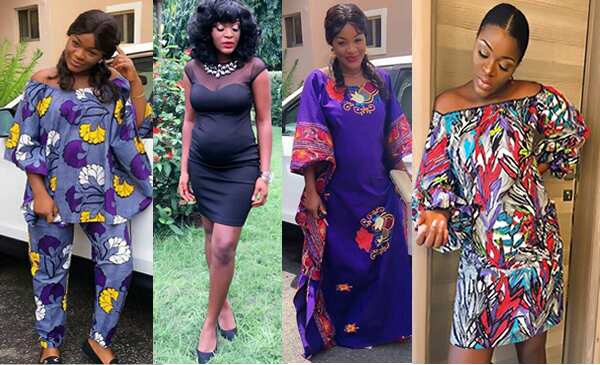 Image source: pinterest.com
What is Nigerian maternity fashion?
In all countries and all cultures the main thing about maternity clothes is comfort. Maternity clothes are mostly similar in many fashions. However, when we speak about Nigerian clothes for expecting mothers, we mean something bright, vibrant, authentically African and very lovely. Below, you will find a selection of lovely maternity fashions that look great and provide utmost comfort.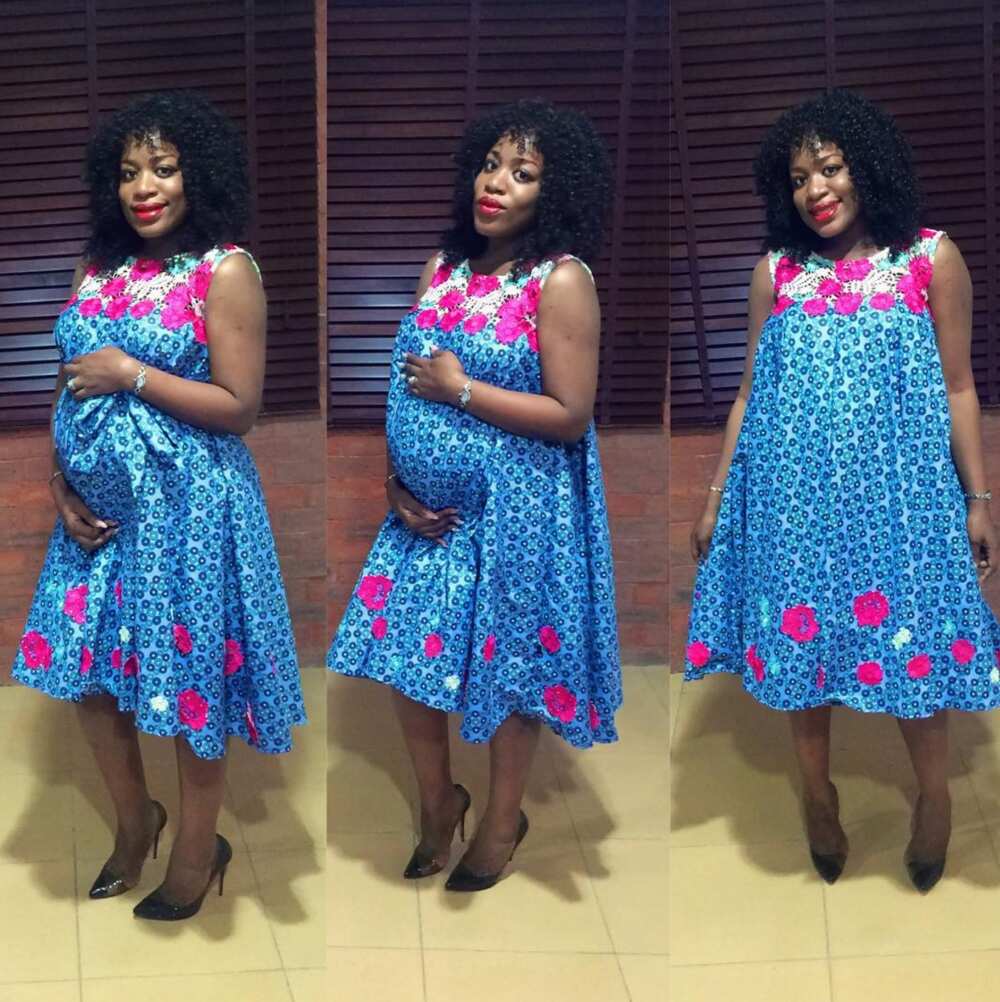 Image source: pinterest.com
Of course, one of the characteristics of Nigerian maternity fashion is Ankara. This natural fabric with bright prints and ornaments is one of the best solutions for pregnant women.
However, styles for pregnant women of today are not limited to only wide long gowns. You can easily meet a woman proudly wearing a sheath dress over her baby bump. Some future mothers prefer skinny pants and coquettish tops to give them a stylish look in spite of the changes in their body shapes.
Nigerian maternity fashions are very diverse, even when it comes to gowns only. Now we'll see this diversity right here.
Ideas for a lovely Ankara maternity gown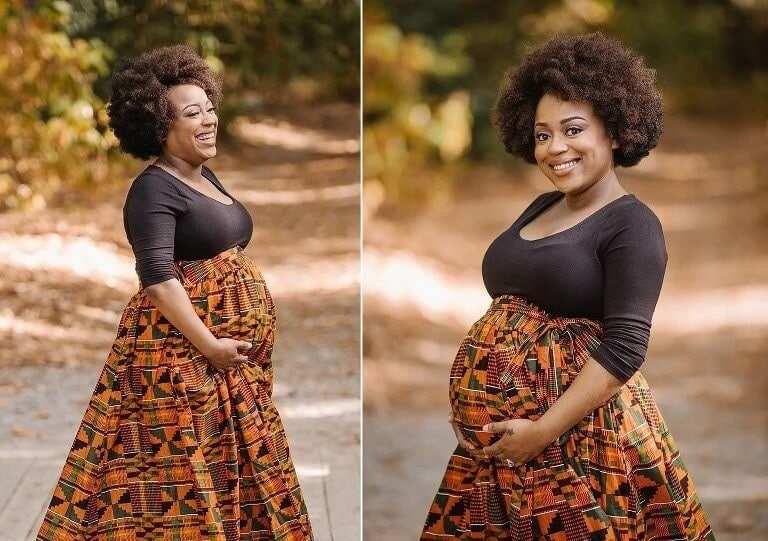 Image source: pinterest.com
READ ALSO:Native wears for pregnant ladies
A lovely combination of colors and textures will create a very elegant effect. Make the top of your dress in a solid color and attach a wide flowing skirt decorated with a bright Ankara print of matching hues. Here you go! You will receive a comfortable dress that doesn't squeeze your stomach and gives a lovely shape to your feminine, motherly body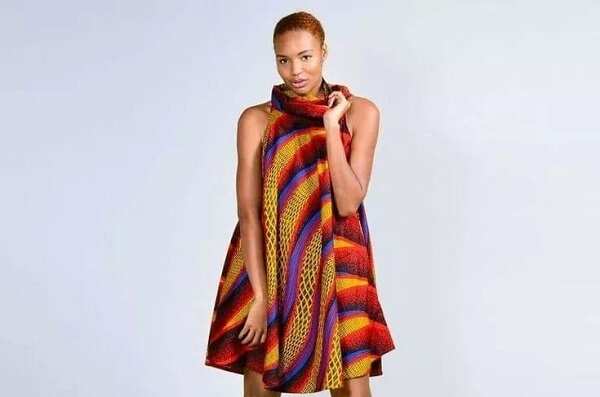 Image source: pinterest.com
A short bright dress with wide curvy color stripes will add a touch of slightly daring but still very lovely style. If you don't suffer from swelling of ankles or just love wearing short dresses, this option with an interesting turtle-neck decoration will be a true finding for you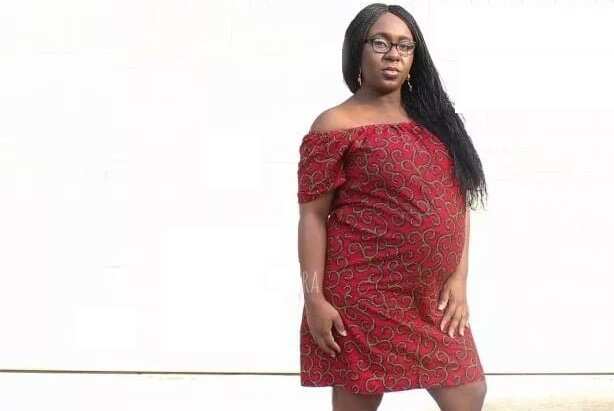 Image source: pinterest.com
This is a short shift dress that's made of Ankara alone. A plain fabric with one of the most popular prints, a color that matches a woman's complexion, and a cut that allows to sew such a dress within one evening.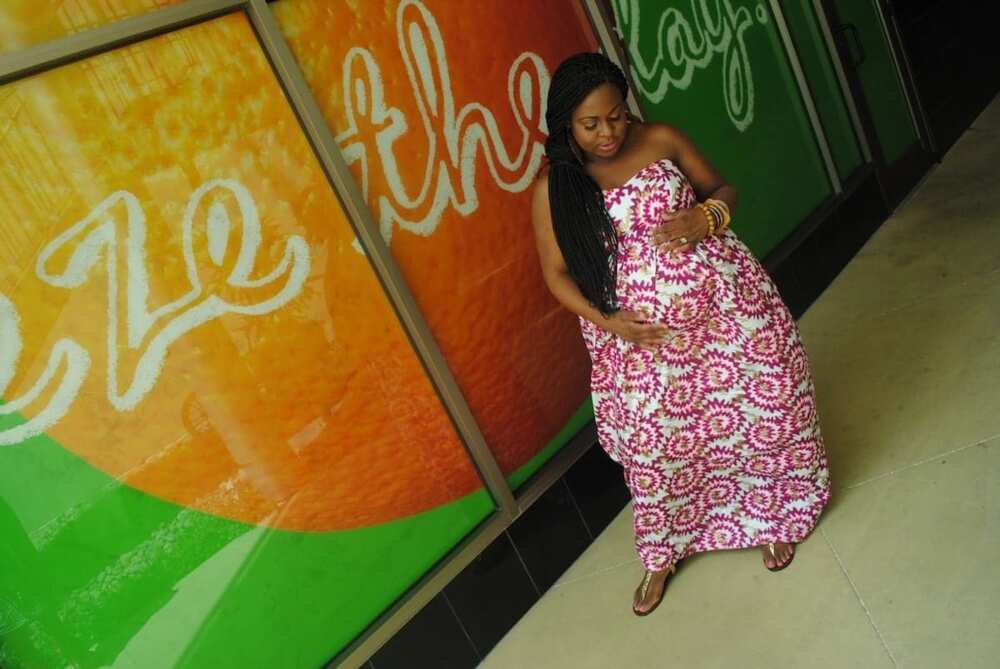 Image source: pinterest.com
A bandeau gown without shoulder straps or sleeves looks extremely fresh due to the whiteness of the background and the juicy colors of the pattern. It's very interesting how such a style can turn into an evening dress if you simply choose a single-color fabric. The line of the top is absolutely feminine and very delicate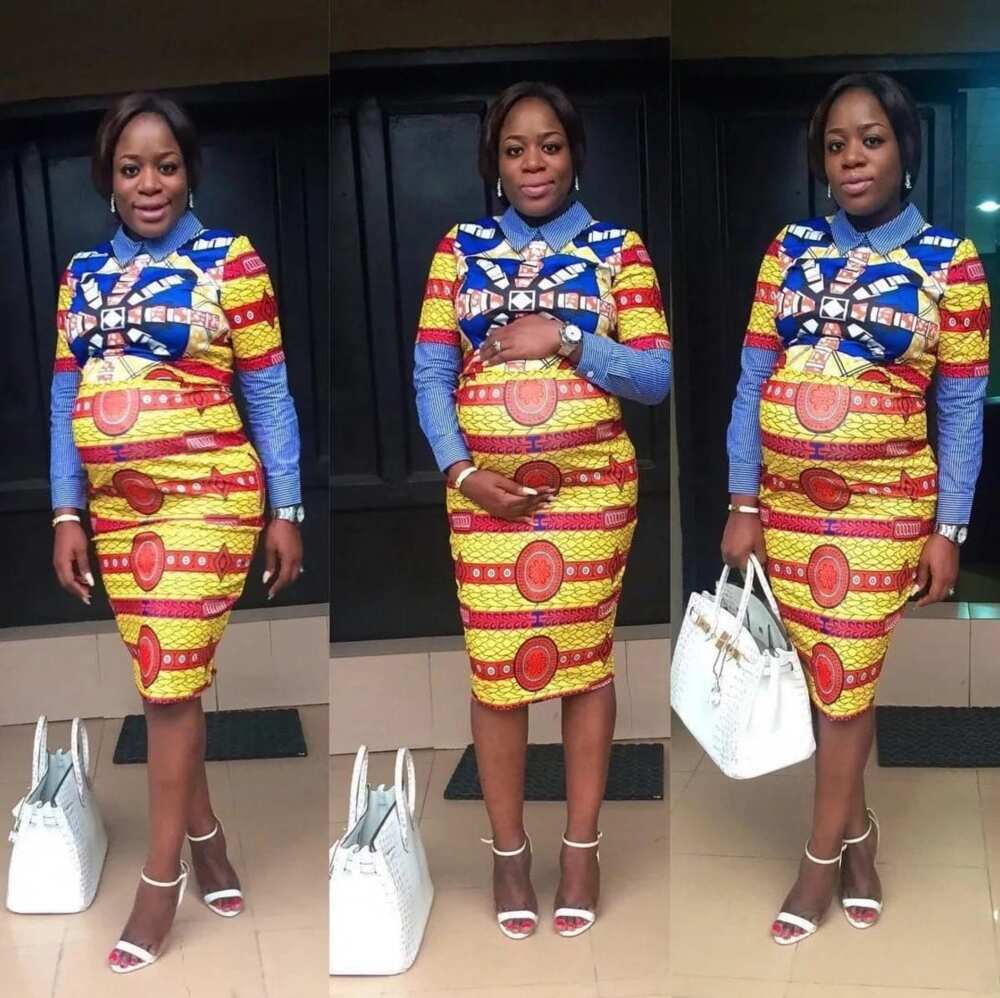 Image source: pinterest.com
This incredible sheath dress shows vividly how bright and stylish one's pregnancy garment can be. Made out of an interesting Ankara fabric combined with pin-stripe material for the long sleeves and collar, it looks casual and formal at the same time. It can be even a good option for an office if your company has a very mild dress code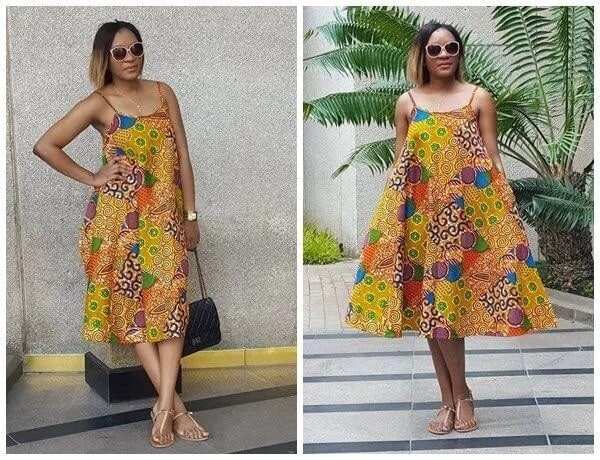 Image source: pinterest.com
READ ALSO: Ankara maternity styles in Nigeria
This gown in spaghetti shoulder straps is a perfect thing for any woman. After the delivery, you can still wear it either as it is or with a matching belt. Bright colors, a simple cut, and a comfortable style will is what all women need, not only pregnant ones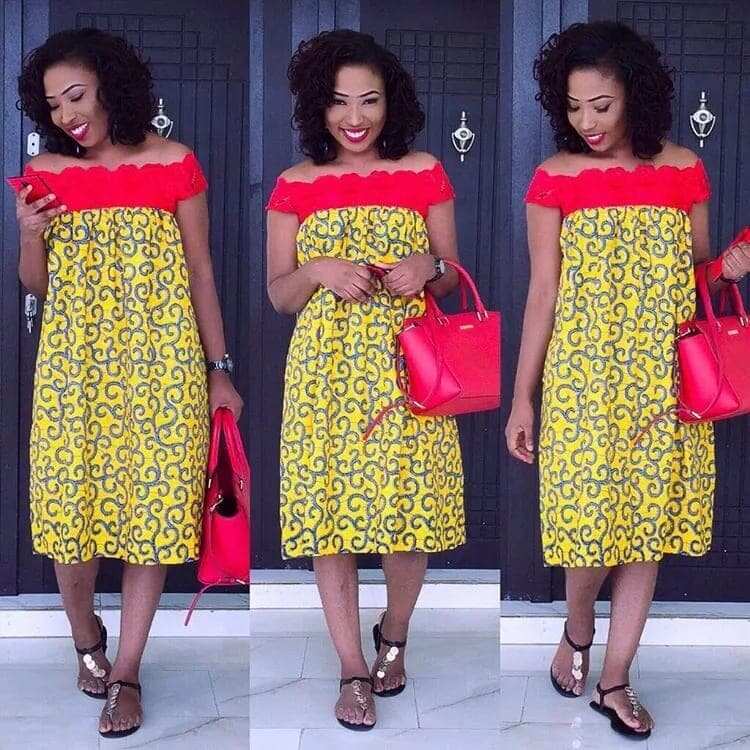 Image source: pinterest.com
This off-shoulder Ankara dress in another example of a gown that will suit both a pregnant woman and a mother after the delivery.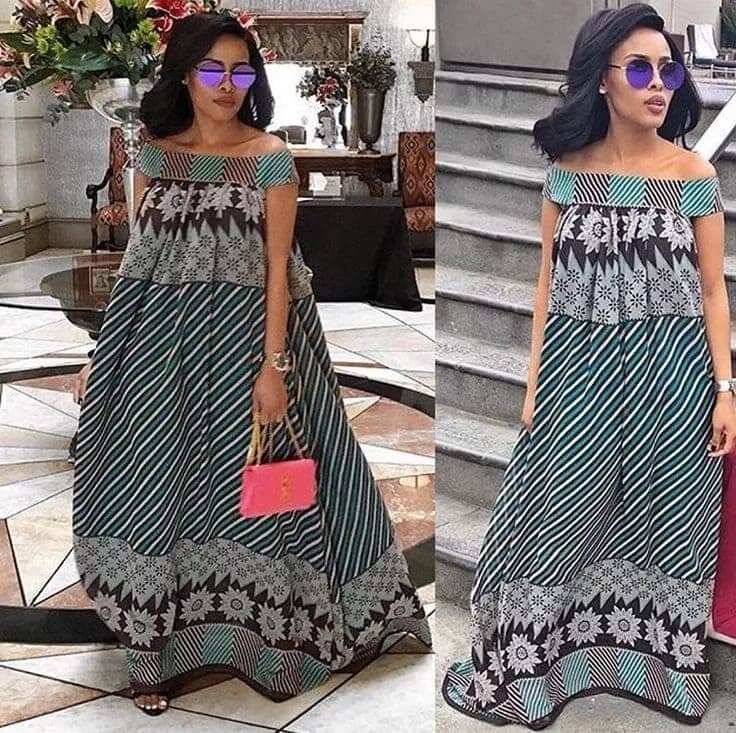 Image source: pinterest.com
This maxi gown in cool grey-green-black tones will make your day! An elegant off-shoulder fashion, a lovely placement of the ornament, and here you have a great item that will provide you with the best comfort available. Together with a bright accessory, this dress will look absolutely stunning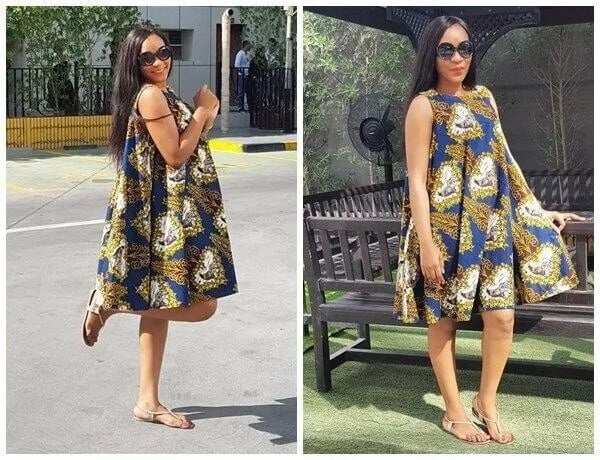 Image source: pinterest.com
Another girly and lovely style is here! A gorgeous blue dress with golden patterns is just so simple and so lovely. You can wear it from the earliest terms of your pregnancy when the baby bump is still almost invisible up to the latest months when the roundness is hard to hide
Still, Ankara dresses are not the only ones that are worn by expecting mothers in Nigeria.
Latest maternity gown designs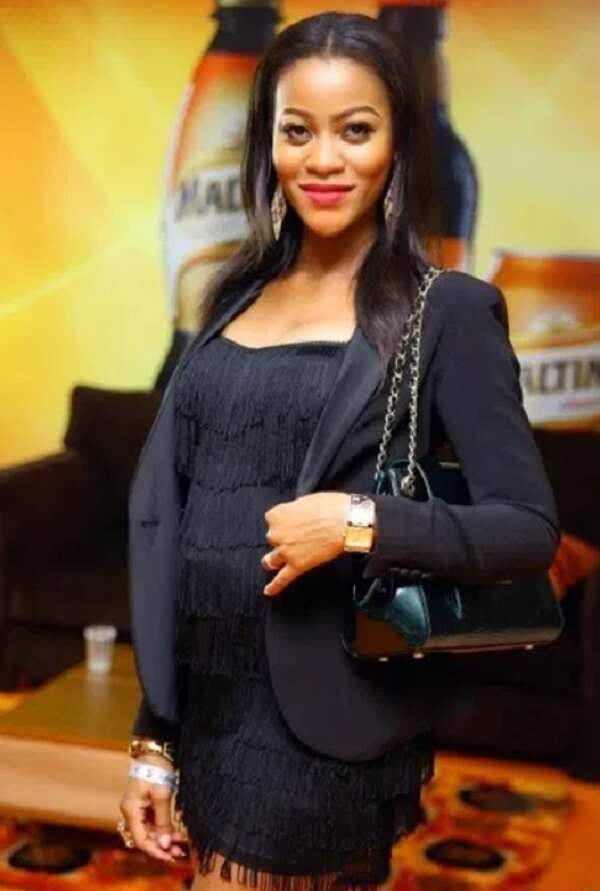 Image source: pinterest.com
A little black dress is not only for young girls! A pregnant mother can easily get dressed in it a little black dress like the lady in the picture. It's a great choice for a party or a special event.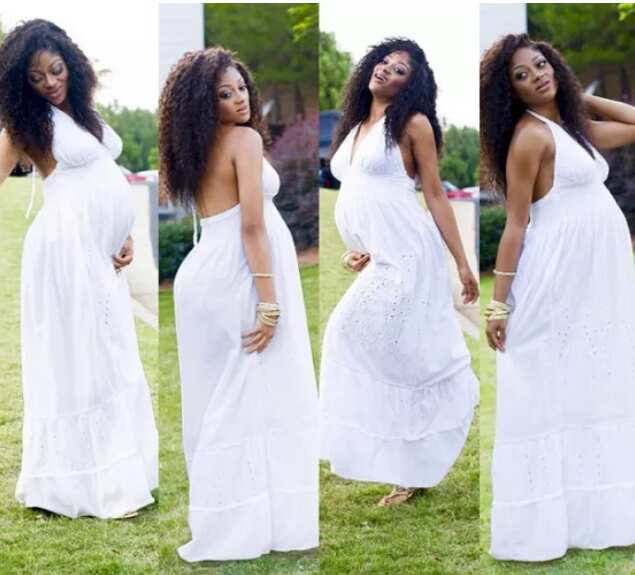 Image source: pinterest.com
A female body always looks fragile in white, especially the one that carries a new life inside it. A backless white gown with white embroidery is a perfect choice for either a slow stroll around or a party with friends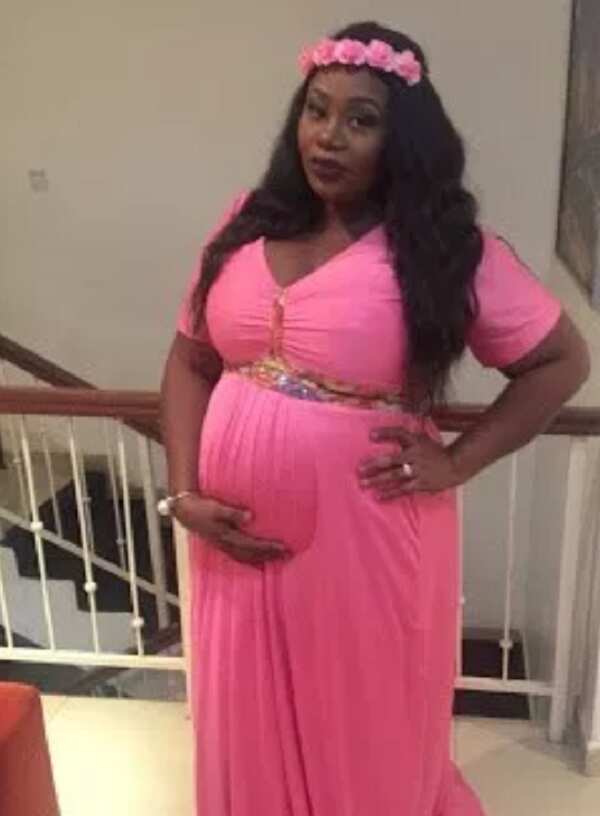 Image source: pinterest.com
READ ALSO: Nigerian traditional maternity dresses - Best designs
Bright colors are no way a taboo for pregnant women! Sometimes, expecting mothers think that their bodies are too big to be dressed in bright colors or that they attract too much attention when they are dressed in something especially vibrant but it's groundless. A bright gown with lovely accessories can make a woman's day!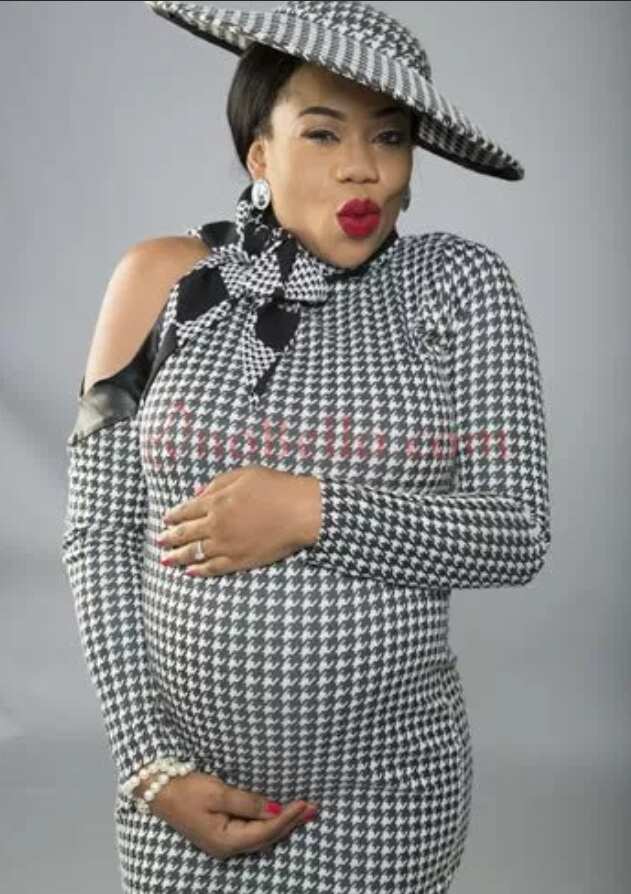 Image source: pinterest.com
What about patterns? Some of them, like the popular 'houndstooth' pattern can be a great choice for a pregnant woman. Just take a look at this sheath dress with one cold shoulder and at the matching hat! The look is just amazing. Of course, it's not an everyday garment but a pregnant woman still can attend some occasions where such a look will be more than suitable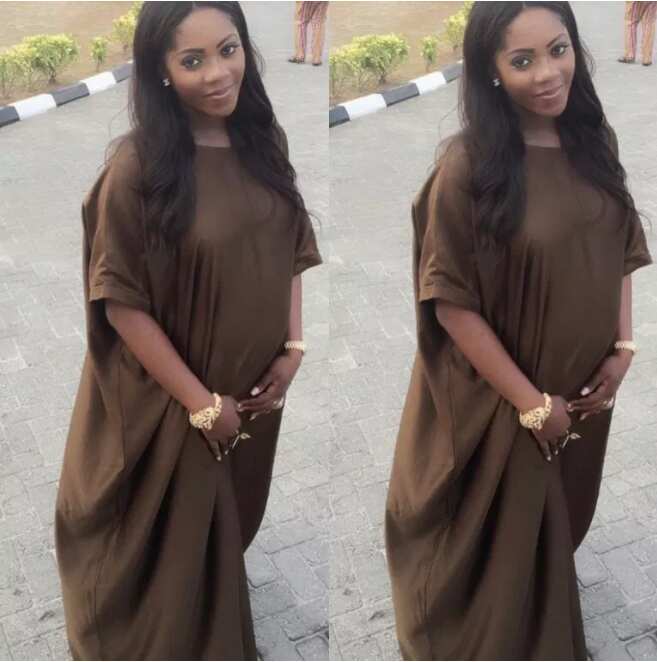 Image source: pinterest.com
A flowing wide gown is extremely comfortable for a pregnant woman. Just look at the style demonstrated by Tiwa Savage in this picture. A simple cut done in a simple color – and she's gorgeous. Several shiny accessories and the look is finished and complete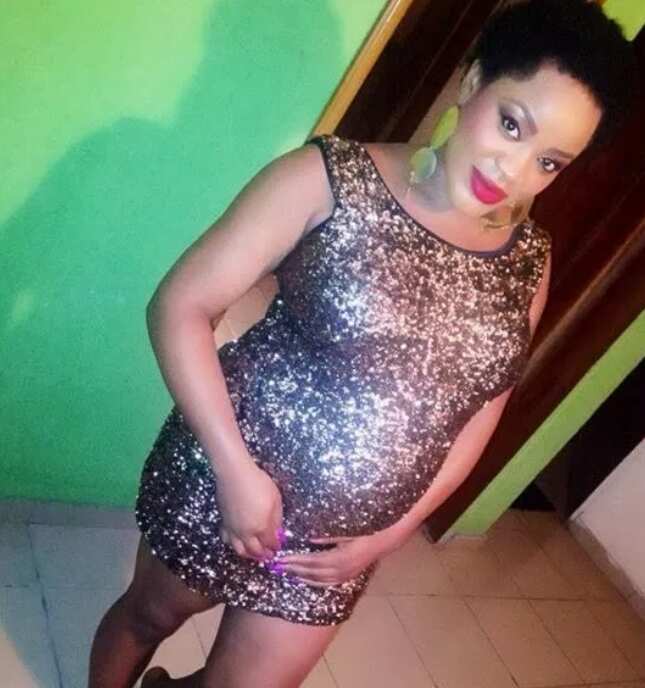 Image source: pinterest.com
Who said pregnant women can't wear fitted dresses like this? This shiny item looks gorgeous on its wearer and it's a very suitable choice for a party with friends. Such a dress doesn't need any extra decorations because it's already shining like a diamond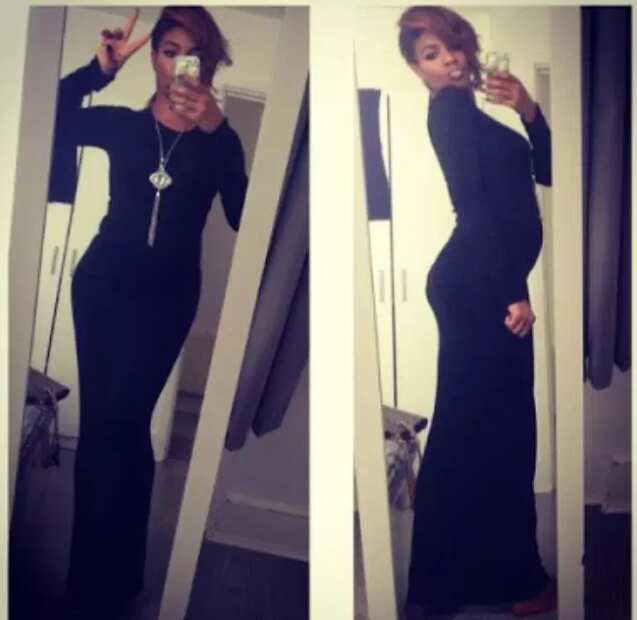 Image source: pinterest.com
Take a look at this fitted maxi gown made in all black. It looks just so elegant and lovely. If you need to attend a formal occasion, choose such a style made out of an elastic fabric. You will be the centerpiece of any party, turning all heads and collecting all glances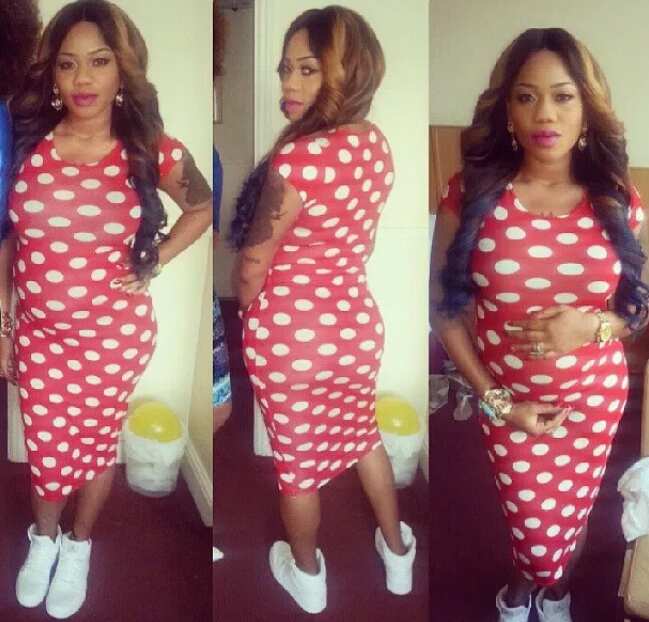 Image source: pinterest.com
Here's a classical pencil dress shape made out of charming polka-dotted red and white fabric. It's a great sporty style, which looks perfect with sneakers and provides a great comfort. The firmer the fabric, the better it will support the belly and chest area, by the way
These are the most popular gown styles for a fashionable maternity look in Nigeria. However, as it was already said, pregnant women often wear pants and even special types of Agbada clothes that are extra wide, especially for their growing baby bumps. Look through the collection of pictures here, choose something that suits your liking, and make yourself a comfortable dress that will make you feel even happier during this magical time.
READ ALSO: Maternity gowns sewn with Ankara in Nigeria in 2018
Source: Legit.ng