Big twist braids hairstyles for real fashionistas
Are you a fan of big and stylish twists? Good news: now you can check out some of the best big twist braids hairstyles and get inspired for the one that would fit you the most. Big twist braids are a huge trend among Nigerian women, so if you see the strength in yourself to wear those, this is the right article for you! Have an exclusive look at the best twist hairstyles!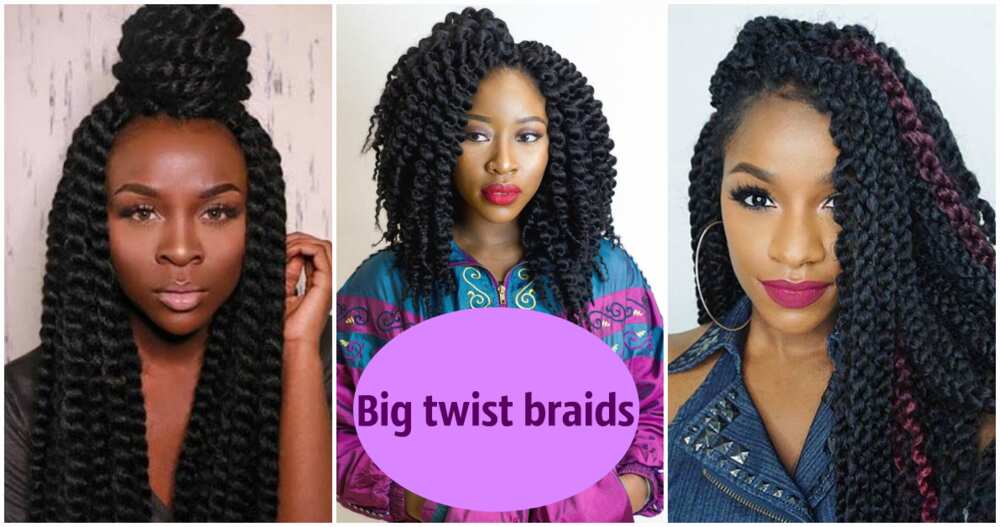 Big twist braids styles: choose the one for you
Today, we will talk about the special type of twists, which is commonly known as Senegalese twists or crochet twists. They were a big trend in the early 90's, before they reappeared a couple of times recently, and have entered the fashion arena all over again. There are so many reasons why big twist braids are good and protective for your hair, as well as attractive and fashionable. Even though they often take a few hours to make, and you usually have to go to the professional hair stylist to get them perfectly done, they are totally worth it.
If you are tired of regular braided hairstyles, you can always turn your attention to the twist braids. They will highlight all the benefits of your appearance and always make you look like a star. You will see both long big twist braids hairstyles and big short twist braids hairstyles here and will be able to choose one to your liking. Always dreamed of a big twisted hairstyle? Now is your chance to see a lot of different options and grab some inspiration for your own unique and beautiful twisted adventure!
1. Medium-length layered crochet twists
This is one of the hairstyles which are both simple and very cute. You will not even necessarily need any extensions for it – if you have thick and voluminous middle-length hair, you can use your natural hair to create these twists. With this hairstyle, you will keep things cute, short, and comfortable – there will not be a lot of weight on your head, like in case with the long twists. Besides, this is the style which is amazingly easy to maintain every day, and it is perfect for any weather, especially the hot summer days and nights.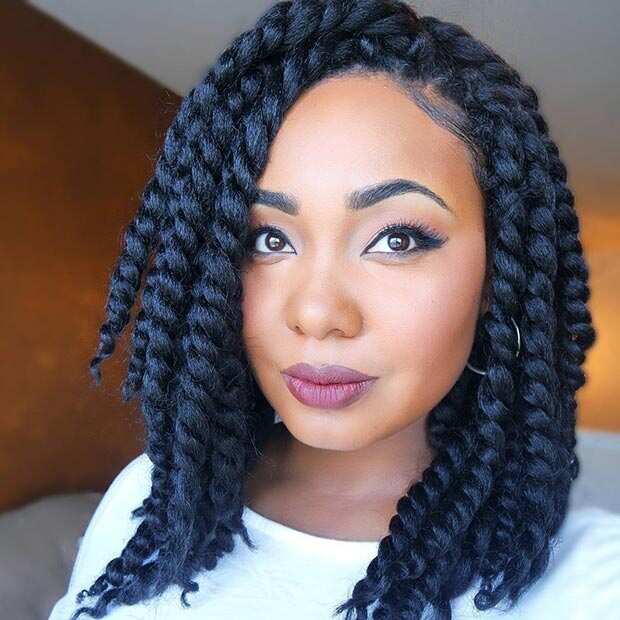 2. Crochet Senegalese twists
Those women who have naturally short hair and always dreamed of long locks have already tried these twists. Luckily, it is not so difficult nowadays to make your hair long if it has always been short, and you will not necessarily have to wait for a long time to grow it out. If you are not afraid of using some extensions, you should definitely attempt this particular option. It will surely take a couple of hours and some money in your pockets, but then you will get months of great looks, so this sounds like a great deal. Crochet twists are the protective option which will give you a lot of freedom and style. You can also dye them whatever color you want, no matter if it is natural or not.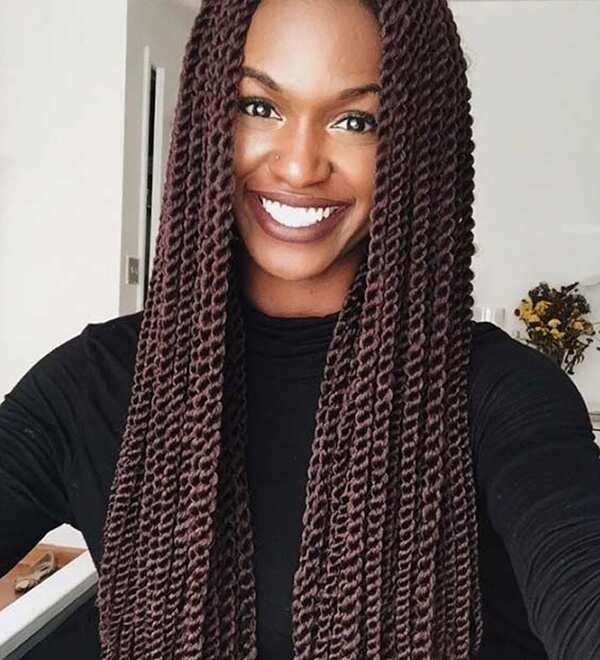 3. 3D cubic twists with burgundy pop
There are not just one or two twist techniques these days, as compared to the 90's when this style was becoming the national trend. Twisted hairstyles are very diverse, and there are multiple techniques that you could implement if you want an unforgettable hairstyle. For example, one way to style and design your big crochet twists is 3D cubic technique. This will help your hair look curlier and add some volume.
Besides, there are plenty of options that you can do with this sort of twisted braids – you can let them loose, or create the elegant updo. Another curious thing that you could add to your new hairstyle is a strand of colorful hair, for instance, the pop of burgundy. Obviously, you can use a different color according to your preferences, but either way, it will look very modern, fresh, and stylish.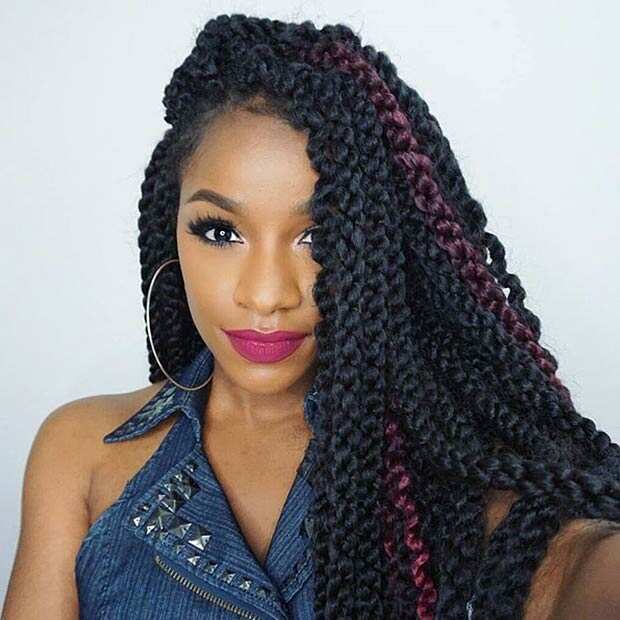 4. Crochet jumbo braids
This is one of the trendiest and most refreshing jumbo twist braids hairstyles. Everyone loves the look of jumbo braids. Obviously, they are not super easy to create, and you will have to endure two or three hours in the seat of a hairdresser, but in the end, all the effort will pay off, and you will get gorgeous jumbo braids which will impress not just you but also your friends and acquaintances.
You should have a talk with the professional hairstylist who has done this kind of work before and make sure that these jumbo braids can be done in a way you want. Ask how much time it will make and which materials will be used. In the end, your patience will give you a gift of a fashionable and stylish jumbo hairstyle. By the way, you should really consider purchasing a pack of beads and putting them on your twisted braids for them to look fine.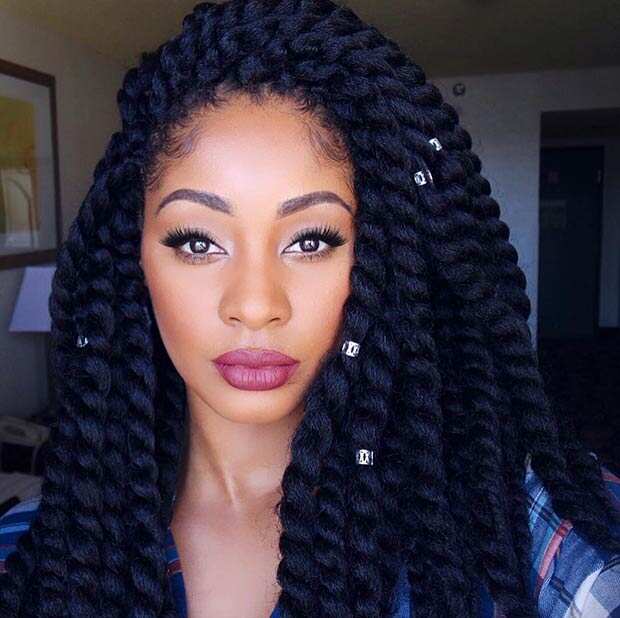 5. Senegalese jumbo twists with shaved side
Some women want a bold and fierce hairstyle, to showcase their fiery personality and show that they will not stop to achieve their goals and dreams. This is a truly unique hairstyle, which you will have to wear with pride. At first, shaving half of your head might sound scary, but we assure you that it will grow back, and it will happen faster than you think. The half-shaved head is a really edgy and cool choice both for punkish tomboy girls and for those who want to add some backbone to their gentle and sweet nature.
You can add accessories whenever you want and alternate between a sweet shy little lady and a fierce bad girl image. This hairstyle is one of those eternal choices that will never get old, and it is a really great way to stand out. Another benefit of this hairdo is that it is a good chance to get rid of those areas of your hair that seem problematic and start over again with your healthy and nice natural hair.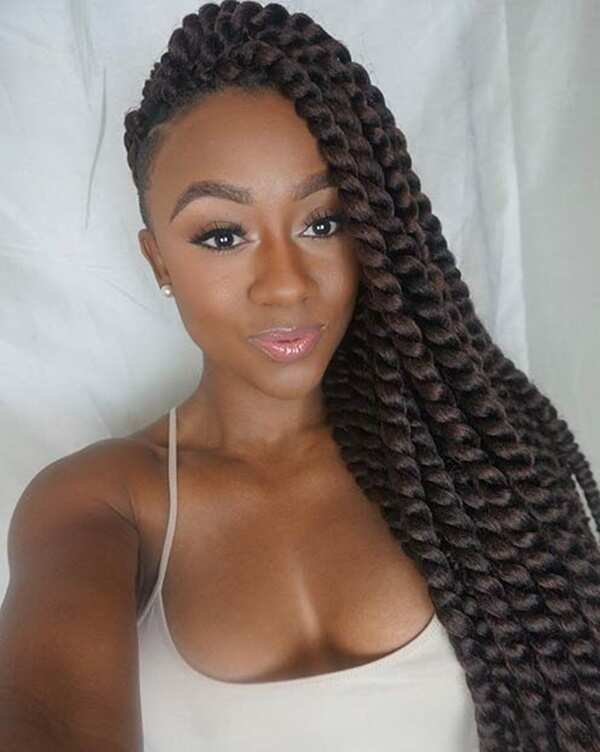 6. Black and brown twists
Protecting your hair from any kind of damaging factors is the sole point of twisted hairstyles. Do you want a hairdo which is very original, creative, and protective at the same time? Then, you should totally pick this one, because these locks are truly majestic. They look gorgeous on every woman, no matter if you are a gentle or tough type.
You can use some natural makeup together with this hairstyle. What defines it and makes it stand out among the others are the hair strands of different coloring: black and brown. The brown twists are a great highlight of this hairdo. Though, you can grab some inspiration from this hairstyle and use your imagination to make highlights of different coloring.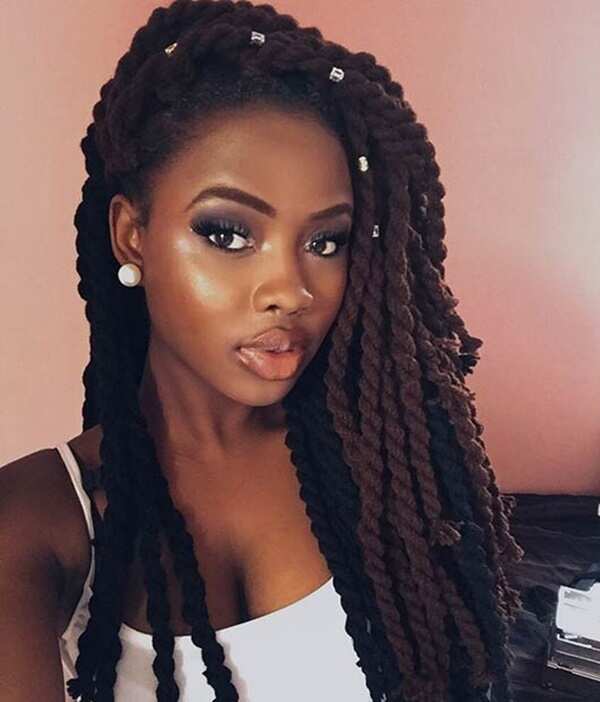 7. Crochet twists with the visible cornrows
Creativity is always welcome in any field of life, and the hairstyles are not the exception. So, instead of having the basic crochet twists, you can go with something different and innovative. The crochet twists will still be present, but the thing that makes this hairstyle so unique and outside-the-box is the addition of crochet twists with the noticeable cornrows. These twists would be a relevant hairdo no matter which event you are going to – it can be something casual, like a friendly meeting or family dinner, or something formal like the wedding or graduation. Either way, all the eyes will be on you if you add a little creative streak to the usual cornrow twists.
Of course, you will need a hand of a master hairdresser and some pocket money for creating something so unique and magnificent, but this style will serve you for quite a long time and protect your head.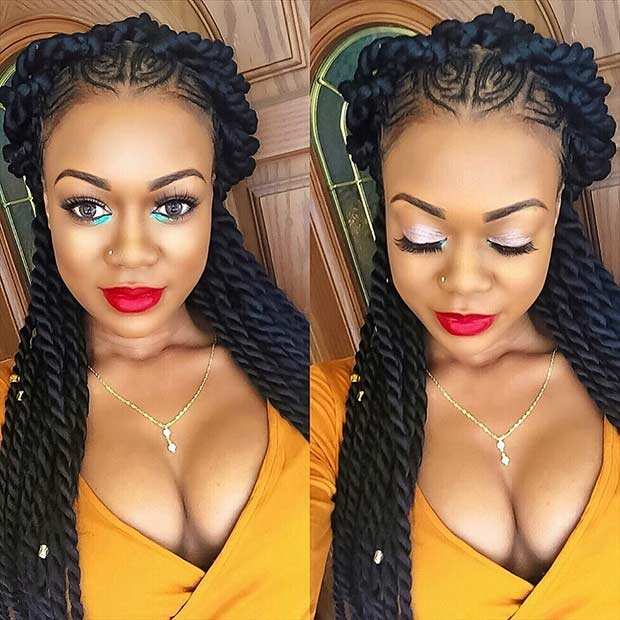 8. Black and red Havana twisted bob
The latest trend is dying two halves of your head in different colors, like the singer Melanie Martinez did. This works very well on the African hairstyles too, and especially on the twists. The combination of black and red is a perfect balance between something usual and something daring. Besides, if you are not a big fan of long hairstyles, you could try the short bob which is an extremely fabulous choice.
Adding this one to your list of possible hairstyles will be a great idea. It will be both attractive and protective at the same time. It is a nice compromise for those who want to have an eye-capturing hairstyle, but have no time and energy to go through all the hair maintenance.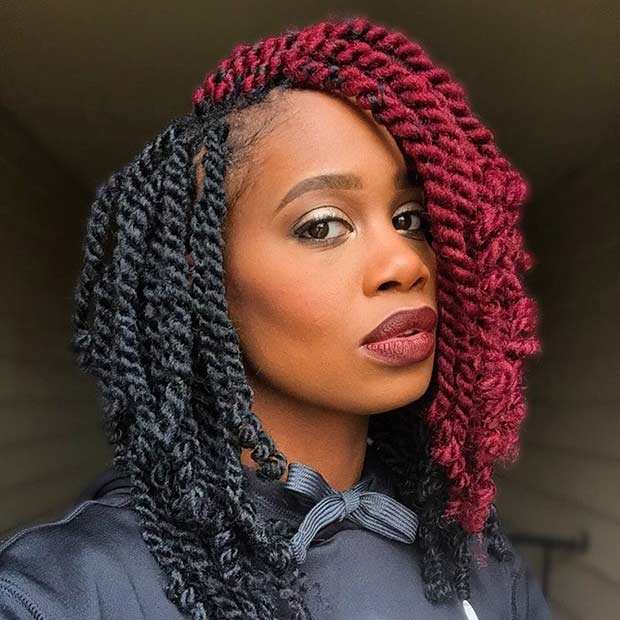 9. Medium-length twists with curls
Are you a fan of curly hair, but have always thought that it is impossible to create with the twists? This is just a myth which we are going to dispel right now. First of all, the ends of your hair do not always look neat when you are wearing twists. They are mostly straight and blunt edges. This hairstyle will make your twist ends look cute, gentle, and feminine.
To reach the effect of curly edges, you could trim them a little when they are installed, or stagger your hair. Either way, this is a beautiful look which can become even better with the minimalistic accessories, clothes and makeup, to emphasize your kind and sweet nature.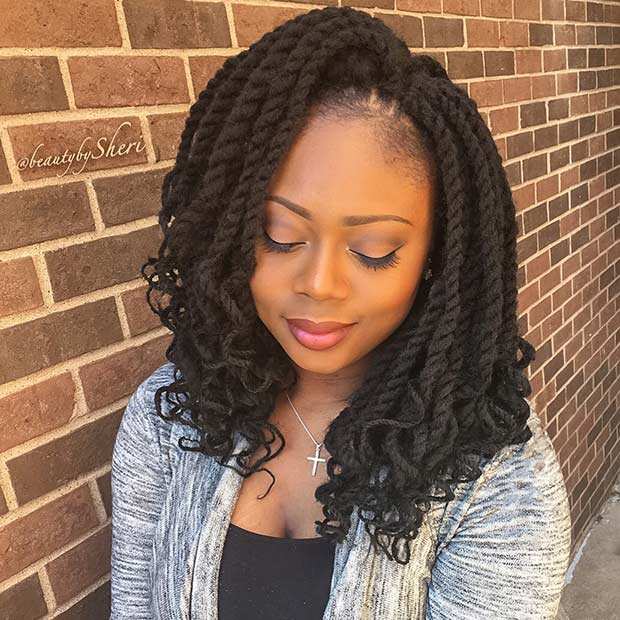 10. The combination of black and purple twists
We all want something different at some point in our life, something that will make us stand out from the dull crowd. If you are one of those people who have been wearing the crochet twists for a period of time, but recently you have desired to spice things up a little, why not add some pop of color into your twisted hair? You will not even have to dye your hair completely – just add some colorful strands which will indicate that you are a curious and creative person who loves trying something new and has a lot of different interesting hobbies.
This is a really brave look, and purple is one of those colors which are now in trend. One of the benefits of faux hair that you add to your hairstyle is that you will not have to bleach or lighten your own locks. This will not ruin your natural hair and will give you a great unforgettable hairstyle without much effort.
READ ALSO: Protective hairstyles for short natural hair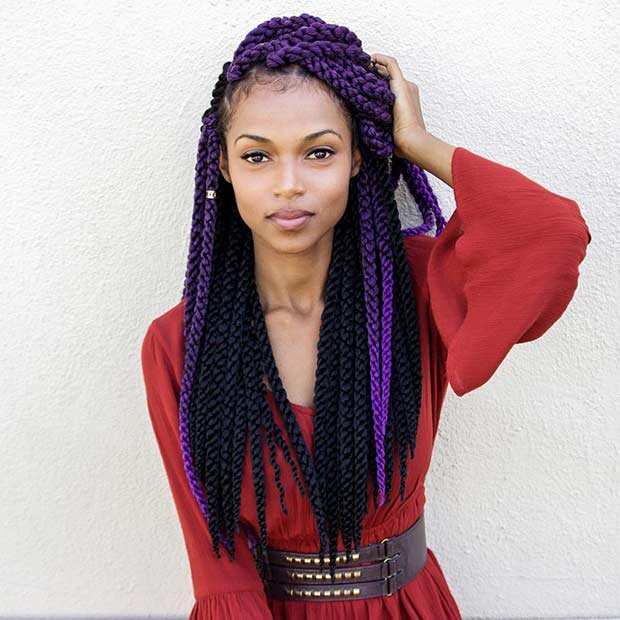 11. Burgundy rope twists
Here is something for those people who want something more natural than purple, but still colorful and memorable. Burgundy is a color for those who are determined, hardworking, and fierce. Besides, it goes perfectly with the tan and dark skin of Nigerian women, as well as natural makeup. One thing that you need to know if you want to wear this hairstyle is about changing your usual makeup routine. You will have to choose the palette which will go well with your burgundy hair because the makeup supplies that you have been using with your dark hair will not give the same effect as it used to.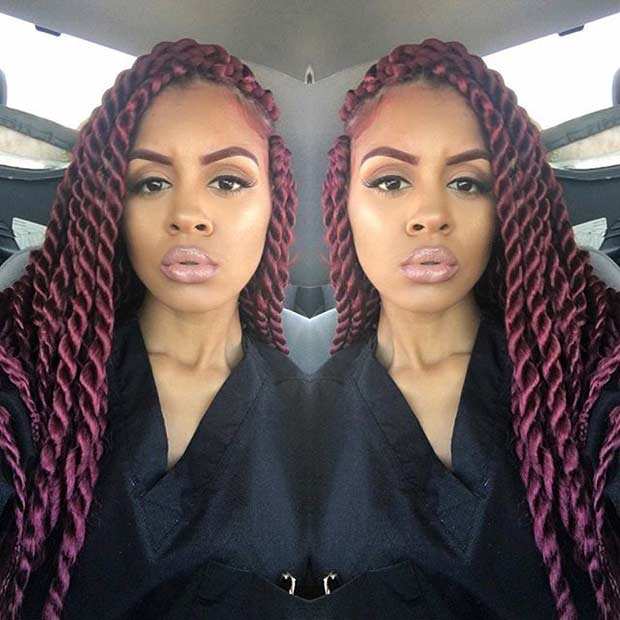 12. Black and brown twists with the hair cuffs
The Nigerian women adore the hair cuffs because they are one of the most appealing accessories out of the wide range that you could use for making your hair truly shine. In combination with these natural black twists with a brown color pop here and there, the beads will surely look perfect. It is very simple to use them: you should just place them wherever you feel like they would look the best. One of the additions to this image can be your favourite earrings. Do not forget about sparkling makeup. Finally, you can use headbands, scarves and other accessories to make your look even more unique and adorable.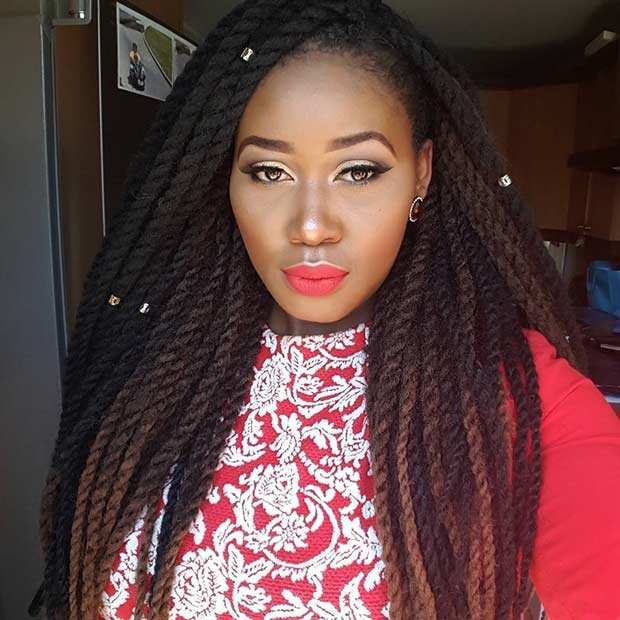 13. Crochet bob twists
Are you perhaps a fan of short bobs? Good news – they are possible to make with the thick twists, just like with the thin gentle twists and cornrows. This hairstyle has a special charm to it, which will go incredibly well with your shining eyes and bright smile. Make sure you get your makeup right and add some noticeable accessories to make your look simple, sweet, but at the same time very exceptional.
This is one of those hairstyles for any time or occasion. You can drive to the restaurant with friends on Sunday, or you can attend the grand occasion of holiday celebration. You could mix it with sporty or luxurious clothes. No matter what, you will look brilliant.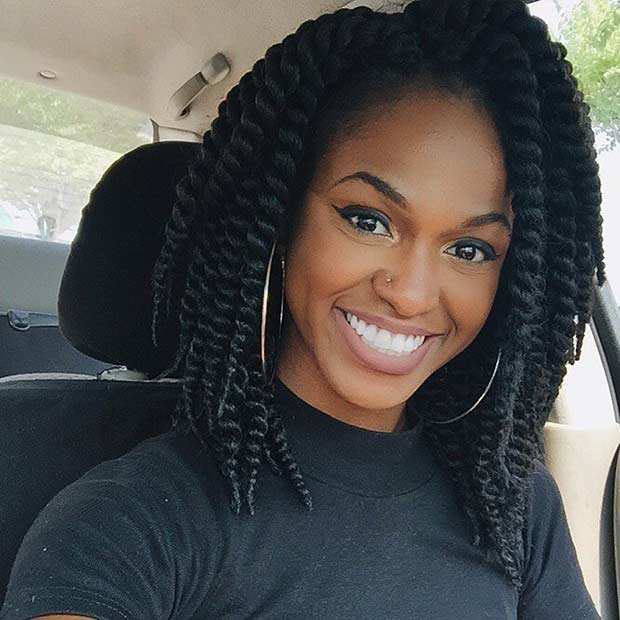 14. Half-up, half-down twists
Having a twisted hairstyle does not just mean that you have to wear them straight all the time. You can create a lot of imaginative hair options out of the twists, just like with regular natural hair. For instance, you could choose gathering your hair in half-up, half-down hairdo, which will beautifully frame your face shape and make your eyes visible. This is the hairstyle which could work both as an everyday option and something gorgeous for special events. It is not that difficult to create this hairstyle, but it will surely serve you for long and will protect you from the bad hair days.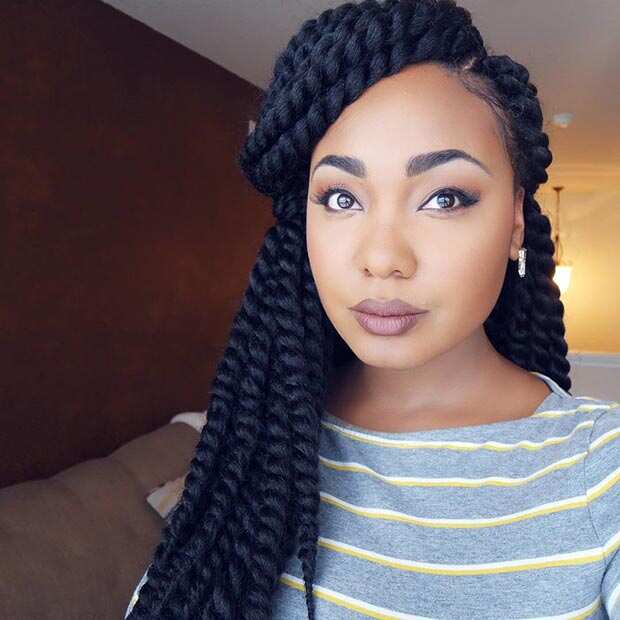 15. Half-up, half-down bun
This is a similar hairstyle to the previous one, but the difference is that you can gather your thick twists in the large bun on top of your head. This is a very easy and nice way to wear your twists – you only have to take some twists from the top section of your head, fix your bun on your head with some hair care supplies like grips, and let all the other hair strands loose. This works very well with crochet twists because the bun looks very grand and majestic when the twists are thick and tough. And the last thing, make sure that your makeup is on point!
READ ALSO: Best cornrow hairstyles for round faces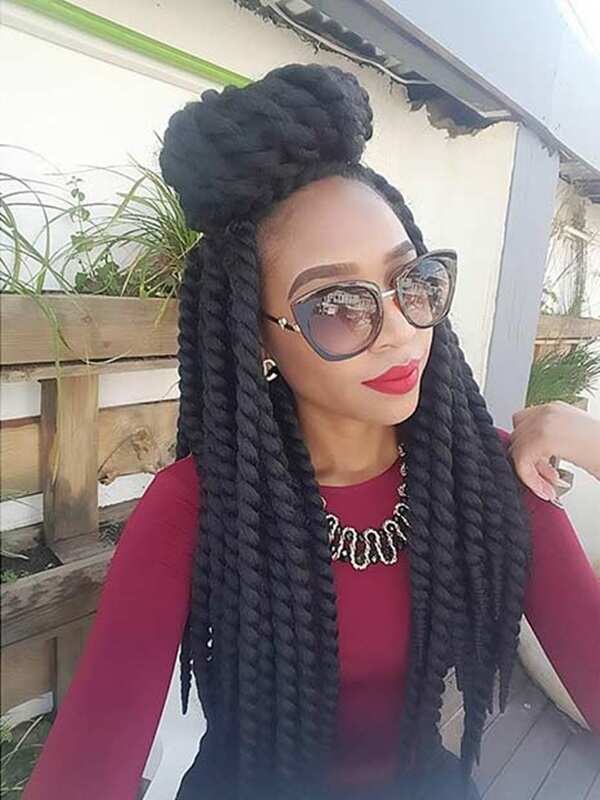 16. Regular long crochet twisted braids
Sometimes there is nothing better than simplicity, and you can achieve the great result by just doing something easy. This is why the long crochet twists are one of those timeless hairstyles which will be relevant on every occasion. You should just make sure that your hair is ready for these braids because they are long and require some effort for installing. At first, you will need to wash your hair and apply the deep conditioning to it, preferably it should be done a few times over a couple of weeks. Then, you will need to give your hair good and thorough oil treatment. This hairstyle is one of those protective ones that will recover your natural hair and make it chill out a little. Plus, your looks will also be on point.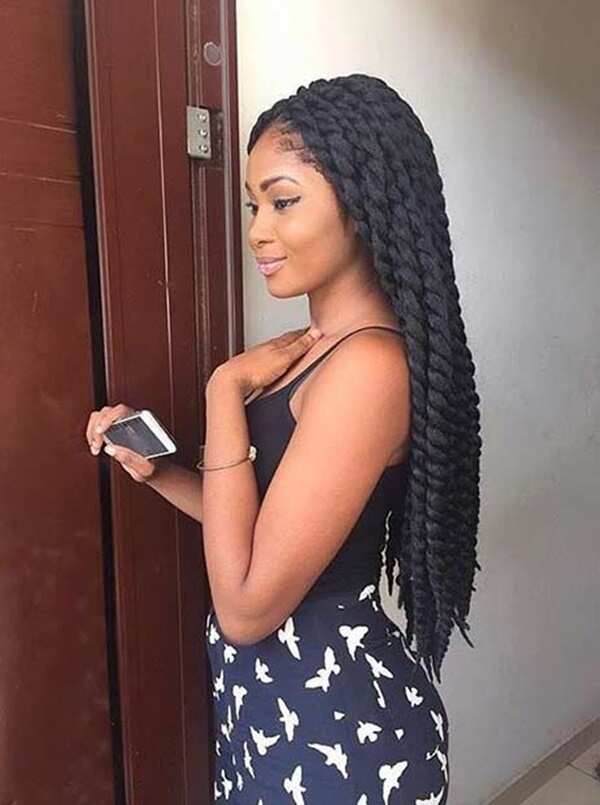 17. Brown and caramel twisted hairstyle
When you want to add some hair extensions, it will be a wise decision to try a few different colors and look at how they would be combined. If you are not keen on unnatural colorings like blues, reds or purples, and prefer something natural but at the same time appealing and classy, you can definitely turn your attention to the caramel twists. You can play with the tones – for instance, some of your twists can be of a darker shade of brown, while some will be more caramel-toned. Either way, this is a beautiful look which every Nigerian woman would rock. It is very simple and will give you natural gradient hair which serves to keep your locks dynamic and alive.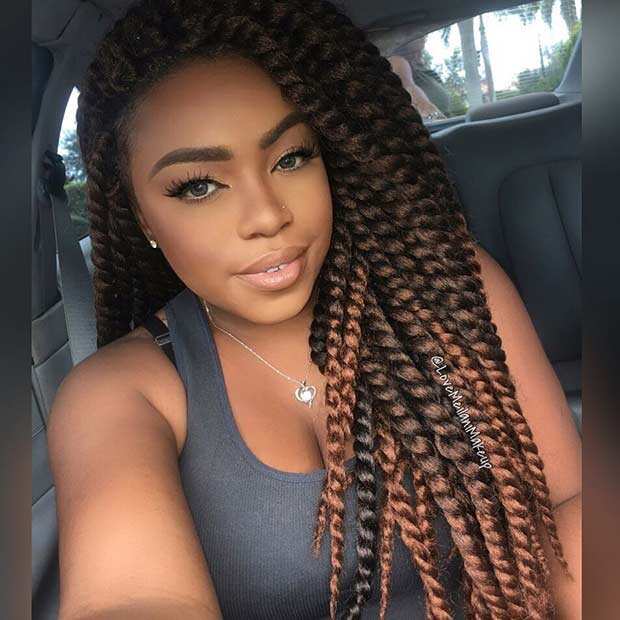 18. Jumbo Havana mambo twists
Those twists are surprisingly easy to install, compared to all the other types of twists which you usually need to put a lot of work and effort into. These twists will bring a lot of volume and natural African beauty into your hairstyle, and this is why their popularity has increased so much over the years. This hairstyle needs less tension during their installation than the other similar hair options, which means that your head will get a little break from all the intensive care. And of course, this hairstyle will make you look refreshed, young, and beautiful. Just in case you are tired of the regular crochet twists, you can try something new with these Jumbo twists. Oh, and you can get the extensions of whatever color you want – do not be afraid to experiment!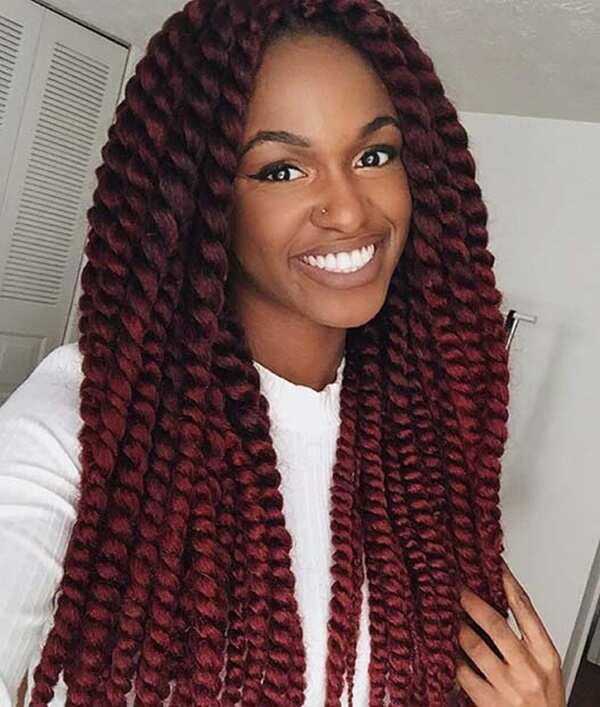 19. Curly mambo crochet twists
You should not think that crochet twists being curly are in some way messy. In fact, they are really charming and cute, and every girl has dreamed of these at least once. Doing the curly twists requires the knowledge of a special technique, but in the end, they look absolutely fantastic.
You can add some hair cuffs and think about the suitable makeup for the occasion. We guarantee that this hairstyle will make you look young, daring, and full of creative ideas. Do not be afraid of your hair being undone, because sometimes adding some little imperfections to your look can be just the right thing to do. Try these adorable curls and make this look truly your own!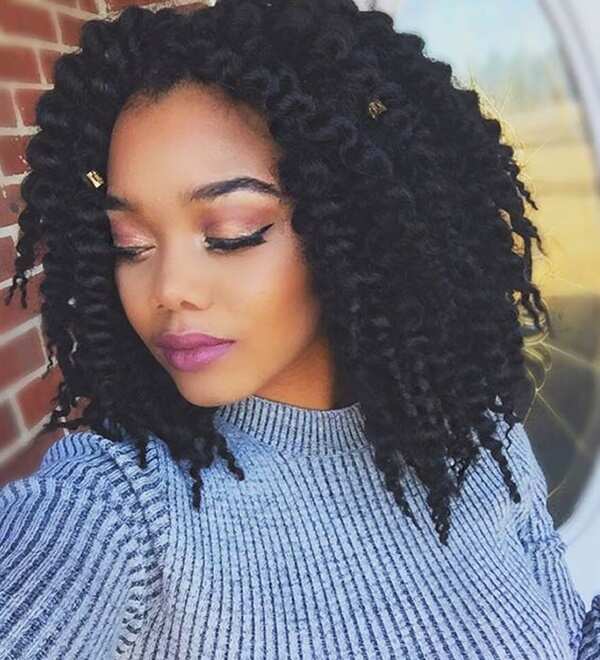 20. Long twists with different styling
Remember how we noted more than once that the hair accessories can really spice up any kind of look and freshen it? Well, this is exactly what we meant – the accessories like hair cuffs, hair bands, and even earrings can give your hairstyle a couple of unforgettable looks which you will be able to alternate between all the time. You can wear the flower crown, sweep your hair aside, create the bun or two, or use whatever amount of hair cuffs you want. In the end, your twists are very versatile, and you have no idea how many exciting things you can do with them. Basically, in the picture, you can see long twists designed in many different ways, so if you have crochet twists and do not know what to do with them, this is your source of inspiration. Perhaps you will even create something brand new and show us your innovative, modern hairstyle?
READ ALSO: Latest twisting braids hairstyles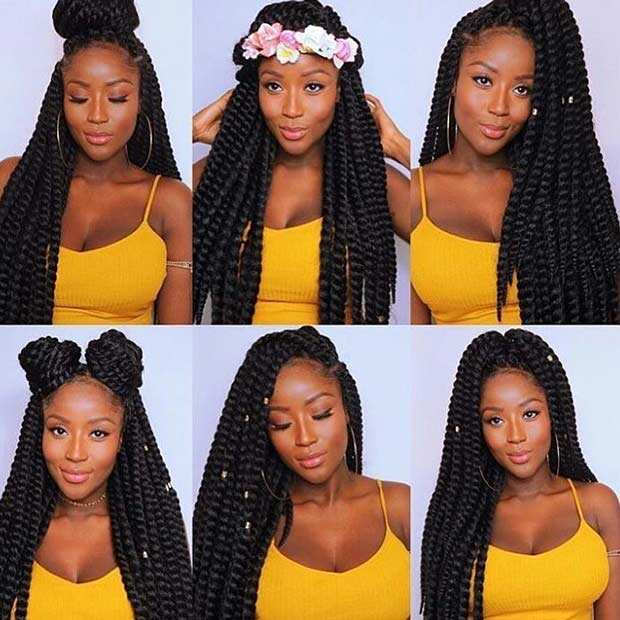 We have offered you a top-20 of the stylish and creative hairstyles which you can create with the big twist braids. Twists are not too difficult to create, but they will come in handy when you want to protect your hair and at the same time become the fashion statement among your friends, family, and acquaintances. We hope you enjoyed our takes on awesome twist braid fashion! We wish you to find this one hairstyle you would fall in love with!
The photos of the hairstyles are from the website stayglam.com.
READ ALSO: Top twist hairstyles for natural hair
Source: Legit.ng