Best lace styles for ladies to wear this season
Take a look at the best lace styles for ladies to wear this season! In 2018, designers seem to be obsessed with lace. These exquisite textiles are used for many wardrobe items. Lace trim can be seen almost everywhere. Read about the latest trendy lace styles and create your unique designs.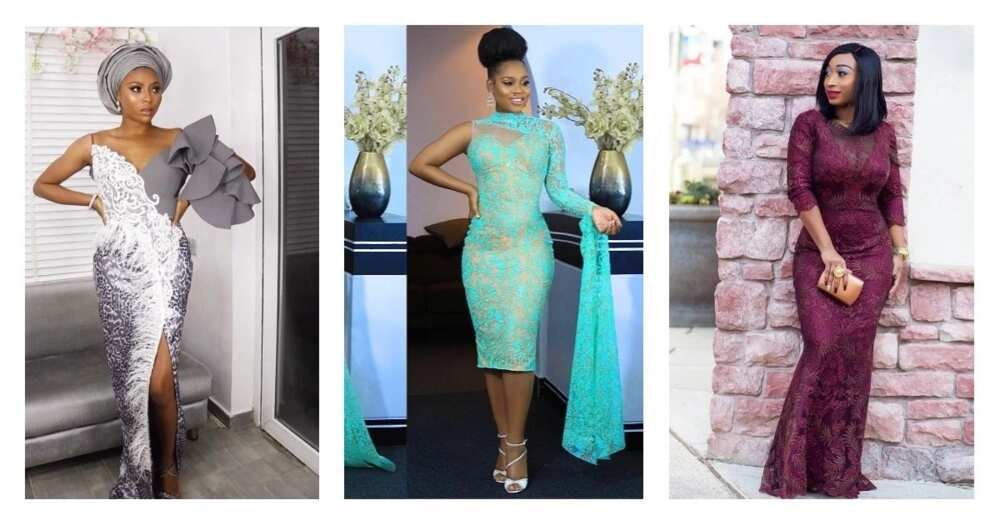 The lace material is a symbol of femininity and sophistication. It will never become obsolete and not go out of fashion. No secular reception, none red carpet does without lacy outfits. Clothes made of lace are always light, romantic, and elegant.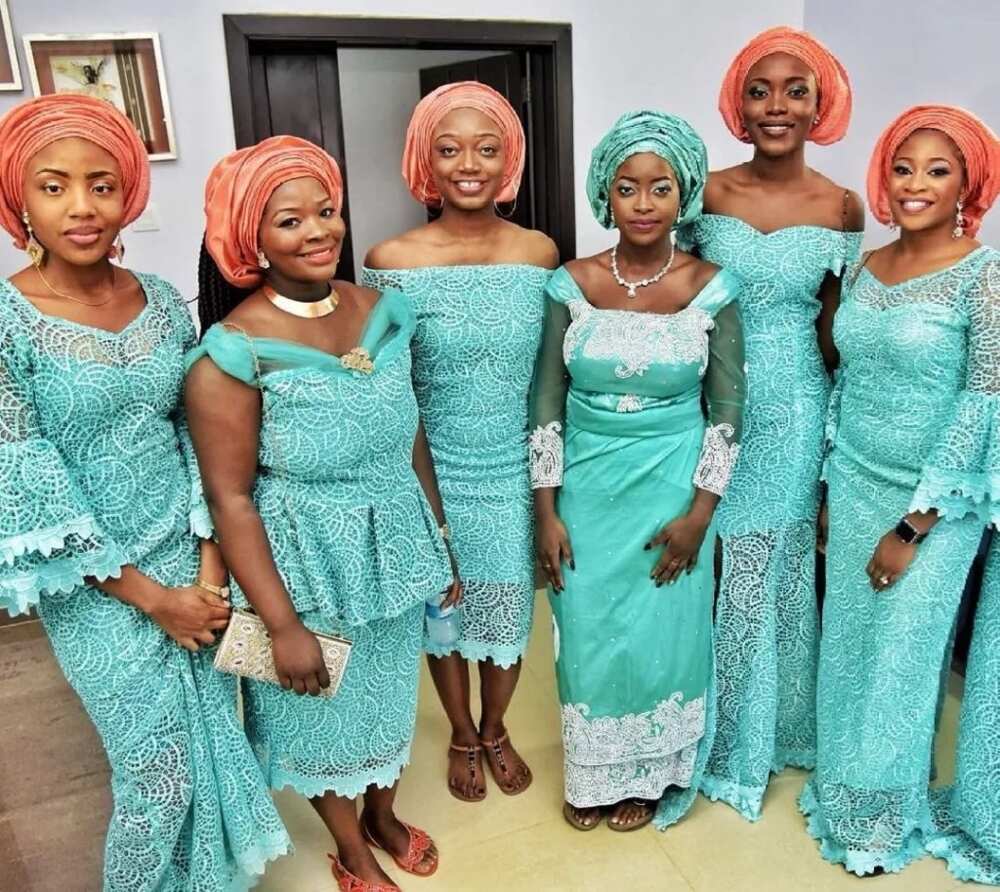 Lace styles for ladies
In fashion, there is always a place for lace. And most often this place is the first. Every modern fashionista must have at least one lace thing.
Underwear is not considered (although it must also be, of course). It's in sometimes in some countries lace was customarily worn only like underwear and exclusively at home, behind closed doors. Everything else was automatically considered vulgar and indecent.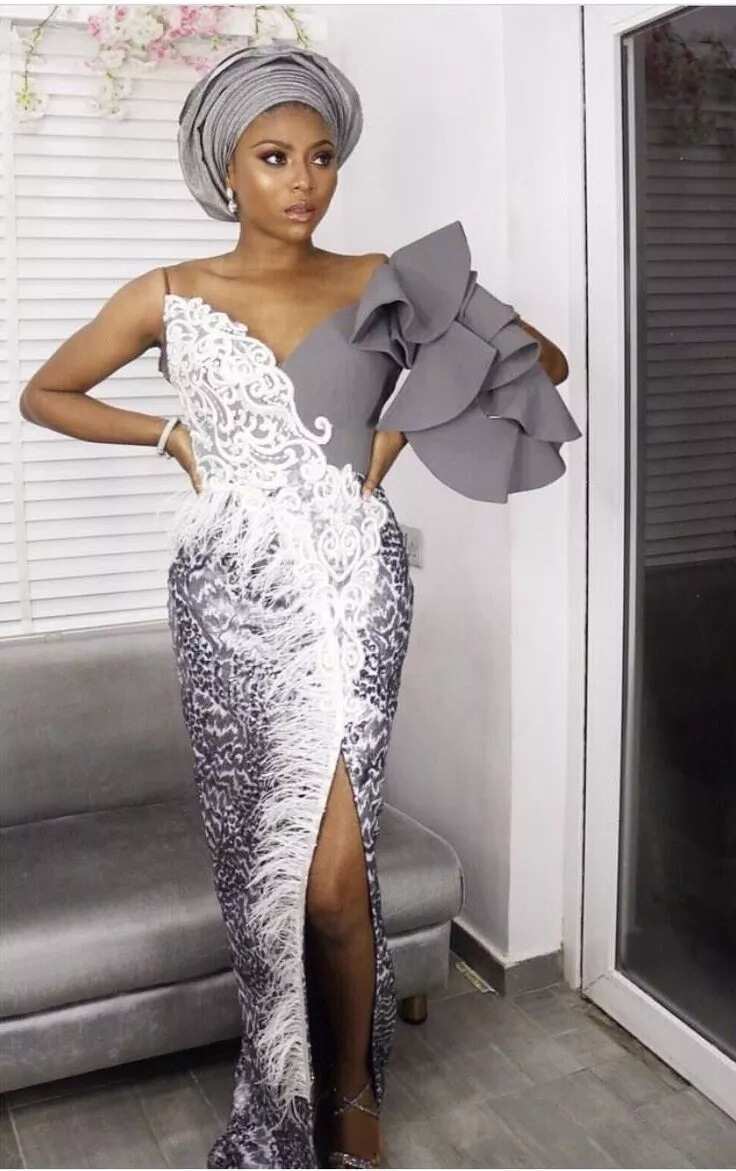 Latest Nigerian fashion styles with lace
Modern fashion allows you to show any lace from delicate pastel colors to bright and provocative. You can use a rich lace trim for the whole product. Besides, a small strip of thin lace on a separate part of the item, for example, on the back or sleeves is also relevant.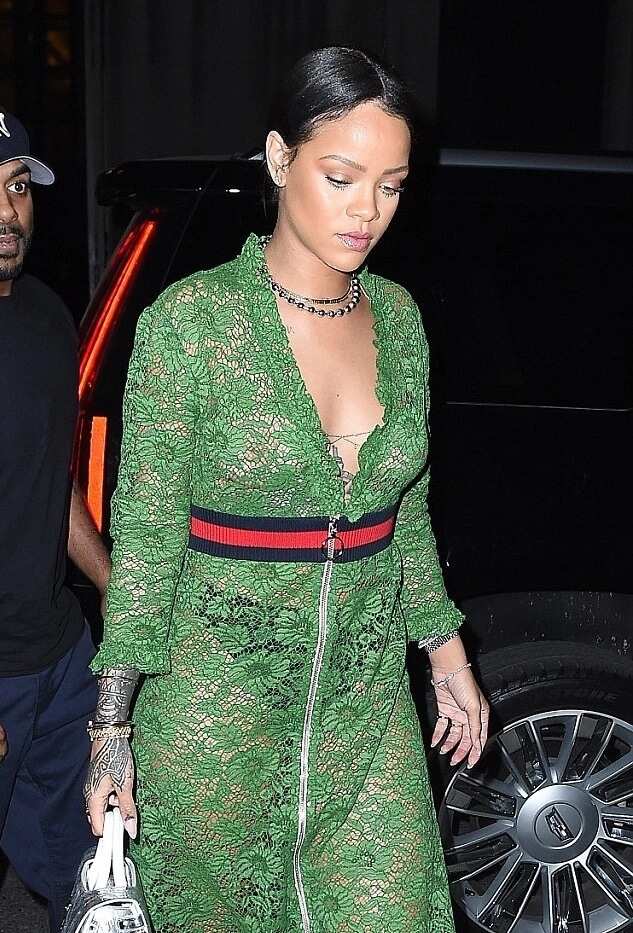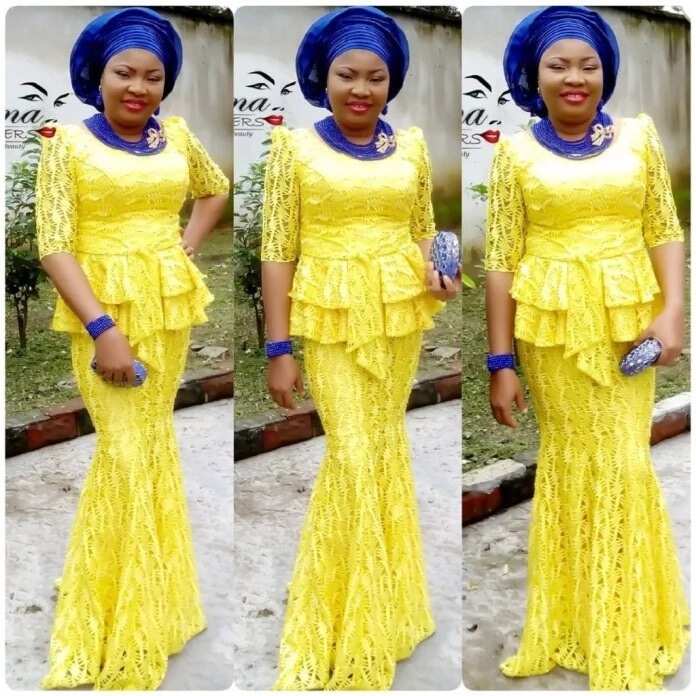 Lace suits perfectly in such a fashion trend as multi layers. It's demonstrated with lace items of the podiums' of latest collections in 2018.
READ ALSO: Latest cord lace styles in Nigeria 2018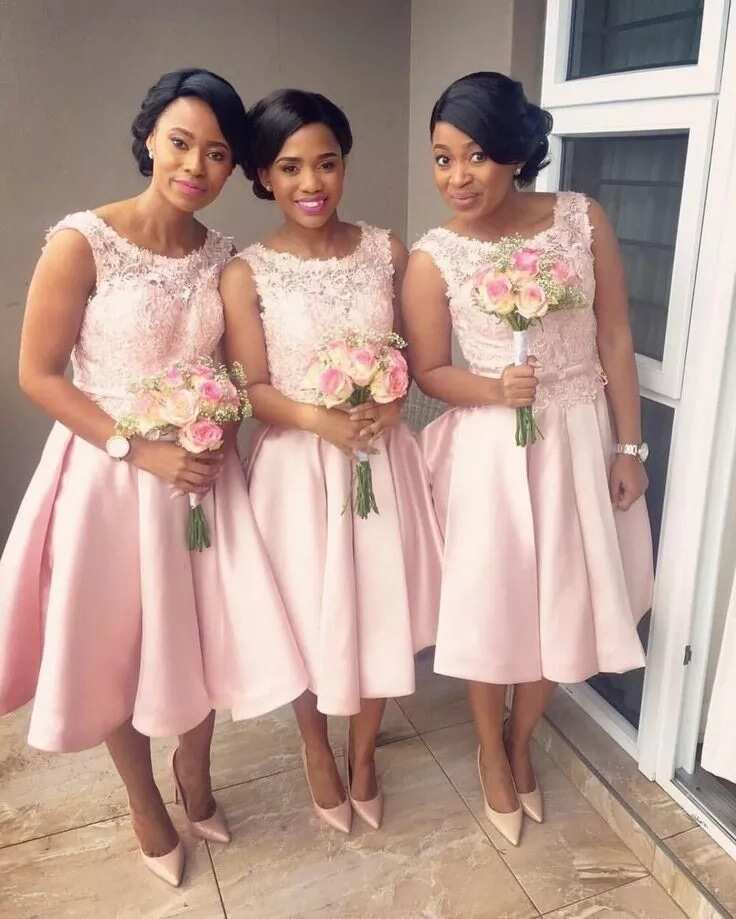 The choice of lace clothing is very large! A variety of tops, blouses, pants and skirts, jumpsuits and dresses, even outerwear is now decorated with lace.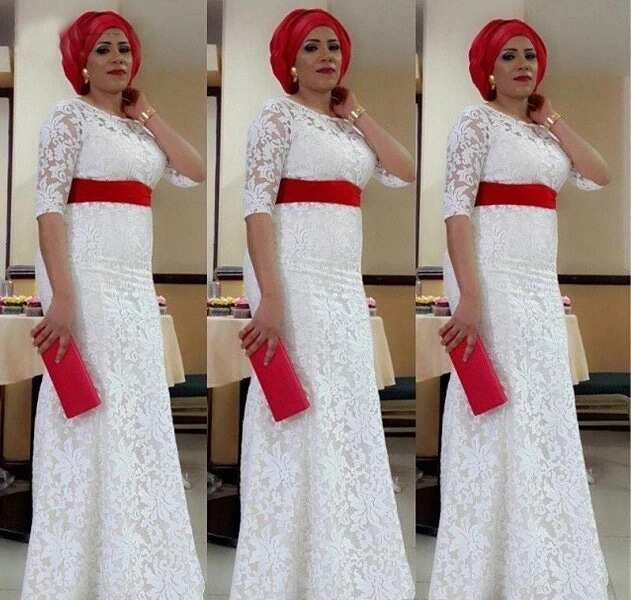 Most often, white lace is used light dresses, emphasizing femininity. Black lace can now be worn not only for evening events but also every day.
Cord lace looks very stylish if you combine it with pastel tones.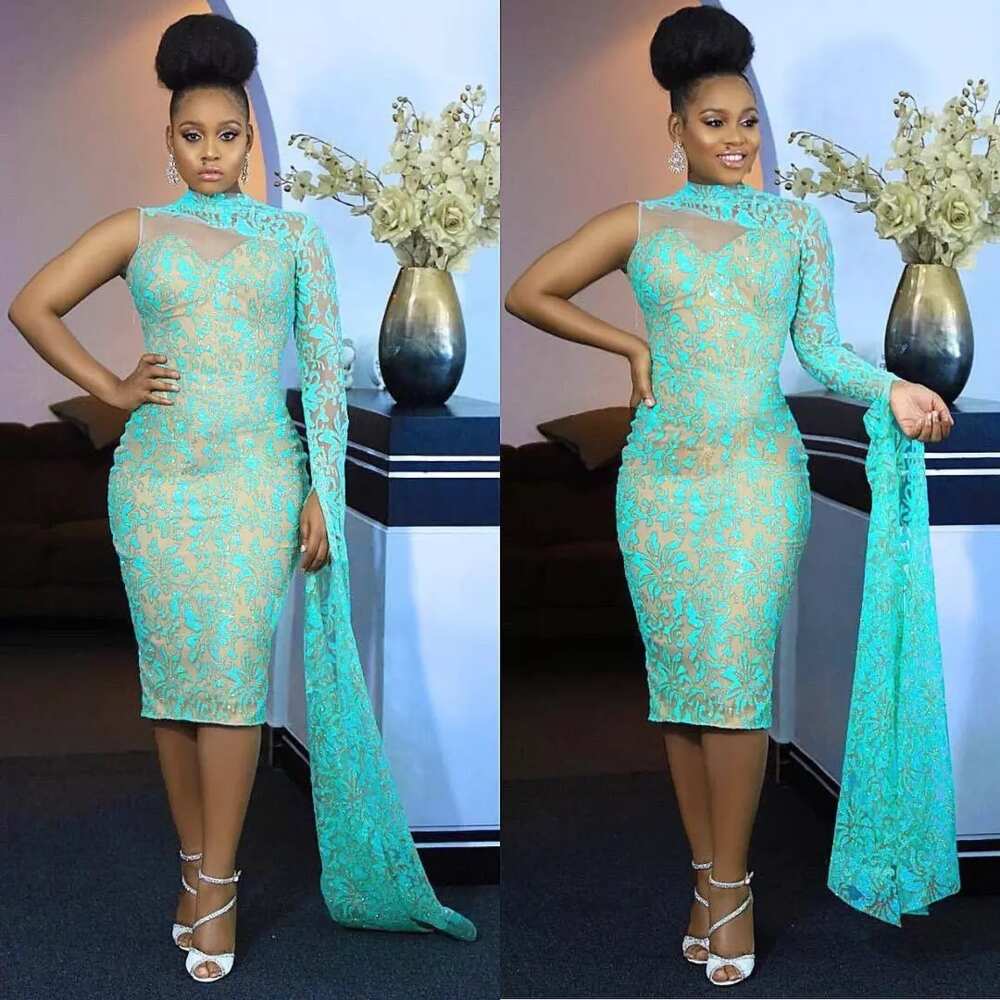 Lace gown styles
The lace dress is the main accent. Everything else is just an addition to it. If the lace dress has a simple cut and is used for everyday walks, don't need to decorate it. A small handbag and simple, low-key jewelry like a pair of earrings and bracelet are enough. Shoes may not have the heels.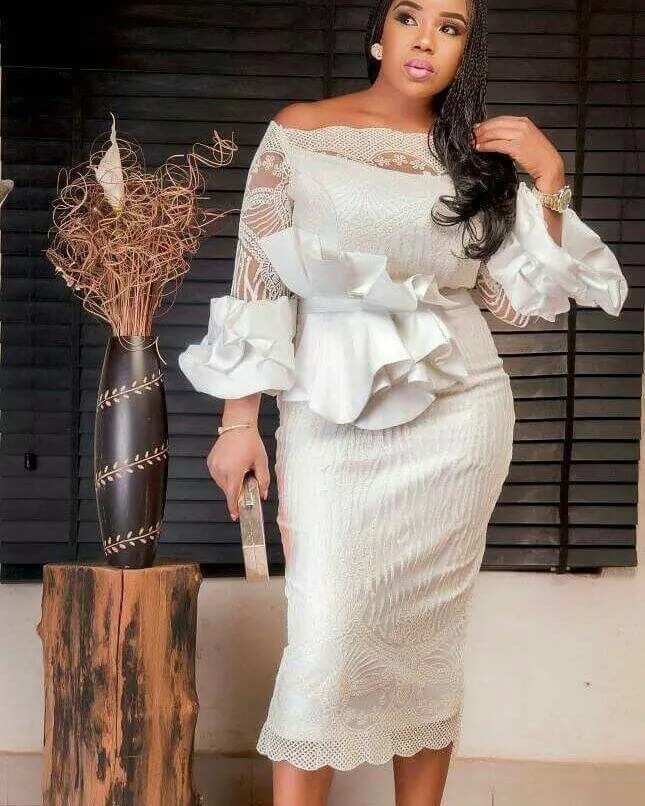 Evening lace dress requires chic. It means you need more expensive jewelry, such as necklaces and earrings, bracelets and rings. It's not necessarily to take them all together.
"Metal" lace dresses are perfect for parties. Complement such dress with lacquered accessories and jewelry like metal.
As for the tailoring, lace dresses can be long, short, and also midi. Choose a cut, depending on the lace fabric texture. Cord lace is best for straight or slightly fitted midi and long dresses with short or long sleeves. At the same time, French lace used with an underdress is suitable for mermaid dresses and flared dresses. Straight gowns are relevant too. Sleeves in such outfits are made narrow long or three-quarters.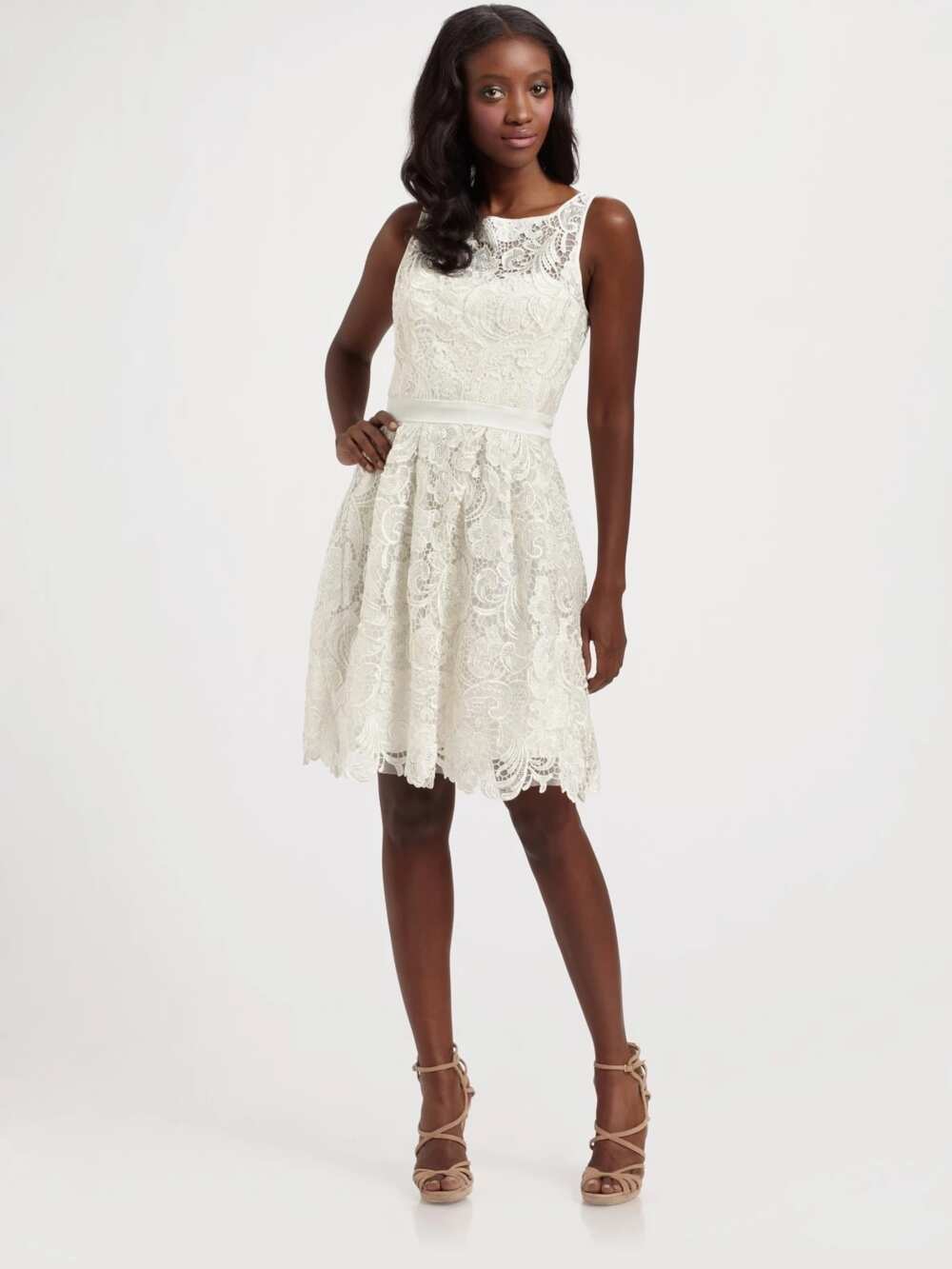 As you know, lace is an excellent material for Aso Ebi lace styles, as well as other native styles and festive outfits.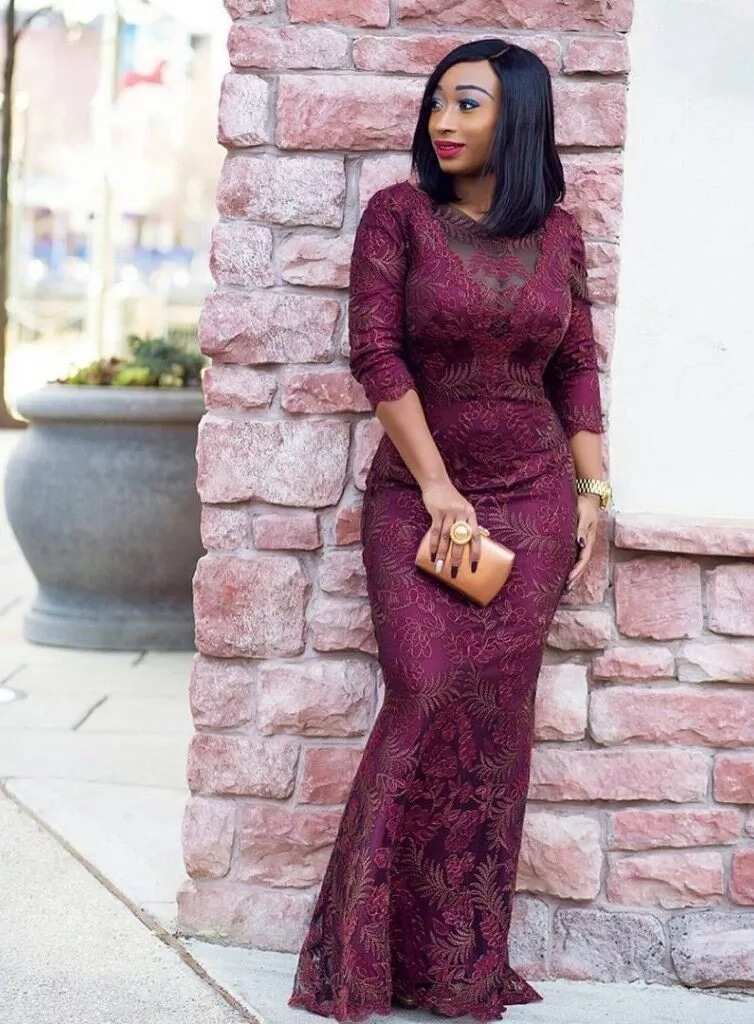 You should not overload cord lace styles with additional trim. The lace pattern is the best decoration. But in the evening variants of French lace dresses, you can add fringe, feathers, fluff, and other fabrics, like chiffon and brocade. Also, embroidery with beads and sequins looks beautiful.
READ ALSO: Latest Aso Ebi styles with cord lace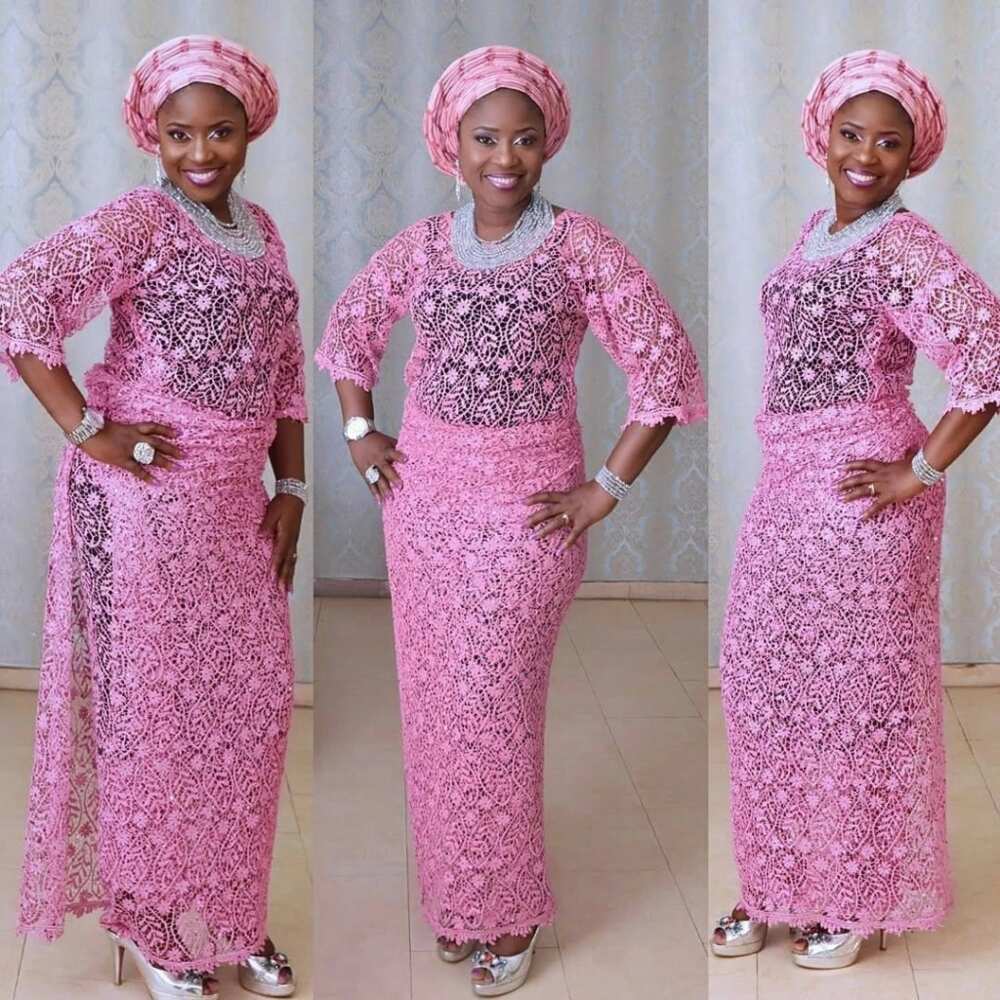 Lace material styles for skirt and blouse
Besides, talking about lace styles, you need to stop on lacy skirts and blouses, which are like lace dresses, are used by Nigerian women everywhere in traditional outfits. Along with popular variants of blouses and skirts tailoring as peplum mermaid styles, straight midi or long skirts, as well as wrappers, are also in demand.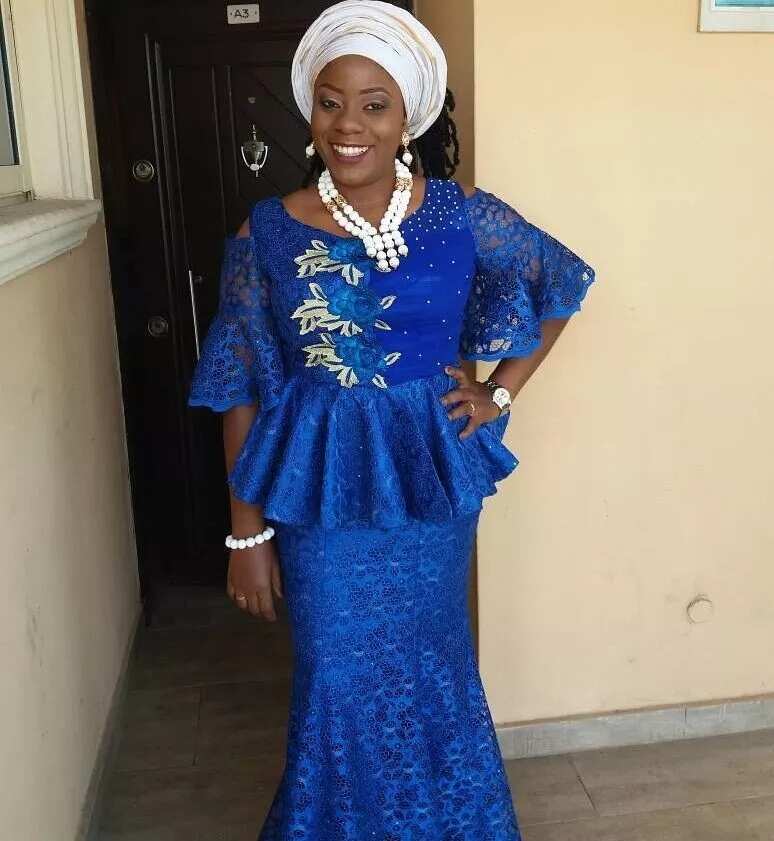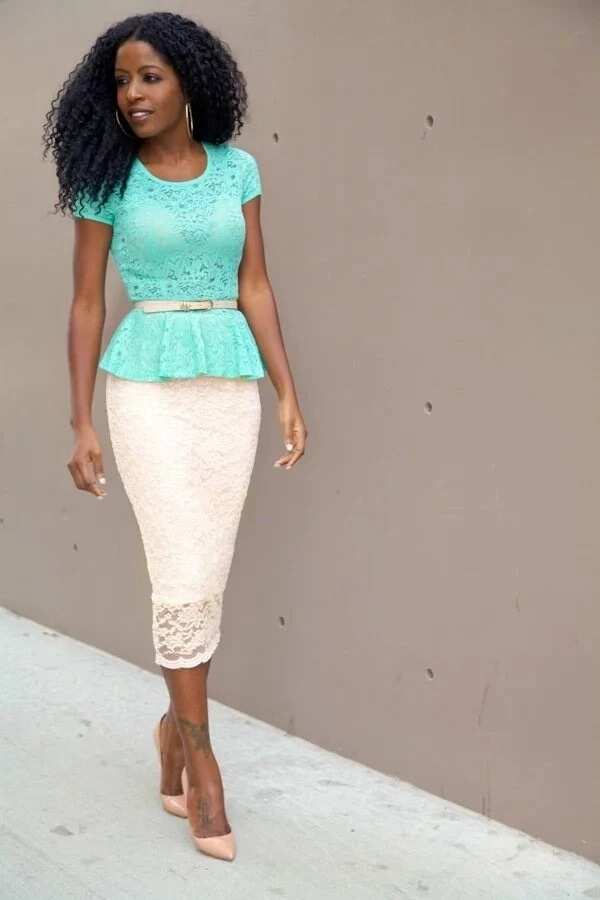 European styles of skirts and blouses 2018 are also popular in Nigeria. Cord lace midi skirts pencils and blouses with sleeves of simple tailoring from are the most demanded. However, the French lace skirts are usually flared like a tulip. French lace blouses are loose, and they cannot have an under blouse or top.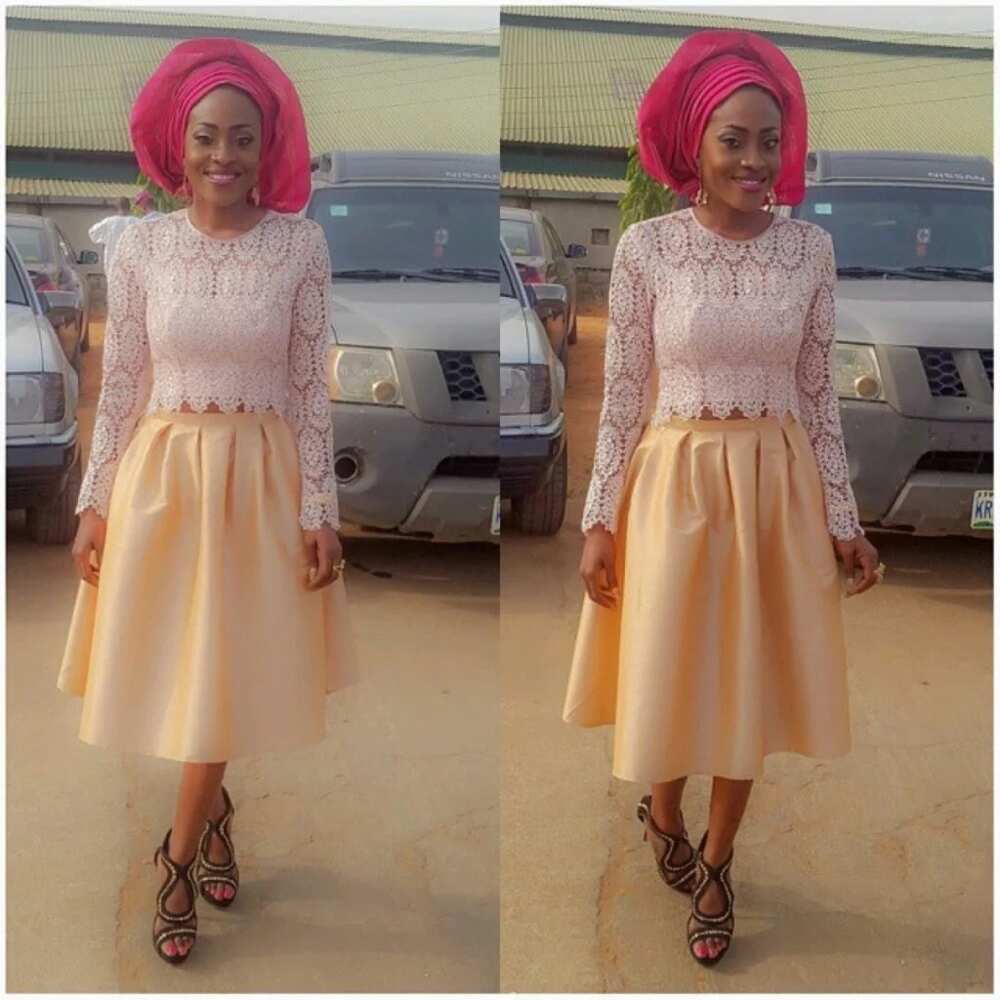 Nigerian lace styles for a blouse
As for the blouses as separate items, we want to draw your attention to a white or pastel lace blouse with frills and ruffles.
Victorian style in clothes returns to the runways! This season, many designers have decided to bring a little femininity to their collections, adding to them a trend for lacy white or pastel blouses with a lot of frills and graceful trims. Light waves of lace fabric falling over the shoulders, translucent materials, and mysterious cutouts are on demand in 2018!
READ ALSO: Latest Nigerian lace blouse styles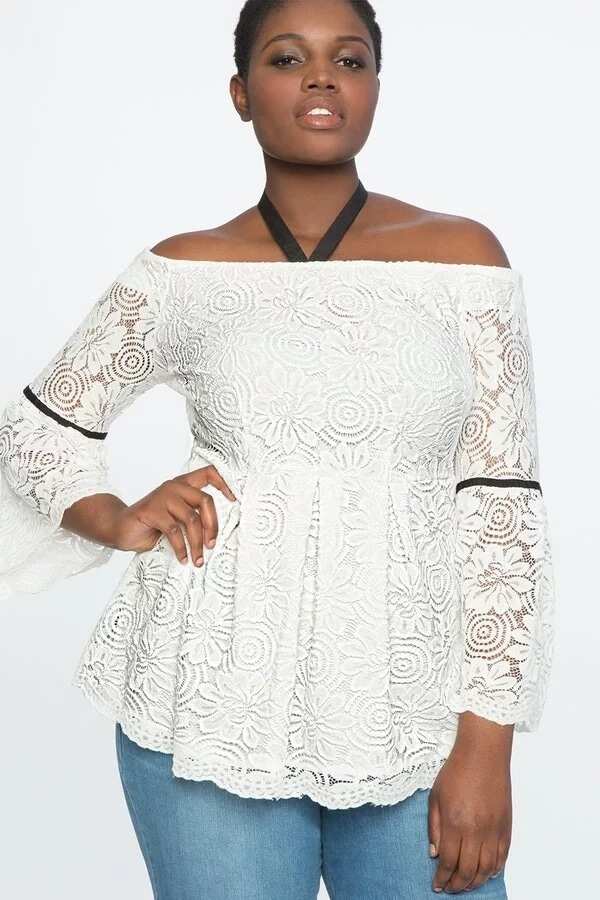 The trend to rock in 2018 is a light white or pastel blouse with an abundance of lace and flounces. It's a must-have for every fashionista. Lace blouse can have different tailoring. Choose a stylish model with a standing collar and a frill or, on the contrary, deep cutout to the waist. You can complete the look with high waist trousers! As you can see, a white lace blouse can be presented in a great variety!
Another trendy style is a blouse with voluminous sleeves and soft frills on the chest and arranges it with wide, short trousers or short leather skirts.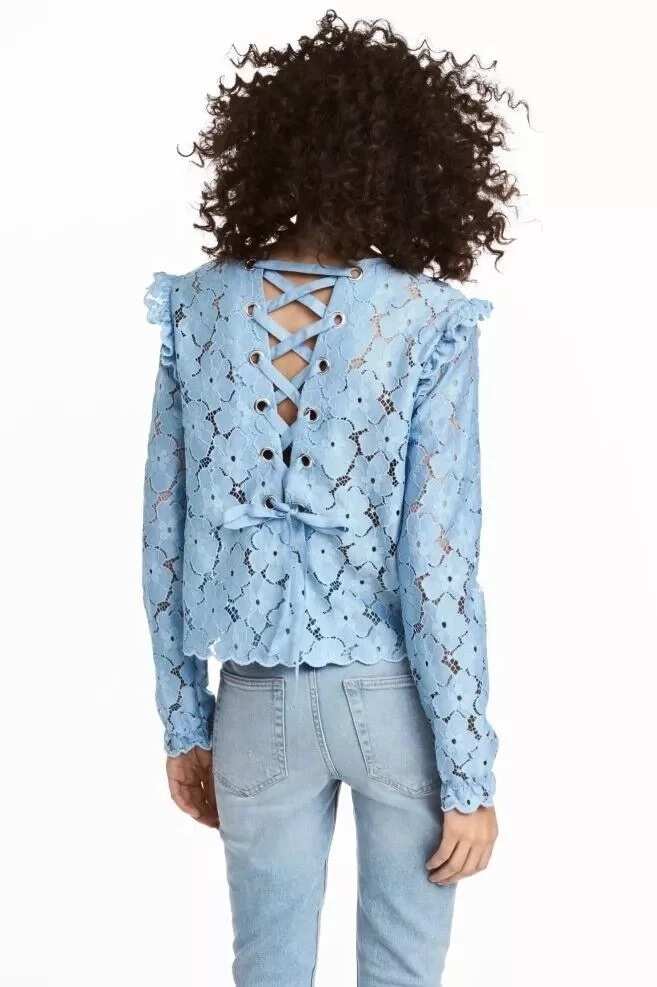 Nigerian ladies have noticed that 2018 is a year of contrasts.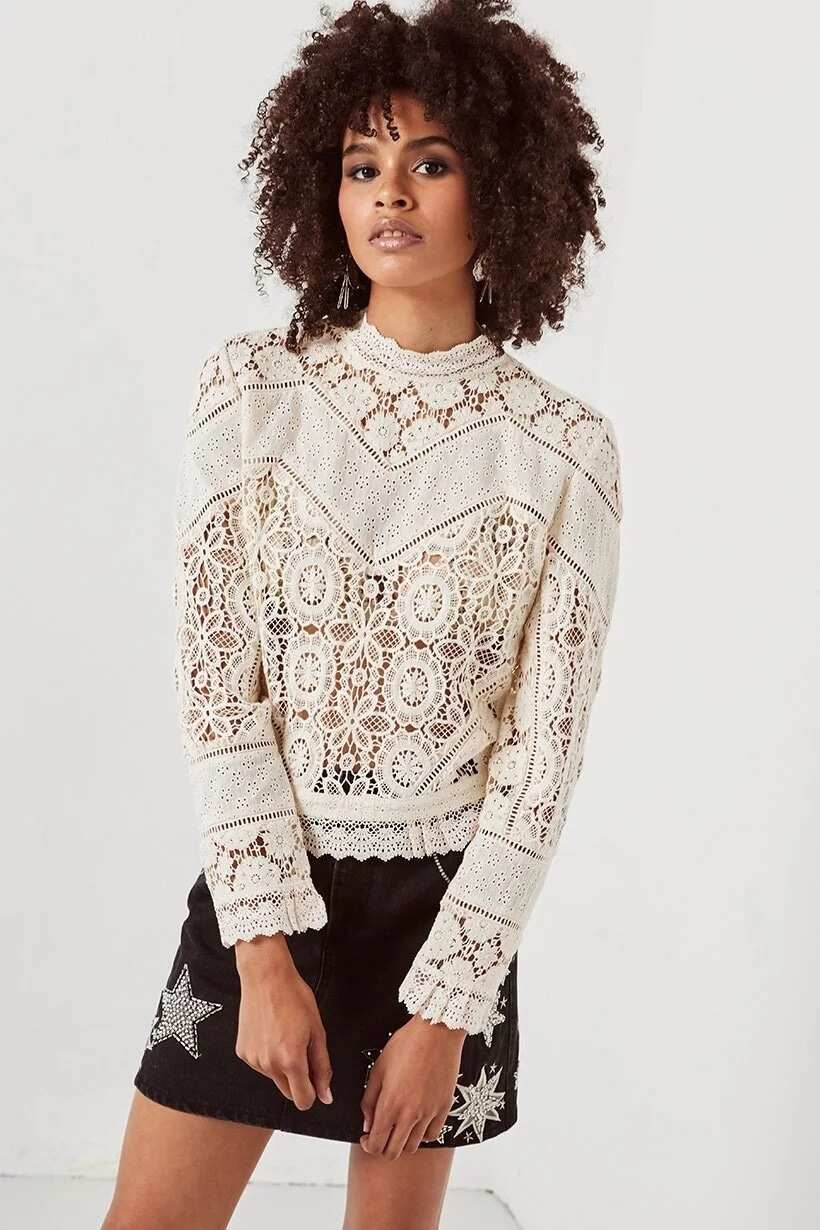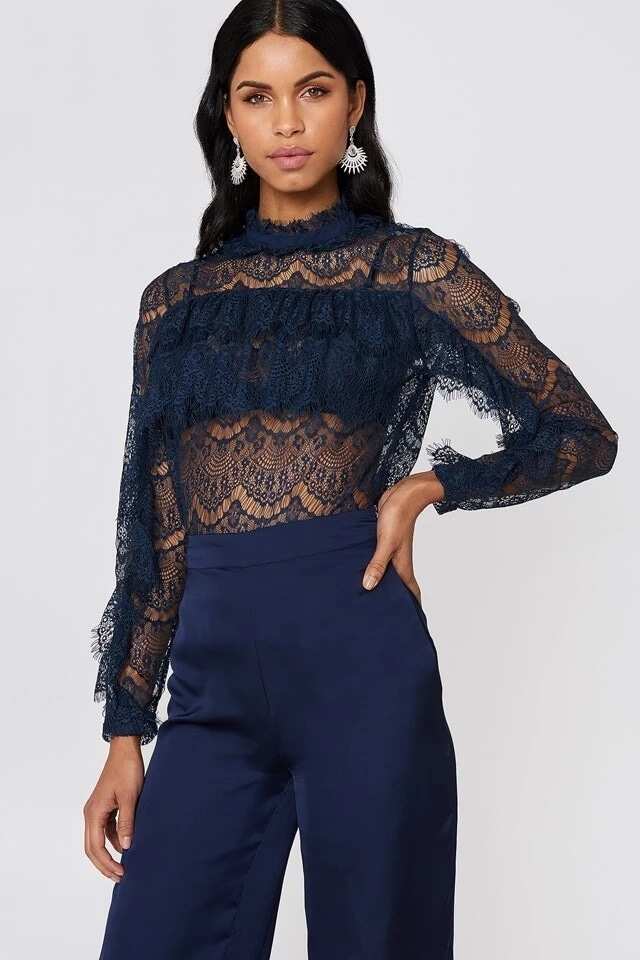 Lace styles add femininity and tenderness to the image of any lady. Create fashionable lace looks and conquer with your refinement and beauty.
READ ALSO: Long gown styles in Nigeria to rock in 2018
Source: Legit.ng