Little bride dresses in Nigeria - Best designs
Every little girl wants to look like a real princess. The primary attribute of the royal look is not the crown, but the luxurious dress, especially when it comes to festive attires. We have prepared for you the best designs of little bride dresses in Nigeria. Enjoy and get inspired!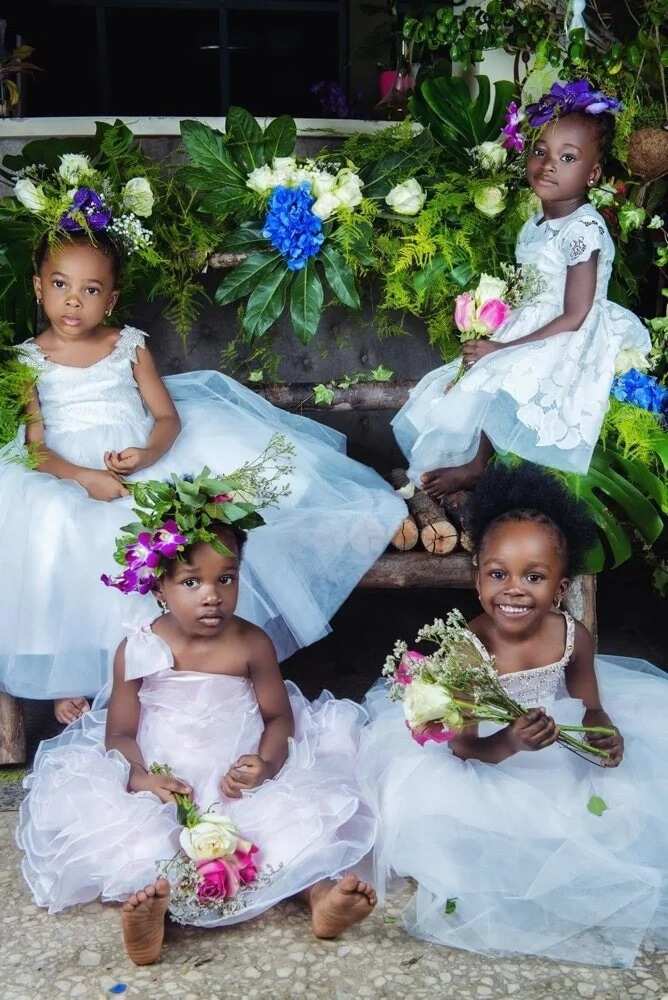 How to choose little bride dresses in Nigeria?
When it comes to choosing a festive attire for a little girl, keep in mind that she is cheerful, agile, and restless. Thus, a girl's bride dress must be comfortable and should not restrain movements. Also, we should not forget about the quality of little ball gown. The material should be hypoallergenic, environmentally friendly, and light to the touch. It must not cause irritation on the delicate skin of a child.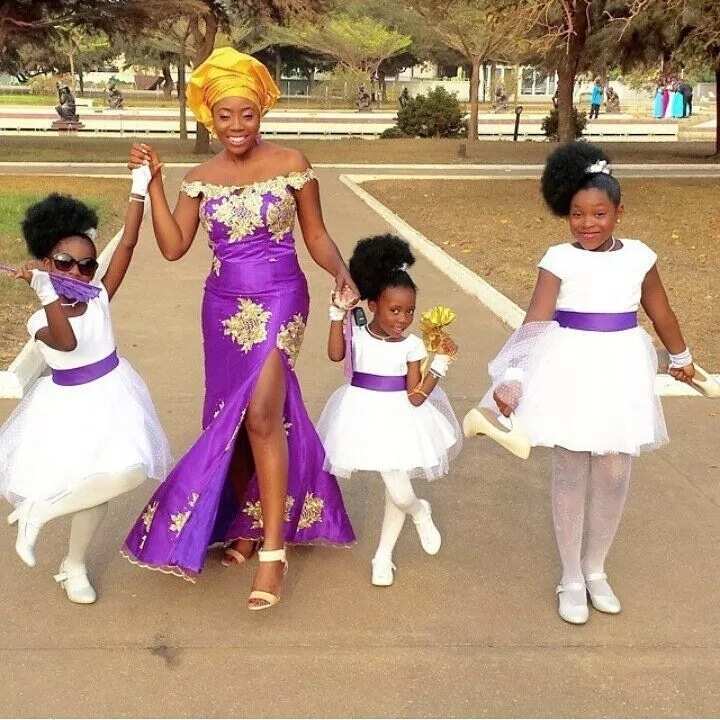 The fashion industry evolves very rapidly. The most famous designers and artists create some of the best little bride gowns. Each modern style resembles a real work of art. At the sight of such variety of textures, styles and bright colors, the eyes run in different directions. Dresses with luxury skirts, multi-tier flounces, assemblies and spectacular bows like what fairytale princesses wear, can make for the best little bride dress.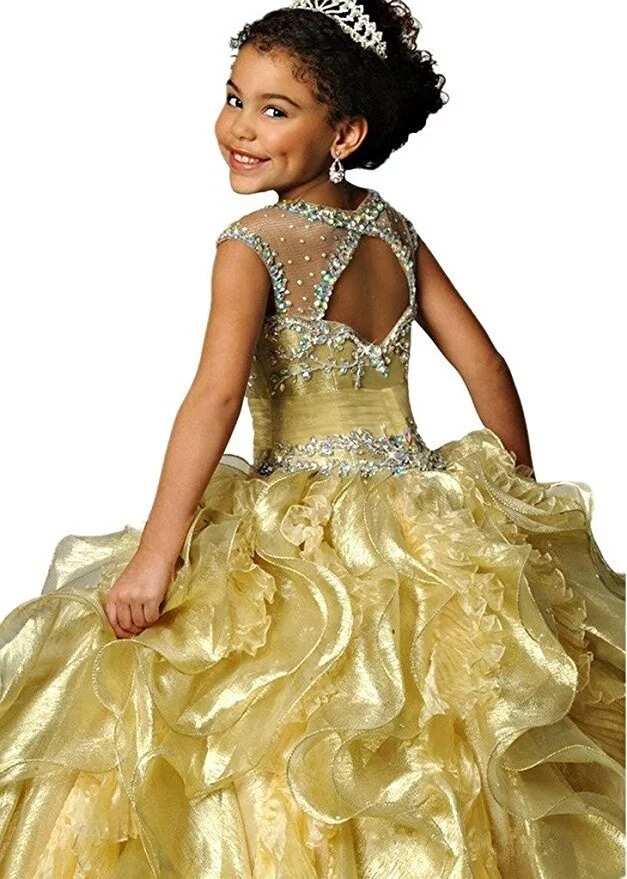 Little bride gown features
A girl's dress should be all about comfort and quality. Keep away from tight corsets. You should better pay more attention to dress with a fitting but not too-tight top. The skirt of the dress should be free, not interfering with movements. The fabric can be matte or with a delicate shine.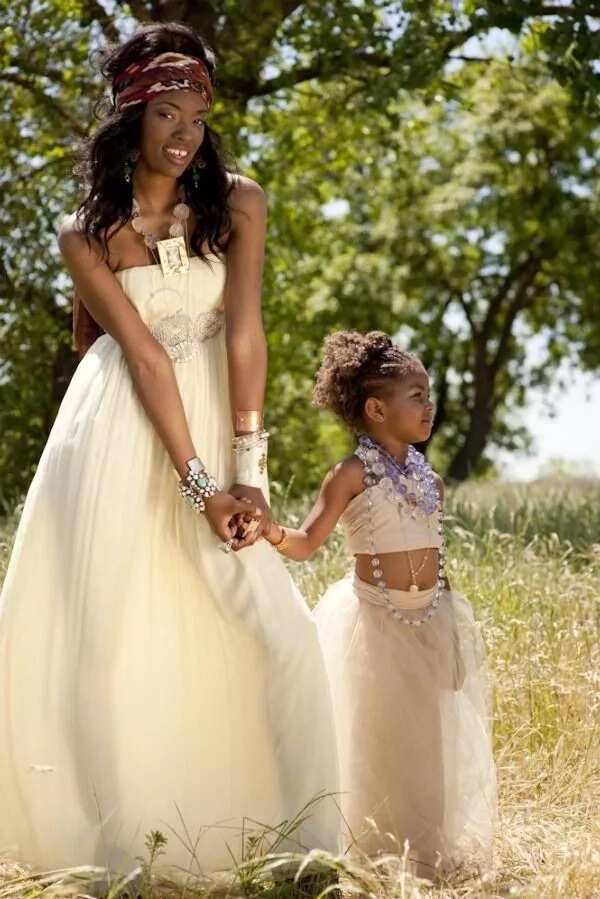 Children's fashion in many ways might copy adult's trends. In 2017, A-line silhouette are trendy. To design the look, a large bowknot or flower can be placed on the waist. Other embroidery, appliqué, coquette, lace collars and cuffs might even work. The dresses can also be decorated with beads, rhinestones, and sequins. Like in adult fashion, little gowns can also have magnificent multilayered skirts, flounces, ruffles, and frills.
The styles of dresses can differ in terms of the cut. The gowns with an overstated waist and fitted crochet are popular. Little girls often like bright dresses in the vintage style, especially dresses with contrasting ribbons and underskirts.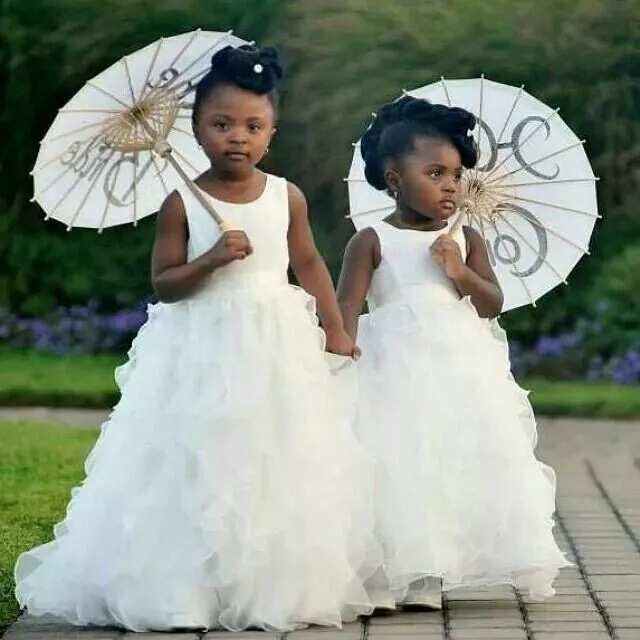 The dress can be designed with flowers, bright elements and children's paintings. The inserts can be of corrugated or transparent fabric. Brooches in the form of a flower or figurine are often used. The little bride gowns can be sleeveless, have long sleeves, a ¾ sleeve or short sleeves. For dresses without sleeves, straps are an essential element in younger girls.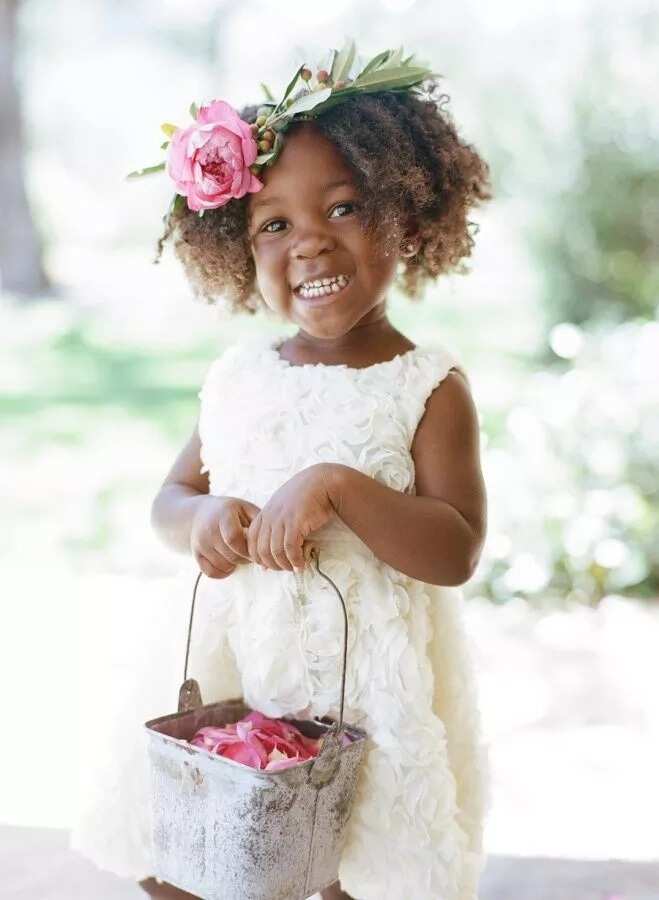 Current colors of little bride dresses
For a young age, white and pastel colors might not be so appealing. Bright colors should be used. The most popular colors are ivory, pink, blue, purple, and turquoise. Dark colors can look really pretty when mixed with white. For extreme glamour, go for rainbow dresses.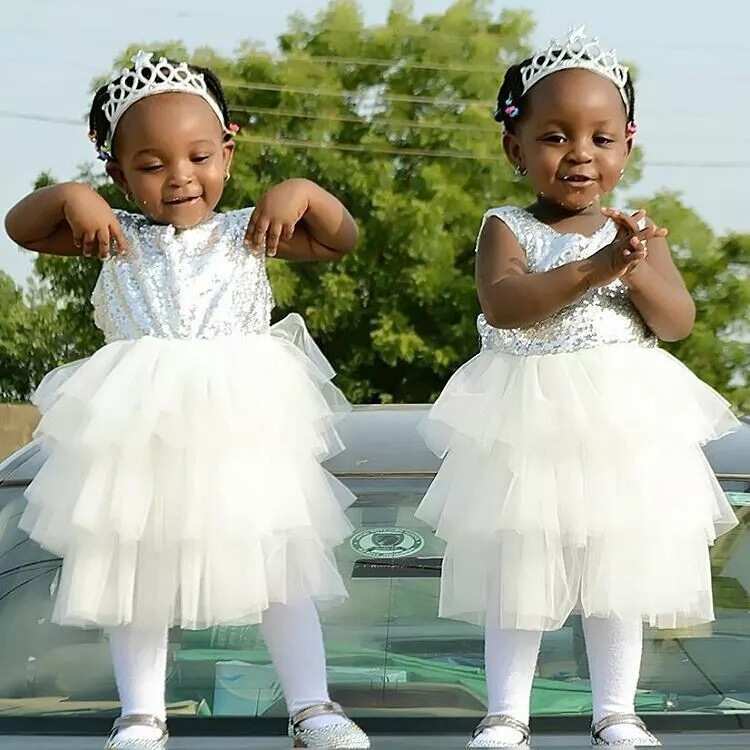 Length
The dress may be of any length. It can be short with a tutu skirt, comfortable midi length or fashionably maxi to the floor. When choosing the length, first of all, you should take into account the age of a girl.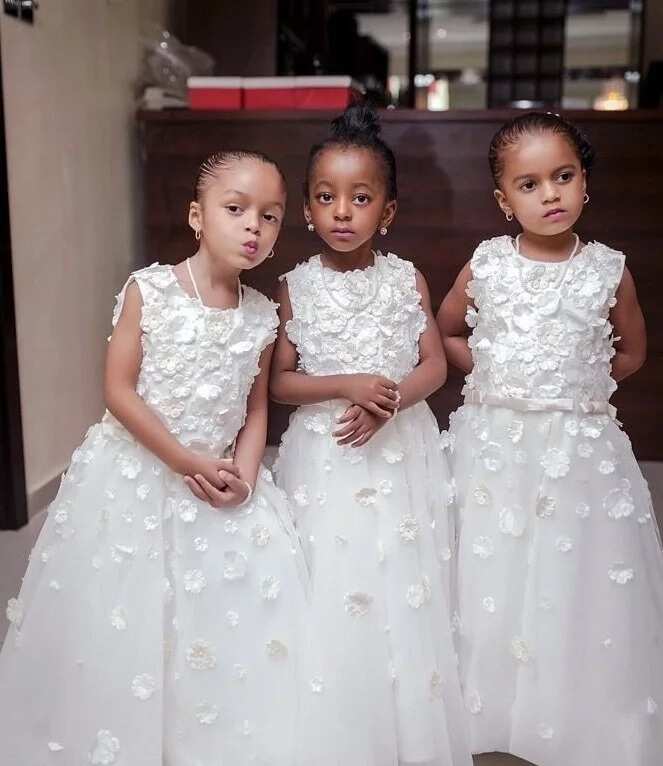 Textures
When it comes to texture, the fabrics can be divided into several categories:
Soft fabrics
They allow you to create beautiful drapery and folds. Soft fabrics are suitable for any physique. They include silk, satin, crepe, crepe de Chine, chiffon.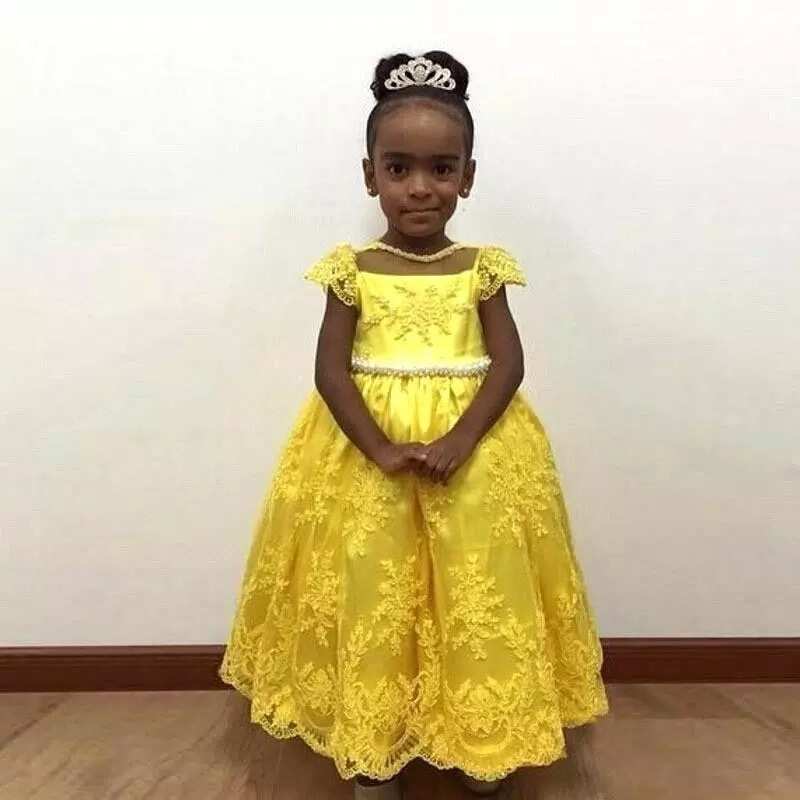 Hard fabrics
They create pronounced folds and angular shapes. Hard fabrics are best suited for a slim physique. The category includes cord lace, velvet, and brocade.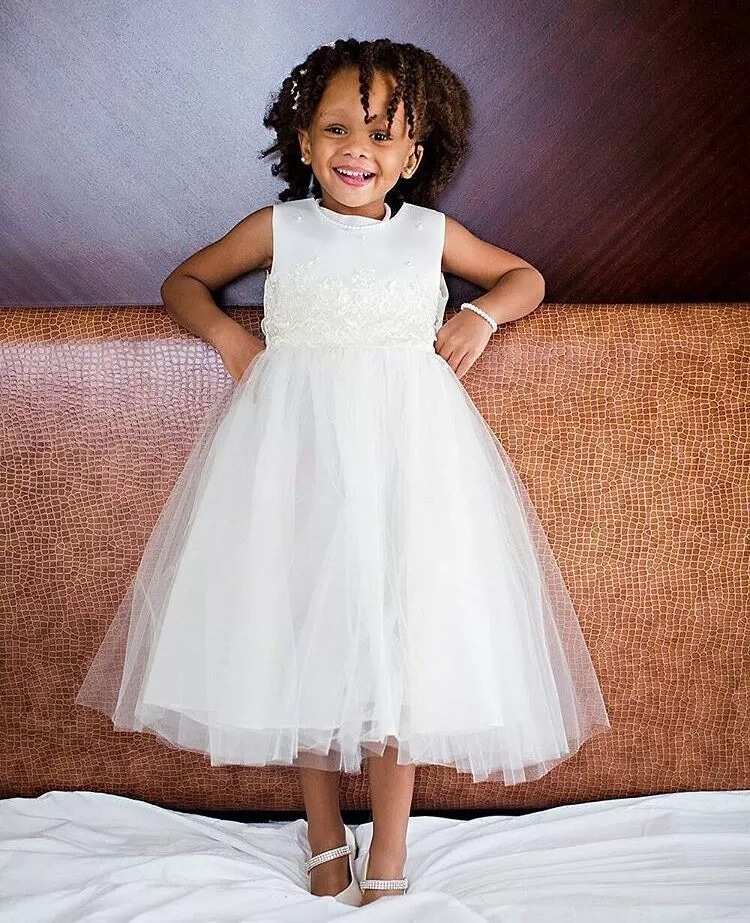 Transparent fabrics
They are the most suitable materials for finishing ball dresses with folds and inserts. Transparent fabrics create a beautiful drapery. They can be in form of crepe-georgette, chiffon, marquisette, lace.
Bright fabrics
They are a nice fabric texture known for reflecting light. Don't might not be the best fit for plump figures, because they emphasize every area. The category includes silk, satin, crepe-satin, and brocade. You can also include fabrics with lurex, sequins, bugles, and beads in this group.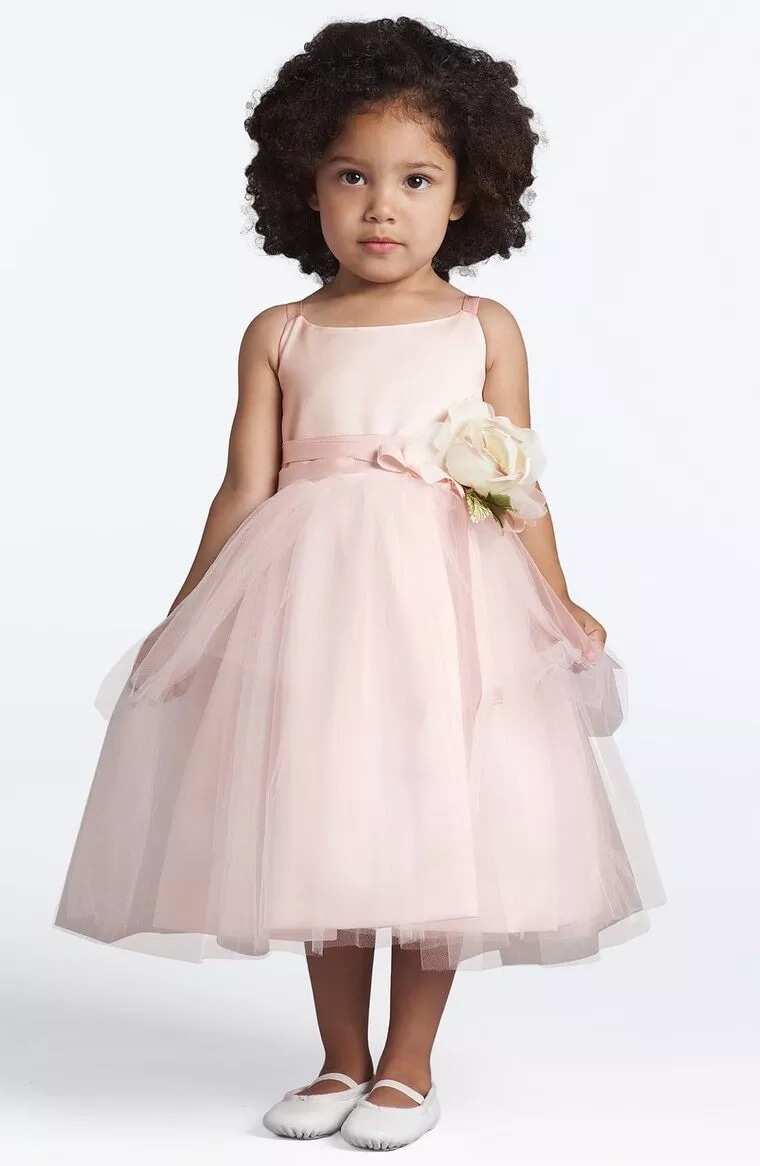 How to choose a suitable design?
For babies, it is preferable to purchase dresses with an overstated waist and fitted bodice. The little girl should not get tangled in the fabric. Therefore short dresses will fit all girls.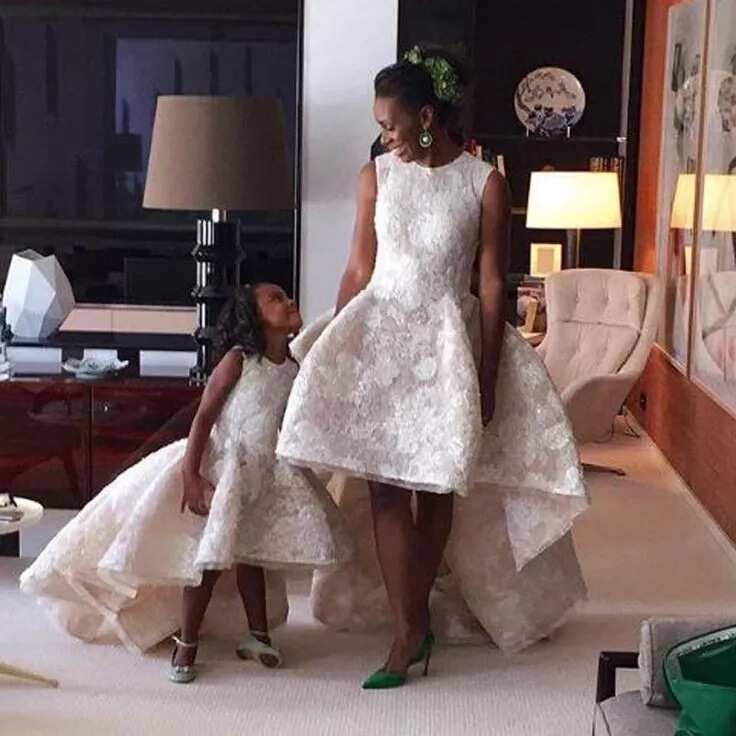 At ages five to ten, you can choose short or medium gowns for non-restrictive movements.
Girls aged 10 or higher years can wear a floor-length dress. They feel confident in a dress with a train too. At this age, girls can confidently wear ball dresses and gowns with a balloon skirt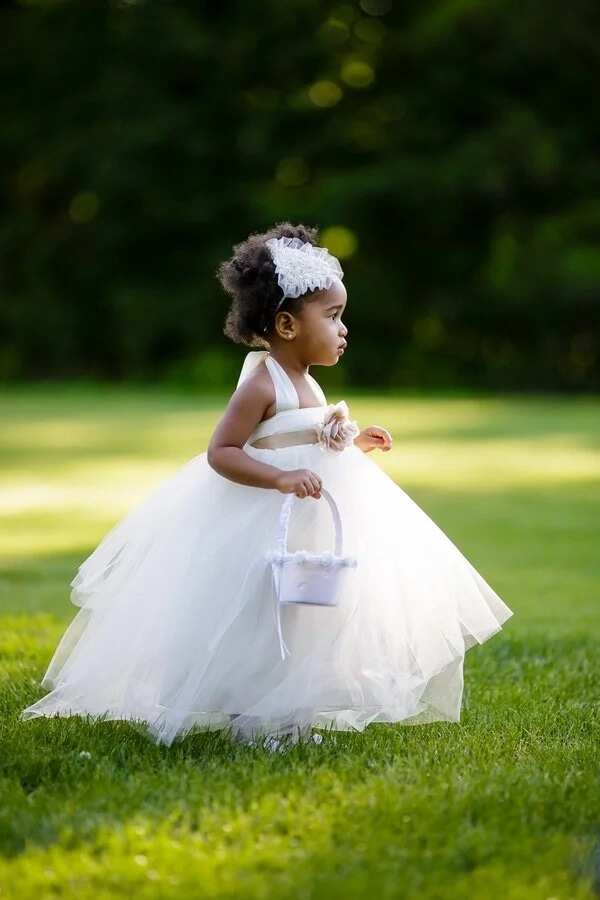 Older girls mostly prefer fitted dresses. The gowns styles can be a little different from cocktail and evening dresses. They can have a simple bodice, one or two straps, a V/ U-shaped or asymmetrical neckline. Short and long dresses from guipure are in trend. The dresses can be decorated with transparent inserts or folds.
READ ALSO: Latest wedding gowns in Nigeria 2017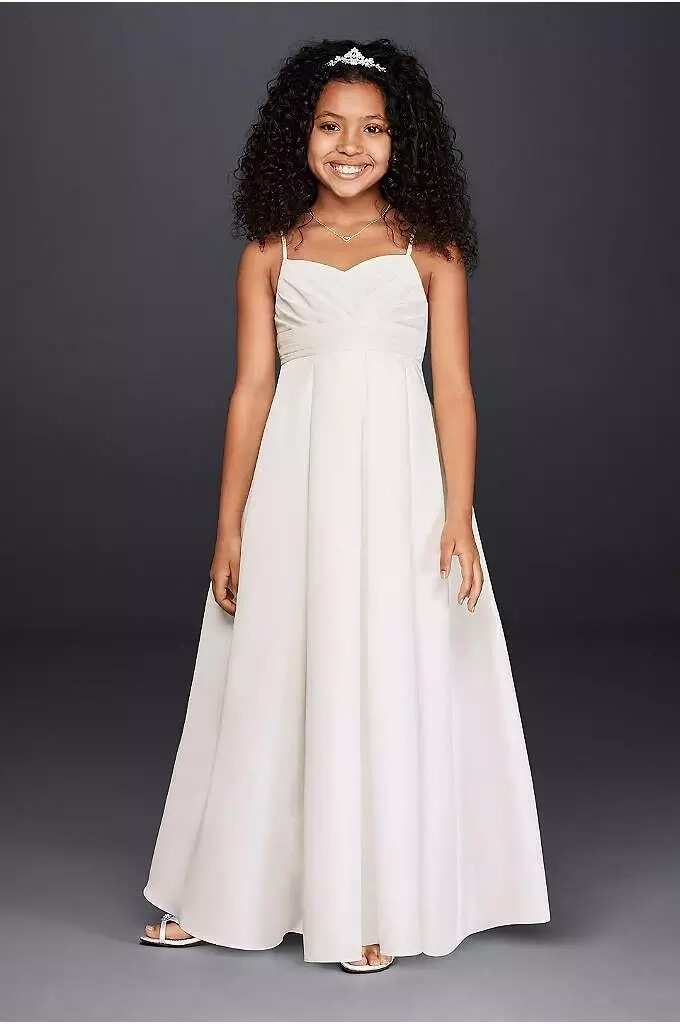 A-line dresses with sleeves of medium length made of matte fabrics are fitted to the girls with a slightly plump figure. The sleeves can be replaced by a cape or drapery.
Note: Don't forget about the time of the event. If it's a daytime, then dresses for any age should not contain too much glitter, rhinestones, and glass beads. And dresses of medium length are the most preferred.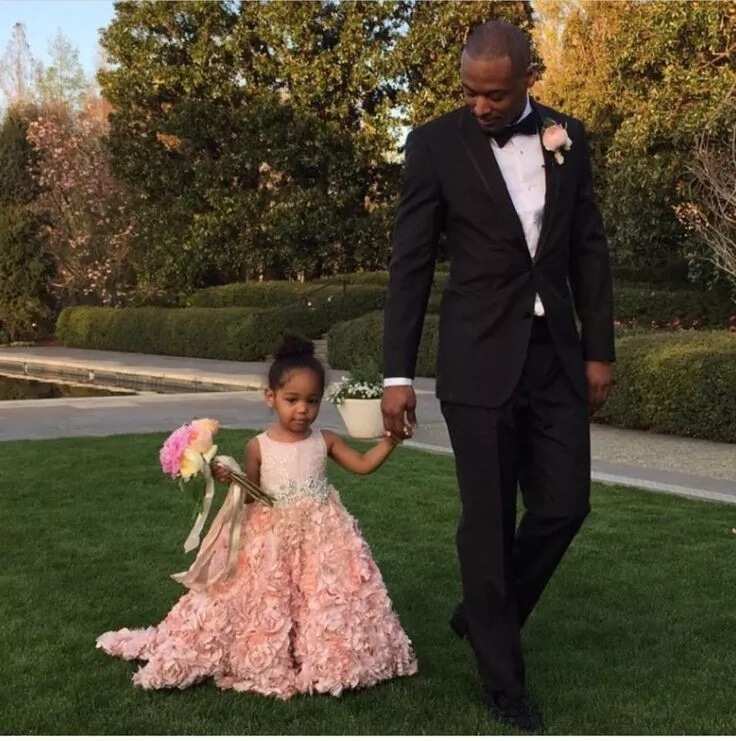 Little bride dresses for girls in 2017 look are more like ball gowns. They look like adult designs: elegant styles, good fabrics, and exquisite decor. Children's fashion today often follow actual adult trends such as the maxi length and multi-layered ball skirts.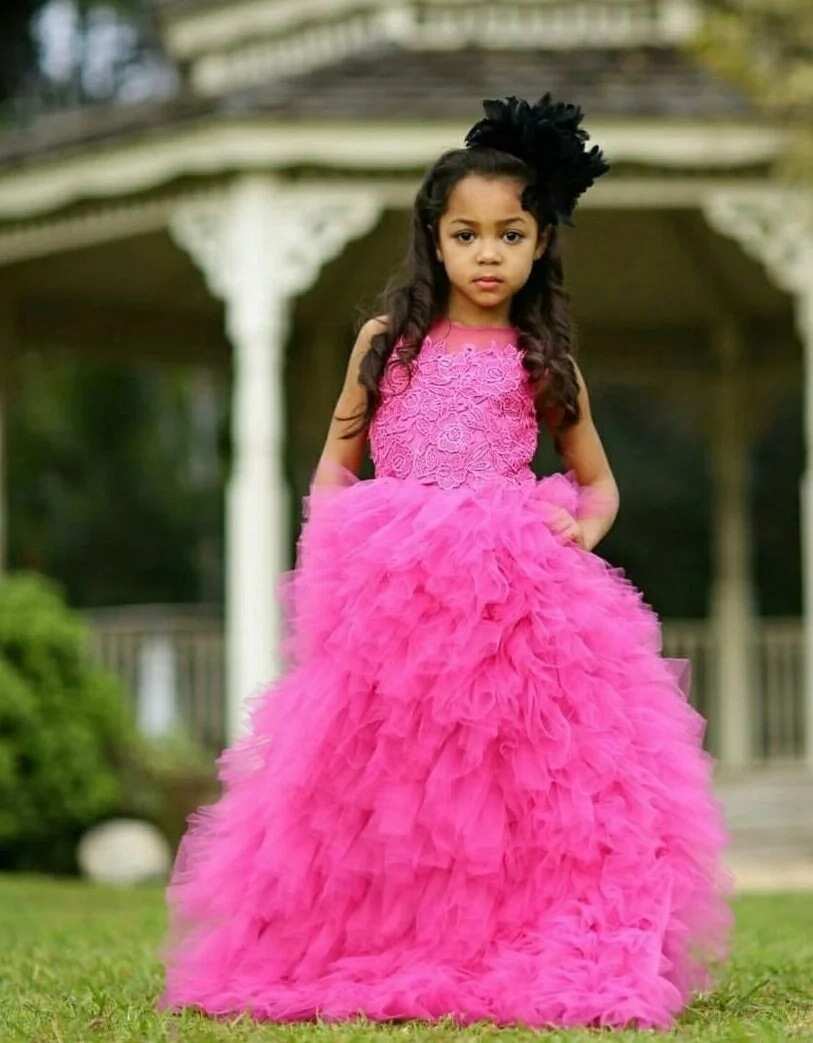 The floor-length style is the most win-win option for a true princess dress. Designers see it smart, airy, but at the same time very gentle and elegant. Therefore, they offer styles of a simple cut with a closed shortened bodice and a voluminous multi-layered skirt in pastel colors.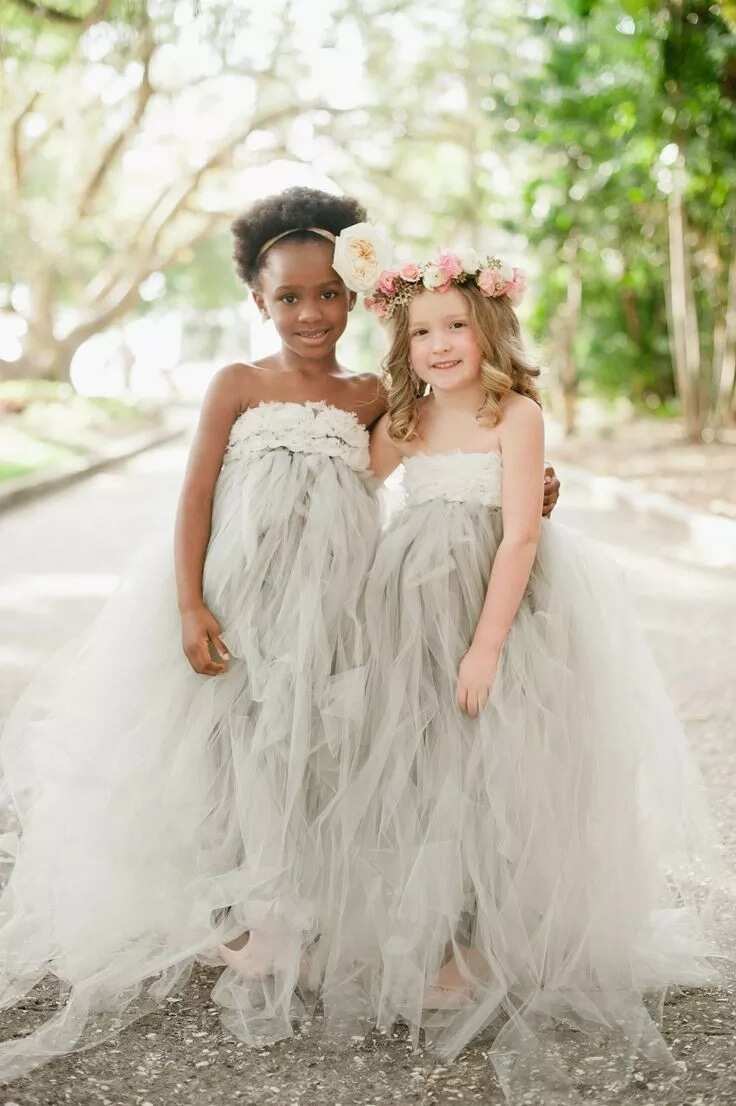 Peach, lavender or pale pink colors perfectly emphasize the purity of the style. Airy fabrics such as tulle, chiffon or organza create a very lovely silhouette. Such designs are usually simple but expressive. For example, it can be just one, but a large spectacular flower attached to the waist. Flower designs are always good for flower girl dresses.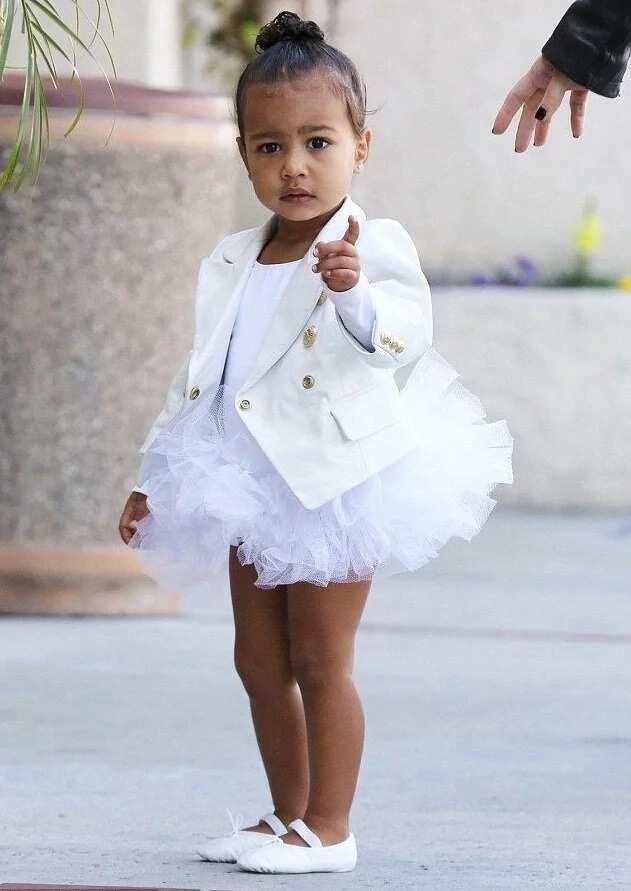 A new hit for 2017 is a short and fluffy style with tutu skirt. Little girls embody the image of a bold and stylish young fashionista with designs of bright, cheerful colors - orange, lime or fuchsia.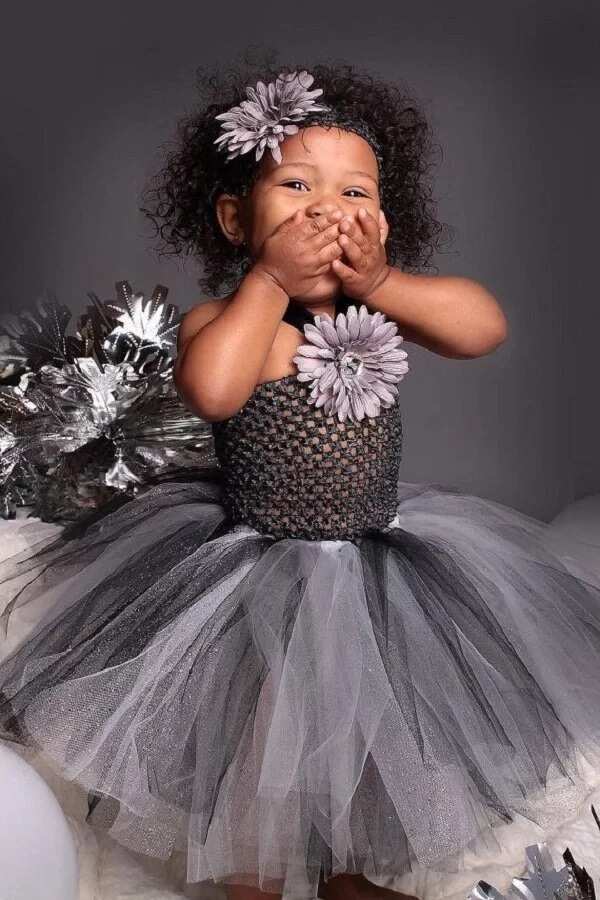 A simple bodice cut without sleeves and a fluffy short or long knee-length skirt makes a girl look like a beautiful exotic flower. It's not possible to be unnoticed in such attire.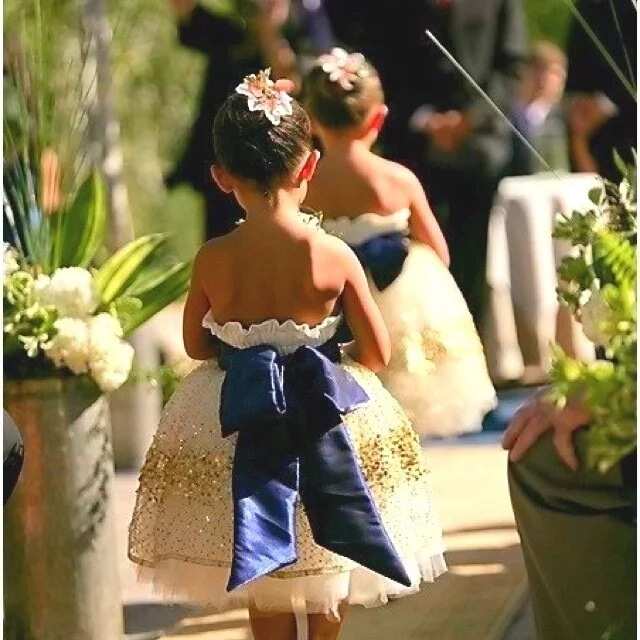 The trend for girls 2017 is all about a little bride gown with beautiful designs. It can turn your baby girl into a little bride. The simplest and most common decor is the bow-knot. It's quick and easy to create such design with a long satin belt or any other fabric. Bow-knots on the chest, sleeves, straps, and waist make an interesting attire from even of the simplest dress.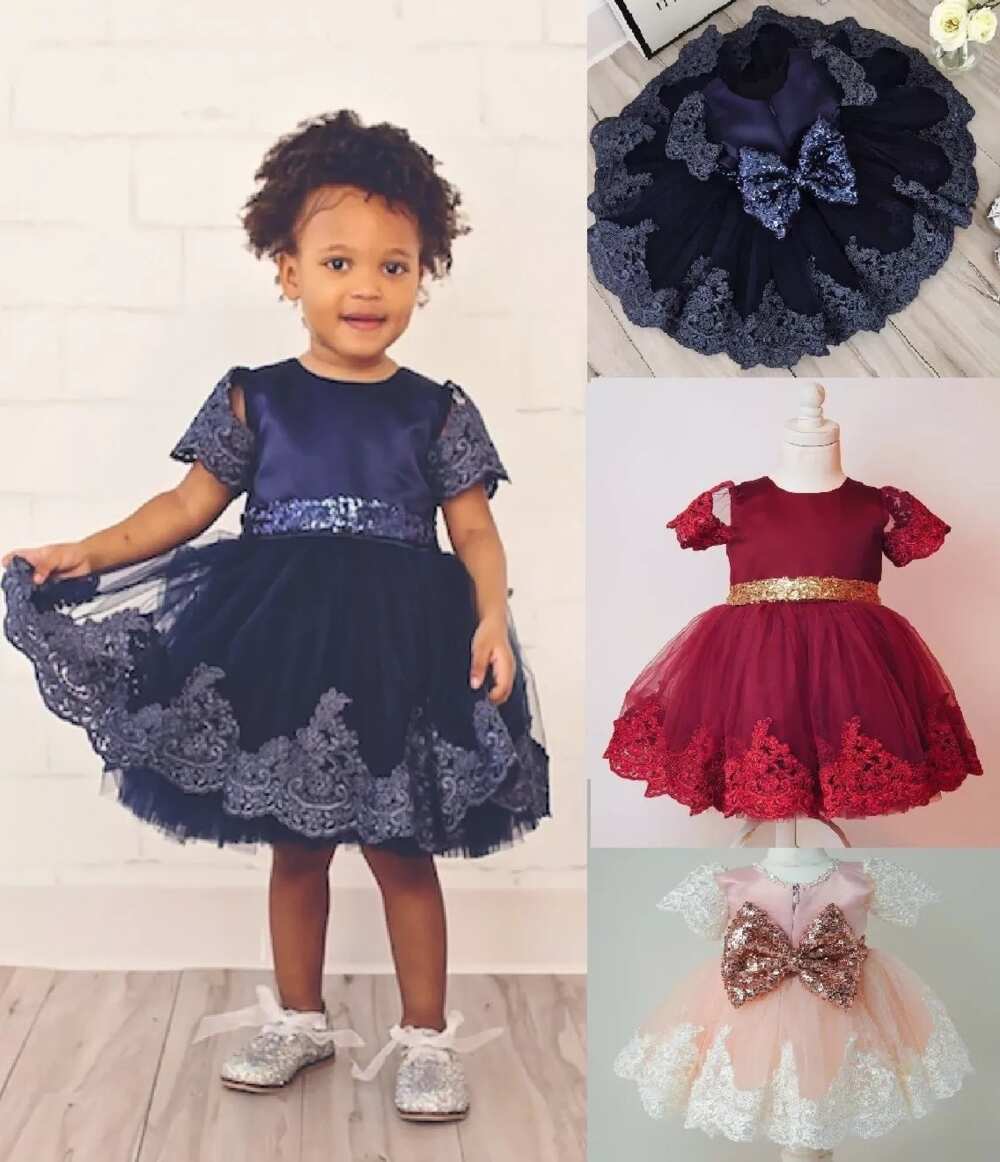 When selecting little bride dresses, pay attention to the styles. There are ball dresses for girls with a fitted corset as a top. When buying, check if the corset fastenings will stay in place. If your girl is very active, it's possible for the fastenings to come off during play. So, it really might be better if you choose a dress with a simple cut.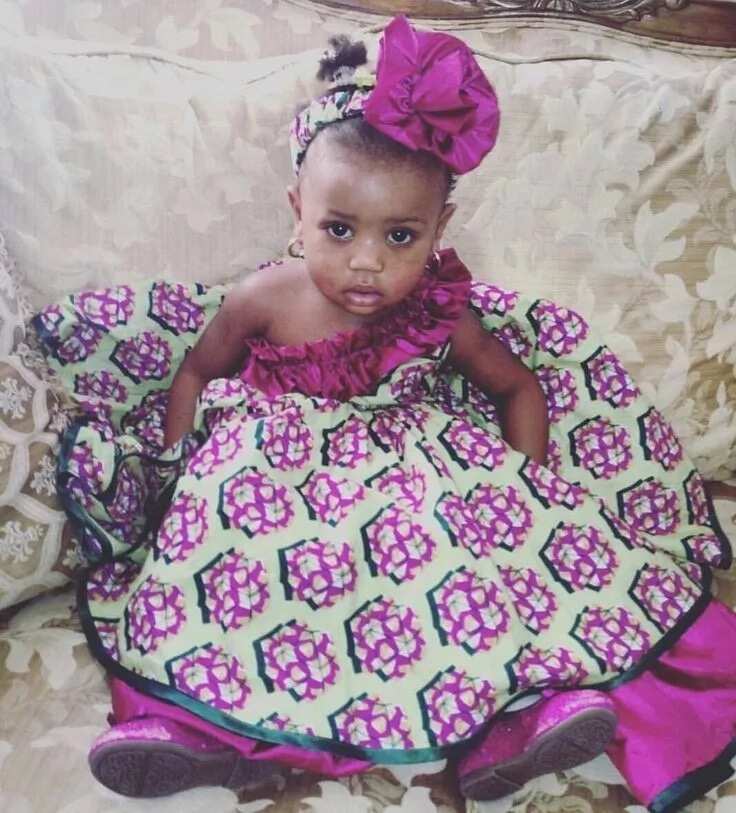 Of course, beauty is important, but make sure that the dress is not too heavy. Otherwise, your baby girl will quickly get tired and very uncomfortable. So, to choose gowns made of organza, chiffon, silk, satin as they are light and airy.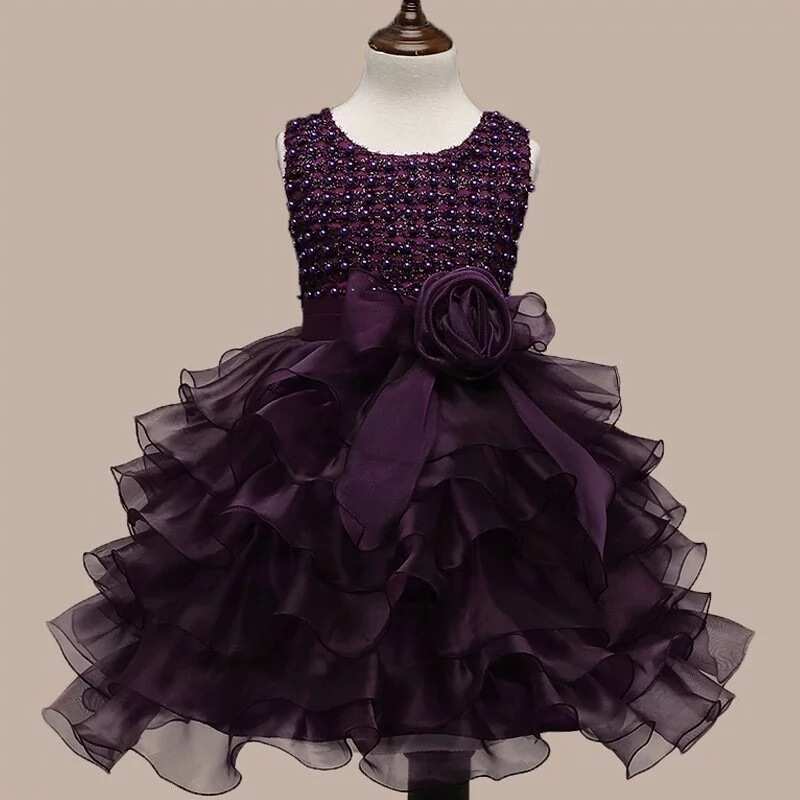 Lovely ball gowns for girls can be really sweet on little girls. For children's dresses, it's mandatory to have floral compositions, ruches, flounces, appliqués from beads and fluffy bow-knots. They make little bride gowns festive and unique.
Hope you have been inspired by our article and will choose the best little bride dress for your princess. A good taste should be cultivated from the early age. Children grow so fast. Before you know it, you will be choosing a wedding dress for your girl. In the meantime, you can give your girl an opportunity to feel like a little fairy, angel or princess.
READ ALSO: Bella Naija bridal train dresses - Best designs
Source: Legit.ng