Barack Obama car 'The Beast': Top facts you should know
Presidents of different countries across the world are known for having extravagant vehicles that drive them around, and US presidents are, of course, no different. Today, we want to tell you about Barack Obama car The Beast. Learn more about this incredible presidential car, check out Obama Beast car pictures and find out whether the current president still rides it.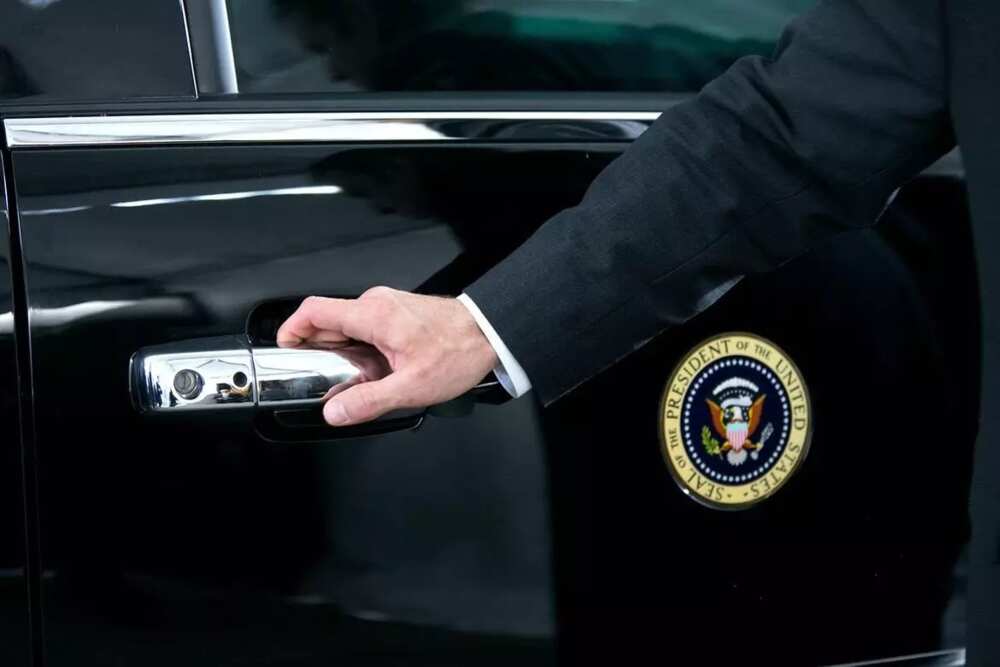 10 things you should know about Obama's car The Beast
While it was Obama official car for nearly a decade, not that much is known about The Beast. After all, the secrecy around it is important for the President's safety. Nevertheless, some secrets have come out over the years, and we have prepared a list of ten most interesting ones. So strap in and let's learn about Barack Obama car Beast in more detail!
Unlike all the other presidential cars, The Beast car Obama used is not exactly a Cadillac. The vehicle is compiled of details from different cars for the best performance. Its transmission, diesel engine and chassis are based on the ones used in making Chevrolet Kodiak. It also has Escalade headlamps and STS tail lights, which is why The Beast is somewhat reminiscent of a classic Cadillac.
The car actually has its own plane. When the President was travelling long-distance, his trusty Beast was loaded onto a transport aircraft C-17 Globemaster, along with another limousine and a Chevrolet Suburban, a heavily armoured communications vehicle. The latter is said to be a communication office on wheels with a direct link to a military satellite and it is nicknamed Roadrunner.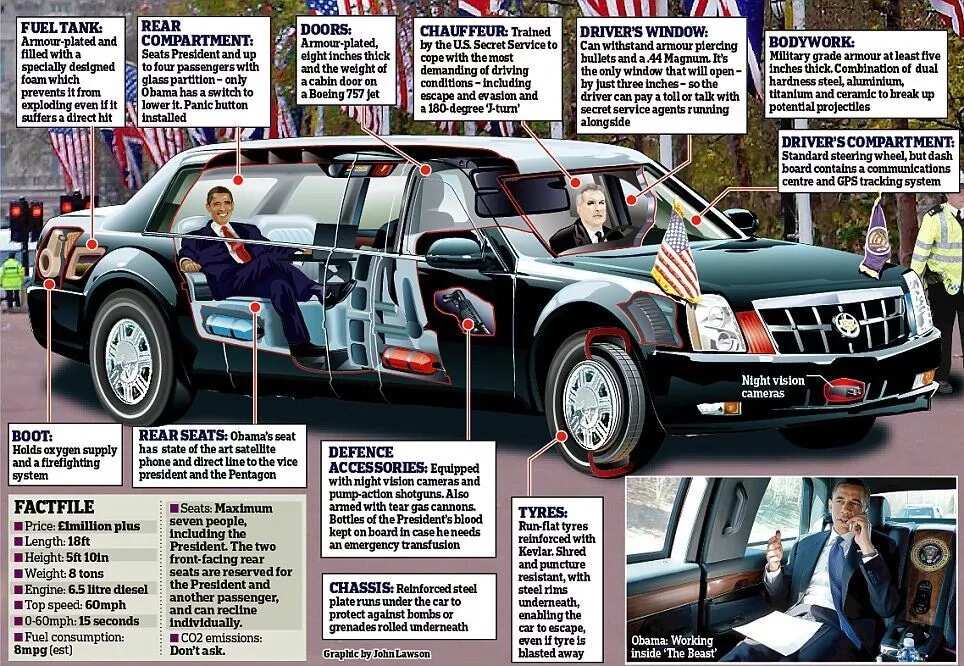 Barack Obama car is very heavily armoured. Its doors weigh about as much as the doors on a Boeing 757 plane, its armour plating is around 20 centimetres thick and the bulletproof windows are around 13 inches thick. The giant tires on this vehicle are Kevlar-reinforced, and they can take the car a significant distance even if they are flat. The fuel tank is surrounded with a special foam to protect it from a sudden impact, while the interior is sealed off in order to reduce damage from chemical attacks.
The Beast is well-equipped for every situation. If you were to look inside the trunk of the president's vehicle, you might find anything, from oxygen tanks to reserves of blood that matches the president's. Next to that, you would most likely be able to find all kinds of weapons, including grenade launchers, shotguns and tear gas canisters. It seems like the Secret Service has learned from their mistakes with the previous presidents (particularly John F. Kennedy).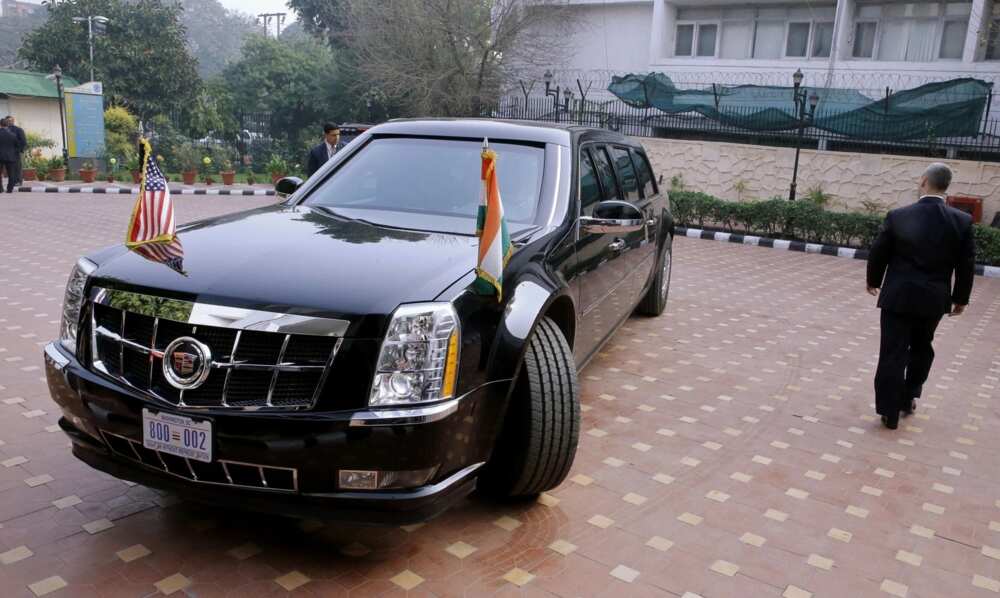 The presidential car can fit up to seven people (excluding the driver). Most of the time, The Beast only transports three people: the driver, the president himself and a lead agent from the Secret Services. However, the president can sit comfortably with four other people. The president's bench might not seem that presidential, as it is covered in a dark blue cloth, as opposed to leather, but it is most definitely more comfortable than anything you can imagine.
There is more than one Beast. While The Beast itself is unique in its configuration, there are several other cars in the presidential garage that look almost exactly the same. Most of the cars are used to drive around VIP guests and high-ranking officials when they come to Washington for a visit. It is also interesting to note that The Beast was not the only car used by President Obama; he also used a vehicle by the name of Ground Force One, which was a modified Prevost bus, or an armoured Chevrolet Suburban.
The Beast lives off diesel. The presidential car runs on a Duramax diesel engine, similar to the one you can find in heavy-duty pickup trucks from GMC and Chevrolet. This choice is explained by the fact that diesel is less volatile than other conventional fuels, it is readily available anywhere in the world, and diesel engines are known for their durability.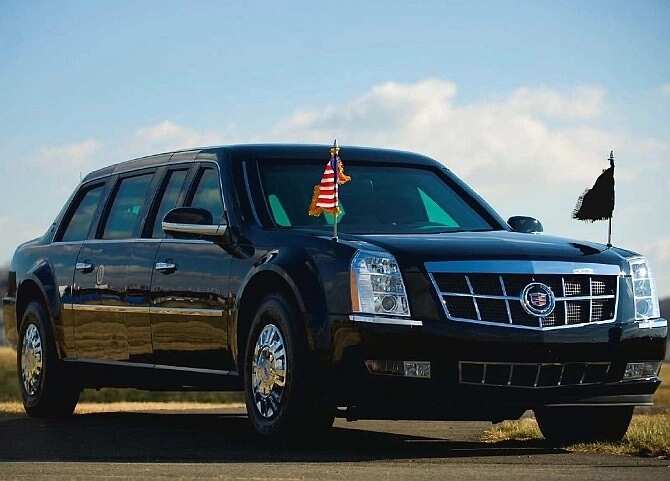 READ ALSO: Russian president car interior and specifications
It is only driven by highly skilled professionals. Not everyone can have the pleasure of driving the President of the United States. Only those who have passed the special driver training from the Secret Services are allowed to even get near the steering wheel of The Beast. They are supposed to know how to execute a tight J-turn and other evasive manoeuvres if the situation calls for it.
You probably will not be impressed by its specs. The Beast has this name for a reason, as most beasts are big and heavy, and not many of them are actually fast and agile. The same goes for this one, as it weighs 9 tonnes, its top speed is about 95 km/h, to which it can get from a full stop in 15 seconds, and this giant monstrosity guzzles fuel at an alarming rate of over 30 litres per 100 km.
The Beast car is retiring sometime this year. After its almost decade-long rule, The Beast is going to get some rest, as President Trump is about to receive his own new presidential car. To learn more about it, continue reading!
What is known about the new ride of the President of the United States?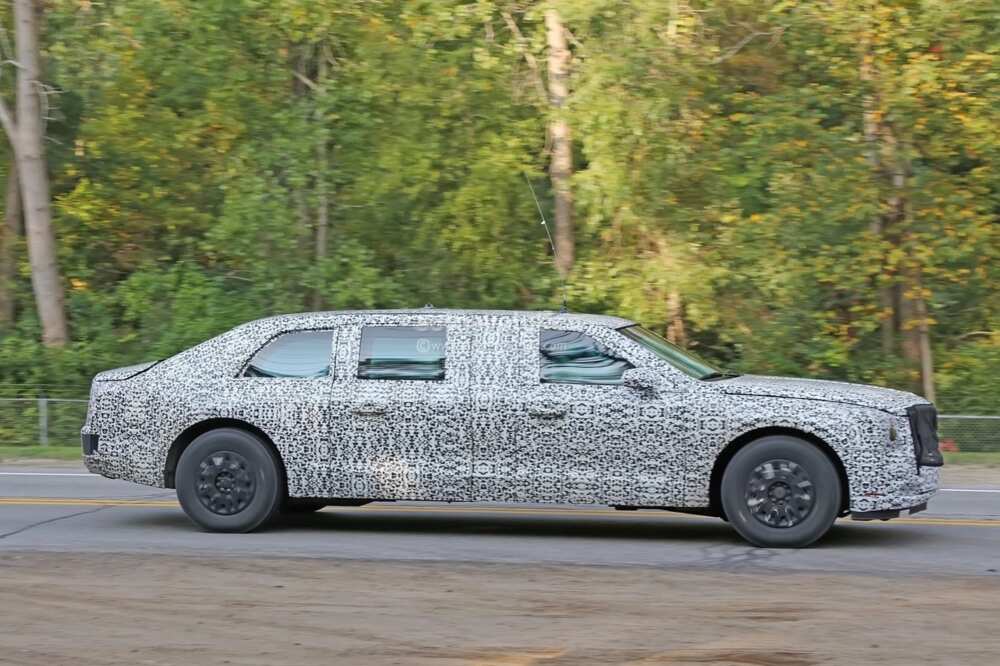 Since The Beast is quite an old car, it is no wonder that Trump would want an upgrade. And an upgrade he will get. If all goes well, we will see the new presidential vehicle this summer. It was supposed to be ready for the President Trump's inauguration back in 2017, but it just kept being delayed all the way into this year.
So what do we know about this new car? Well, like with the previous car, not all that much. Even the prototypes that have been tested on the roads were covered with black and white camouflage that prevented anyone from seeing any details of the vehicle before its unveiling.
It has been said that this newest car looks somewhat similar to a Cadillac CT6, although it is more like an armoured truck than a luxurious sedan. It is obviously well-protected from chemical, explosive and ballistic attacks. We cannot tell you much more before the time comes to unveil this presidential ride, so we all will have to wait and see how it compares to The Beast.
What do you think of The Beast? Do you think Trump's new car is going to be better than its predecessor? What president has the best presidential car, in your opinion? Let us know in the comments!
READ ALSO: Neymar houses and cars
Source: Legit.ng