Traditional marriage in Nigeria among Yoruba
Here we have prepared for you the overview of traditional marriage in Nigeria. This time we will tell you about wedding ceremony according to Yoruba tribe tradition. Read on to know the steps and features of this beautiful process.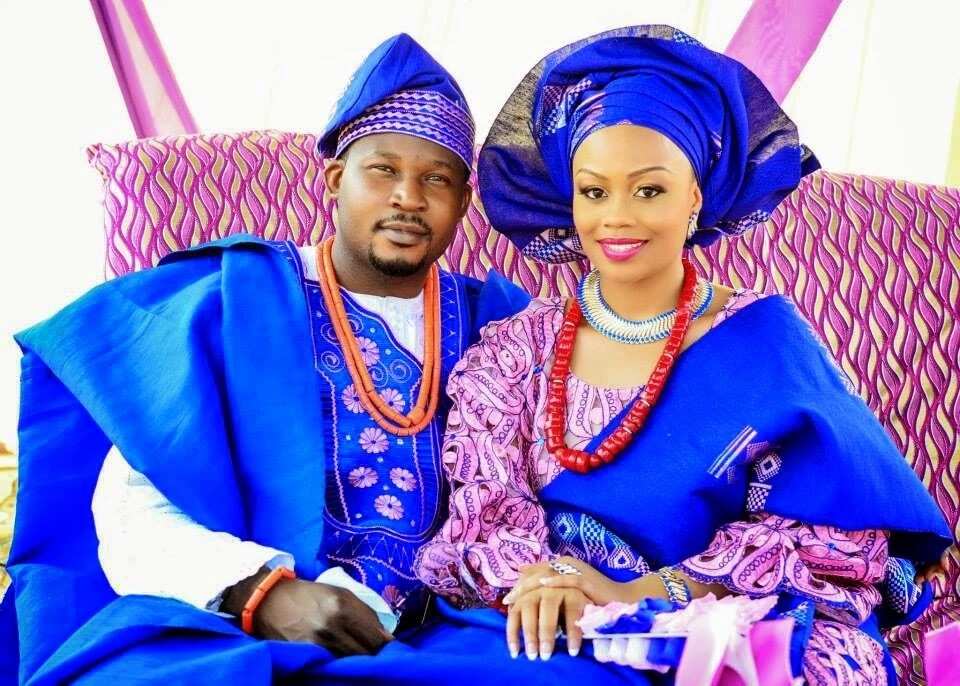 Yoruba is known as one of the biggest ethnic groups in Nigeria. The Yorubaland consists of such states as Osun, Ondo, Ekiti, Oyo State, Lagos State. Yoruba traditional marriage is a unique ceremony with rites, bridal list, and other requirements.
The main steps of traditional marriage in Yorubaland
Before Nigerian Yoruba traditional wedding, a man makes a choice and then his family make an investigation. There is no place for any forced actions in Yoruba traditional marriage. If a man likes a woman, he tells his family about it. After that, the family chooses Alarina who plays the role of middleman and with his or her help, the investigation of a future wife begins.
The task of Alarina is to find out all the information about the potential bride. He or she finds information about the reputation of the girl, about her family, maybe about any illness. If the Alarina doesn't find any bad information, the Yoruba traditional marriage process continues. The Alarina also acts as middleman between the intending couple.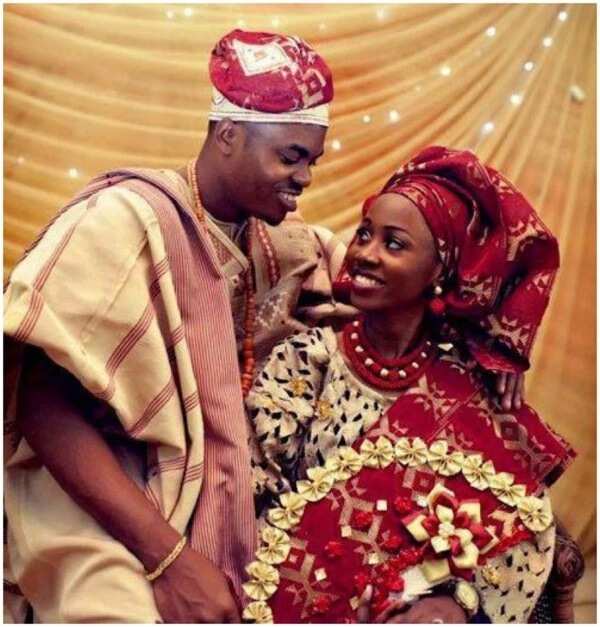 READ ALSO: Nigerian fashion dresses for weddings
The next step is called Momi N Mo, this is the meeting of the families. This is kind of introduction ceremony, at this ceremony, the family of bride provides so-called Eru Iyawo - Yoruba bridal list.
Bridal list consists of special items:
42 Orogbo - Bitter kolas
42 Isu - Tubers of yam
42 Obi abata -Kolanuts
42 Atare - Chilli/Alligator Peppers
42 Eja Osan - pieces of dried Fish
1 Aadun - Dish of peppered corn
1 Pack of Sugar
2 Baskets of Fruit
2 Decanters filled with honey
2 Bottles of non alcoholic wine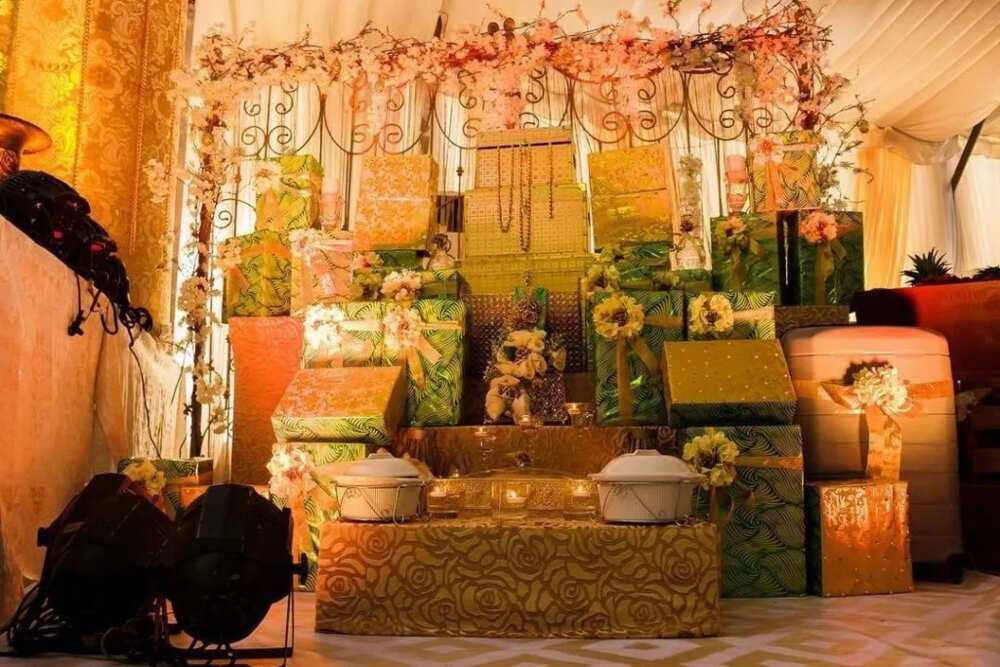 4 Crates of canned or bottled soft drinks
4 Crates malt soft drinks
4 Cartons of bottled water
2 Cartons of fruit juice
1 Bag of salt
1 Bag of rice
1 Umbrella
1 Goat
1 Keg of palm wine
1 Keg of groundnut oil
1 A suitcase with shoes, and clothes.
1 pair of Earrings, Wristwatch, and Chains
Biscuits and Sweets
Rings for groom and bride
Bible (for Christians) and Quran (for Muslims)
As for the fees of the ceremony, there are such requirements
The Bride Price (Owo Ori) - Varies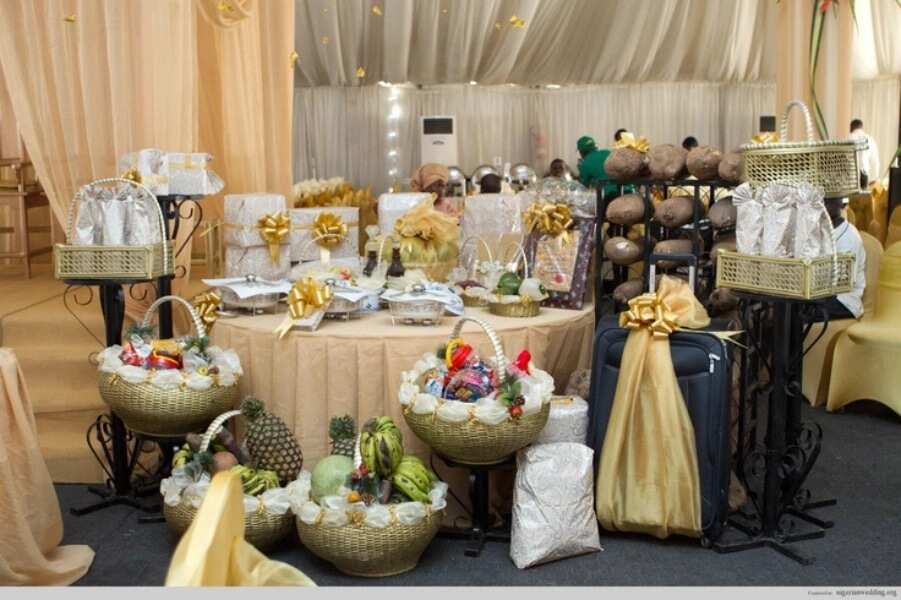 Money for the elder's consent (Owo Ijoko Agba) - N,1000
Money for the bride's father's consent (Owo Baba Gbo) - N,1000
Money for the bride's mother's consent (Owo Iya Gbo)- N1,000
Door knocking fee (Owo Ikanlekun) - N1000
Fee for unveiling the bride (Owo Isiju Iyawo) - N1,000
Bride transportation fee (Owo Aeroplane) - N1,000
Money for the Housewives (Owo Iyawo Ile) - N500
Money for the Children of the household (Owo Omo Ile) - N500
Letter reading fee (Owo letter kika) - N500
The fee to call the bride out (Owo Telephone) - N500
Engagement gifts unveiling fee (Owo Isigba) - N500
Master of Ceremonies fee (Owo Alaga Ijoko) - N500
Engagement of Yoruba traditional marriage
The next step of Yoruba traditional marriage ceremony is the engagement. All the process is conducted by Alaga Ijoko and Alaga Iduro, they are invited to be moderators of the ceremony. These two people play important roles in the ceremony.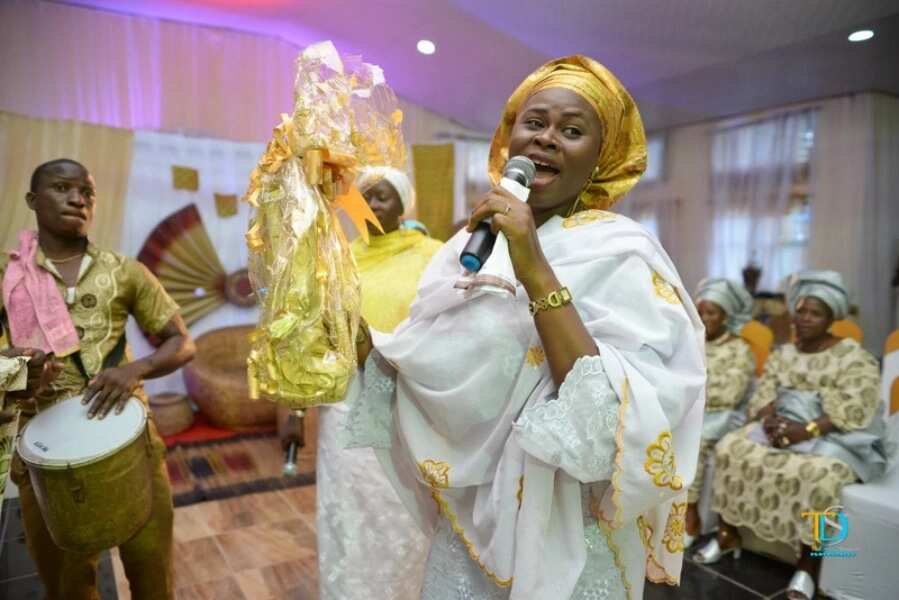 Alaga Ijoko properly coordinate all the process of the traditional wedding, he or she keeps all the fees and conduct all the steps of the wedding. Alaga iduro - a standing master of ceremony, a custodian of wedding tradition.
Bride's Outfit: Tradition outfit consists of gele - head tie, the blouse (buba), and an iro, it is a big material tied around her waist. Usually, the bride's look adorned with accessories like bangles, beads, gold earrings and necklace.
Groom's Outfit: Usually he wears Agbada. The colors of groom's and bride's clothes must be the same.
As we see the traditional wedding in Yoruba tribe is a process that is conducted with active participation of families. The authority of parents plays a decisive role during whole process. The ceremony is bright and active.
READ ALSO: Native wears for traditional marriage in Nigeria - Best designs
Source: Legit.ng