- As the nation prepares for the 2019 general elections, Nigerian youths are gearing p to take up leadership role
- One of the leading youth groups in the country said old politicians need to leave the centre stage and only play advisory role when the need arises
- Members of the group said it is now time for action and they are ready to re-brand Nigeria
A Non-Governmental Organisation, New Nigeria Youth Progressive Alliance (NNYPA), has insisted that Nigerian youths are adequately prepared to take up leadership positions in the country.
The group stated this at a media parley held on Wednesday, February 14, in the Federal Capital Territory, Abuja.
Speaking on behalf of the NNYPA, its acting president, Emma Bricks Oko, lamented that Nigerian youths have suffered continued political misuse and neglect by the political elites since the advent of democracy.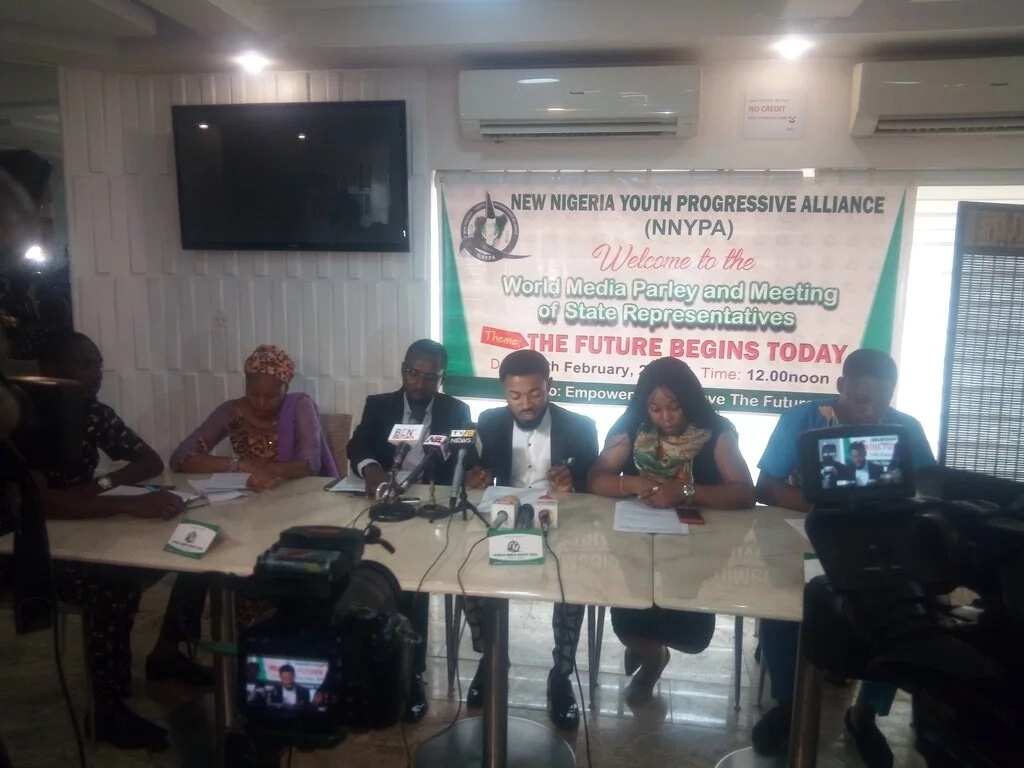 READ ALSO: 2019: President Buhari has no choice, must contest - Ohandigbo youths
His words: "Anytime the electioneering period is near, the politicians hypnotize the vulnerable youth with the slogan 'The youth are the leaders of tomorrow' whereas, every day is today and tomorrow never comes.
"We the Nigerian youth have come to a painful conclusion that 'A New Nigeria is Possible, the Time is Now.' as the theme of this conference suggests, we will remain vulnerable to this antic unless we decide to change the situation.
"The time for complaining, groaning and blame game is over. It is now time for action and we are ready to re-brand Nigeria."
Oko further stated that Nigerian youths are ready to take over the mantle of leadership in 2019, adding that the NNYPA is on a mission to change the political landscape of Nigeria through the ballot box.
"It is evident that the elderly politicians use the youth to win or rig pas elections and we will no longer partake in this enterprise.
"We however encourage outstanding, intelligent, patriotic and politically motivated young Nigerians among us to be part of the decision making bodies of this great nation as we kick out money politics through ballot box in 2019 elections," he added.
He however clarified that the NNYPA is not advocating for an all youth, but said the group is adamant that the status should not be maintained.
"The old political actors must leave the centre stage and play advisory role when the need arises. A plain level ground must be given to all Nigerians both young and old, to display their potentials without any hindrance.
"Therefore our target in the forthcoming general election elections is thus; to ensure the youth are elected to occupy 50% of local government wards and councils, state assemblies, state governors and 70%of Senate and House of Representatives.
"We call on our elderly politicians to honorably step aside and support their children or they will face a disgraceful defeat in the 2019 elections and beyond," he concluded.
READ ALSO: OPINION: Nigerian youth - The real third force by Itodo Samson
Meanwhile, The Not Too Young To Run movement on Wednesday, February 7, asked state Houses of Assembly to speedily pass the bill.
Members of the movement who made the demand at a press conference in Abuja, stated that there is a need to restructure the country's political system to address the political exclusion of Nigerian youths in the electoral process.
Like France, can Nigeria have a young president too? on Legit.ng TV
Source: Legit.ng