Nigerian wedding invitation cards - DIY ideas
So you decided to make your own wedding invitations? That is a wonderful idea, and we would love to give you a few tips on how you can make Nigerian wedding invitation cards yourself! In this article, you will be able to find some useful samples and tips that will help you make your Naija wedding unforgettable.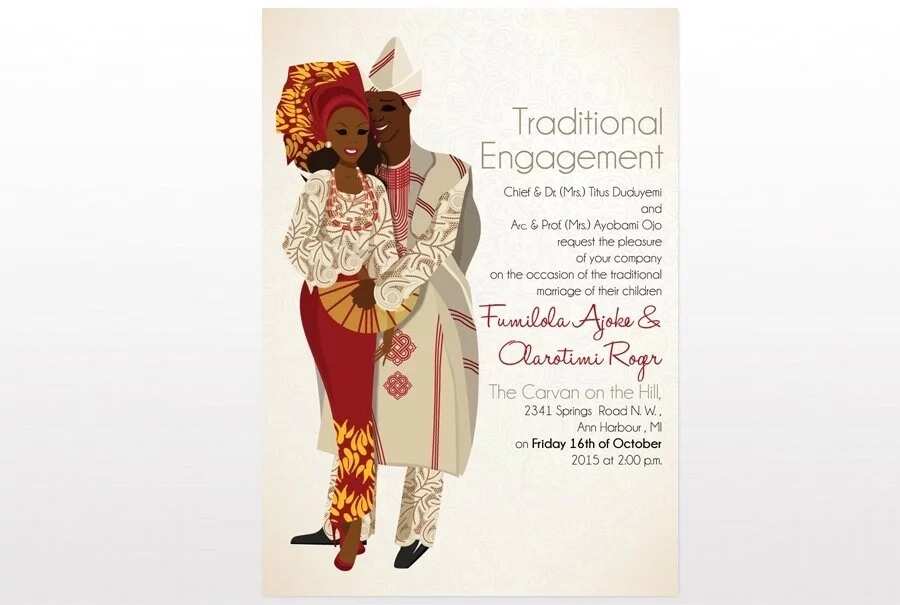 Today, we will try to cover the major steps you will need to take to get that perfect wedding invitation. From choosing the right printing options to writing your invitation message — you will learn everything you need to know.
You can also consider our wedding invitation sample (or rather samples) to help you choose the perfect design and wording for your invitations. Get inspired by each invitation card sample we provide you with.
Are you ready?
Then let's go!
How you can print your wedding invitation cards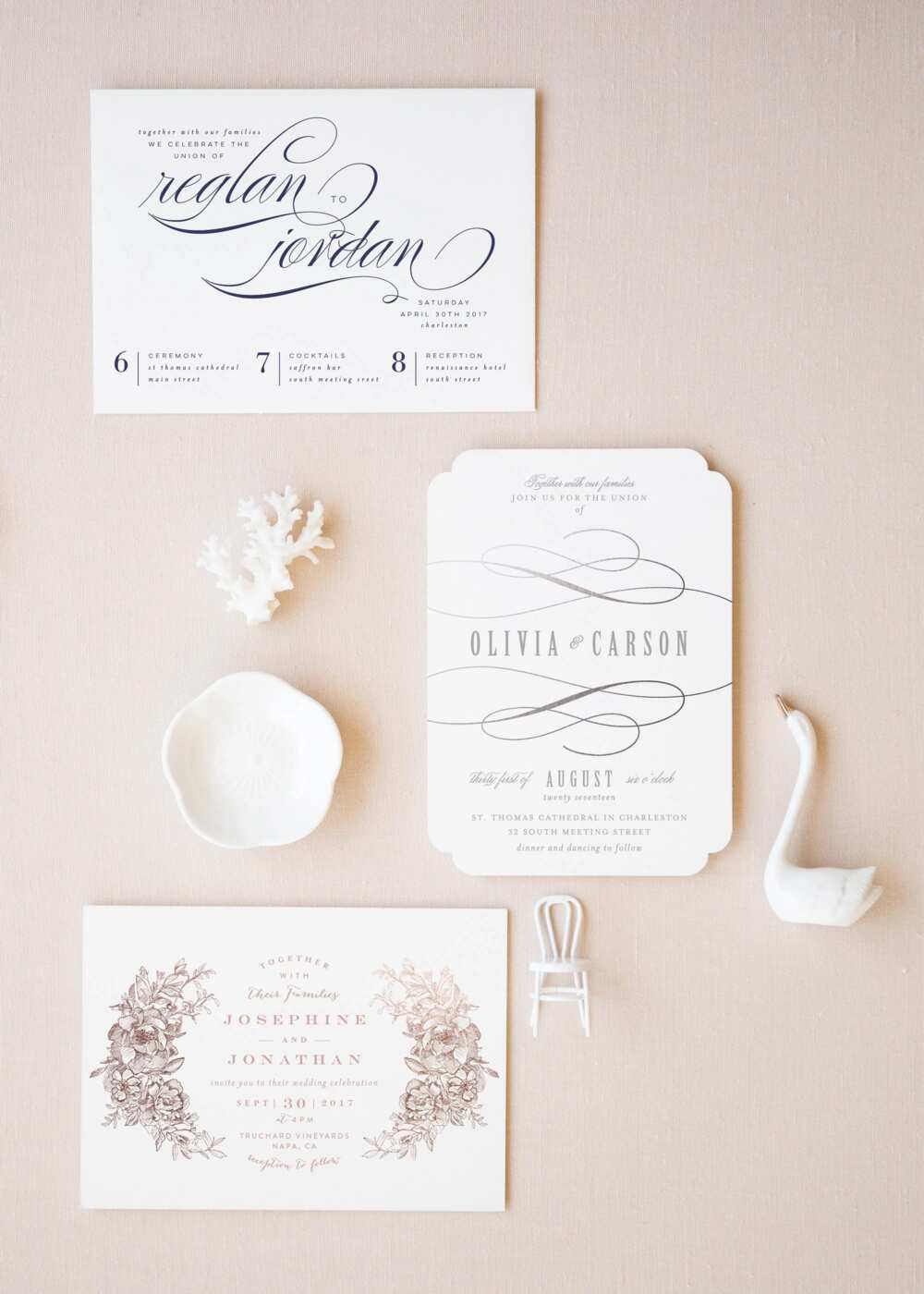 Before you even get to the process of actually designing and printing your invitations, you need to think about how you want to do it. This also includes the material used in the printing method.
Think:
How far do you want to go with your DIY project? Will it only include designing or will it also cover printing? What budget do you have? How many invitations would you need to make? All these questions matter a great deal when you are deciding on the printing material and method.
When it comes to choosing the printing method, here are the most popular options available for you:
Letterpress. If you are into old-school ideas and you have a bit of cash lying around, then we definitely recommend this option. These days, letterpresses come with a wide variety of fonts and options, so you can choose the one you like best. However, they are quite pricey.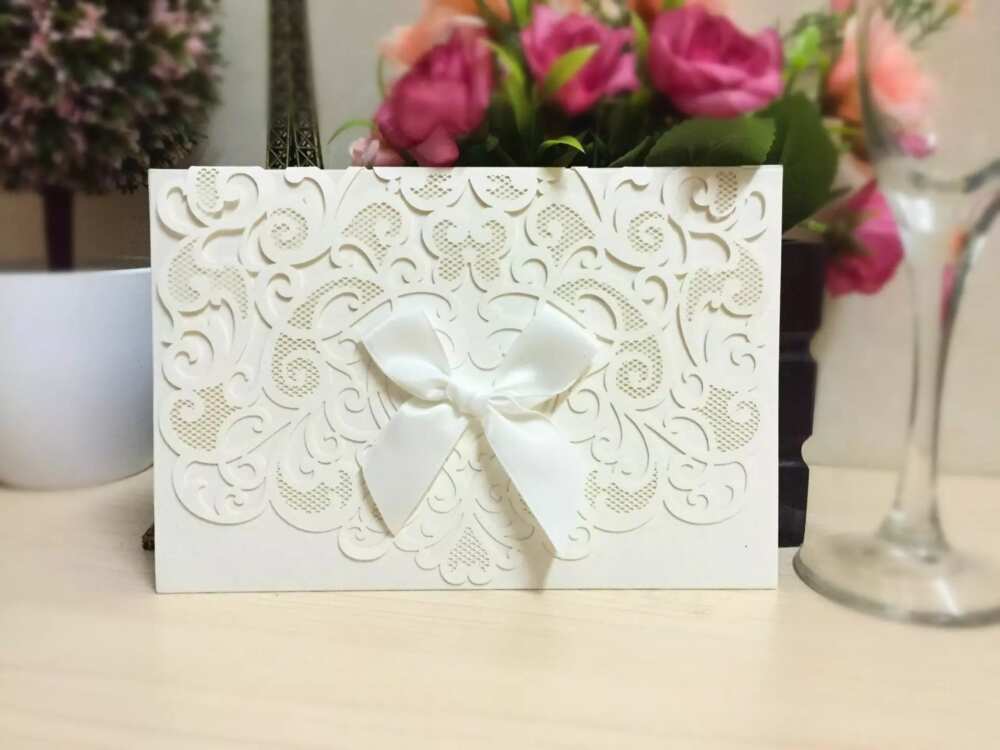 Online printer shop. If your main focus is design, and you want to save up, then this option is for you. It is not very expensive, and you can order the printing of your invites without leaving your home.
Local printer shop. You can also go around your neighbourhood and find a local printer shop. That way, you can ask to print a trial batch and get the results right away. However, this option is more expensive than the online one.
Home printer. Why would you pay someone else to print your invitations when you can do it yourself? Even if you have a black-and-white printer at home, you can still use it to print beautiful invites. It is fast and relatively cheap, although your home printer might not work with all kinds of paper.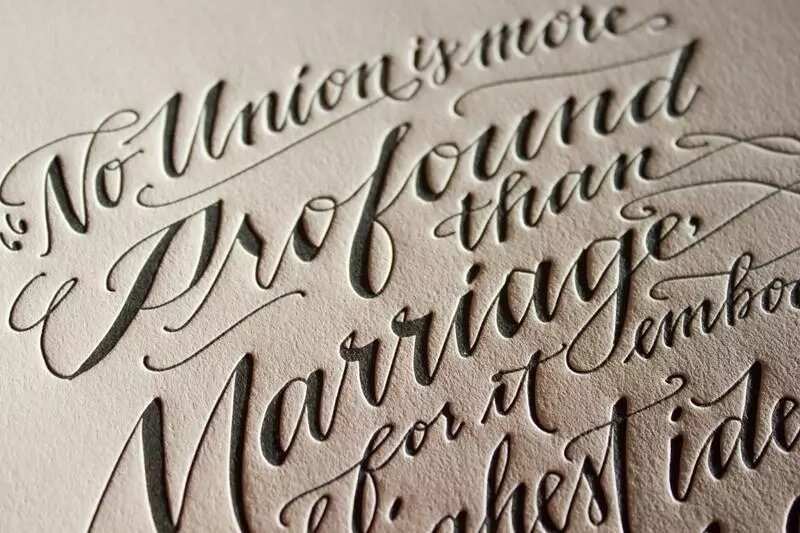 Other options. There is a plethora of other printing options. You can make the invites by hand, by using a screen printer or a gocco printer, to name a few. However, most of them work better if you have more money and less people. But if you want to handwrite over 200 invitations yourself, who are we to stop you?
Now, when you get to choosing the printing material, you can go absolutely wild here. If your creative genius calls for invitations printed on rose petals, then, by all means, go for it. The limit is your imagination (and your budget).
No matter what material you choose, it is best to order a sample and use it with your preferred printing method. Try different colours and textures of paper. Decide on the density of your invitations. Consider alternative materials as an option. Consult your other half and decide how you would like the invitations to look.
Wedding invitation card design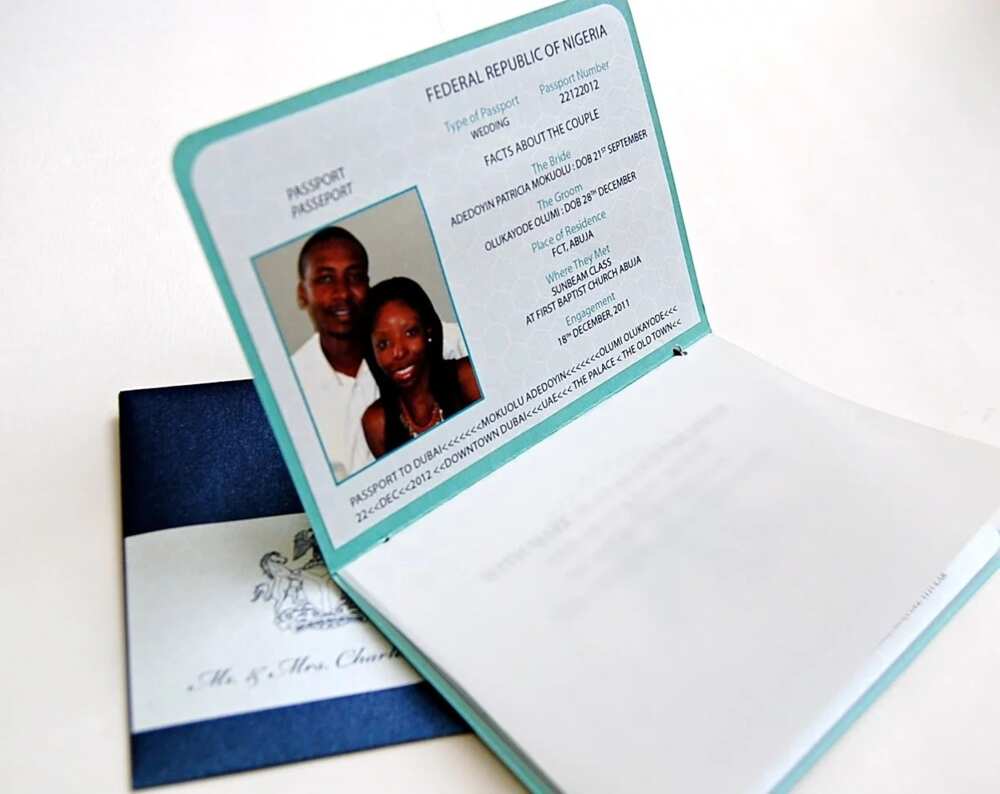 Once you have figured out how you are going to print your invitations, it is time to finally design them. Once again, you are free to do whatever you want. There are no strict rules or guidelines when it comes to wedding invitations design. Do whatever feels best.
You have two options:
The first one (and the much easier one) is to find the design on the Internet and mimic it or copy it straight out. If you are looking for some cool and unique designs, you can check out Pinterest, Etsy and some wedding-themed websites. There is no shame in re-using an old design. On the contrary, you will be using a tried-and-true option, and it will save you quite a bit of time.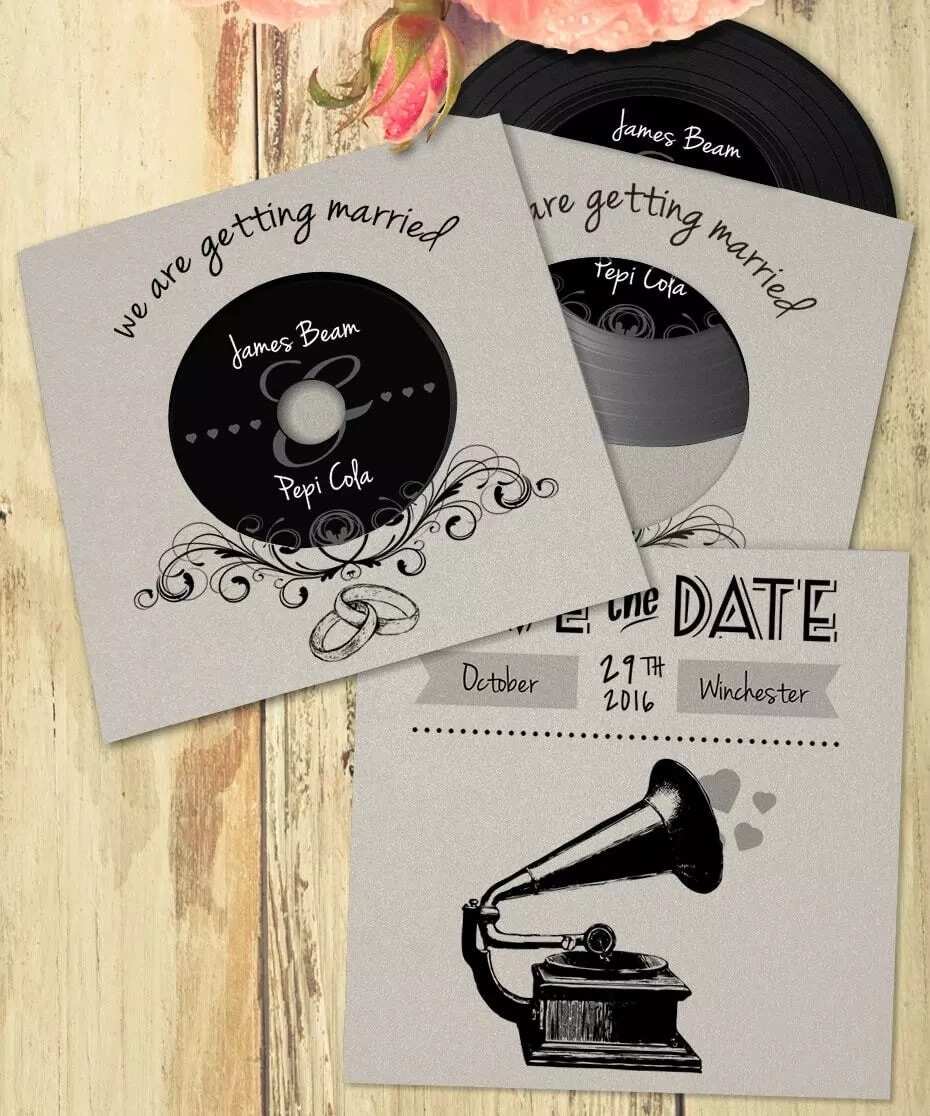 However, if your hands are simply itching to design your invitation, then do it! You can write/draw the sample card by hand and digitise it to add a few finishing touches on the computer. Alternatively, you can design the whole thing in an editing program right away, depending on your idea and skill set.
A few tips:
Even if you are using someone else's design, try making it unique by adding something special for yourself.
Choose a readable font. Even though cursive is very pretty, not all of the cursive fonts are easy to read. You need to make sure your guests understand what you want from them :)
Run the design by your other half and consider their feedback.
If you do not have too many guests and you know all of them very well, customise each invitation according to each guest. It can be the tiniest thing, but it will make them feel special.
Wedding invitation message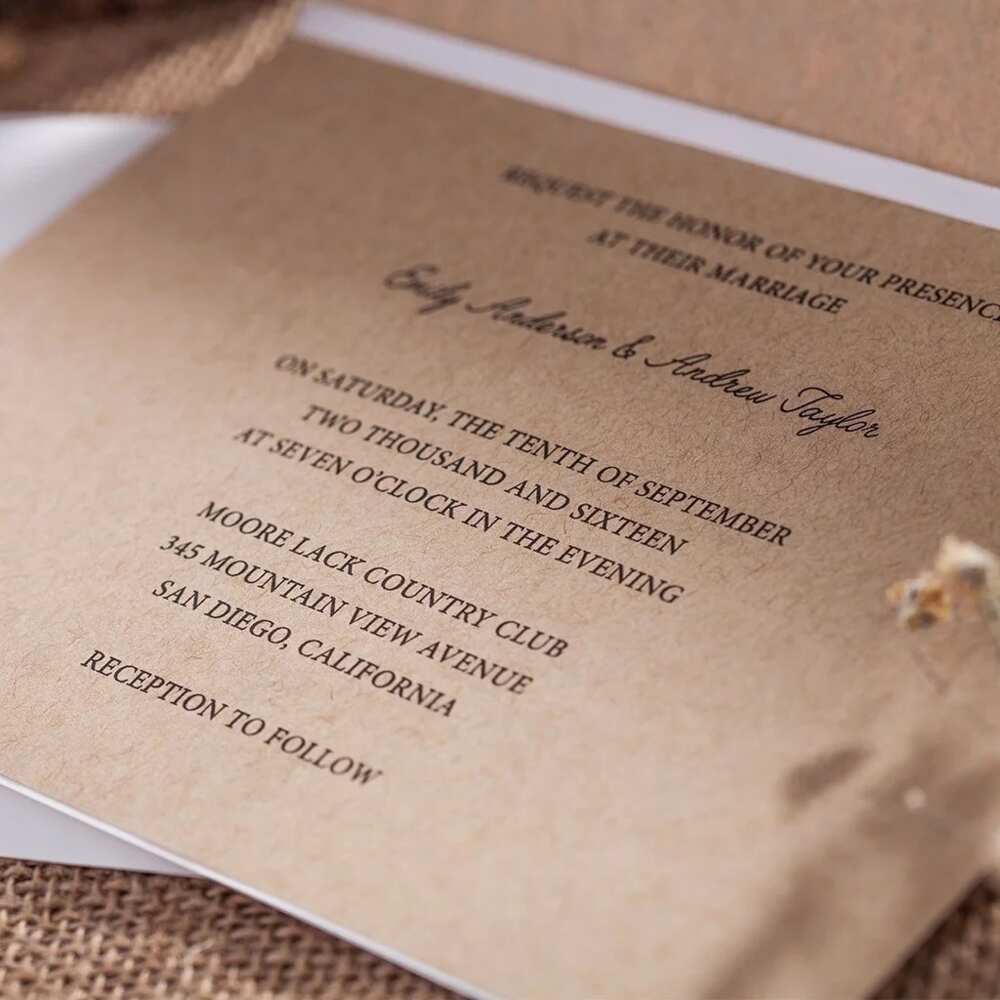 READ ALSO: Nigerian wedding reception program - How to plan it?
Wedding invitation messages come in all shapes and forms. Therefore, what you need to decide first is how formal your invites are going to be.
There are three options: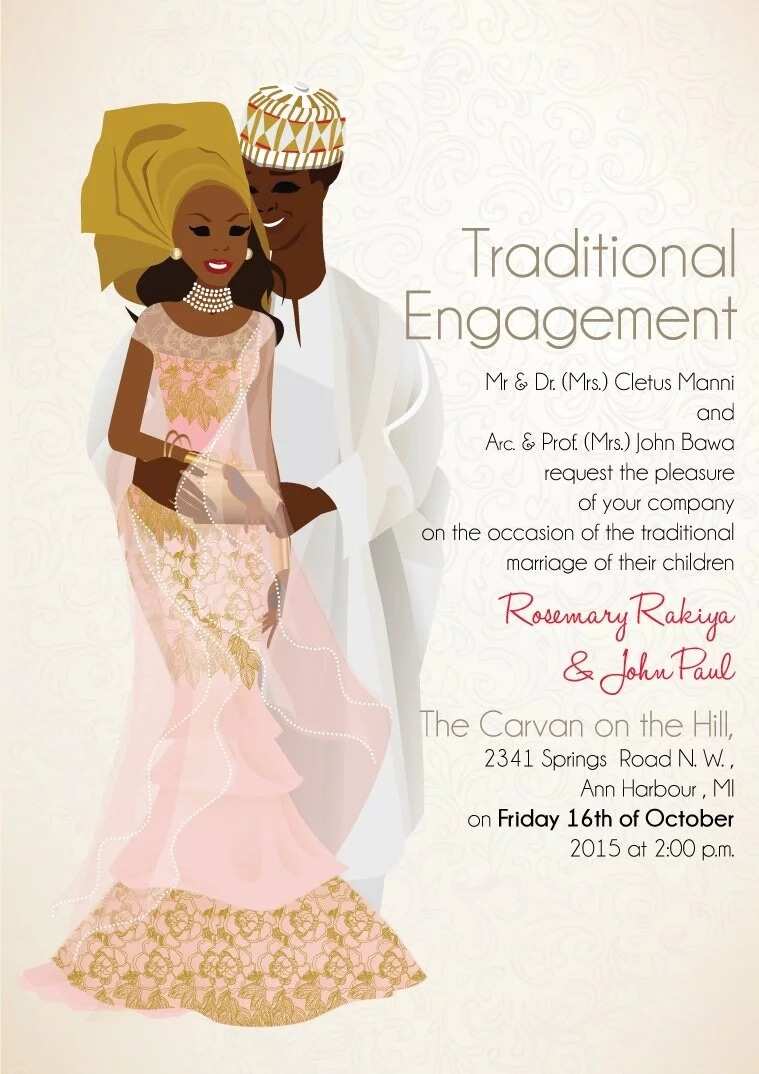 The couple or their parents invite the guests in a formal manner. This is the most traditional option most suitable for those who view marriage as a very serious occasion.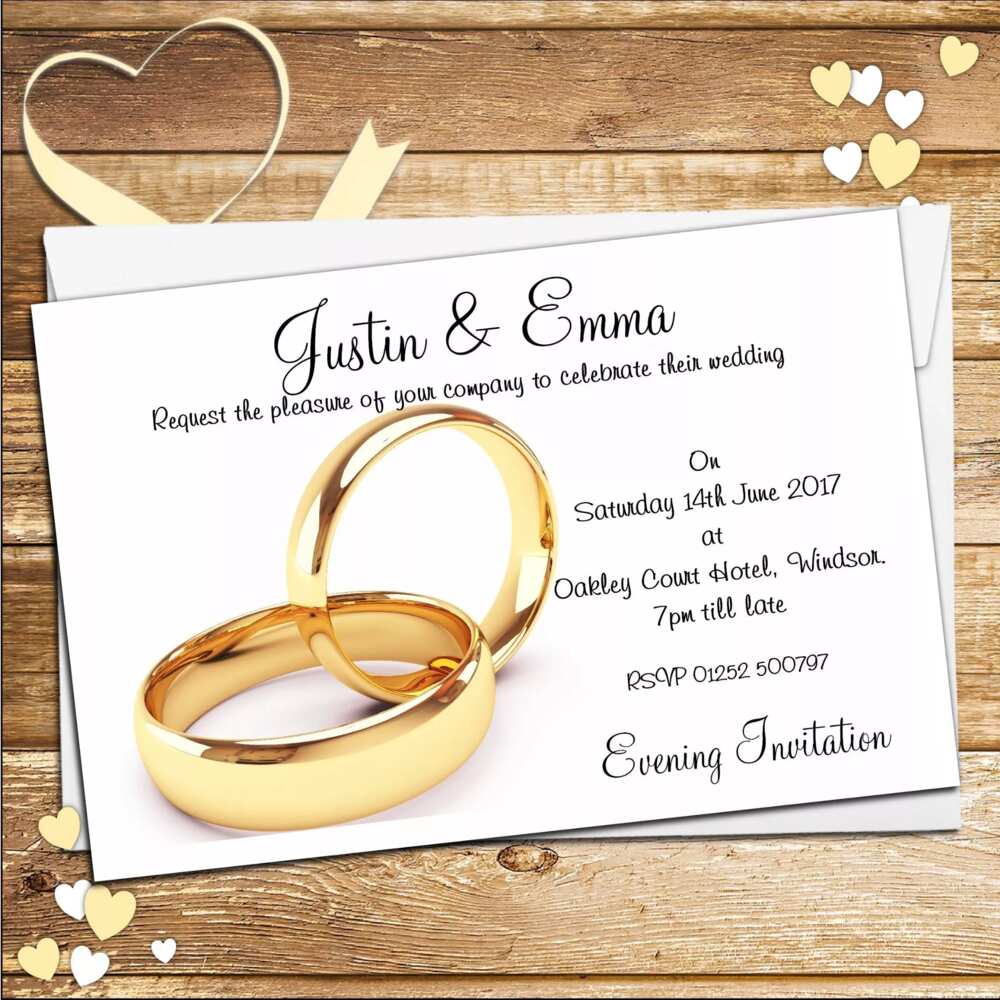 The couple sticks to a simple invitation message. This is perfect if you do not want to waste too much ink and just inform the guests about the most important details.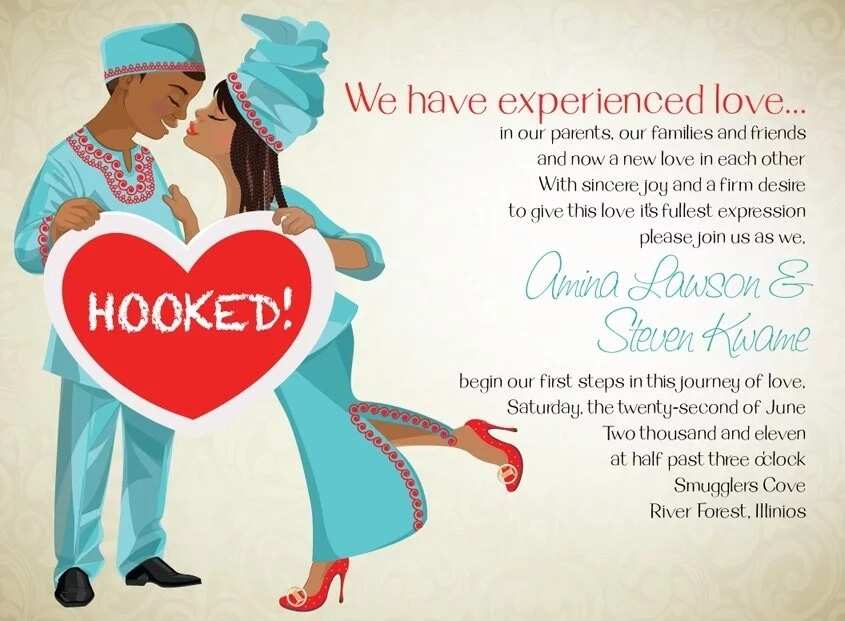 The soon-to-be-married choose to be goofy and have fun with their invites. If you believe that marriage is all about having a great time, then you should express it in your invite. It will also help set a playful tone for the wedding itself.
If you need examples for these messages, you can see the pictures above each option. If you just need a general scheme of what needs to be included in your invitation, here is the list of essential elements your invitation message needs to have:
The invitation line (e g. It is our pleasure to invite you to…);
The names (full names/first names; only the couple's/both the couple's and the parents');
The action line (e.g. …to witness the marriage of the two hearts);
Basic information (time, date and location of the event);
Additional information (what will be happening after the wedding, where and when).
How to put your Nigerian wedding invitation cards together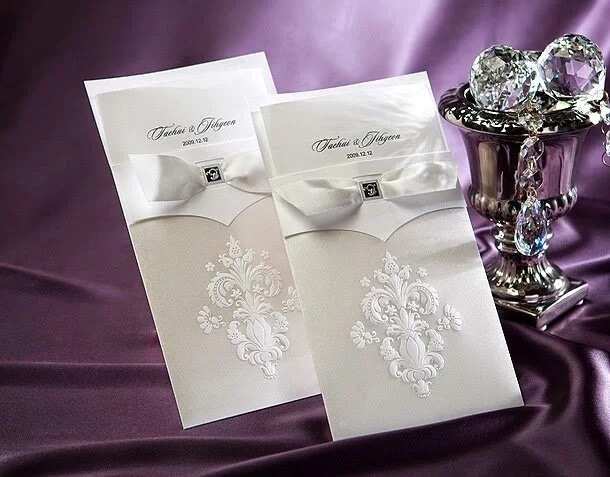 Now that you have all of the above figured out, it is time to assemble it all together. Here are a few tips that might help you in this process:
Do not use scissors! If you are printing the invitations yourself, it is better to avoid using scissors, as the cuts they make are uneven. Either invest in a paper cutter or choose the papers that you will not need to cut.
Make sure your material of choice fits your idea. It would be a shame if all of your invitations become smudged or messy because you did not use the right kind of paper or ink.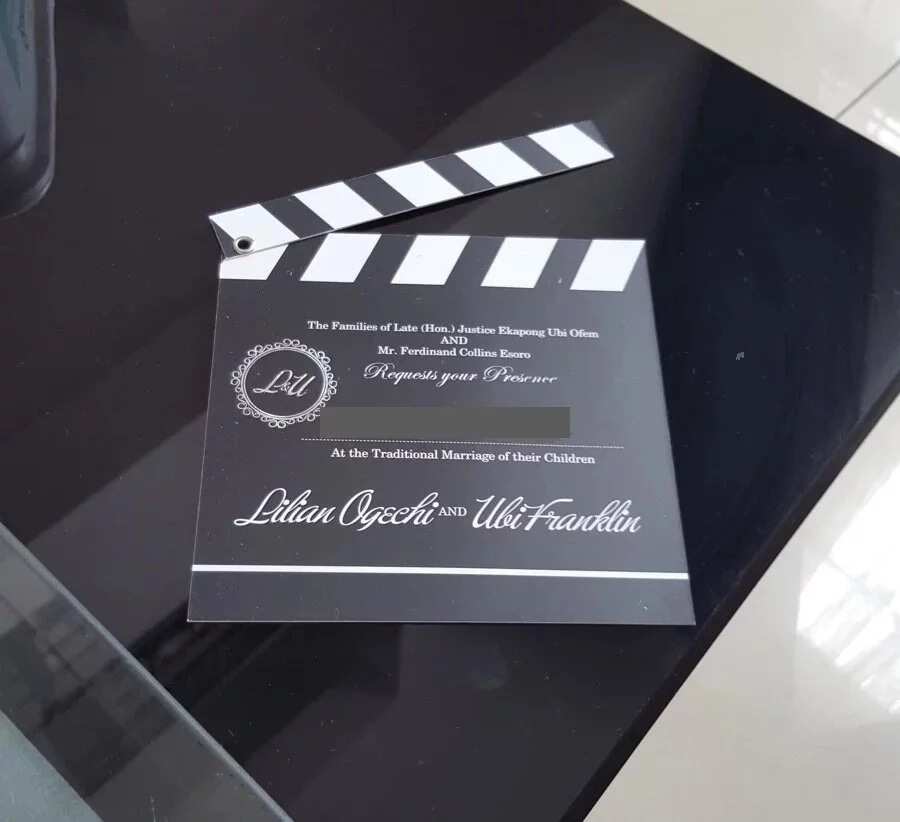 Figure out how many invitations you are going to need. The number of guests does not equal the number of invitations. If you are inviting couples, you do not have to send each of them a separate invitation. The same goes for families with children under 18. However, have a few blank invites as a backup just in case. And by few we mean at least 20.
Decide how you are going to deliver the invitations. If you are going to use the post, find/make envelopes that match or complement your invitations. You can print the addresses beforehand and just stick them to the envelopes. If you are going to deliver them in person, you can also have some pretty envelopes, but it is not a must.
That is it for our tips on how to make wedding invites yourself. We hope that your invites turn out the way you want to and that you will have the most beautiful wedding ever!
READ ALSO: How to tie bridal gele?
Source: Legit.ng