22-year-old survivor Desire Benjamin shares her emotional story (photo)
A 22-year-old model identified as Desire Benjamin has shared her story after she survived a gas explosion that left her completely burnt.
Legit.ng gathered that the accident occurred when she tried to boil water using a gas cooker around 6:00am.
It was reported that the explosion threw her against the wall and before she knew it fire blocked the exit.
Benjamin who refused to die without trying walked through the fire to get out of the kitchen to escape the building.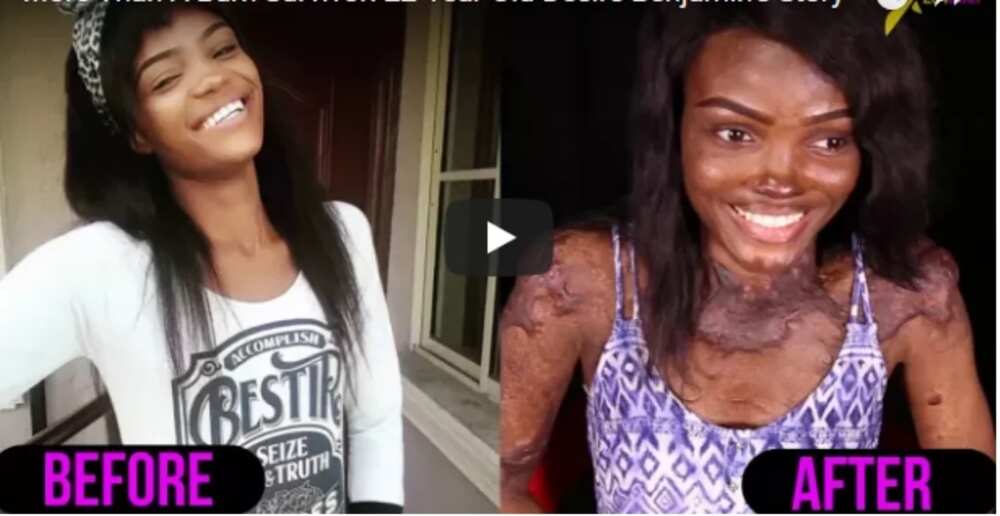 Read what happened:
"She woke up at about 6am to boil water to bathe for work, she turned on the gas and struck the matches, it didn't catch, then she did it again, it was then we heard the explosion."
"The fire threw her against the door, and then blocked her exit, according to her, she didn't know the force that got her too her feet, and so she entered the fire and rushed out of the kitchen to the room, the fire chased her out, the rug where she was standing on got burnt."
"Her family members who had been asleep when the explosion happened jumped out of bed and amidst the chaos, did the first logical thing that came to mind: grabbed a few buckets of water from the bathroom and threw on her. They succeeded in quenching the fire, but by this time, c was so badly burnt and had passed out."
The aspiring model that was burnt during her escape was taken to the hospital but the first hospital rejected her, stating that she had no hope to survive.
READ ALSO: America's Got Talent finalist Kechi Okwuchi reacts to not being voted for 'out of sympathy'
However, another hospital accepted her and started treating her.
She said: "I had a friend in the hospital that we used to pray together. One night, her line went flat (ie the electrocardiogram which monitored her heart beat pinged off, signifying that she had stopped breathing)."
"It was after I was discharged that the true reality of what happened to me fully dawned on me. Having strangers walk up to me at the mall and tell me to cover up because my scars were "unsightly", and not being able to go back to work because I felt people will concentrate on My scars more than they would the product I was trying to sell was a constant occurrence and I found myself having to stay indoors for long hours. My slowly healing skin was in danger of itching and getting infected if I was ever in a humid environment anyway."
"That can't be me, I can't sit in the house because people are not comfortable with how I am. The scars on my body are a sign of victory. I overcame what tried to consume me and I should be proud of it."
"Some people have scars even if not physically, they have emotional scars. If I'm able to reach out to them, encourage them and try to help them gain back their confidence in anyway that I can, I believe that would be fine."
PAY ATTENTION: Get all the latest gossips on NAIJ News App
Desire has now finished her treatment. She is healed and learning to live with the scars that came from the gas explosion in 2016. She turns 23 in a couple weeks.
Watch the Legit.ng TV video to catch up on the exclusive chat had with plane crash survivor Kechi Okwuchi below:
Source: Legit.ng