Nigeria's foreign debt has increased by 40% under Buhari's government - NBS
- Under President Buhari, the debt Nigeria owes foreign countries has risen rapidly
- In a recent report released by the National Bureau of Statistics (NBS) foreign debt stocks as at June 30 have showed a rise
- Lagos recorded the highest foreign debt profile, accounting for about 37% of the states' foreign debts
As at June 30, 2017 Nigeria's debt stocks stood at about $15.1 billion and N14.1 trillion respectively, the NBS said on Tuesday, September 19.
According to the report, after proper review, it was shown that the total foreign debt profile of the Federal and the 36 states governments and the Federal Capital Territory (FCT) shows a continuous rise since the coming of the Buhari administration.
Under the current government foreign debt profile has risen from $10.718 billion in 2015, to $11.406 billion in 2016 and $15.047 billion in 2017.
Out of the current total figure of $15.047 billion, the federal government accounts for $11.106 billion which is about 74%. While the 36 states of the federation and the FCT, Abuja owe about $3.94 billion.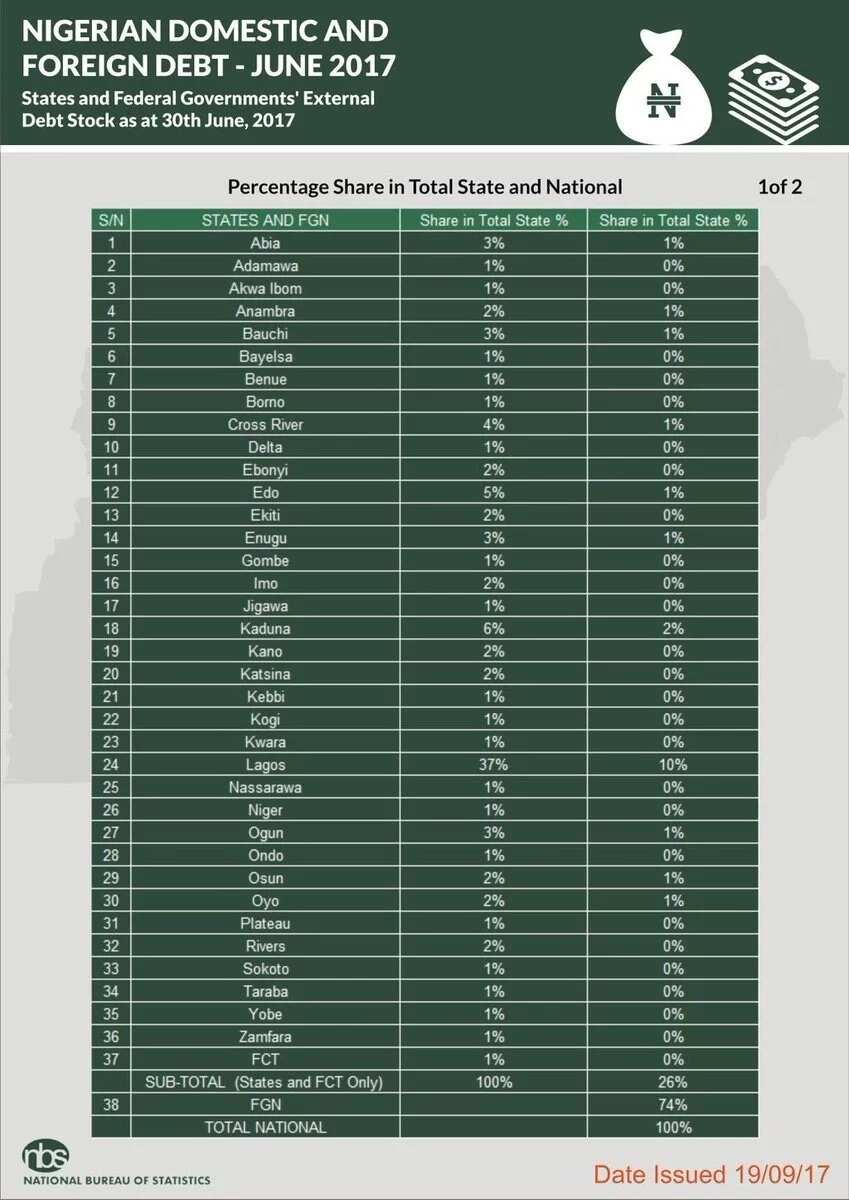 READ ALSO: Check out the list of most indebted states in Nigeria - Number one will surprise you
Among the 36 states and the FCT, Lagos recorded the highest foreign debt profile, accounting for about 37 per cent of the states' foreign debts, followed by Kaduna with 6%, Edo (5%), Cross River (4%) and Ogun (3%).
On the domestic front, Lagos State again took the lead, with the highest domestic debt profile among its colleagues and the FCT, accounting for about 10.39% of the total figure, followed by Delta (8.04%), Awa Ibom (5.18%), FCT (5.09%) and Osun (4.90%).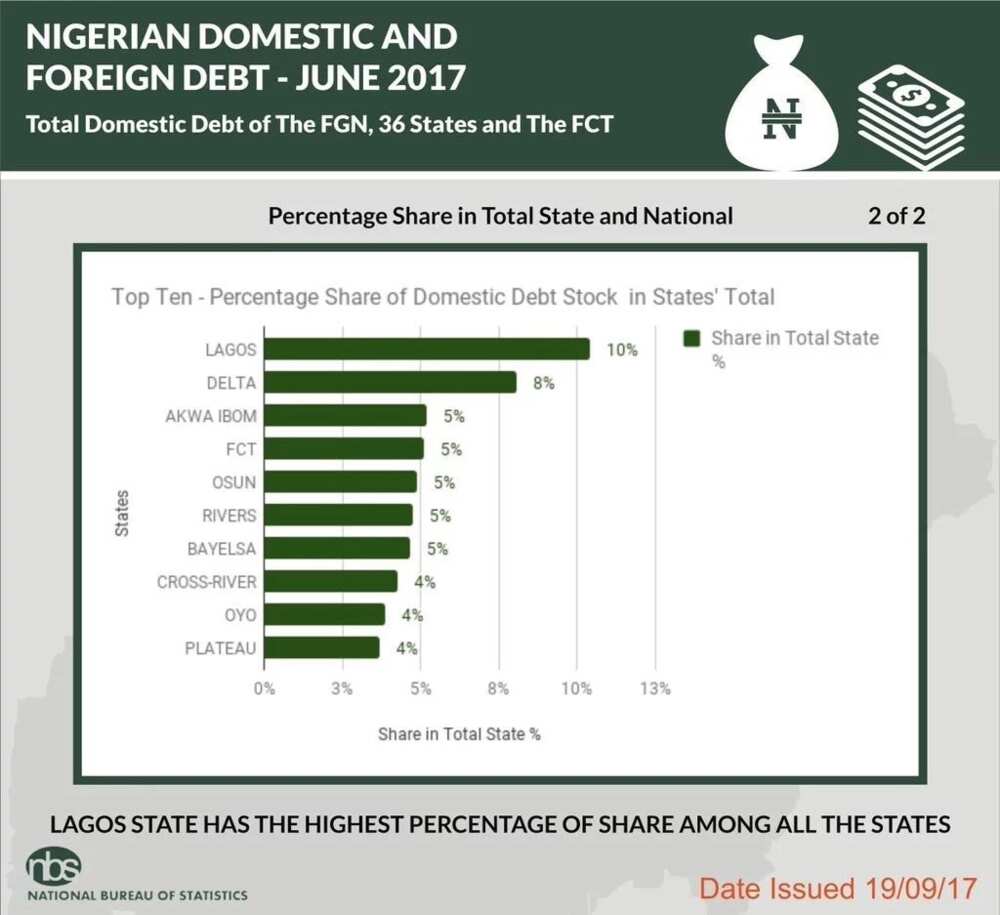 Meanwhile, Legit.ng earlier reported that Nigeria's total debt profile has hit N19.16 trillion after the country incurred a N7.1 trillion in the last two years, according to the country's Debt Management Office (DMO).
PAY ATTENTION: Watch more videos on Legit.ng TV
The total debt profile, according to the DMO, was incurred both internally and externally. The DMO explained that the nation's indebtedness to both local and foreign creditors rose from the N17.36 trillion recorded at the end of December 2016.
Watch this Legit.ng video as Nigerian traders speak on the state of the economy:
Source: Legit.ng