First female president of Singapore Halimah Yacob announced without election (photo,video)
- It is a surprise to many that Singapore has just announced its first female president, Halimah Yacob
- There has also been criticism, since she was announced without an election after her rivals were disqualified
- The 63-year-old woman from the Muslim Malay minority was sworn in on Thursday, September 14
On Thursday, September 14, 2017, Singapore's first female president was sworn in after a "walkover" election, because all the other contenders were disqualified.
Her name is Halimah Yacob and she is a former speaker of parliament from the Muslim Malay minority.
She did not have to face an election because her rivals did not meet strict eligibility criteria. Part of which the rules is that any candidate from the private sector must have led a company with shareholder equity of at least 500 million Singapore dollars ($372m).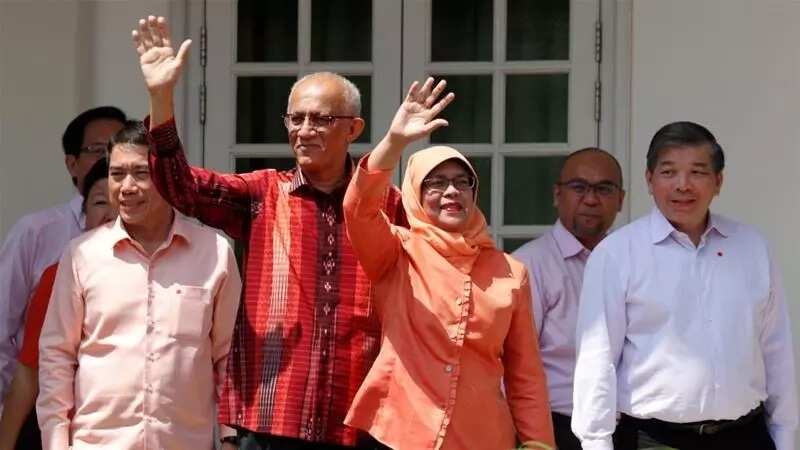 63-year-old Yacob was sworn in as Singapore's first ethnic Malay president in 47 years since the late Yusof Ishak, who governed in the mid-1960s.
READ ALSO: IGP Idris attends INTERPOL conference in Singapore
According to Aljazeera, the other two contenders, Salleh Marican and Farid Khan, were both denied eligibility with many criticizing the process for its lack of democracy.
Yacob addressed these concerns, saying: "I am a president for everyone, regardless of race, language, religion or creed. Although there's no election, my commitment to serve you remains the same."
Below is a video of her:
Recently, the World Schools debate contest that held on Tuesday, August 1, was completed and the students who represented Nigeria made us proud.
It was reported that the three students from Loretto Special Science School won one of the rounds at the competition.
PAY ATTENTION: Watch more videos on Legit.ng TV
According to Twitter user simply identified as Nelson, the students did not win the tournament but they won one of the rounds, adding that Singapore won the tournament.
Watch this Legit.ng video as Nigerians discuss the possibility of a female president in Nigeria:
Source: Legit.ng