Army release detained IPOB supporters to Nnamdi Kanu (photo,video)
- IPOB leader Nnamdi Kanu has received IPOB supporters who were released from alleged military detention
- IPOB supporters were detained at the popular Isi Gate area, after they clashed with the Nigerian army
- The reported clash began over a disagreement between soldiers at a checkpoint and a commercial tricycle operator
The leader of the Indigenous People of Biafra (IPOB), Nnamdi Kanu, on Wednesday, September 6, received some IPOB supporters who were released from alleged military detention.
Legit.ng gathered that the unarmed youths were detained on Monday night, September 4, at the popular Isi Gate area, after they clashed with the army.
READ ALSO: Biafra: Igbo elites have woken from their slumber - Nnamdi Kanu
Chief Osita Chidoka, the candidate for the United Progressives Party (UPP) in the forthcoming Anambra governorship election, had condemned the clash which saw the military personnel use live bullets on the youths.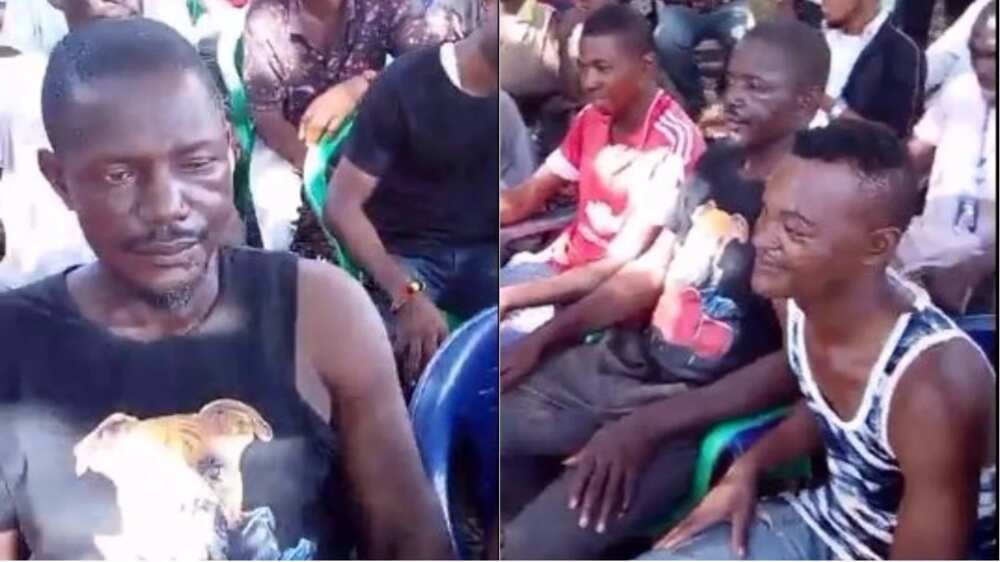 The video below shows some of the youths with swollen faces as they were being addressed by Kanu after their release.
In an earlier report by Legit.ng a version of the incident claimed that the refusal of a commercial tricycle operator to hand over Biafra and IPOB insigma in his tricycle to soldiers caused the crisis.
Another version stated that the refusal of the tricycle operator to give money to the soldiers who were extorting drivers caused the crisis.
However, a member of IPOB, Somto Okonkwo, in a statement on Monday, September 4, narrated his version of what transpired.
PAY ATTENTION: Watch more videos on Legit.ng TV
Okonkwo said the crisis erupted after a commercial tricycle operator refused to hand over Biafra and IPOB insigma in his tricycle to soldiers at a checkpoint.
In the video below; Legit.ng TV takes a critical look at Nnamdi Kanu and the struggle for the actualisation of the Republic of Biafra.
Source: Legit.ng