Trending Ankara shirts for guys in 2017-2018
It is a mistake to think that only women closely follow the latest fashion trends, or feel the need to be fashionable and stylish. A lot of men also take the issue of what to wear very seriously, and they carefully select the right wardrobe. In this article, we will consider popular types of Ankara shirts for guys.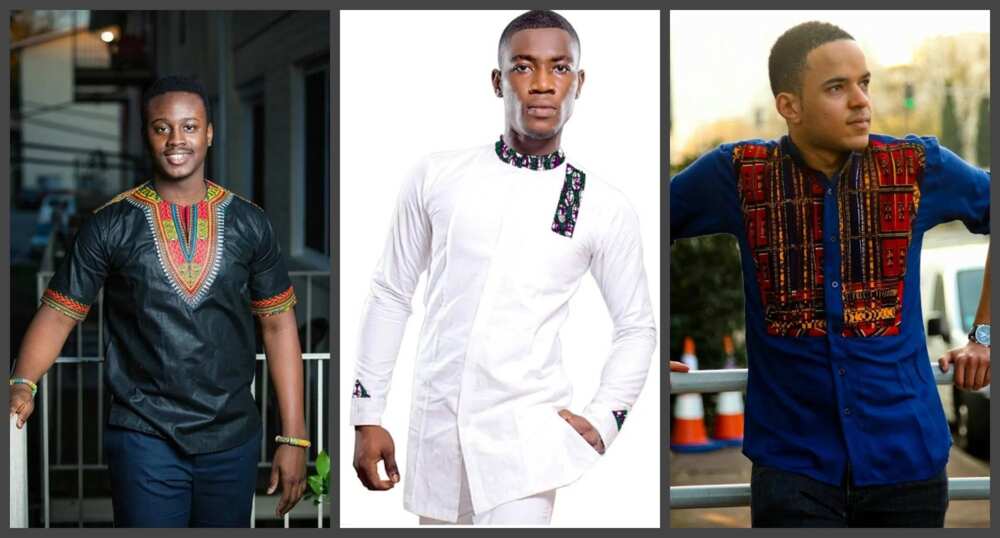 No matter how much men like everyday clothes in the form of T-shirts and jeans, they still need to purchase some shirts. In this kind of outfit, you can go anywhere - to work, cinema or on a date.
Any woman will tell you that a properly selected shirt will make a man look handsome, stylish and clean. A shirt is an indispensable element of a business dress code so you have to pay close attention to it. For those that are bored with the classics, we present to you some bright Ankara styles that will quickly set you apart from the crowd but will not go beyond what is allowed in an office.
READ ALSO: Latest native styles for guys 2017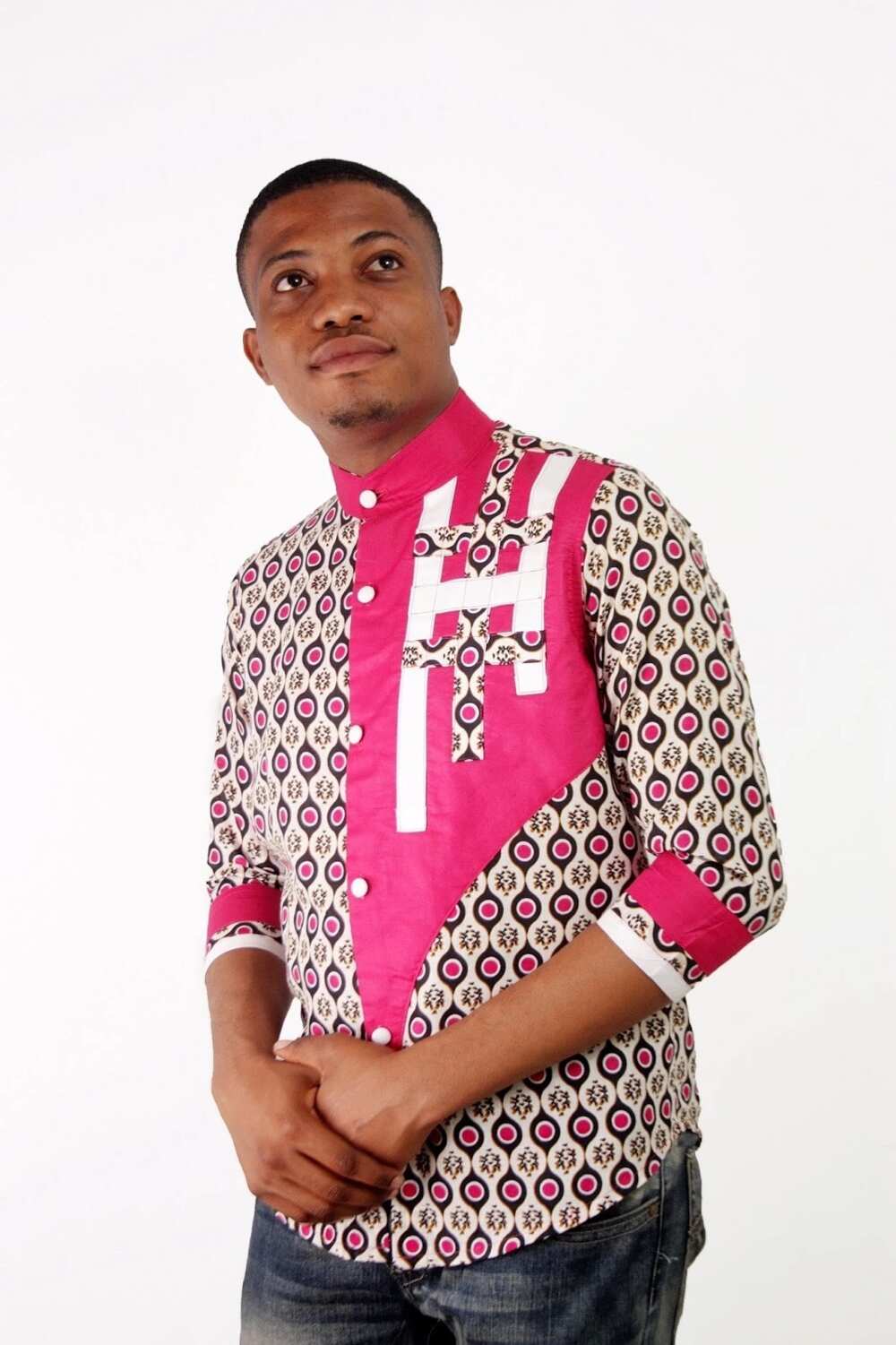 Bright shirts of Ankara styles for men will help emphasize individuality and define style. The right choice will definitely make anyone pay attention. Every man has a reason to wear the latest Ankara styles in vogue. So, at least one of such type of shirts must be present in the wardrobe of a stylish gentleman. You can go multicolored or monochrome, but you must pay attention to the colour decision. Ankara is definitely not a style for those who are afraid to show their individuality.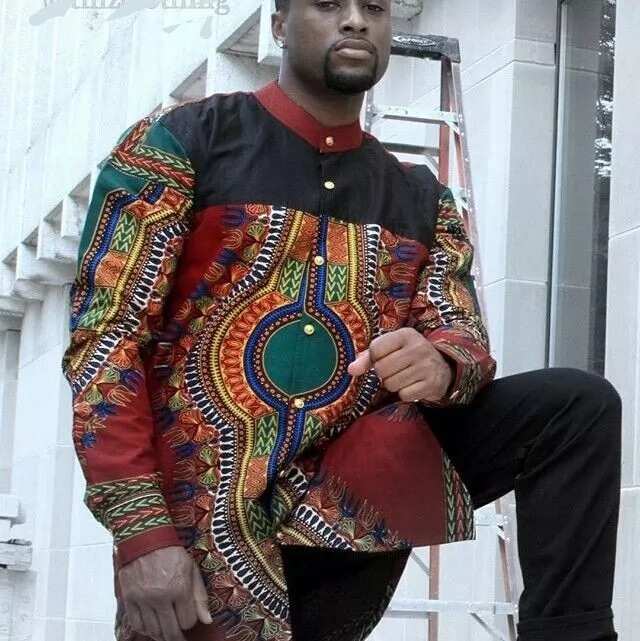 It is worth noting that Ankara style is very popular not only in Nigeria and other African countries. Designers all over the world are interested in it.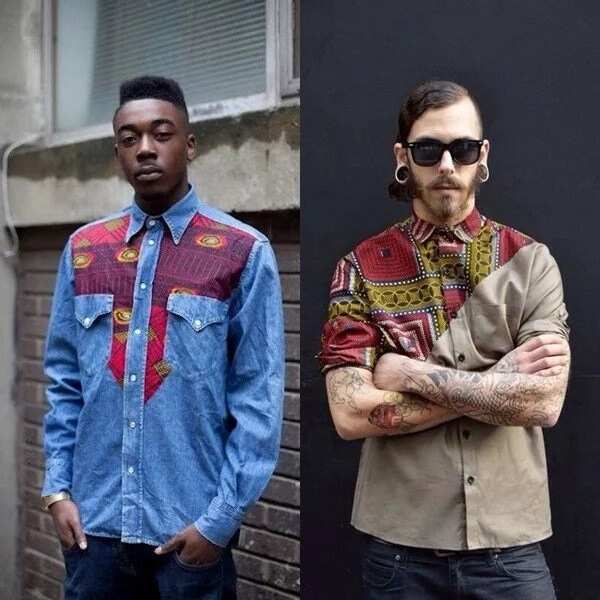 Male native styles of mixed colours are popular at any time and for any occasion. This is very much applicable to people in the media niche. It is important to create a look that makes you stand out. You can wear a shirt with classic trousers, jeans and, under certain conditions, with an official suit.
How to choose a shirt?
There are a lot of options when it comes to the Nigerian Ankara styles. You can have different types of collars, fasteners, cuffs, pockets, and sleeves. Depending on what you want, you can choose a different shirt for each day. With Ankara latest styles you can't limit yourself when it comes to colours. Consider these options;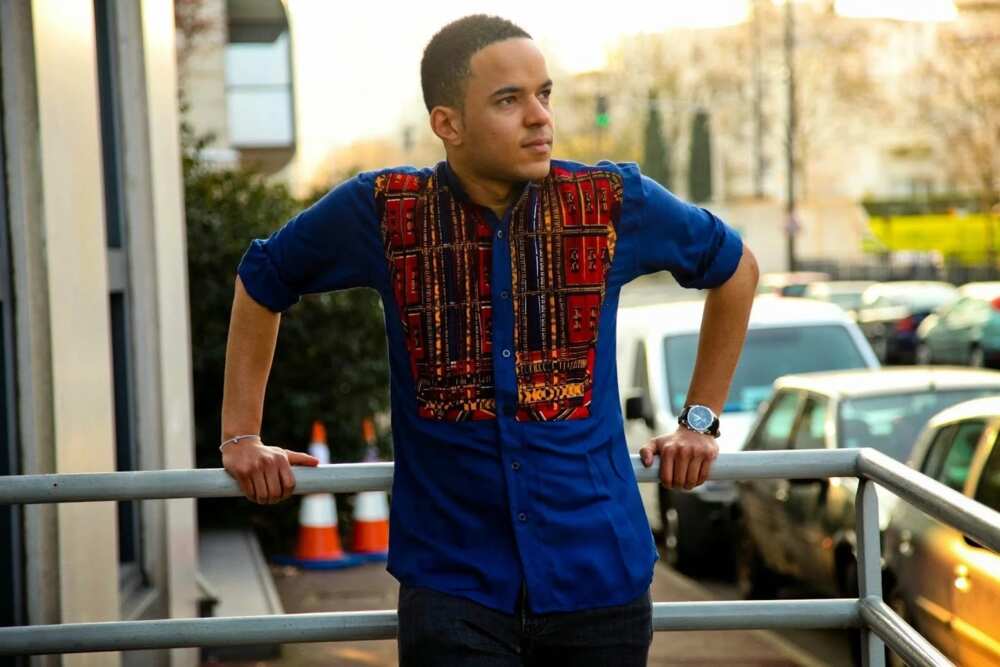 A checkered shirt is a perfect solution for those who want to say goodbye to the usual white shirts. The cells can be of any color - blue, gray, green, etc. If you go with this, your shirts will always look stylish and different.
A striped kind is an excellent option for those who want to look not only stylish but also appear slimmer. Vertically designed print will stretch the figure visually, which makes you look slimmer and even taller. After all, it's not only women that feel self conscious about some areas of their figure, men do too.
The combination of two colours, for example, blue and red, green and gray, looks very fanciful and stylish.
Various beautiful patterns on the chest and sleeves.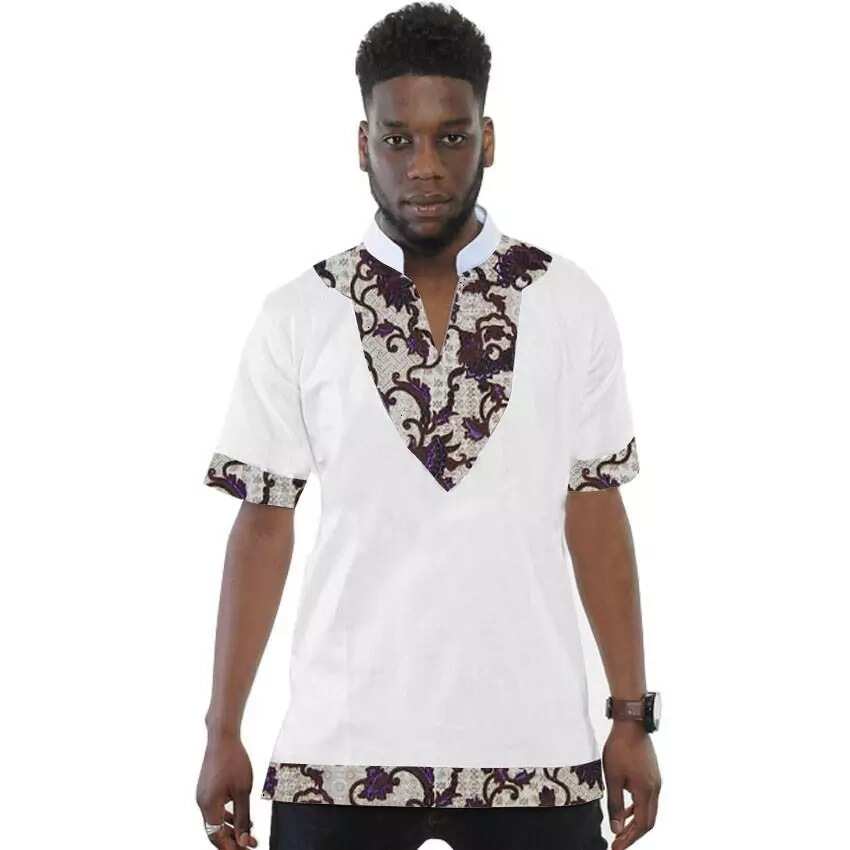 Sure, Ankara outfits are great for outings but do not restrict yourself to just weekends.. You can wear these clothes to any formal event. In this case, it is recommended to wear a shirt with bright inserts or contrasting elements. You should have a simple design and a minimal amount of accessories or anything flashy Thus, it is possible to maintain that official spirit and preserve your individuality using Nigerian Ankara styles.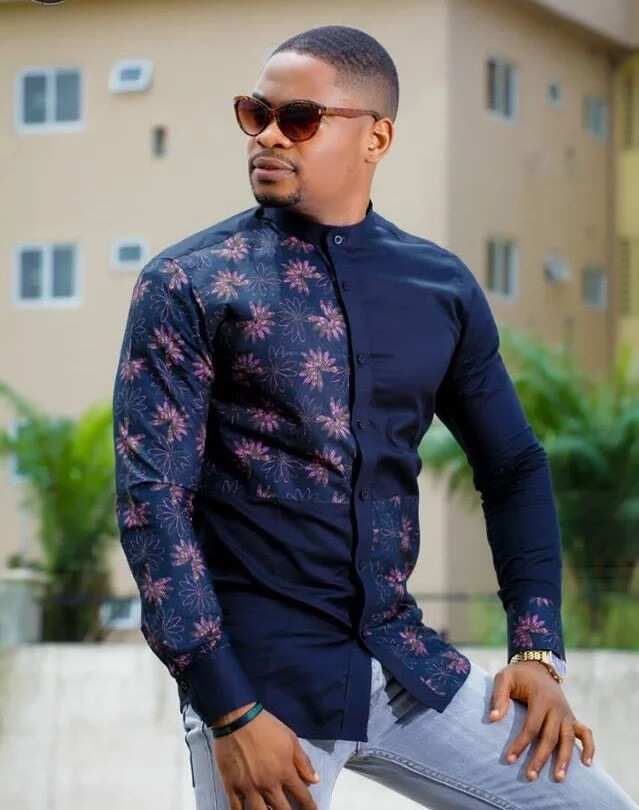 Particularly interesting are non-classical options in different mix of colours. For example, some love to go for the 'slim fit' look which means the outfit is closely fitted to your body. This type of outfit is recommended for men with a sporty physique. Wearing a bright slim fit shirt with a jacket can be very attractive. It even looks great with or without a tie.
If you do not like to iron clothes, buy the kinds that have been mixed with synthetic fibers. Thanks to these, your shirts practically do not crumple.
Hint: after washing, dry them on the hanger, so ugly creases will not appear as a result of drying ropes.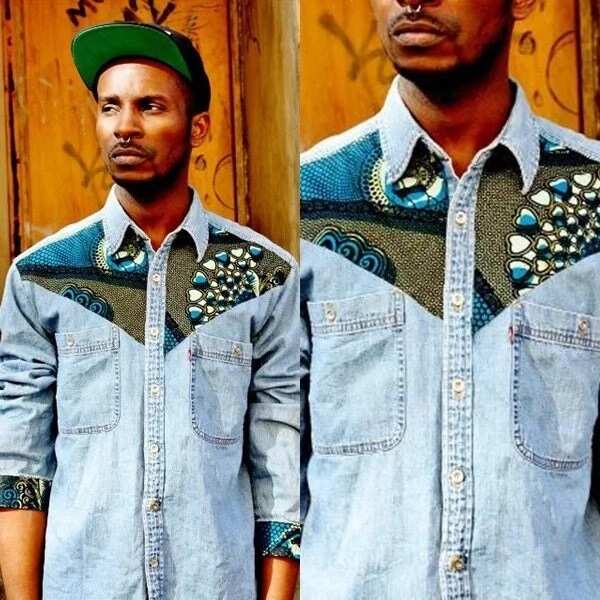 You are not restricted to just coloured shirts. A white shirt can be quite fashionable. Snow-white silk and cotton shirts look pretty impressive. They are classics that suit everyone and for most occasions.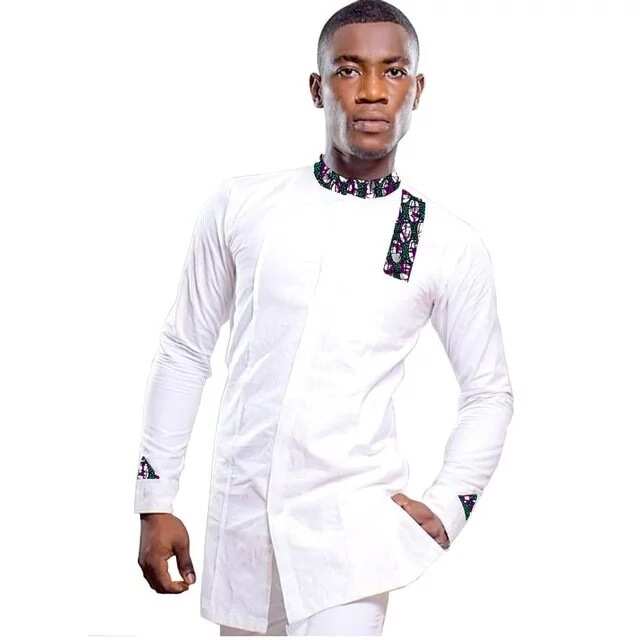 Whichever shirt you choose, make sure it makes you look stylish and young. Also, ensure you select suitable accessories. For classic looks, you can go with a watch with a leather or metal strap, a tie, leather belt, leather or suede shoes. If you prefer the sporty look, you can wear these great shirts with jeans and sneakers.
READ ALSO: Latest designs of Ankara blazers 2017
Source: Legit.ng