These Nigerian ladies prove you can cook okro soup just with N500 (photos)
Due to the economic recession which the country is currently facing, Inflation has been on a steady increase, affecting the prices of basic things like foodstuff.
The inflation in market prices has affected people's feeding in no small measures, causing some to go hungry, while also causing others adjust their lifestyle.
Some ladies took to social media to share how they are able to survive despite the recession, sharing photo proof of how they made a whole pot of soup while spending as little as N500.
The ladies shared the outcome of their minimised spending.
READ ALSO: How to cook egusi soup?
See some of their posts below:
Okeke Nancy Blessing who made hers with N500, said: "When I came across using 500# to cook okoro soup honestly I never believed it, I told myself let me try it and it came out this way, smoke fish 200, okro 50, ugu 50, fresh pepper 50, red oil 50, crayfish 50, onions 30, maggi 20. That is all I used for my okro soup, but mind you, this is season for vegetable like ugu and okro, very yummy."
READ ALSO: Nigerian vegetable soup recipe
Oluchi Golden Joy, who made hers with N520 wrote: "I made mine with 520 = fish 250, okro 100, ugu 50, pepper and onion 50, palmoil 50, maggi 20, salt 1tsp 520#...I must not add crayfish ,dryfish and stockfish,the fresh fish has served all the purpose. It serves 5 pple...The higher the quantity, the higher the price."
Onyeke Sandra Nneoma, who made hers with N1,000 wrote: "I made this soup just with this small ingredients, it only cost me 1000."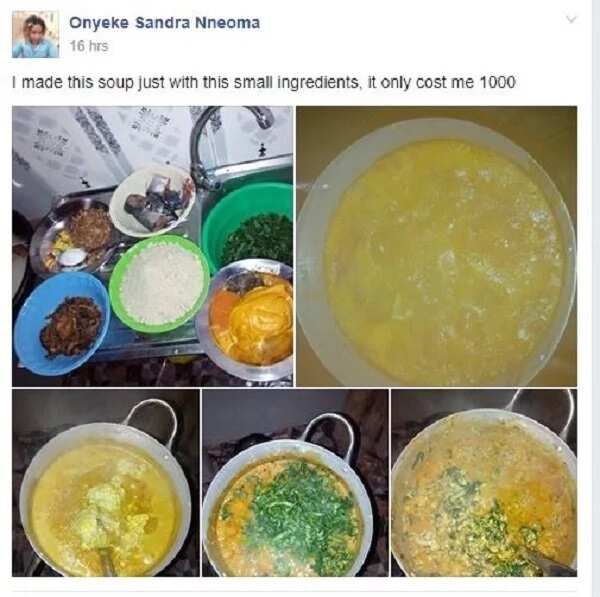 READ ALSO: Nigerian soups - Top 5 to cook at home
Racheal Oluebubechukwu who made hers with N2,150 wrote: "okro soup is cheap YES but depending on what you used for it...And plsss guys stop insulting ladies that said they can't use #500 to cook a pot of soup that does not make them bad girls...Here is my own pot of okro soup and it cost me #2150...Meat = 800, garri = 500, okro = 200, stockfish = 300, ugu = 50, crayfish =100, red oil = 100, pepper = 50, onions = 50...Now compare my okro soup and #500 okro soup if served both which will you go for?.."
READ ALSO: How to make bitter leaf soup with achi?
Meanwhile, Legit.ng asked its readers how much they spent on a pot of soup and here's what they said:
What about you?
Meanwhile, watch this video to see if N1,000 can make a pot of soup:
Source: Legit.ng