President Muhammadu Buhari receives briefing from VP Osinbajo
- President Muhammadu Buhari and Vice President Yemi Osinbajo meet at the state house
- Governor Nasir El-Rufai of Kaduna state advises President Buhari to cut down his working hours and reduce the number of visitors he receives daily
- The minister of information and culture, Lai Mohammed, faults Fayose and Fani-Kayode for spreading false news about Buhari's medical condition
President Muhammadu Buhari has received a briefing from Vice President Yemi Osinbajo at the state house in Abuja on Monday, August 21.
READ ALSO: LIVE: President Buhari addressing Nigerians on Monday, August 21
Legit.ng recalls that Buhari handed over to Yemi Osinbajo before he departed for medical vacation to the United Kingdom on May 7.
Osinbajo served as acting president while Buhari was recuperating in the UK.
Following his return to the country on Saturday, August 19, the president addressed the nation in a broadcast on Monday, August 21, where he thanked Nigerians for praying for him.
Shortly after his broadcast, Buhari transmitted a letter of resumption to the National Assembly, intimating the lawmakers of his return from medical vacation in London.
See photos of Buhari and Osinbajo at the state house below: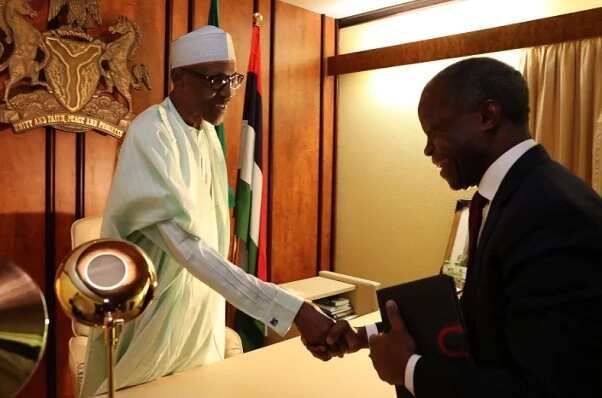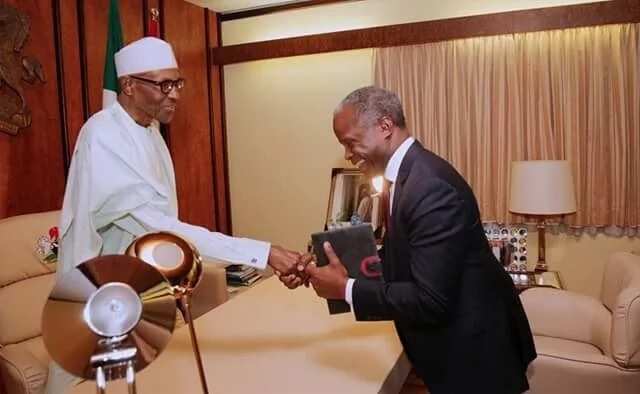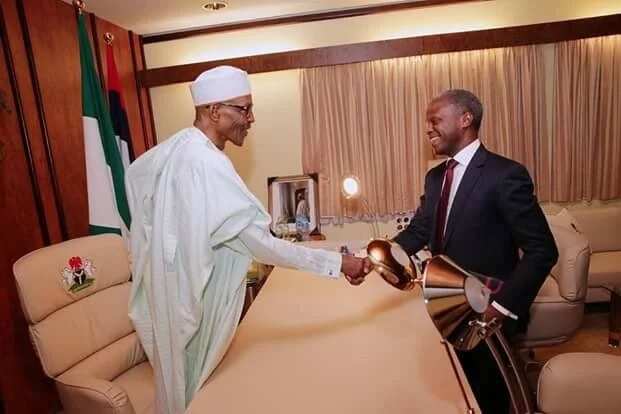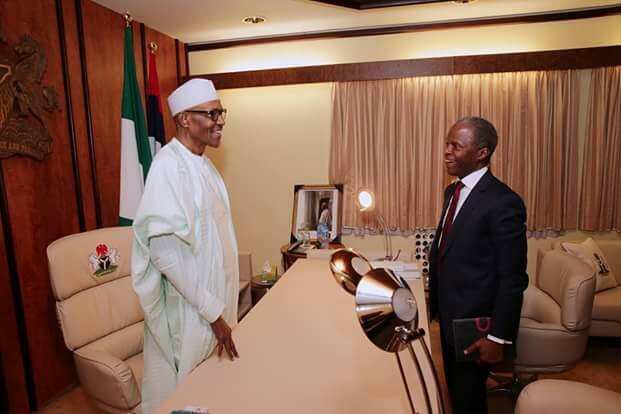 Meanwhile, Governor Nasir El-Rufai of Kaduna state has advised President Buhari to cut down his working hours and reduce the number of visitors he receives daily.
PAY ATTENTION: Read the best news on Nigeria's #1 news app
The governor said Buhari needs time to reflect and restrategise and deliver his campaign promise to Nigerians.
In a related development, the minister of information and culture, Lai Mohammed, has urged well-meaning Nigerians to hold former minister, Femi Fani-Kayode and Governor Ayo Fayose accountable for spreading false news about President Muhammadu Buhari's medical condition.
Legit.ng recalls during the duration that President Buhari was in London on medical vacation, Fayose and Fani-Kayode called on the president to resign on the ground that his health condition was critical.
But following the arrival of Buhari on Saturday, August 19, Lai Mohammed, accused Fayose and Fani-Kayode of spreading falsehood about the president's condition while he was recuperating in London.
Watch the excitement that greeted Buhari's return from London:
Source: Legit.ng