Anambra guber: Senator Andy Uba shut down rumours of APC snub
- All eyes are on Anambra state as the preparations for the forthcoming governorship election are in top gear
- Political activities in the state are gaining momentum
- Rumours have also been flying around in the state, especially as a ploy to weaken strong candidates like Senator Andy Uba
Senator Andy Uba has openly debunked rumours making the rounds that he was locked out and barred from undergoing the All Progressive Congress (APC) guber aspirants screening exercise in Abuja.
Addressing a crowd of APC ward coordinators at Uga, Aguata local government area of Anambra state, Uba made it clear that he was only asked to take a bow before the screening committee which he said is a privilege as a serving senator.
The senator also reacted to rumours that he changed the names of APC delegates, describing it as a mischievous antics to distract the people.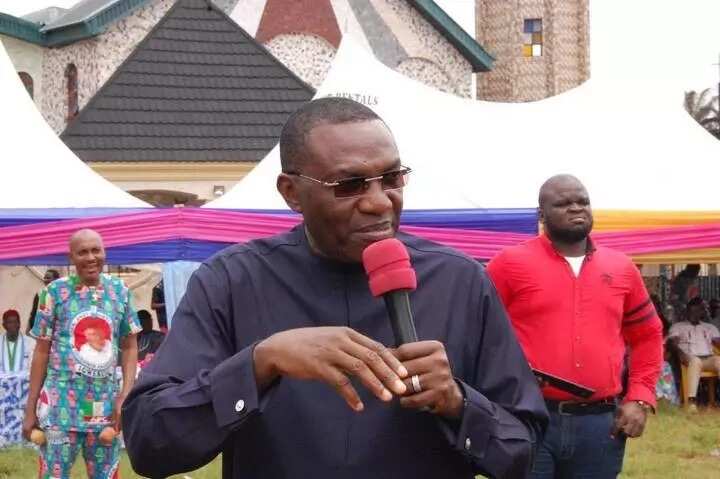 His words: "I did not at any point in time change the names of APC delegates, rather I have been making serious efforts to eliminate all irregularities to make sure that there is harmonization of names.
"I think those behind the rumours are the ones responsible for such acts. All I have been fighting for, is the interest of my people."
PAY ATTENTION: Read the news on Nigeria's #1 news app
While advocating for truth and honesty in our democratic practice, the senator urged his state ward coordinators to pay no attention to such ridiculous rumours as they are mere distractions.
Speaking on the governorship race, Senator Uba stressed that he is in the race for the general interest and betterment of Anambra state.
"This is not my race alone, it is a sincere race for the good of Anambra state and if APC wins this election, it is victory for the people and the beginning of freedom from poor health system, persistent suffering, hunger, unemployment and also, the end of socio-political marginalization in Anambra state.
"For me, this is a partnership with the people towards a better Anambra state and I believe that together, we can make it work," the senator told his audience.
While urging the ward coordinators and other party faithfuls not to rest on their oars until victory is secured, the senator promised that no one is going to be short changed in his government as he would run an all inclusive government if elected.
Meanwhile, in his usual character of interacting with the populace and show of benevolence, Legit.ng gathered that the senator fed thousands of people on Thursday, July 20 at Umuoru- Uga in Aguata local government area of the state.
The senator who represents Anambra South Senatorial District told journalists present that he loves being around his people and sharing in their experiences.
His words: "I believe in helping my people and you cannot help a man if you do not know what his problems are and how he feels, that is why from time to time I come down to my people to take care of their well being.
"Secondly, there is so much hunger in the country, people are suffering. No money! No food! It gives me joy to feed these thousands of people here today, it is my way of showing that I care and if given the mandate to be their governor, my government will be a government that is based on the people."
READ ALSO: Anger as APC national legal adviser shuns disciplinary panel
Watch the video report of the historic occasion on Legit.ng TV below:
Source: Legit.ng