Amaechi speaks on his achievements, challenges in managing Nigeria's transport ministry
- Nigeria's minister of transportation, Chibuike Rotimi Amaechi, is in many ways, a journalist's delight
- He spoke to select online journalists recently on his achievements and challenges in the ministry of transport
- Legit.ng was there and brings you excerpts from the interaction
Nigeria's minister of transportation, Chibuike Rotimi Amaechi, has revealed that his biggest challenge running the ministry is having access to funds.
Amaechi made the comment during an interaction with online journalists on Friday, August 11, in his office in the Federal Capital Territory, Abuja.
Responding to Legit.ng's question on the challenges he has faced in the ministry so far as he approaches two years in office, the minister said money is the ministry's major challenge.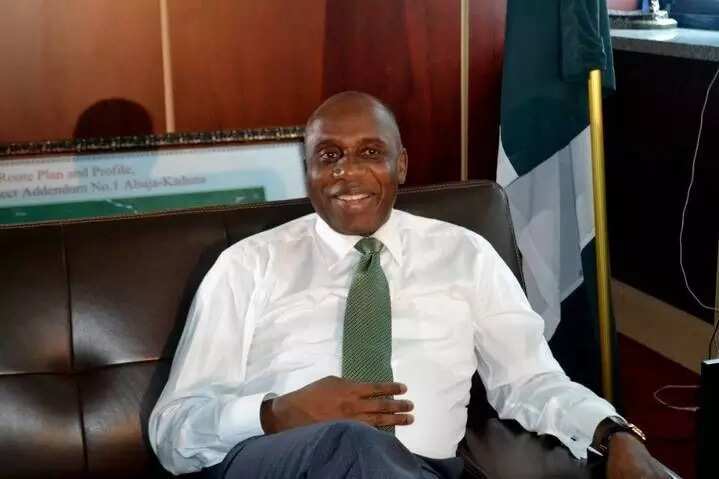 His words: "Money has been the basic challenge. The contracts that you need to deliver on a railway are in tonnes of naira. Take for example the approval by the president that we should do a railway from Abuja to Lokoja to join Itakpe to Warri as well as a sea pot in Warri; that project was put at $3.1 billion, which is nearly N1 trillion. Where will you get the money from?"
PAY ATTENTION: Read the news on Nigeria's #1 new app
When Legit.ng probed further and asked if he was engaging the private sector to invest in the railway sector, the minister opined that the private sector do not have the wherewithal to invest in the sector.
"There is no where in the world that you have private equity capital in real construction. When it comes to real operation, people get involved. Like we are having a real operation investment in the narrow gauge in which GE is bringing about two million dollars to revive the old narrow gauge and run them by themselves.
"But when it comes to real construction, it is usually the government because they are in trillions. How many persons can raise that?
"The contract from Lagos to Kano is $8.3 billion, the contract from Lagos to Calabar is $11.1 billion dollars. At N300 per dollar, that is N3.3 trillion," Amaechi said.
Legit.ng asked the minister if he considers the completed Kaduna Abuja rail as part of his achievements, given the fact that it was not originally his project.
His response: "That will be very unfair. For instance, why is the Itakpe-Warri not running? It was awarded 30 years ago. Now, we are focusing on it and if N100 billion is required to complete it and we bring that; then they say, 'no it's not your project'.
"You see, that's why politicians don't complete projects if it is abandoned, because you will go and say; 'it's not your projects.
"Let us consider the Kaduna-Abuja rail that you talked about. It is part of the Lagos-Kano. It was close to 90 per cent completed.
"But key is that there were some things that we needed to address: we had to deal with the obstacles. One of them is that the Catholic Church needed land and compensation for their land and the buildings we were going to demolish. We paid the compensation.
"Personally, I went to the Minister for FCT and got the approval for a Certificate of Occupancy and handed it over to them and we got government to fence their land for them and they vacated. So, you cannot say it is not our project. We are not laying credit. What matters is that business is running.
"The Itakpe-Warri rail was awarded in 1987, and up till today, it has not been completed. About 50 kilometres have been vandalised – from Itakpe to Lokoja. Now, we are awarding a fresh contract to CCECC to enable us rebuild from Itakpe to Lokoja. Hopefully, cabinet should be able to discuss it once we send a memo."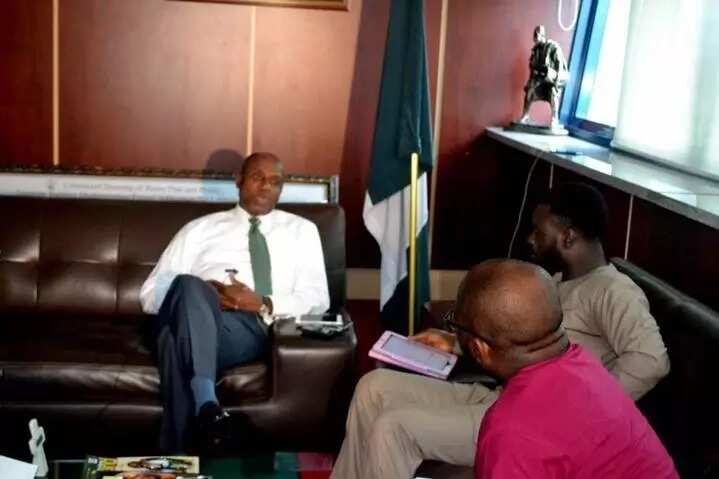 Asked about the ticket racketeering at the train stations in Idu and Kubwa, Abuja where some people are already taking advantage of the scarcity and selling at higher prices to unsuspecting passengers, Amaechi confirmed that someone has been arrested.
Legit.ng gathered that the minister paid an unscheduled visit to the facilities very early that morning.
But he went on to say there is nothing that can be done about it, because in his words, "ordinarily, the man is not breaking any law."
His words: "The man is trading. He buys a ticket (for 1,000), he offers you at 3,000, if you don't want to buy, you don't want to buy. He is not creating scarcity.
"The scarcity is because government in not able to bring in more coaches. So the solution to it is to bring in more coaches, so the man won't have a business.
"As soon as we bring in more coaches and more locomotives, and then you have 10-17 coaches, there won't be a business for the man. There will be too much space."
READ ALSO: N-Power releases deadline for applicants' online test
Legit.ng had reported that the minister, on Monday, August 8 said the Itakpe-Ajaokuta-Warri standard gauge rail lines would start commercial operation in June 2018.
Amaechi made this known while inspecting the ongoing rail project in Warri, Delta state.
He stated that the federal government had instructed that the project must be completed by the first quarter of 2018, which was included in the budget.
Watch Amaechi give a summary of Buhari's administration in the Legit.ng video below:
Source: Legit.ng