See Abuja church where tithes and offerings are not allowed
- A church in Abuja has set itself apart from other churches in Nigeria by this strange custom
- Givers Embassy in keeping with its name does not accept offerings and tithes from church members
- The pastor says the church is dedicated to the service of humanity especially Nigerians who are mostly poor
In a country like Nigeria, where most churches constantly make money off their members, there is a church operating in Abuja which does not collect tithe or offering from its members.
The church is Givers Embassy, aka Home of Consular Generals, which was formally established in Abuja at the conference hall of 3J's Hotel last Sunday, July 30, 2017.
According to the pastor, the church is dedicated to the service of humanity especially Nigerians who are going through economic hardship.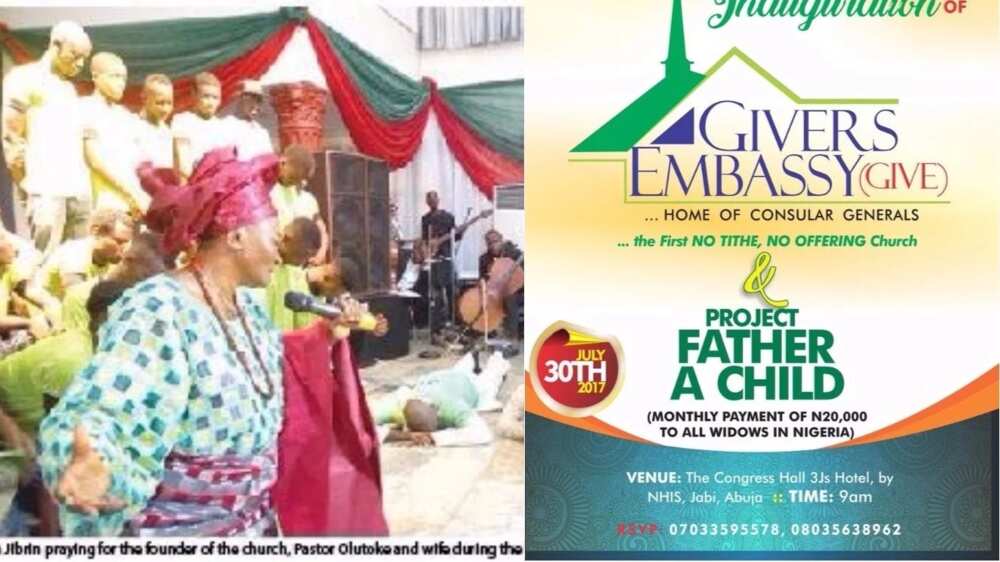 The pastor, Edward Olutoke said: "Givers Embassy exists to raise Consular Generals for God's kingdom on earth. We give visas to houses, cars and businesses. Above all, we give visas to things that make life meaningful.
"These consular generals would, through their devotion to God's word, worship, and worthy living, inspire the much needed spiritual and socio-economic transformation in their lives and that of others.
"The problem of our society is greed. It's not Boko Haram, it's not Biafra. If we can solve the problem of greed in Nigeria, we will be better for it," the pastor of the newly established church, Edward Olutoke said shortly after the first church service.
"In Nigeria, we don't give back to the society. People who give back, give peanuts. We don't need to only feed the people who are in poverty, we need to give them life. Instead of giving them fish, we teach them how to catch the fish."
READ ALSO: Catholic priest who resigned recently says he left because the church was limiting his relationship with God
Speaking on why his church doesn't collect tithes and offering, Olutoke said the vision came from God.
"God told me that as the owner of the church, he would build and sustain the church. God asked me not to collect tithes and offering. We are to help the needy. God said any member of the church who wants to touch other people's lives can do it directly to the needy.
"The Holy Spirit is leading us and we don't want people to believe that they must bring offering to church before they are blessed, no. If I give offering in the church while a woman close to me is dying of hunger, what have I done?
"As a Christian, I should not allow that woman to die. The God who created the woman won't be happy with me if I packaged an offering to the church while she is suffering."
PAY ATTENTION: Watch more videos on Legit.ng TV
Legit.ng earlier reported that a social media user identified as @ozorchristian, shared a picture of a church's 'special offering' which he claims is from a Ghanaian church.
According to the picture, the church offers as little as $240 (about N86,000) for a 24-hour miracle, and as much as $5,000, (N1.8m) for you to be elevated to a millionaire status.
Watch this Legit.ng video of what recently happened in a church in Ikorodu:
Source: Legit.ng