Mourinho says he won't lose his hair over criticism from Antonio Conte
- Antonio Conte had said he would not want his second season to be poor like Mourinho's
- Jose Mourinho responds saying he would not want to lose his hair responding to the Italian
- Conte and Mourinho had multiple touchline clashes last season in the Premier League
Jose Mourinho responded to criticism from Antonio Conte by saying he was not ready to lose his hair with his responses.
Conte and Mourinho had multiple touchline clashes during United's trips to Stamford Bridge in both the league and the cup last season.
Conte had said he wants to 'avoid a Mourinho season' after winning the title where his team were poor the season after winning the title.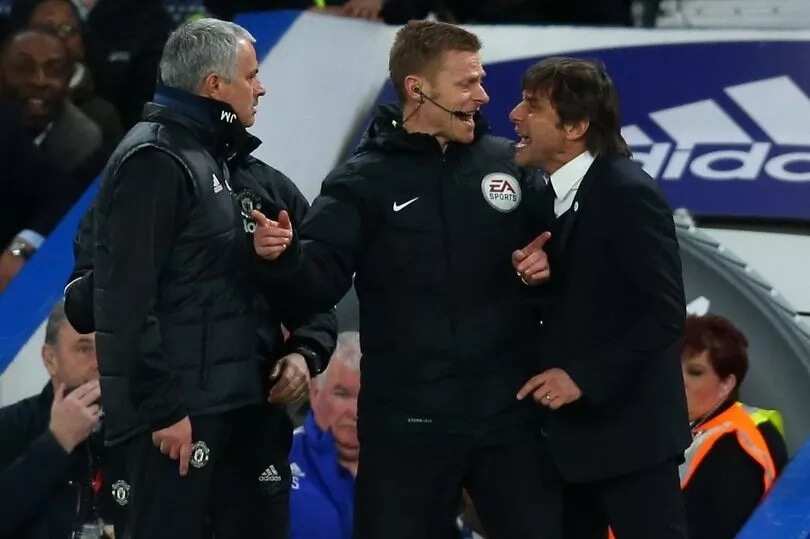 READ ALSO: Revealed! Why Lionel Messi's move to Manchester City last summer collapsed
Mourinho however responded after United's 3-0 win over Valerenga with a dig at Antonio Conte's hair.
"I don't know, I could answer in many different ways," he mused in his post-match press conference.
"I'm not going to lose my hair to speak about Antonio Conte."
Mourinho was sacked just seven months after winning his third title with Chelsea in his second spell at the club.
Watch Legit.ng's video talking about Cristiano Ronaldo following Davido on Instagram;
Source: Legit.ng