What I discussed with Malala Yousafzai in Aso Rock - Osinbajo
- Acting President Yemi Osinbajo held a closed-door meeting with internationally acclaimed rights activist, Malala Yousafzai late Monday, July 17
- Osinbajo has now spoken after Malala reportedly called for a state of emergency on the Nigerian education
Acting President Yemi Osinbajo has revealed what he actually discussed with the Pakistani rights activist, Malala Yousafzai, who visited and held a meeting with him in Aso Rock late Monday, July 17.
Speaking hours after the meeting, Osinbajo, who was said to have discussed issues relating to the Nigerian education with Malala, added that it was time to disabuse the impression that the girl-child is inferior.
Legit.ng reports that Osinbajo said he was pleased to receive Malala Yousafzai, a UN Messenger of Peace.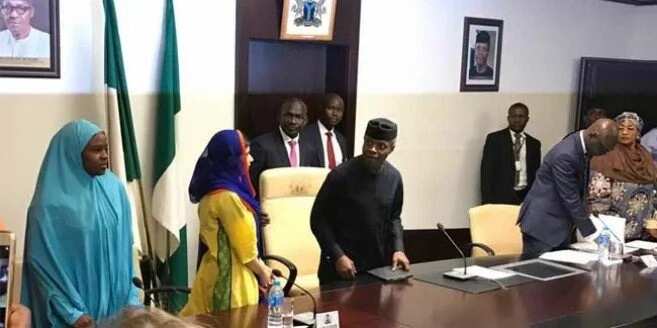 "Her story is an inspiration for not only young women around the world but for us all.
"Her ability to articulate issues and the courage to face down hatred and terrorism is widely acknowledged.
READ ALSO: Britain has worked against the interest of Biafra and majority of Christians in Nigeria - IPOB
"While there is a connection between terrorism on the one hand and poverty and ignorance on the other, the challenge that terrorism poses on a global scale is much deeper considering cases of terrorism and hatred even in advanced societies where ignorance and poverty were not rampant.
"We have to change the mindset and delegitimise the false ideas and notions of hatred and violence.
"Getting people to enroll in school is the easiest part of the problem. The bigger issue is to ensure that we don't promote the mindset that girls are in anyway inferior," Osinbajo wrote.
Osinbajo wrote that he also met with a delegation of the World Leadership Alliance, better known as Club de Madrid which included two former African presidents: Festus Mogae of Botswana and Cassa Muttem of Mauritius.
"The Club de Madrid, whose membership includes former President Olusegun Obasanjo, presented a report of a workshop it had conducted in Nigeria earlier this year on the issue of alternative narratives to counter violent extremism.
PAY ATTENTION: Read the news on Nigeria's #1 new app
"Former President Mogae while presenting the report said that the objective of the World Leadership Alliance is to promote democracy, and in that effort had organised the workshop that included all stakeholders and the presidency's office of the National Security Adviser to address the issue of violent extremism," he said.
Legit.ng had earlier reported that Malala Yousafzai, the founder of the Malala Funds and girls' education, visited Acting President Yemi Osinbajo in Abuja on Monday, July 17, 2017.
This visit is coming over two years after the young Malala Yousafzai paid a similar visit to former President Goodluck Jonathan over the detained Chibok girls.
Watch this video as Osinbajo recently delivered a speech concerning Biafra:
Source: Legit.ng