Ex-Minister of Petroleum Diezani Alison-Madueke says she is ready to go to jail
- Recorded conversation between ex-Minister Diezani Alison-Madueke has surfaced
- In the conversation, she threatened to confess the dealing between her and Aluko to Nigerians
- She said she is ready to go to jail but not alone as she will drag other co-conspirators
Former Minister of Petroleum, Diezani Alison-Madueke, has been caught in yet another corruption scandal and this time she reportedly said she is ready to spill the beans.
Legit.ng gathered that Madueke is being investigated for a series of fraud and money laundering in Nigeria, UK and United States and has threatened to reveal the part of alleged co-conspirators, Kola Aluko and Jide Omokore.
In a recorded conversation recovered by investigators probing the corrupt allegations against Madueke, she claimed to be ready to say her part in the alleged fraud.
According to a report by Premium Times, Alison-Madueke, Aluko and Omokore were listed as persons of interest in the civil complaint filed at the US District Court, Houston, Texas.
The complaint revealed how the three individuals laundered millions of dollars on behalf of Alison-Madueke, which was used in buying properties in the US and the UK for her family in return for oil contracts to Atlantic Energy Drilling Concepts Nigeria Ltd (AEDC) and Atlantic Energy brass Development Ltd (AEBD), two shell companies owned by Omokore.
Madueke, in the recorded conversation ,could be heard saying: "You and Jide [i.e. OMOKORE] had some of the most support that we could possibly give. At a time when we're not doing anything else, we stuck our necks out regarding the SAA and we supported it. [INAUDIBLE] How the two of you have ruined it is incredulous and incredible to all of us.
"I spoke to you several times about your general behaviour, acquisition of assets, etc., asking you to be a bit more careful because [INAUDIBLE] will start following you. I remember we had this open discussion more than once. You kept telling me that there was no issue because you did it in a certain way, you did it in a certain—and I kept telling you that it doesn't matter how you do it.
"Once you start acquiring, acquiring, acquiring at a certain level, then you'll be—whether you like it or not, whether it was done in the most transparent—you understand?— manner or not, because they will want to trace where it came from. This is an age of terrorism,
"If you want to hire a yacht, you lease it for two weeks or whatever. You don't go and sink funds into it at this time when Nigerian oil and gas sector is under all kinds of watch, as we have been for some time, and where Atlantic [i.e., AEDC and/or AEBD] itself has been the subject of all kinds of speculation."
In another conversation, Madueke, while responding to speculations that Aluko might want to blackmail her, called Aluko's bluff and threatened to spill the beans.
READ ALSO: Kanu may be dead before Biafra is achieved - Primate Ayodele
She said she was ready to reveal to Nigerians all that happened and was ready to follow Aluko and Omokore to jail.
Madueke, during the conversation said: "I said tell him (I.e. Aluko) to bring everything out, and then you know what will happen? No problem, I will be happy to escort all of you to jail along with myself. I said, in fact, you will be shocked by what I'll do.
"Because when it comes to that, I will come out and tell the Nigerian people this is what happened oh. Oh, Yes, I will blame myself, but it (INAUDIBLE)...place and everything. Anything they want to say, I am happy to go.
"But I will come out openly and say it so that they can judge me openly, And then all of us go and sit on the gate. Let us see who survived (INAUDIBLE), me or you."
Details of the conversation has now been filed as part of a civil complaint by the US department of Justice seeking the forfeiture of over $144 million slush fund.
She also confessed the fact that both Aluko and Omokore were in the habit of gifting her furniture but insisted that the furniture were not more than $4 million dollars.
She said:"The furniture they gave me didn't come to more than four million dollars, altogether. It is true I was with (INAUDIBLE)."
The US government is demanding for the forfeiture of the corrupt proceeds of all business transactions between Madueke, Omokore and Aluko.
See the breakdown of the properties Diezani and her conspirators are to forfeit to the US government in the infographic below: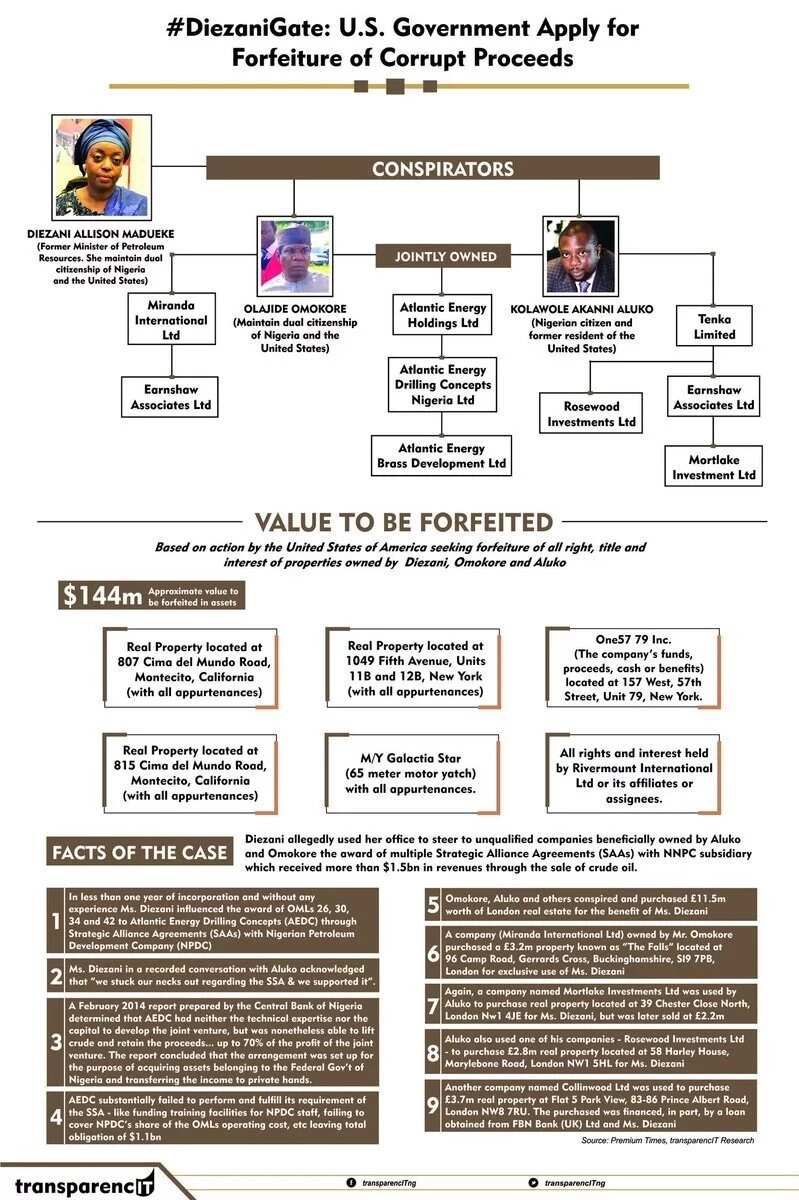 PAY ATTENTION: Read the news on Nigeria's #1 news app
Meanwhile, Kola Aluko, declared wanted by the EFCC, has been identified as the owner of Apartment 79, a penthouse apartment in One57, one of New York City's most expensive residential buildings.
However, the apartment would be sold to the highest bidder by a Luxembourg based Banque Havilland, in a foreclosure auction in July, the New York Post reported.
The penthouse sale is seen as the most expensive foreclosure in New York City.
Watch the Legit.ng TV video report of the anti-corruption walk of the EFCC that held in Abuja recently.
Source: Legit.ng