Jesus Christ's image allegedly appears on the wall of a Lagos church
- An alleged image of Jesus Christ on a church wall has caused commotion in the Ikorodu area of Lagos state
- Church members and residents have been seen streaming in and out of the church
- The alleged image was noticed after an artisan raised alarm and called attention to the water stained wall
No less than 400 worshippers daily have been visiting an uncompleted church building in Ikorodu, Lagos state, to see an alleged image of Jesus Christ.
Legit.ng learnt that the image, believed by some people to be the face of Jesus, reportedly appeared on a wall in a church called the Holy Ghost Fire Apostolic Church, Ogunse Estate, Sagamu Road, Ikorodu, Lagos state.
Residents of the area as well as church members have been swarming the sight of the alleged miracle since an artisan raised alarm and called the attention of people to it.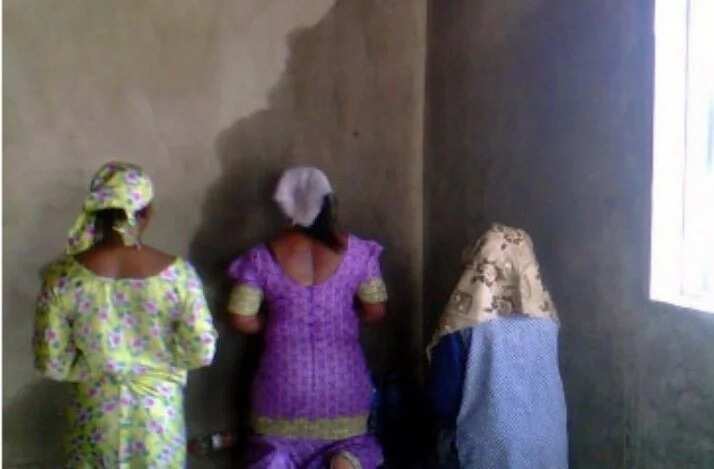 READ ALSO: Multiple explosions hit Maiduguri, police confirm 19 dead
The uncompleted church building has a water stained wall that formed the image of a face which people visiting the scene have termed as Jesus' face.
According to a report by Vanguard, worshippers and residents of the area visited the church individually and in groups, praying and singing to God, while some transporters seized the opportunity to hike their fares.
The worshipers were seen dropping sachets and bottles of water by the wall, while others knelt down or touched the image praying aloud.
The construction work at the church has also been put on hold due to the number of pilgrims turning up to catch a glimpse of the image.
PAY ATTENTION: Read the news on Nigeria's #1 news app
Recall that Legit.ng earlier reported a similar occurrence in Makurdi, Benue state.
Hundreds of people trooped to Saint Augustine's Catholic Church which is located in the Nenger area of Makurdi following the "appearance" of an 'image' of Jesus.
The church which is situated behind Government Model College became a hub for Catholic and non-Catholic worshippers after bright image fell on the crucifix of Jesus.
The crucifix is described as a structure of Christ when he rose from death after he was crucified and buried and according to witnesses, it had on its head a crown, while the entire body was glittering, like precious stone.
Watch Legit.ng video of Nigerians debating on whether they can sacrifice their religion for money:
Source: Legit.ng