FACT CHECK: El-Rufai says those calling for restructuring are opportunists but 7 years ago, he was one of them (see proof)
- Fact has shown that Governor Nasir El-Rufai was once an agitator for restructuring of Nigeria
- But two days ago, El-Rufai, described those calling for restructuring as irresponsible
- He said the Buhari-led administration has taken some practical steps towards restructuring the country through various means
The fact has emerged that the Kaduna state Governor Nasir El-Rufai was once a promoter of restructuring of Nigeria while he was the minister of Federal Capital Territory (FCT).
Legit.ng gathered that in his interview published in This Day on August 20, 2010, El-Rufai said that the apprehension about the composition and workability of the Nigerian nation state will subside if the country tilts towards true federalism.
READ ALSO: Those calling for restructuring are opportunists - Governor El-Rufai
He said: "The present situation of things where all component units get monthly allocation from the Federal Government only makes the states lazy and unproductive. The lack of foresight, financial discipline and lackadaisical approach to governance has played huge roles in limiting the country's match to greatness".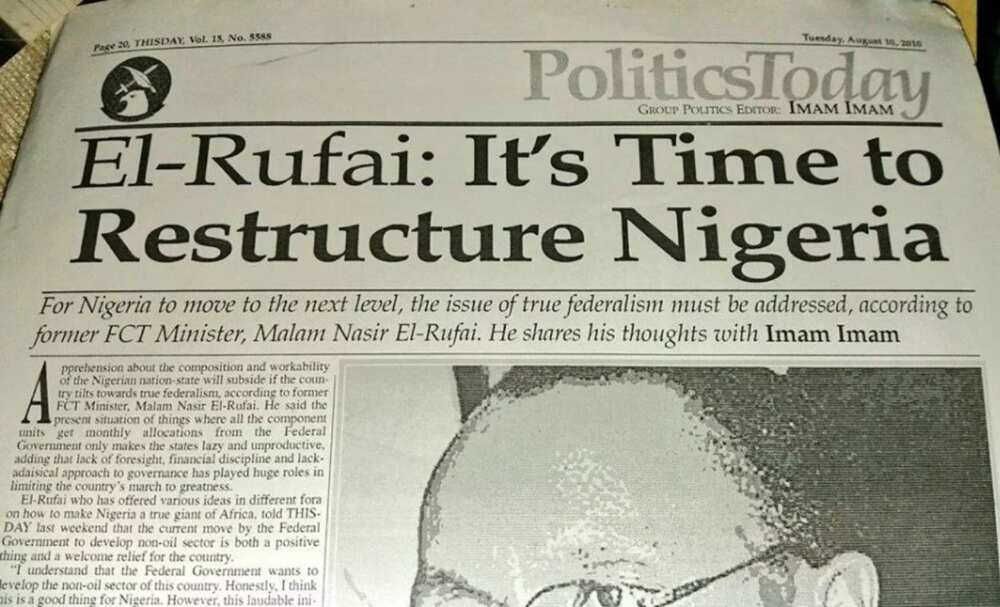 But seven years after this pronouncement, Legit.ng had previously reported that El-Rufai who is the current governor of Kaduna described those calling for restructuring of the country as opportunists and irresponsible.
While speaking on Sunrise Daily, a Channels Television programme, El-Rufai said the President Muhammadu Buhari's administration in two years have done better than the past administration.
He said the Buhari-led administration has taken some practical steps towards restructuring the country through various means.
PAY ATTENTION: Read the news on Nigeria's #1 news app
El-Rufai said governors of all the 36 states in Nigeria are currently more involved in policy making at the national level in the present administration.
The governor also said that before now, issues at the federal level were being hidden from state governor but the Buhari-led administration has made transparency one of its key mandates.
You can watch this Legit.ng video of Nigerian man calling for mass burial for all leaders:
Source: Legit.ng