Nigeria's unity must not be toyed with - Ex-President Jonathan
- Goodluck Jonathan, Nigeria's former president, had remained silent over the agitations from the south-eastern part of Nigeria
- However, at a meeting with former ministers of the country under the PDP, Jonathan said the country's unity is paramount
Former President Goodluck Jonathan has added his voice to the discussions and opinions about agitations being championed by sections in Nigeria.
Speaking while he hosted the People's Democratic Party (PDP) Former Ministers' Forum in Abuja on Monday, June 26, 2017, Jonathan said Nigeria's unity was very important.
Channels Television reports that Jonathan said Nigeria's unity is paramount.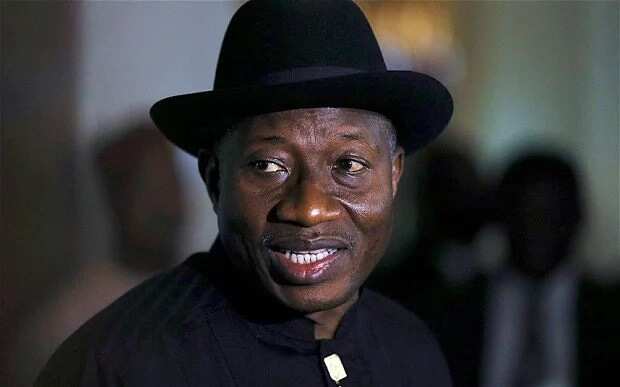 The former president appealed to all Nigerians to see the country's unity as one that should not be toyed with.
READ ALSO: Jewish brothers show Kanu where Igbos are written in Torah (photos)
He was quoted as saying: "The unity of the country is paramount, we cannot develop as a nation.
"No matter how people demonstrate, no president can do magic if there is so much tension in the land."
According to Jonathan, no country can develop under an atmosphere of insecurity and threats to its existence.
"Immediately there is a sense of insecurity in any country investors will pull back and when investors pull back, then the economy will drop.
"What improves the economy is confidence and what makes investors have that confidence is peace.
PAY ATTENTION: Read the news on Nigeria's #1 new app
"We should all pray and work towards that peace and that is the only way we can grow the economy as a nation."
Meanwhile, Legit.ng reported earlier that the leader of the Indigenous People of Biafra (IPOB), Nnamdi Kanu said he was never a fan of Goodluck Jonathan's regime and that he thinks the ex-president is weak and incompetent.
It was gathered that Kanu who granted an interview to Daily Sun newspaper said Jonathan is his uncle but he thought Patience Jonathan would have been a better President than her husband.
Kanu said: "Jonathan is my uncle, yes. I was one of those who said Jonathan's tenure was more or less an Igbo presidency; it's on record I said that. But, he knew I never liked his regime because he was weak and incompetent.
Watch this video of a visit to the home of Evans the billionaire kidnapper:
Source: Legit.ng