How Nnamdi Kanu predicted London attacks 3 years ago - IPOB
- The Indigenous People of Biafra said Nnamdi Kanu predicted the London attack
- The group claims the prediction was made three years ago by Nnamdi Kanu
- The IPOB also boasted that Kanu is a confirmed prophet by the manifestation of his prophesies
The Indigenous People of Biafra (IPOB) has alleged that its leader Nnamdi Kanu predicted the recent attacks in London three years ago.
The IPOB also said Kanu has proven to be a prophet sent by God to liberate, "the people of Biafra."
In a statement by its media and publicity secretary Powerful Emma, the group said all the attacks happening in London were seen and prophesied by Kanu on November 6, 2014.
Emma said: "Mazi Nnamdi Kanu the living prophet of our time in his broadcast over the air on the 6th November 2014 said that Islamic terrorists will overrun Britain if they continue to be against Biafra which is happening today."
READ ALSO: Ibrahim Magu exposes those behind agitations for breakup of Nigeria
Highlighting other prophesies by the IPOB leader, Emma said Kanu had also predicted that the Northerners will ask the Igbo living in the North to vacate the region.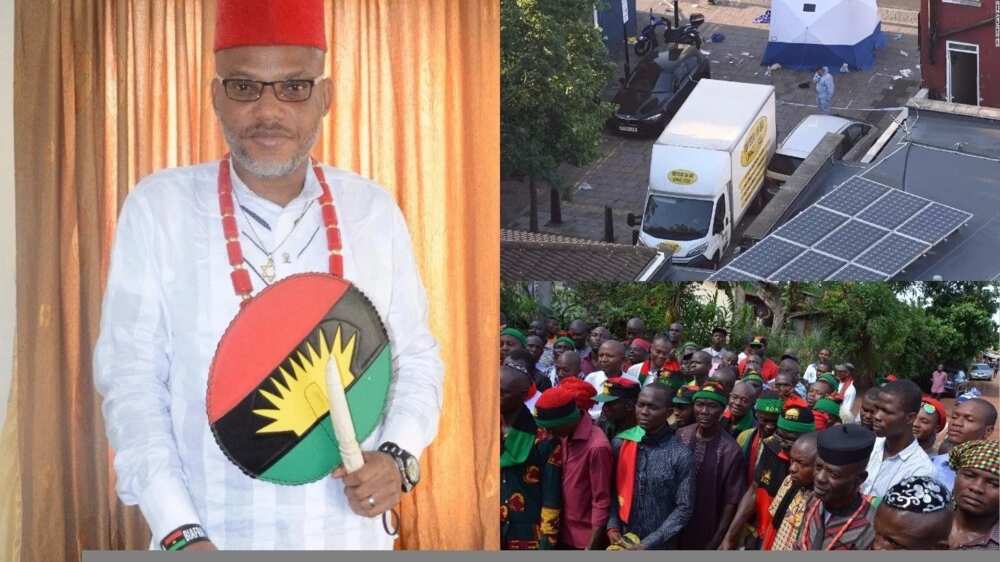 He said that explains why many who come to visit the IPOB leader kneels before him.
"There is nothing that this great prophet Nnamdi Kanu said which hasn't come to pass. No wonder people kneel and ask him to pray for and with them. Nnamdi Kanu is a confirmed prophet and visionary leader of this generation.
"When he said Igbos and other Southerners will be killed in the North, that is exactly what is going to happen. Every Southerner in the North should leave immediately," Emma said.
He also said all the predictions made by Kanu were fulfilled in the shortest of time unlike the ones made by most men of God in Nigeria.
READ ALSO: Quit Notice: Igbos in 19 Northern states make bold move over October 1 deadline
"Our leader and prophet of our time in his broadcast before his arrest on 14th October 2015 said that Hausa Fulani supremacists are coming to re-position the security agencies by sacking all competent hands to replace them with their kinsmen in order to drive their ethnic domination of the South, these marauding hordes which turned out to be Fulani herdsmen, will be armed and encouraged to slaughter Southerners with impunity and their masters in Aso Rock will protect them.
"They are coming to ensure that my people are enslaved forever. The people will cry and weep but no one will come to their rescue. Those who do not believe me will soon see it happen before their eyes.
"Nnamdi Kanu, 6th Feb. 2014. Exactly what is happening today with rampaging Fulani herdsmen decimating communities with the encouragement and protection of the Buhari led Fulani presidency. Despite these heinous and brazen carnage, wanton murder and destruction of communities across Southern Nigeria, no single Fulani man has been brought before a court or charged under the laws of Nigeria," Emma added.
READ ALSO: No where to hide, APC chieftain tells Obanikoro after reports of his defection
He further enjoined all to always bear in mind that, "Unity flows with love and mutual respect."
He said: "This artificial unity with people who see you as an infidel and unbeliever is fake and dangerous. We are better off on our own.
"They kill with impunity, yet they say we must stay together. They have only one agenda, to chase away Jonathan and enslave us forever.
"They are coming with vengeance, anger and revenge for the years they stayed out of power. They plan to intimidate, silence and enslave us. Their world view is so strange and different from ours, we are in big trouble.' Nnamdi Kanu, 16th Jan 2015," Emma said.
PAY ATTENTION: Read the news on Nigeria's #1 new app
Legit.ng had earlier reported that the leader of the IPOB has said that anyone who says Biafra will not come to pass will die.
Kanu in a video while addressing members of the IPOB said there will be no election in the South-East region starting with Anambra until a date for referendum is announced.
You can watch this Legit.ng video of part of the daily activities in Nnamdi Kanu's home:
Source: Legit.ng