Six dead, 50 wounded as flame engulfs London Tower
- Several people are reportedly trapped in the 24-storey block following a fire incident
- The metropolitan police confirmed 6 fatalities adding that casualties are likely to rise during the recovery operation
- An emergency number has been set up for anyone concerned about friends or family
Six people have been confirmed dead while 50 others are been treated for injuries following a blaze which burned through the night at a west London tower block.
READ ALSO: Quit notice to Igbo people: Osinbajo talks tough in meeting with Arewa; vows to punish troublemakers
Eyewitnesses relating the fire incident stated that several people were trapped in the 24-storey block known as Grenfell Tower, which is still on fire and looks like it might collapse any time soon.
They said as the fire razed the building, several residents could be heard screaming for help and yelling for their children to be saved, BBC reports.
Though the firefighters stated that large numbers of person have been rescued, London Mayor Sadiq Khan said a lot of people were still unaccounted for.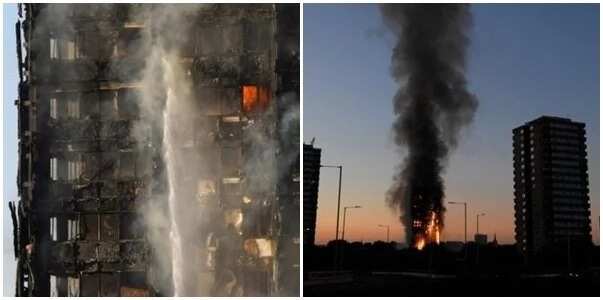 During the night, eyewitnesses said they saw lights - thought to be mobile phones or torches - flashing at the top of the block of flats, and trapped residents coming to their windows - some holding children.
PAY ATTENTION: Install our latest app for Android, read best news on Nigeria's #1 news app
Commander Stuart Cundy, of the metropolitan police who confirmed the six fatalities, said casualties from the incident were likely to rise during the recovery operation
He said it was likely to be some time before police could identify the victims, adding that it was too early to speculate on the cause of the fire.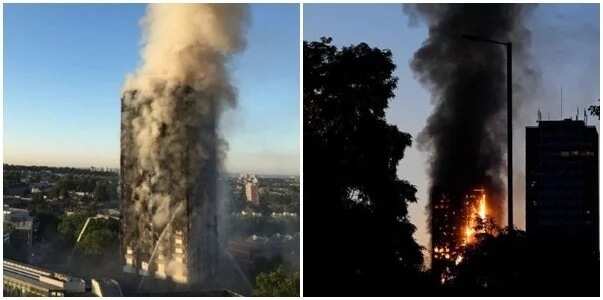 An emergency number has been set up on 0800 0961 233 for anyone concerned about friends or family.
Narrating his escape from the burning building, Paul Munakr, who lives on the seventh floor, said he managed to escape.
"As I was going down the stairs, there were firefighters, truly amazing firefighters that were actually going upstairs, to the fire, trying to get as many people out the building as possible," he said.
Another occupant, Michael Paramasivan, said he ignored official advice to stay the building and exited his flat with his girlfriend and young daughter.
"If we had stayed in that flat, we would've perished. My gut instinct told me just to get the girls out. I wrapped the little one up because of the smoke and I just got them out," he said.
The fire incident in London is coming on the heels of a terror attacks by lone wolf extremist in the city.
Legit.ng recalls that six people were confirmed dead after terrorists plowed through people who were enjoying themselves with a van on London bridge which also left 48 people injured.
According to The Sun UK, the attack was carried out by the extremist around 10 pm UK time.
The terrorists reportedly drove the van through people before stepping out to stab some of their victims with knives.
According to police reports, the three terrorists tried to gain access into a pub but the staff locked it very quickly.
Following reports of President Buhari's imminent return, Legit.ng TV asks some Nigerians if they are excited about the prospects of meeting their leader again.
Source: Legit.ng