Biafra agitation: IPOB attacks Obasanjo over anti-Biafra statement
- IPOB has lashed out at Chief Olusegun Obasanjo, over comments alleged to be anti-Biafra
- The pro-Biafra group says Obasanjo cannot ask it to jettison its secessionist ideologies
- IPOB says plots by Obj and his cohorts to silence their movement, will not work
The Indigenous People of Biafra (IPOB) has faulted former President Olusegun Obasanjo's call, urging the group to jettison its secessionist struggle.
Obasanjo has in a recent statement urged pro-Biafra agitators to bury their agitation and fight for the 'national cake'.
In a press statement signed by its media and publicity secretary, Mr Emma Powerful, IPOB said it was not interested in the so called 'national cake'.
The group said it wondered why elders in the mold of Obasanjo could not tell the truth about the injustices faced by Igbos in Nigeria.
READ ALSO: Pro- Biafran group accuses Ebonyi government of intimidating their members with thugs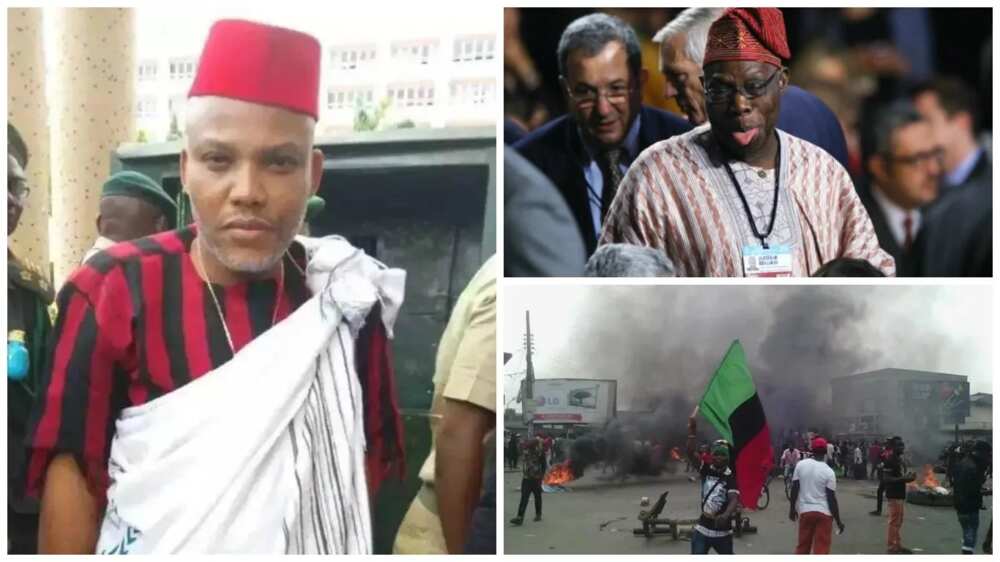 According to This Day, the group stressed that it was a shame to hear such statements proceed from the mouth of leaders like Obasanjo.
Adding that Obasanjo would have been in a position to tell Nigerians the simple truth about the resolve of IPOB and it's leader, Mazi Nnamdi Kanu, to restore Biafra.
The group noted that no ploy by Obasanjo and his "cohorts" will stop them from their mission.
Stressing that the Biafra awareness keeps gaining audience by the day, making their resolve stronger.
In a similar vein, former minister of aviation, Femi Fani-Kayode, has faulted statement credited to ex-president, Olusegun Obasanjo, that the way to stop the Biafran agitation is to offer the Igbo cake.
Obasanjo had on Thursday, May 25, in Abuja at a Colloquim on 50 years of Biafra organised by the Yar'Adua Foundation appealed to those agitating for a Biafra state to shelve such request.
"There is enough cake for each of us.
"And, if what you are asking for is more of the cake, then ask in a way that is pleasant, not in a way that can make others feel that you are not entitled to what you are asking for," Obasanjo said.
In reaction however, Fani-Kayode in a tweet described Obasanjo's comments as insulting to the Igbo.
The former minister warned that Obasanjo's statement is reminiscent of the words of Queen Marie Antoinette of France before the revolution.
PAY ATTENTION: Read the news on Nigeria's #1 new app
Meanwhile, the seat-at-home order for May 30 by the Indigenous People of Biafra (IPOB) is gaining momentum as Maxi Okwu, a top Igbo elder, says he would take part in it.
Okwu, a former national chairman of the All Progressive Grand Alliance (APGA), also thanked Acting President Yemi Osinbajo for speaking out the truth at a recent celebration in Abuja to mark the 50th anniversary of the Biafran war.
The Igbo elder further condemned the way former President Olusegun Obasanjo spoke at the event stressing that the retired military general is one of the major problems plaguing Nigeria.
Watch this video to see how prepared IPOB and its loyalists are for the May 30 celebration.
Source: Legit.ng