62-year-old man and his 57-year-old wife welcome first child years after marriage
- The couple spent many years in marriage without a child until the woman surprisingly put to bed recently
- A Nigerian, who gave his name as Yomi Babalola, made the announcement on social media describing it as God's wonder
A Nigerian family has welcomed a child many years after marriage and when all hopes were becoming dashed.
The father, identified as Deacon Owoade, 62, and his 57-year-old wife had the experience of child birth for the first time many years after they were married.G
READ ALSO: UK issues warning to coup-plotters in Nigeria
Yomi Babalola, a Nigerian citizen who announced this on social media, said: "I can't stop shouting about this AWESOME WONDER! Wow, what a mighty God we serve.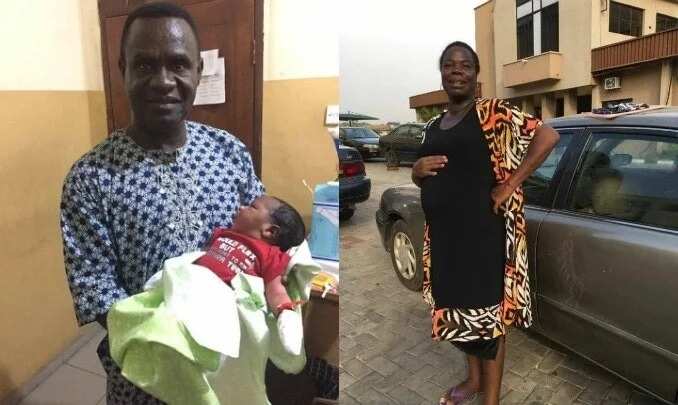 "This is Deacon Owoade, the 62-year-old husband of our 57-year-old Deaconess Owoade whom God visited on 16/5/2017 with their 1st child.
"He does great things past finding out. Yes, WONDERS without number. Job 9:10.
Get more videos on Legit.ng TV
"We bow our hearts in worship Olorun Ara! Onise Iyanu! Key into this testimony, you are next in line for a MIRACLE."
Legit.ng recently reported that a Facebook user Chris Kehinde Nwandu posted the photos and the story of a Nigerian couple Mr and Mrs Taiwo who were recently blessed with sextuplets after 17 years of marriage.
His story says: "Miracle! Woman delivers sextuplets after 17 years of marriage. She is seeking support. Mr Adeboye Taiwo has been married for 17 years ,the wife got pregnant. He was expecting a baby but God gave him the greatest surprise of his life, not one or two, she delivered six kids (3 boys,3 girls)."
Here is a special food in Ebonyi state as brought to you by Legit.ng. Watch the video below:
Source: Legit.ng