This African-American nurse is now the new US Surgeon General (photo)
- A nurse is now the new U.S. Surgeon General
- She is the first African-American woman to hold this position
- She replaces Dr Vivek H. Murthy
An African-American woman will become the first black nurse to serve as US Surgeon General. Admiral Sylvia Trent-Adams has been working for over 24 years in the US Public Health Service Commissioned Corps (USPHS), where her last position was chief nurse officer, from 2013 to 2016.
Trent-Adams is the first African-American non-physician to obtain this important position, dubbed as 'America's Doctor.' She will be responsible for communicating scientific data and discoveries that will enable improvements of the country's health system.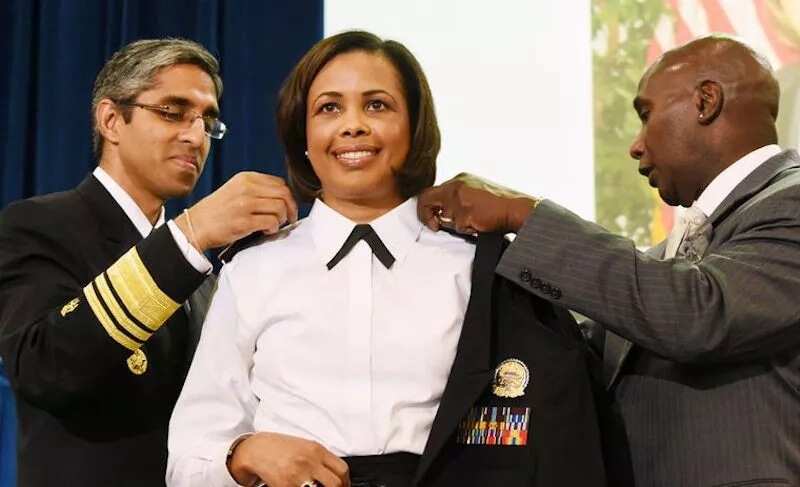 READ ALSO: How Goodluck Jonathan wasted 6 years as president - Bayelsa Governor Dickson
The new US Surgeon General holds a Bachelor of Science degree in Nursing from Hampton University, and an MS in Nursing and Health Policy as well as a PhD. from the University of Maryland, where she was a researcher.
Trent-Adams also served as an Army nurse officer. She replaced Dr Vivek H. Murthy in the position.
READ ALSO: Genius UNIZIK student Okeke Bernard constructs drone (photos, video)
Dr Murthy had been asked to resign "after assisting in a smooth transition into the new Trump administration," said a Department of Health and Human Services spokeswoman, Alleigh Marré, in a statement on Friday.
Meanwhile, watch this video below about Nigerian female taxi driver.
Source: Legit.ng