- A Nigerian lady has schooled other ladies on an important issue in the society
- She wrote her opinion through Adejoro Olumofin page on Instagram
A Nigerian lady has identified a rather weird phenomenon in the society that is gradually becoming the norm. She aired out her opinion about this pressing issue through Joro Olumofin's page.
Joro Olumofin is a Lagos based therapist and a love doctor who helps people find solution to burning issues that have to do with relationship.
The unidentified Nigerian lady has been able to make a honest observation about a trending issue in the society and has proffered a solution to it. It has been observed that good girls find it hard to settle down fast and early as compared to the bad girls who are everywhere.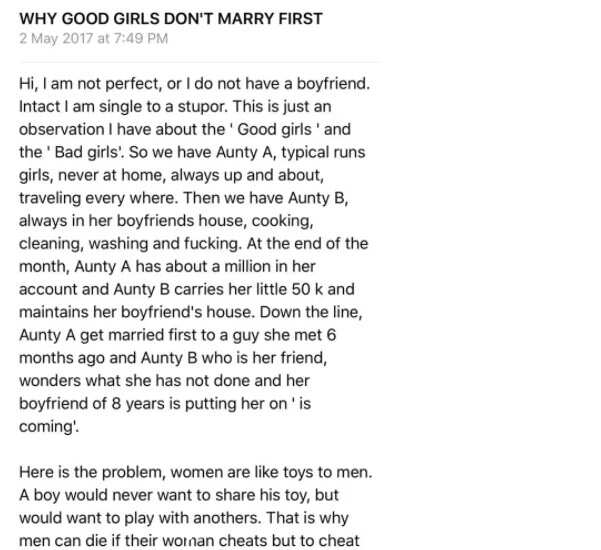 READ ALSO: Meet Nigerian barber who can give you amazing haircuts (photos)
The young lady who decided to treat the issue made good examples of the kind of lifestyle both the good and bad girl lives. She also made note of the things that get men attracted to them in different ways.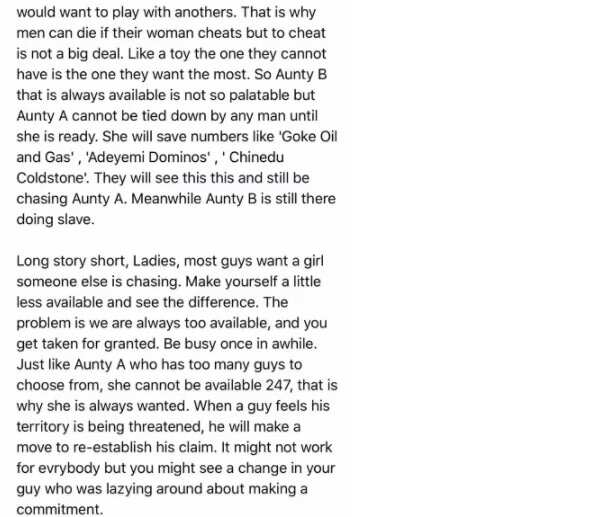 While every man wants a good girl for keeps, most of the guys out there keep running after the bad girl who is sophisticated and always not available.
READ ALSO: Teen leaves cousin in tears after he receives scholarships from 5 universities
The lady thus advised that good girls should try as much as possible to make themselves scarce as this could change something in their guys who are used to having them at their beck and call.
The screenshots above cover every point made by the young lady who is concerned about the status of the good girls who fail to get hitched even after serving the guys for years.
Do you agree with this lady?
Watch the Legit.ng video below to see how some Nigerians reacted when asked if the men could marry someone older than them and the ladies, men they are older than: