UPDATED: Why 82 kidnapped Chibok girls were released by Boko Haram
- 82 Chibok girls have been reportedly freed by the dreaded Boko Haram terrorists
- The release of the Chibok girls is coming after more than three years in captivity
-Details have emerged that the girls were released as part of prisoners' exchange deal by the federal government.
- Nigerians have however reacted positively to the release of the girls
According to Sahara Reporters, the Islamist terrorist group, Boko Haram, has released a batch of more than 80 of the Chibok high school girls who were abducted in mid-April 2014.
Sahara Reporters had earlier reported that 80 girls were freed but sources close to the deal however insisted that only 62 girls were released.
READ ALSO: My son will actualize Biafra – Nnamdi Kanu's father blasts south-east governors, says Buhari is enemy of Ndigbo
The report said the release abducted school girls came after further negotiations between the Islamist group and the Muhammadu administration.
Sources also told @saharaReporters that latest release of Chibok girls involved prisoner exchange.
However the presidency has confirmed that 82 girls were released with President Buhari congratulating all the agencies who participated in the hostage deal that led to the release of the girls.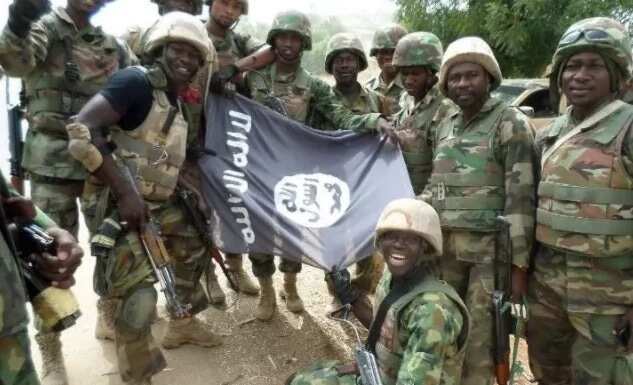 Legit.ng learnt that the source was not in a position to disclose the terms of an agreement that led to today's mass release of the Chibok school girls.
READ ALSO: Stephanie Otobo gives her life to Christ – Says 'Jesus died for my humiliation, pain, ugliness'
The 62 girls who just regained their freedom are said to be currently in Banki town in Borno state awaiting airlift to an unknown destination.
It is believed that once the girls are secured in a new location they would be debriefed, undergo a psychological and medical test and then be reunited with their families.
Meanwhile, recall that Legit.ng had earlier reported that the America's foreign Office has warned westerners travelling to Nigeria to be careful as the Islamic terrorists, Boko Haram is "actively planning to kidnap" westerners to raise ransom money for their fight.
The foreign office, according The Telegraph, says the sect is planning to kidnap foreign workers in Bama local government area of Borno state.
Part of the foreign office statement read: "We have received reports that Boko Haram is actively planning to kidnap western foreign workers in Bama local government area of Borno state, along the Kumshe-Banki axis," said the Foreign Office advice.
Meanwhile, watch this touching Legit.ng TV video of child survivors of Boko Haram activities in the northeast narrating their ordeal.
Source: Legit.ng