Nnamdi Kanu will actualize Biafra - Father
- Nnamdi Kanu's father says his son will actualise Biafra.
- He also insisted that the south east governors have failed their people by not intervening on the issue of his child's detention
- He however call on Namdi Kanu to be guarded in his utterances
Egwukwu 11 of Afaraukwu Ibeku, HRM (Eze) Israel Okwu Kanu, father of the leader of Indigenous People of Biafra (IPOB) says his son will actualize Biafra.
The Monarch said this while reacting to a question from The Sun.
According to the respected father of the IPOB agitator, south east governors have failed their people by not intervening on the issue of his child's detention.
READ ALSO: Stephanie Otobo gives her life to Christ – Says 'Jesus died for my humiliation, pain, ugliness'
The monarch also said he would not tell his son to back down from his struggle for Biafra.
"I have been to London and to Germany also. In these countries, what I found out was that immediately your child is up to 18 years, he was man enough to stay on his own and decide for himself what he wanted.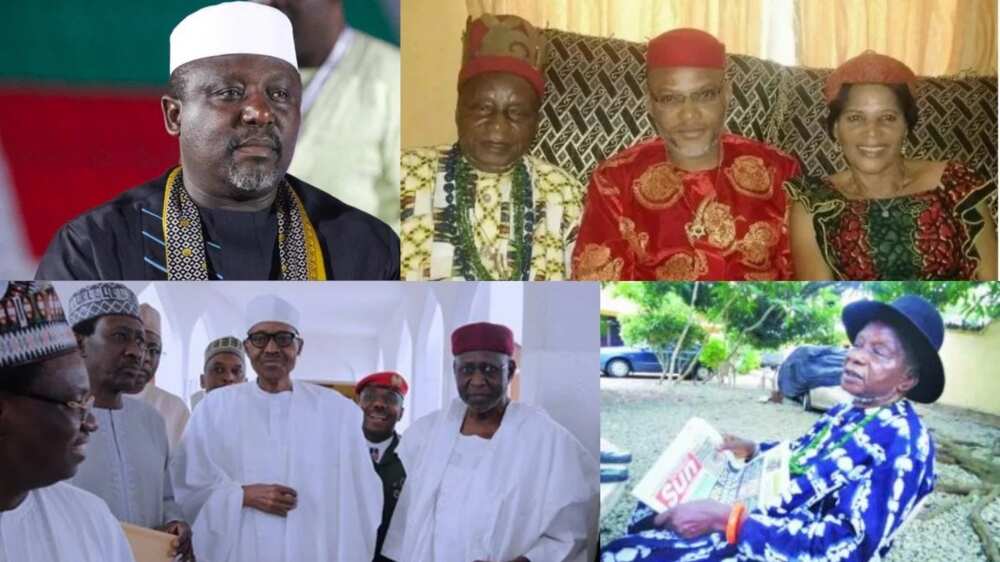 "So, what I'm trying to say is that since Nnamdi, my son is above 18 years, it is left for him to decide what to do and I always support whatever decision he takes. It is natural; it is Igbo custom for a child to listen to the advice of his parents.
"But to tell you one thing, since Nnamdi was born, he has never for once disobeyed me, but for this issue of Biafra, I am solidly behind him till I die. I am urging him to go ahead with what he is doing, so far he has the support of his people and God will be with him, because he has told me on several occasions that even if he dies in the Biafran cause he will be happy.
Going further, he said he believes Biafra will be actualized under the leadership of his son, Nnamdi Kanu.
"Why I am so optimistic that Biafra will be actualised under my son's leadership is that what he is doing, many people are supporting him, not only here in Igbo land, but outside this country.
"For instance, when I went to Germany and saw the crowd that came in support of Nnamdi's cause, I became afraid. I started wondering why the agitation was so hot in a place like Germany, but when you come to this part of the world, it will appear as if nothing was happening.
"German reporters and photojournalists queued up to take photographs of his wife and I and were interviewing us and the police had to be invited before we were given breathing space.
While praising the likes of Governor Fayose of Ekiti state and former Aviation minister, Femi Fani Kayode, Nnamdi Kanu's father lambasted governors from the region.
"I pray God to bless those who in one way or the other contributed to the release of my son, Nnamdi.
"Having said that, I must also say that I am not happy the way governors from South East kept quiet over my son's case since. Could it be they were afraid, afraid of what and who? This type of attitude is condemnable, I am not happy about that. I had hoped that they would have been together and made move for his release, but they stayed aloof.
READ ALSO: Revealed! How prominent Nigerians are plotting 'civil coup' against Buhari
"It was rather the Ekiti state governor, Ayodele Fayose and the former Minister of Aviation, Chief Femi Fani-Kayode who showed interest, God will bless them. I will not in anyway forget the former governor of Abia State, Dr. Orji Uzor Kalu, who when other Igbo leaders were afraid to talk about Nnmadi's problem, visited my son in prison and also came to my palace here in Umuahia to see me, God will also bless him."
Going father, the monarch encouraged the IPOB leader to take things easy and by guarded in his utterances.
"Yes, my advice to my son is that he should take things easy; he should be careful on the things he will say. I am saying this, because there are people who are experts in distorting facts and what someone says, for selfish reasons. One will say something and they will turn it to another thing to curry favour.
Speaking on President buhari, he said: "I wouldn't say enemy of the family, but that of the Igbo race because I have never seen this type of hatred of a people before. Court will rule to set a person free and the president who is supposed to be the father of all will say no, making a mockery of the judiciary in the process."
However, watch this Legit.ng video of the Jewish Rabbi who stood surety for Nnamdi Kanu speak:
Source: Legit.ng