JUST IN: America warns citizens about Nigeria, says Boko Haram 'planning to kidnap westerners'
- United States of america has warned Westerners about Nigeria
- The Foreign Office says the sect is is "actively planning to kidnap" westerners to raise ransom money
The Foreign Office has warned westerners travelling to Nigeria to be careful as the Islamic terrorists, Boko Haram is "actively planning to kidnap" westerners to raise ransom money for their fight.
The foreign office, according The Telegraph, says the sect is planning to kidnap foreign workers in Bama local government area of Borno state.
Part of the foreign office statement read: "We have received reports that Boko Haram is actively planning to kidnap western foreign workers in Bama local government area of Borno state, along the Kumshe-Banki axis," said the Foreign Office advice.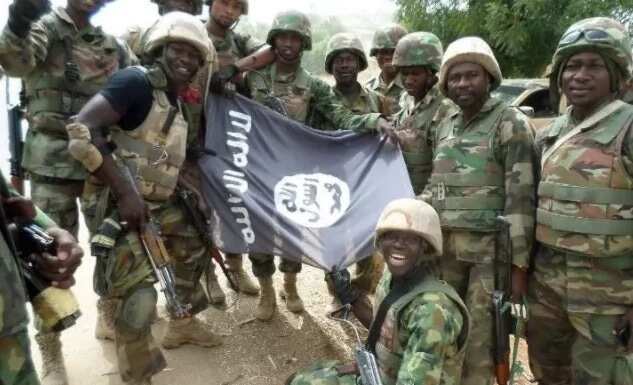 "If you are working in areas where there is a Boko Haram presence, especially in the north east of Nigeria, you should be alive to the potential risk of kidnapping as a means by the terrorist group to raise funds."
Recall that Legit.ng had reported several of the kidnappings of the dreaded Boko Haram sect.
One of such was the 3,000 women and girls who were confirmed missing in Nigeria's north eastern state.
According to the Non-violent Peace Initiative (NPI), the non-governmental organisation that came up with the finding, Boko Haram insurgency has been responsible for the displacement of the females since they started terrorising the country.
Mallam Sahanu Mohammed Idris, the group's coordinator, during a visit to the Abuja headquarters of Media Trust Ltd, explained that some of these missing persons were abducted from schools offering both Islamic and Western education, women teachers' and Arab teachers' colleges.
Recall that Legit.ng reported that not fewer than nine Chadian soldiers have been killed after Boko Haram attacked an army post in the Lake Chad region.
According to the report, the attack occurred on Friday, May 5. The report said not fewer than 40 Boko Haram fighters were also killed by troops who responded sharply to the attack on the Kaiga post.
Watch this touching Legit.ng TV video of child survivors of Boko Haram activities in the northeast narrating their ordeal.
Source: Legit.ng