I'm now a born again - Stephanie Otobo tells completely new story about herself
- Stephanie Otobo has freed Apostle Suleman
- She said she has now given her life to Christ
- Jesus died for my humiliation, pain, ugliness, she said
- For more stories on Apostle Suleman, please visit...https://www.legit.ng/tag/apostle-johnson-suleman.html
Stephanie has given her life to Christ according to her recent interview.
The lady who recently accused the popular man of God, Apostle Suleman claimed in an interview with The Sun that her experience with the scandal has made her change her ways and she has let go of the past.
READ ALSO: Breaking: DSS arrests Ifeanyi Ubah over economic sabotage, alleged N11bn oil theft
Legit.ng recalled that Otobo had recently made headlines when she revealed that she had an affair with the founder of Omega Fire Ministry, Apostle Johnson Suleman.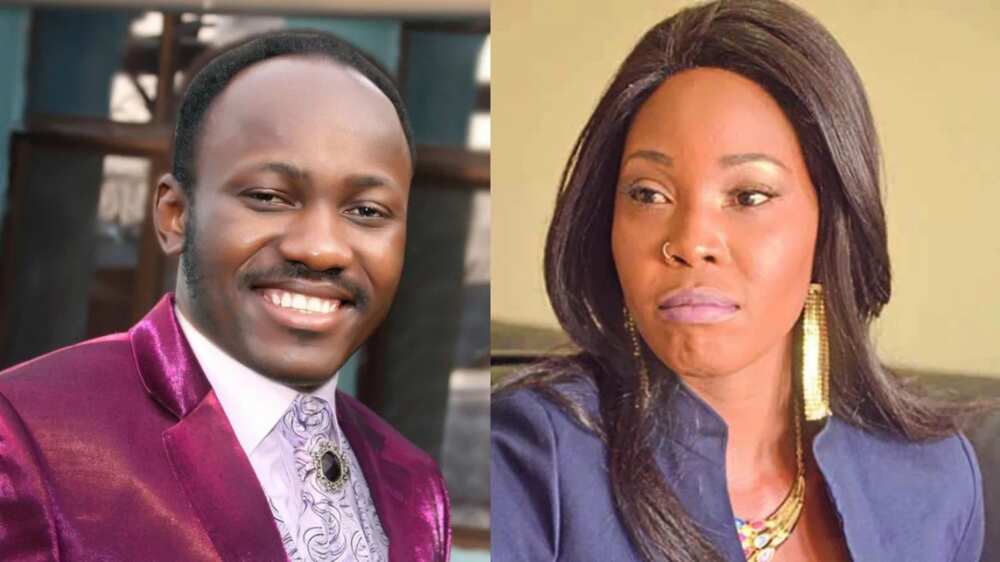 Otobo who claimed that she never stripped insisted that 'I don't know why people claimed I did that. I was just an entertainer.
When asked to clarify her statement, she said: "No, I wasn't. My life currently is like a whole new experience. Whatever I had done or practised didn't please God. I don't do them anymore. I left them all behind in the pool of the drama with the man of God. Old things have passed away and this is a new me."
Going further, who recently released a gospel song said she got her inspiration from her experience with Suleman scandal.
"What really inspired me was my experience in jail in Nigeria. It was the fear and terror I lived through while in jail in Kirikiri prison. I live in Canada and if I was a thief, one day I would expect to go to jail. If I was a killer, one day I would expect to go to jail. I have never done anything that would make me think that I could ever go to jail.
READ ALSO: CSOs, lawyers, give presidency ultimatum to reveal Buhari's health status
"So, going to jail in Nigeria was terror. I remember what my father came out to say some things about me then when I was in jail. Even though he couldn't do anything to help me, knowing that I have his support meant everything to me. The experience in prison made me ask God for mercy and for His help to scale through.
She also spoke about her understanding of God.
"What I understand about God is that if you are in God, you don't have the heart to do things that you ordinarily want to do to please your flesh. If you are in Christ, the Holy Spirit will tell you what to do and not you going to do that because you want to. Now, instead of me facing my old life on this man like I used to do, I have changed and I have to face God.
"I see all these people insulting me and calling me names as still facing the man of God and treating him like God. I took him like God before but when I saw the truth that this man is not God but just a man that deceived me, hurt me and broke my heart, I had to face God. It is now that I have come to know God for myself.
Speaking about her ability to cope with the stress of the recent scandal, Otobo said:
"The word of God is my shield and buckler. Everything I have gone through have brought shame and disgrace to me and my family but I am better now because Jesus Christ died for them. I don't have to hide myself anymore from the world. When I knew that Jesus died for my humiliation, my pain, my ugliness, I held onto to Him and He helped me.
"It's not about the money. If someone was about to die and I saved him or her, I would want the person to be appreciative. God has saved me and I knew how scared I was and wanted everything to end so I would be okay. When I was convinced that doing gospel was not good for me, I didn't have much faith.
Meanwhile, recall that Legit.ng recently reported that Stephanie Otobo's 'Canada friend' exposed her after her current scandal with Pastor Suleman.
The friend claimed that Otobo is a serial blackmailer and that she had acquired a negative reputation in Toronto. She also said Stephanie moved to Vancouver where she topped her game by joining so many dating sites.
Watch video of her friends' revelation:
Source: Legit.ng