BREAKING: Ossy Ibori, notorious militant leader, kidnapper shot dead in Ondo creeks (photo)
- Troops of Operation DELTA SAFE have shot dead a notorious militant
- Ossy Ibori was killed at Ajakpa, Ese-Odo local government area of Ondo state
- Efforts are ongoing to apprehend other members of the gang
Ossy Ibori, leader of a militant group has been shot dead by Troops of Operation DELTA SAFE at Ajakpa, Ese-Odo local government area of Ondo state.
READ ALSO: Loud calls over Buhari's whereabout reverberates on Nigerian Twitter
The militant, known by the name Ossy was killed at about 3 am on Monday at Ajakpa area of Ondo state by soldiers during an attack on troops location around Ajakpa community in the creeks of Southern Ondo state last night.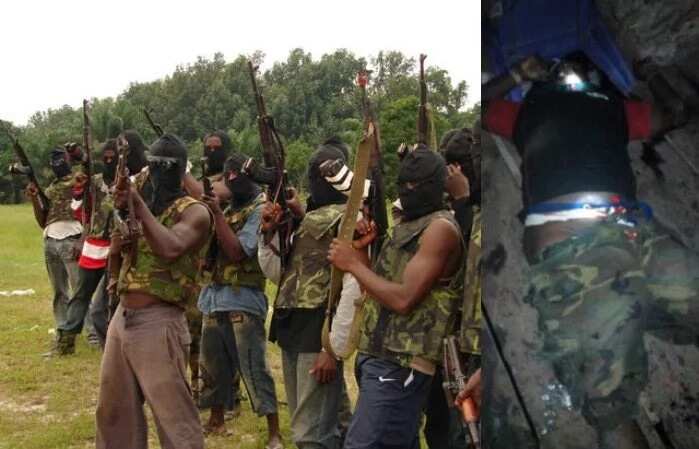 While confirming the incident, Owoseni said that the gang retreated to their base in Ajakpa in Ondo state because they could no longer lay claim to the creaks in Isawo area, Ikorodu.
He said: "Around 3am today, a squad of soldiers posted to dislodge the militants that have been wrecking havoc in some parts of Lagos engage the criminals in a shootout at Ajakpa. During which the suspected leader of the gang known as Ossy was killed. Efforts is ongoing to arrest other gang members."
READ ALSO: Presidency denies that Buhari is allegedly so sick he cannot eat or drink
Operation DELTA SAFE has the mandate ridding the Niger Delta of all criminal acts of militancy and kidnappings.
Major Abubakar Abdullahi, Coordinator, Joint Media Campaign Centre of Operation Delta Safe while announcing the death of the notorious militant said:
"It could be recalled that, criminal gangs led by late Ossy Ibori have been terrorising parts of Lagos,Ogun and Ondo states prior to this operation. They committed many atrocities threatening the peace and security of the general areas.
"Last month, the gang kill an army captain and 2 Policemen at Ikorodu. Also late last year, abducted students and staff of a secondary school. The criminals in addition, carried out several attacks at Ese-Odo community around Ajakpa,Safarogbo and Balowo areas.
"The need to flush them out from their hudeout became necessary to ensure peace and sexurity in Ondo state. Sadly in the process, one gallant soldier paid the supreme price while 3 others sustained gun shot wounds.
"They have since been moved to military hospital for proper medical attention. While the operation is ongoing, let me appeal to law abiding residents of the affected communities to remain calm, vigilant and support our troops with valuable information on whereabouts of other criminals."
In the video below by Legit.ng, a 63-year old woman laments losing son to cultists.
Watch the video:
Source: Legit.ng