Just in: Boko Haram kills 8 soldiers, sack Army base in Sabon Gari
- The insurgents attacked an Army base on Monday, April 17 with over 200 of their fighters and five trucks mounted with twin-barelled artillery guns
- Eight soldiers were reportedly killed and 11 wounded in three days while four are missing in action
- The soldiers were dislodged from their base by the insurgents and are now in need of restocking of their armouries
- For more reports on the fight against Boko Haram by the Nigerian Army, please visit: https://www.legit.ng/tag/boko-haram.html
Premium Times is reporting that not fewer than eight Nigerian soldiers have been killed by Boko Haram fighters who also sacked an Army base in Borno state.
According to the report, the insurgents attacked the Forward Operating Base in Sabon Gari, Borno State and initially killed five soldiers and injured nine others.
READ ALSO: Nigerian govt arraigns Supreme Court judge for false asset declaration, gets bail on self-recognisance
This attack was followed by another in which an additional three soldiers died and two more were wounded to make eight dead and 11 valiant soldiers wounded in just three days in two separate attacks.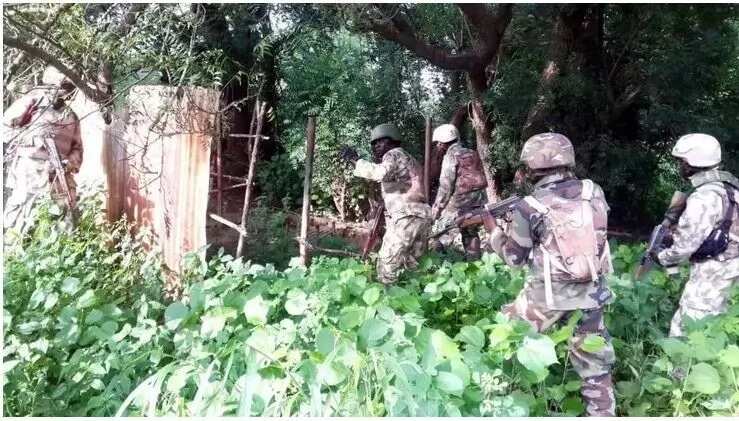 The report quoted our sources as saying further that the army formations attacked also lost several arms and ammunition, and now require restocking of their armouries.
In the first attack, over 200 Boko Haram terrorists on motorcycles attacked the base at about 6 p.m. on Monday.
These were accompanied by five gun trucks which were mounted with twin-barreled artillery guns.
READ ALSO: President Buhari in closed door meeting with Fayemi and Usani
Premium Times reports that the troops who fought back gallantly were eventually dislodged from their location after about an hour of fierce battle.
The report says at least four other soldiers are still missing in action.
In the second attack, troops of 82 Division Task Force Battalion ran into an ambush laid by Boko Haram terrorists at about 8:45 am on Thursday, April 20 just as soldiers were on patrol along the Ngoshe-Bokkotinta-Pulka area.
Three more soldiers were reportedly killed and two others were wounded.
Legit.ng cannot immediately verify the details of these attacks as message sent to the phone of Nigerian Army spokesman Brigadier-General Sani Usman Kukasheka to confirm them was yet to be replied as at time of filing this report.
Recall that just on Tuesday, April 18, Usman reported that troops of 192 Battalion 26 Task Force on Tuesday, April 18, gunned down six Boko Haram terrorists.
The terrorists, he said, were killed in a clearance operation carried out by the troops attached to Operation Lafiya Dole in the terrorists hideouts at Dissa and Patawe general area of Borno state.
Watch this touching Legit.ng TV video of survivors of Boko Haram attacks narrating their ordeals
Source: Legit.ng