Shea butter for skin lightening: essential oils for body care and masks
Essential oils are integral components of any means for face and body care. So, today, we are going to tell about such popular and effective component of creams and masks for face and body as Shea butter. It is extracted from the kernels of the nut of the Karite tree, which grows in some parts of Africa.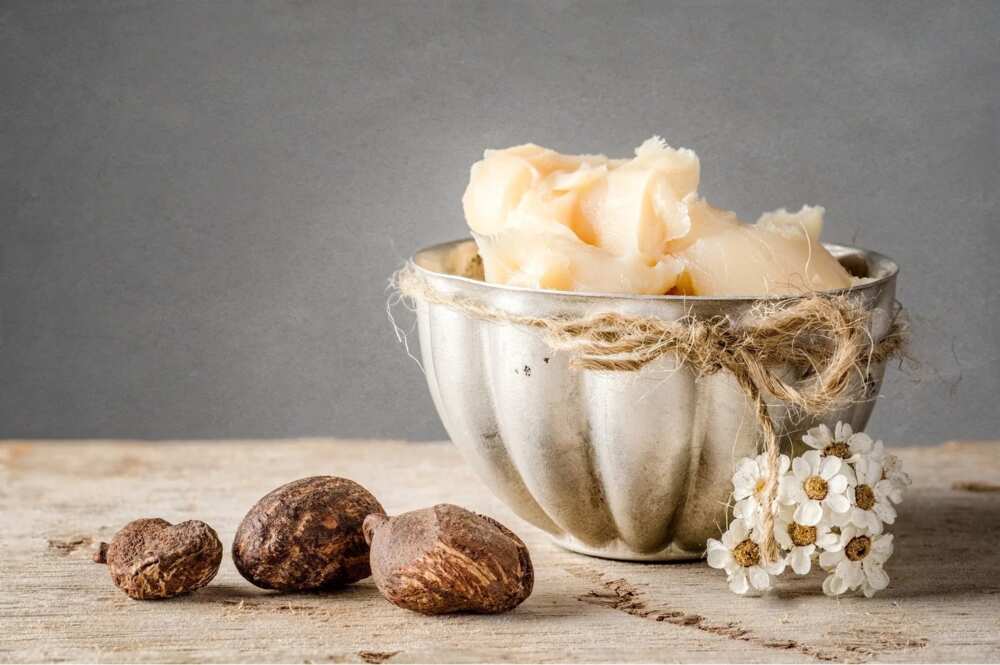 The local people call this plant – "tree of life", and it is not accidental because it is quite often used in cooking, medicines and soap production. Nut seed contains 50% of oil, which even retains quite dense (solid) composition at room temperature (as, for example, coconut oil or melted butter).
The Shea butter begins to melt at a temperature of 42 degrees. So, when applied to the skin it gradually melts and is easily absorbed without leaving a greasy trace. The smell of Shea is light, something between the aroma of coconut and walnuts.
Depending on the color, you can determine how it was received. Oil if it is grayish, yellowish, khaki or mixed shades, means it's got due to manual methods by the cold pressing method, and if it's white — so, it's industrial with hydrocarbon hexane.
Health Benefits of Shea Butter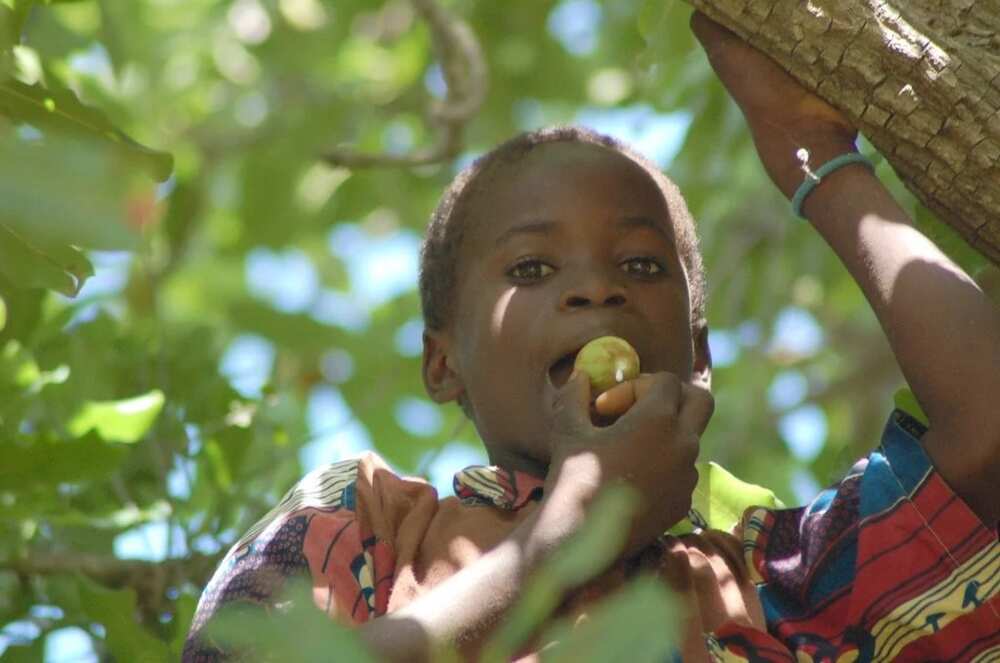 Shea butter, obtained by a chemical process, which involves bleaching, deodorizing and overheating — loses much of useful properties, including the possibility of deep moisture, nutrition, and protection from aging. As for the use of Shea butter which is obtained manually (cold pressed or refined), it retains all the healing properties, including a deep rejuvenation and hydration of the skin.
Therefore, choosing the Shea butter, pay attention to the smell (it should be) and color. The composition of Shea butter consists of various acids, triglyceride, christerode, unsaponifiable fats, vitamins, micro and macro elements, in particular:
Triglyceride: oleic, linoleic, stearic, palmitic, and other fatty acids. They moisturize the skin, protects against aggressive environmental influences.
Karisterol — stimulate the cell activity and promote the production of collagen.
Vitamins A, E and F. Vitamin A renews and regenerates cells, nourishes dry skin, moisturizes and haggard and flaky skin. Vitamin E rejuvenates, slows down aging processes, prevents the action of free radicals, has strong antioxidant properties, improves microcirculation and the membrane exchange. Vitamin F eliminates toxins, soothes inflammation and accelerates the healing of wounds.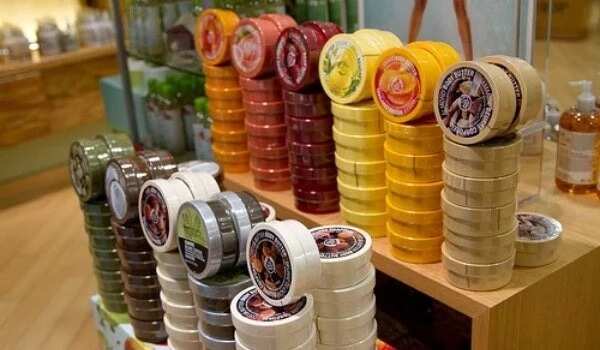 Shea butter can be applied both in pure form and in the various masks and creams for skin care. The only thing doctors recommend to refrain (or at least be careful) from the use of Shea butter for those who are allergic to nuts.
Therefore, Shea butter, pure or in a cream composition is recommended in the following cases:
psoriasis, dermatitis, eczema, rosacea;
burns, bruises, wounds, muscle pain;
inflammation and swelling of the skin;
dry, mature, flaky and parched skin;
frostbitten or burned skin due to exposure to UV rays.
Shea Butter for face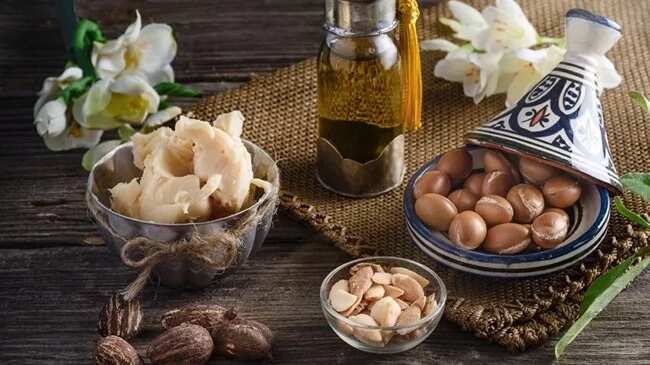 Thankfully to the record-high proportion of unsaponifiable fats, which are contained in Shea butter (much less unsaponifiable fats contained in avocado oil) it is well absorbed, stimulates collagen synthesis, restores natural color and moisture balance of the skin, protects from UV rays, prevents skin aging (fights fine lines and age-related changes). That's why Shea butter is recommended to be applied not only on the face and sensitive area around the eyes eyeshadow — for smoothing and preventing wrinkles under the eyes.
Shea butter is suitable for all skin types, including those prone to peeling and irritation. Please, note that Shea butter is suitable for dry skin and for oily (in this case, it acts as a natural moisturizer), including those prone to acne. It softens, cleanses and even slightly discolors blemishes that arose after the acne.
READ ALSO: How to make lightening black soap?
In the case if Shea butter is used for the treatment of diseases of the skin, don't expect miracles — it is not a cure, but only softens hardened areas, moisturizes and prevents progression of the disease, so is shouldn't be applied as main but auxiliary mean.
The use of Shea butter provides complete recovery of the skin. It heals cracks on lips, heels, softens the skin of body and hands. The Shea oil is recommended as an emollient with diaper rash in infants and to prevent scars, soothe the skin after insect bites or irritation (even after shaving), for the prevention of stretch marks resulting from pregnancy as well.
Cream and mask for face with Shea butter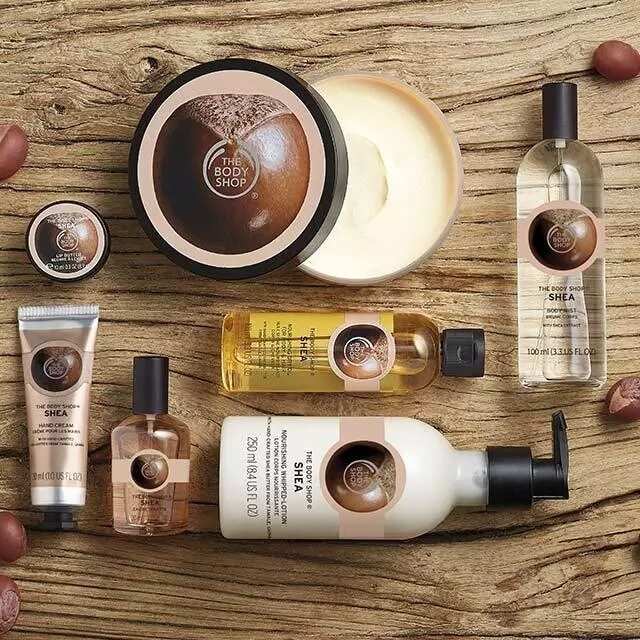 As mentioned above, it can be used in pure form — that is, apply as needed on areas of the skin, in combination with other components, which can be both homemade and of industrial production. Below we will tell about the first, and about the others.
The rules of applying Shea butter in its pure form are the following:
clean the skin (it can be normal washing as well as a steam bath that deeply cleanses dirty pores).
take a little piece of Shea butter and gently mash it, apply to the skin (including eye area, neck, décolleté, lips, hands and other body parts).
massage these zones (in the same way as a regular cream).
Within 10-15 minutes the oil is fully absorbed into the skin. It is also possible to apply Shea butter in cold or hot weather. To do this, before going outdoors lubricate the exposed areas of the body with Shea butter and avoid greasiness (for example, if you use too much) — gently eliminate the remnants with the help of a paper towel.
Excellent absorbent features of Shea butter help to provide skin cells with useful macro- and micro-elements which contain other cosmetic components. Therefore, Shea butter, along with coconut is used for making cream at home.
Shea butter for skin lightening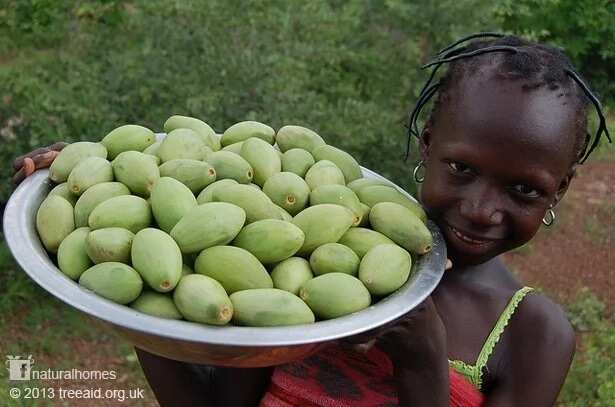 Take equal proportions of oils: Shea, coconut, grape seed. Mix them and heat on a steam bath (double boiler) until it liquefies (do not overheat, 40-42 degrees will be enough). Then let harden and mix it using a mixer or a blender. The result is a light and airy cream, now it is ready to use. It is recommended to use it in winter and in summer.
For a warm period, it is recommended to add to oil mixture in equal parts a sea buckthorn (provides light tan and protects against UV rays) and oil of aloe Vera (it is sold in capsules at the chemists shop). The preparing process is exactly the same as in the first example, however in this case you get a lightweight cream that can be used as a body lotion, and as means for protecting from tan and also for softening and healing cracked lips or hands.
READ ALSO: Carrot oil for skin lightening
For some kind of diversity, you can add to the obtained cream a few drops of your favorite essential oil (lavender for calming, peppermint for stress relief, tea tree — for oily skin with acne but do not overdo it, just a few drops).
The cream can be done with other components, by adding Shea butter and others, which are most suitable for you (e.g., olive, wheat germ, avocado — everything depends on what problem needs to be resolved). Just try not to add heavy fatty oils or decrease their proportion.
Face mask with Shea butter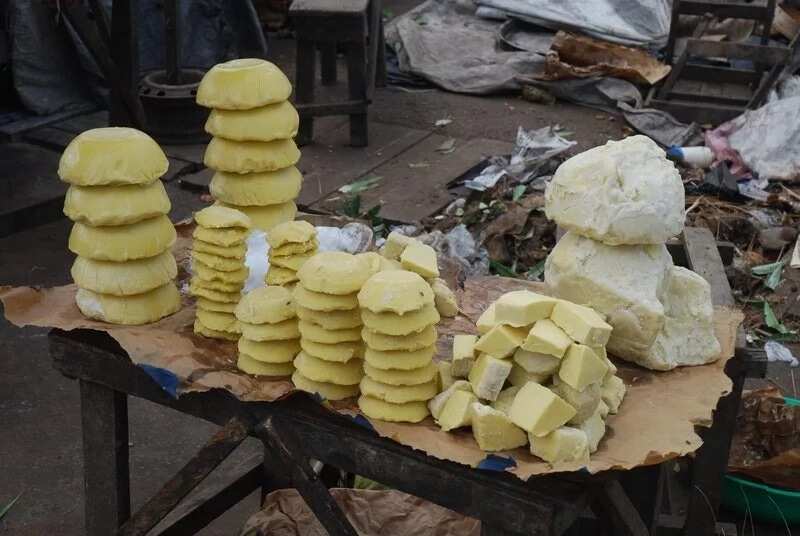 Shea butter can be added to almost any masks' recipe for skin care that will provide better absorption of other ingredients into the deeper layers of the skin. Very useful is the following recipe:
1 tsp honey;
1 tsp of aloe juice;
1 egg white;
1 tsp of Shea butter.
Mix, apply on clean skin for 15-20 minutes. The mask is applied not only on the face but also the neck, décolleté, and if you want or need on hands. After 20 minutes rinse oil with warm water or tea. The use of the cream is not required. This mask nourishes, moisturizes, tightens the skin, eliminating fine wrinkles.
Shea butter is recommended for tired, aging skin with the first signs of aging. Also, benefits of Shea butter are in the prevention of first wrinkles. In addition, you can purchase cosmetic products, Shea butter soap, scrub or body cream for the face, body, hands, feet, lip balm and others. The value of Shea butter is so high that it is present in almost all cosmetic preparations.
Source: Legit.ng