Beware! How Nigerian girls lose their lives to child marriage
Editor's note: Nicholas Oluwaseyi, the Legit.ng partner blogger, explains the effects of child marriage in the society and proffers its possible solutions.
Nicholas Oluwaseyi is a young medical student whom God has favoured and committed a great vision of seeing mankind turn into eternal HOPE. He could be reached through his e-mail nicholasoluwaseyi6@gmail.com. You can also follow his blog https://hopecitadel.wordpress.com.
More details in Legit.ng's step-by-step guide for guest bloggers.
Marriage, as recognised in the constitution (according to the Child's Act 2003, Sections 21 and 22, age of consent in Nigeria is 18 years) is to be undergone by adults from 18 years and above, however, there are marriages below 18 years, and this is referred to as child marriage.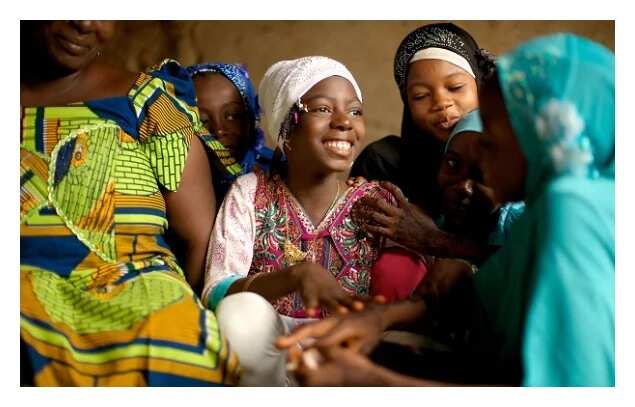 Child marriage is a menace plaguing the entire world, though Africa has the highest incidence of child marriage. According to GirlsNotBrides organization, Nigeria ranks 14th among the 20 countries with the highest rate of child marriages; 16 of them African.
What is child marriage?
Child marriage is a formal marriage or informal union entered into by an individual before reaching the age of 18.
READ ALSO: 4 MAIN barriers stopping girls from going to school in Nigeria (No 2 is most common)
Child marriage affects both boys and girls, though the overwhelming majority of those affected are girls, most of whom are in poor socio-economic situations.
According to United Nations International Children Education Fund (UNICEF), Africa has the highest incidence rates of child marriage.
Causes and Effects
The critical factor contributing to child marriage in the country is poverty. This is a common reason why parents force their girl children into child marriage. Where poverty is acute, a young girl is typically regarded as an economic burden and her marriage to an older person is thought to be befitting to her and her family both financially and socially.
This economic strategy for survival by such parents means one less person to feed, one less person to cater for and one less room in the house for free. In most North West Nigeria, parents often fix a high bride price for a daughter who is married near puberty. Poverty, this is most critical underlying factor leading to child marriage.
In most prevalent cases, before or immediately after the marriage, the young girl's education becomes totally shut down. Most girls who are academically promising end their prospects days before or after their marriage.
If we can ask from some of these girls, they're human beings like others who have dreams and visions and without education it becomes increasingly impossible to see their dreams come true. This not only leads to another cycle of poverty but also emotionally and psychological traumas.
Illiteracy is another underlying factor for child marriage. From parents not knowing the physical, Heath and social risks involved in child marriage to the young girls not knowing her right under the constitution, illiteracy has played her part too in this widespread 'plague'.
Pregnant girls aged 15 to 19 are twice as likely to die in childbirth as women in their 20s and girls under the age of 15 are five to seven times more likely to die during childbirth. These consequences are due to largely to girls' physical immaturity where the pelvis and birth canal are not fully developed.
READ ALSO: Is early marriage good or bad?
Teenage pregnancy, particularly below age 15, increases risk of developing fistula. Married girls also have an increased risk of contracting STDs, cervical cancer, and malaria, compared to their unmarried peers.
Worst still, child marriage does not only affect the mother's health, but that of the child also, mothers under the age of 18 years old have 35 to 55% increased risk of delivering pre-term or having a low birth weight baby than a mother who is above 18 years of age.
In addition, infant mortality rates are 60 years of age. In addition, infant mortality rates are 60% higher when the mother is under 18 years old. Children born to child mothers tend to have weaker immune systems and face a heightened risk of malnutrition.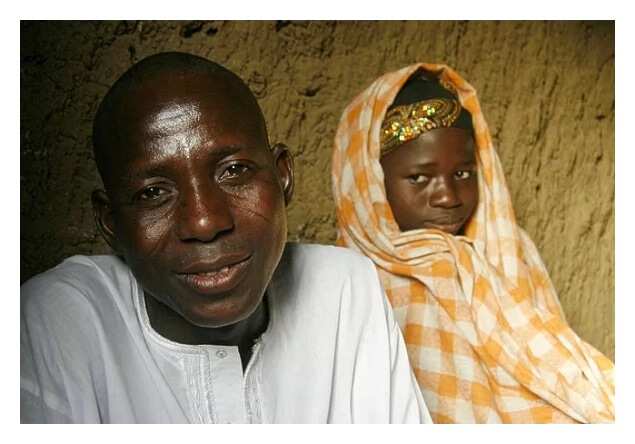 Child marriage is also a birth to domestic violence. The young girls are subjected to harshness and bullying from their older husbands who they cannot confront.
Solutions to child marriage
Education opportunities should be provided by the government (Federal, state, and local governments). Free education should be provided most especially at the primary and secondary school levels, thereby, reducing or even totally eliminating child marriage in the country.
This serves to enlighten the girls of their rights and risks involved through topics taught in schools and provide opportunities for girls to continue their education or earn money, while expanding their skills, and available choice in life, is one effective strategy to delay marriage.
1. Proper enforcement of laws on marriage
Laws prohibiting child marriage should be enshrined in the constitution, and there should be punishment for violation of such laws.
2. Provision of free health services and information to young women
The government needs to provide free health care services to young women. These young girls and their parents also need to be informed of the dangers inherent in involving in child marriage and the risk involved in it by so doing, reducing the rate of child marriage in Nigeria.
3. Empowering young women through various programmes
Various educative programmes should be organised by government, relevant bodies and individuals in order to empower young women, by teaching them on how to start a trade teaching them the importance of education, teaching them a skill through various and series of trainings. Such programmes should be encouraged and available not only in schools, but in communities and rural areas as well.
Public education and advocacy projects that target policy – makers could be useful in preventing early marriage and in making visible the problems and risks that the young brides face. Through the programmes, the awareness of parents, community leaders, and policy makers are raised, about the health and rights' implication so young girls marrying much older men.
4. Develop social and economic programs for out of school girls
Social and economic programmes should be provided for out of school girls, including non-formal education programmes. For girls who are not in school, these programmes will help build in her a sense of financial independence, as she will be able to develop business ideas.
READ ALSO: Harmful traditional practices in Nigeria
Child marriage has indeed caused more harm than good as it has stripped many young girls of their childhood, their dreams, their basic human rights and their health, however if we can follow these recommended solutions , then, we can be able to eradicate child marriage in Nigeria.
Nicholas Oluwaseyi is a young medical student whom God has favoured and committed a great vision of seeing mankind turn into eternal HOPE. He could be reached through his e-mail nicholasoluwaseyi6@gmail.com. You can also follow his blog https://hopecitadel.wordpress.com.
The views expressed in this article are the author's own and do not necessarily represent the editorial policy of Legit.ng.
Legit.ng welcomes writers, bloggers, photographers and all sorts of "noise makers" to become a part of our Bloggers network. If you are a seasoned writer or a complete newbie – apply and become Nigeria's next star blogger.
Send us some info about your career, interests and expertise and why you'd like to contribute to the Blogger Network at blogger@corp.legit.ng Also, please send us the link to your blog and three examples of your work.
More details in Legit.ng's step-by-step guide for guest bloggers.
Source: Legit Nigeria